Top 10s
Nov 7th, 2018
Golf's Top 10 caddie chats
When the rake rat's really deliver. Or otherwise...
Words: Gavin Newsham Photography: Getty Images
Caddies are not just there to lug your sticks around. They are your crutch, sounding board, punchbag and saviour. They can also be sarky blighters…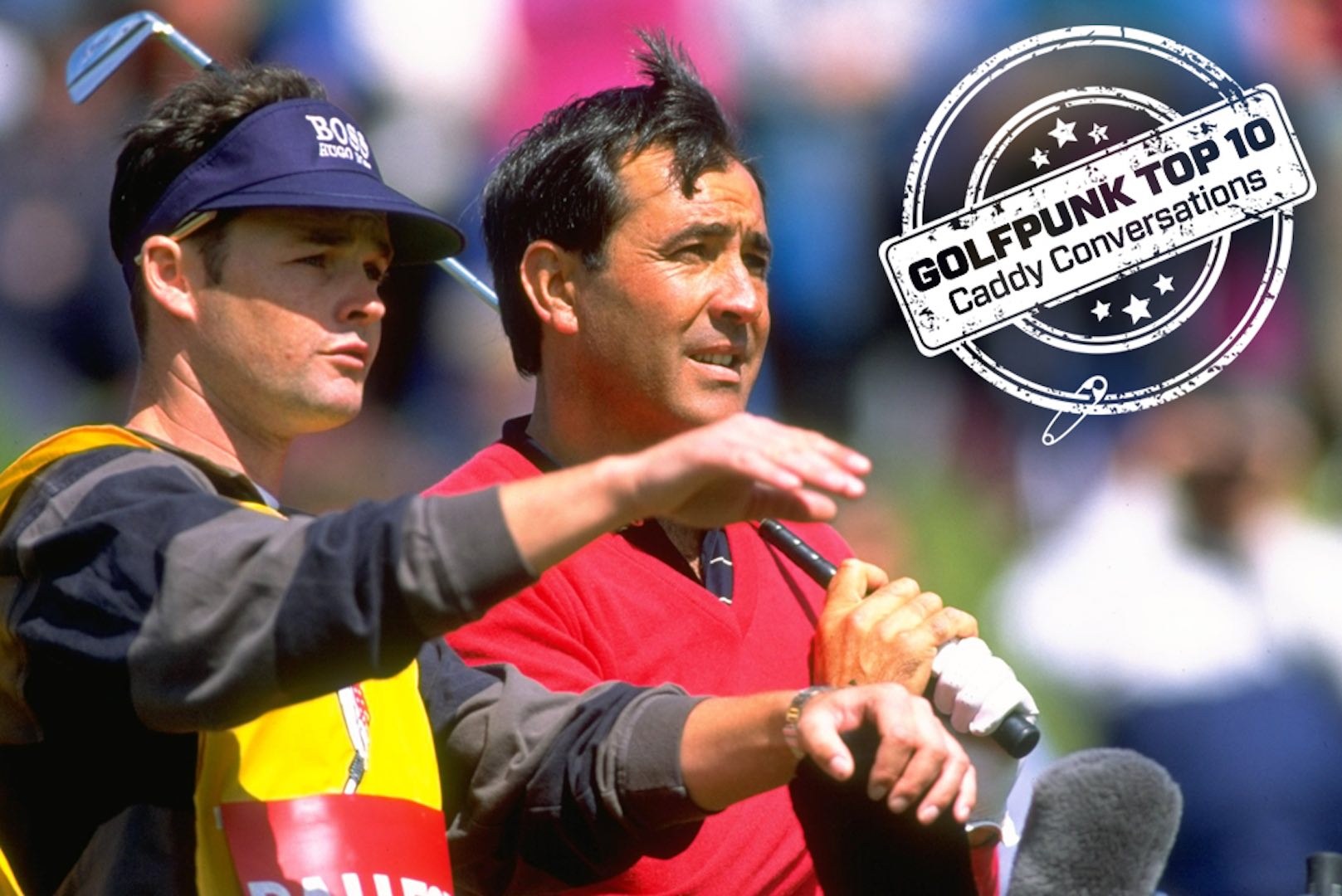 10) Carin and Stefan Koch, Nabisco Dinah Shore Championship.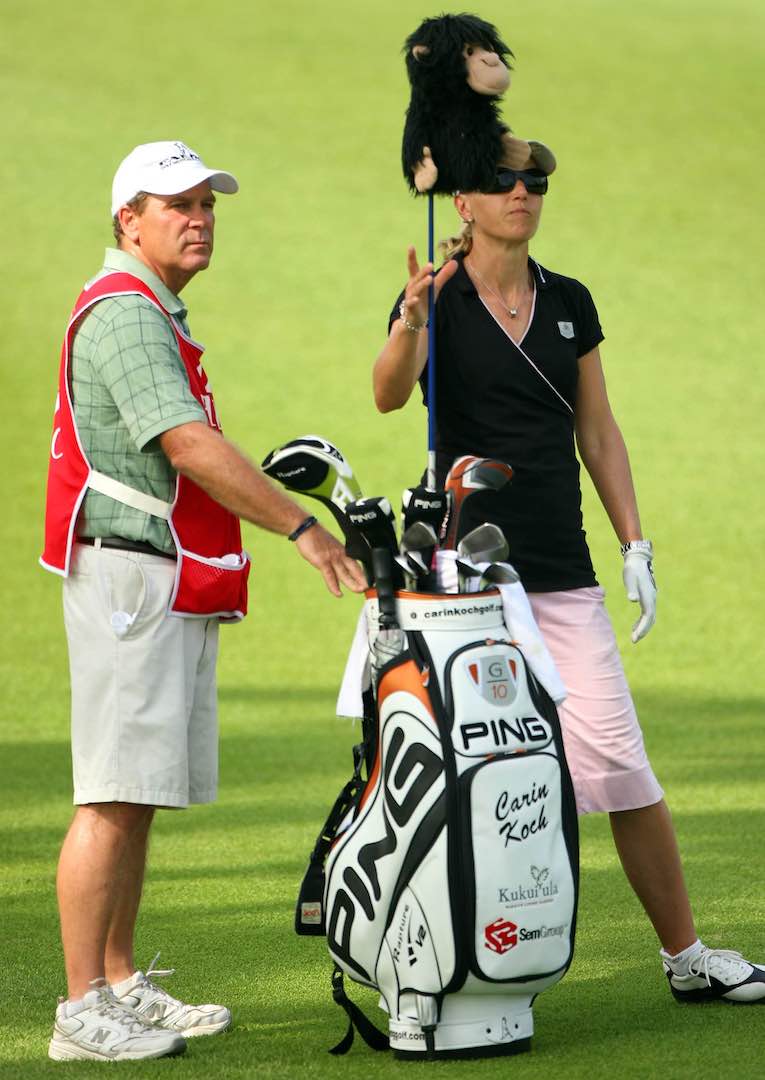 Marriage is a fickle beast, which few can truly claim to have figured out. Combining your marriage and your working life then, is as sane as dressing in a steak bikini to go swimming with sharks.
No further proof of this is needed than at the Nabisco Dinah Shore tournament in 1996, when LPGA player Carin Koch became frustrated with her caddie/husband, Stefan and hurled a club off his back after dunking her ball in the water.
What can he say to that?
9) Dave Musgrove, Seve Ballesteros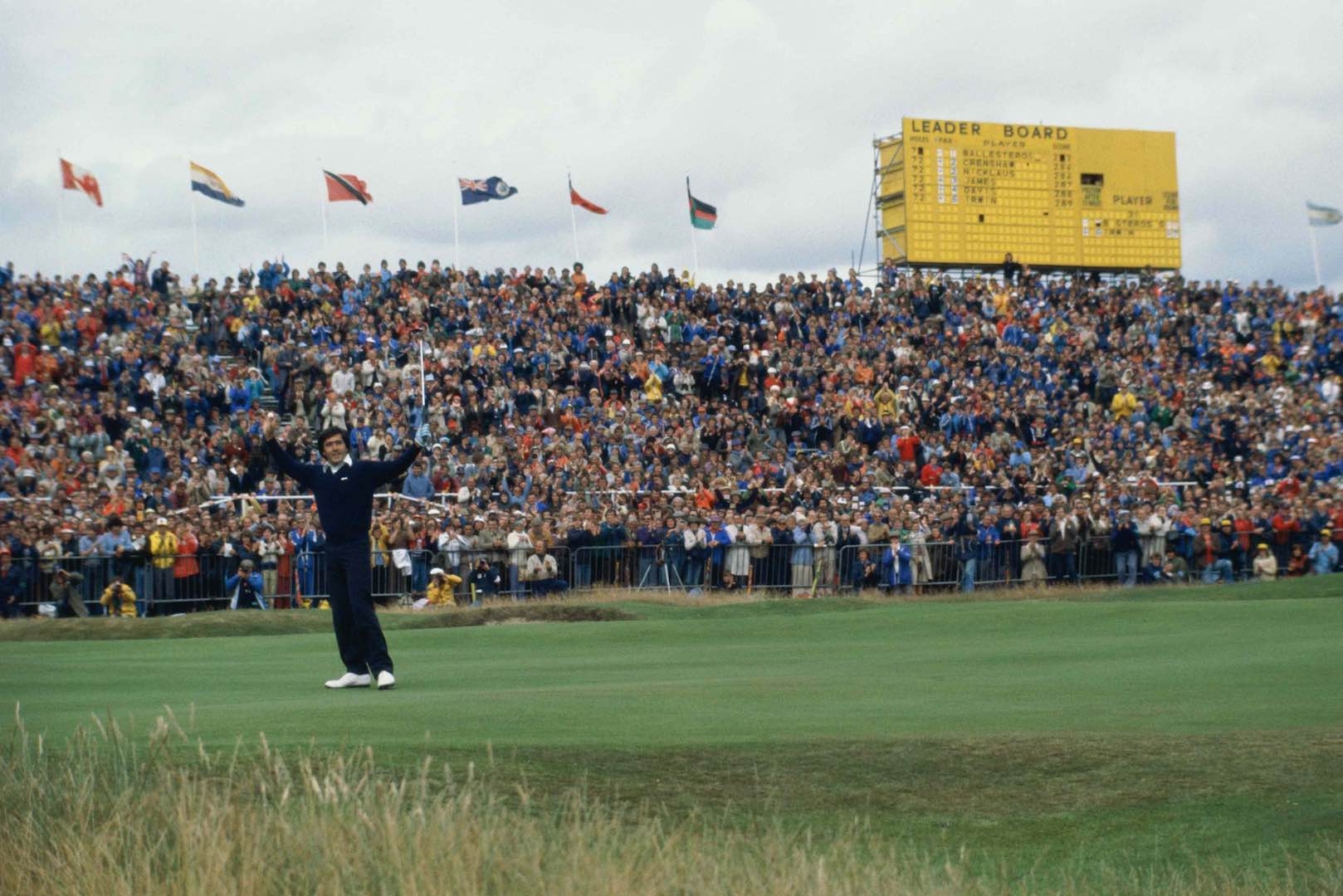 Seve and bewildered and thrilled the crowds at the 1979 Open Championship, playing shots from everywhere, including the car park of Royal Lytham and St Annes. Breathtaking in every sense of the word. So much so that he stood on the 18th green and turned to his caddy, Dave Musgrove, to say he could take four putts and still win.
"No you can't," Musgrove barked. "I've had a bet on you to finish under par."
8) Ian Woosnam and Myles Byrne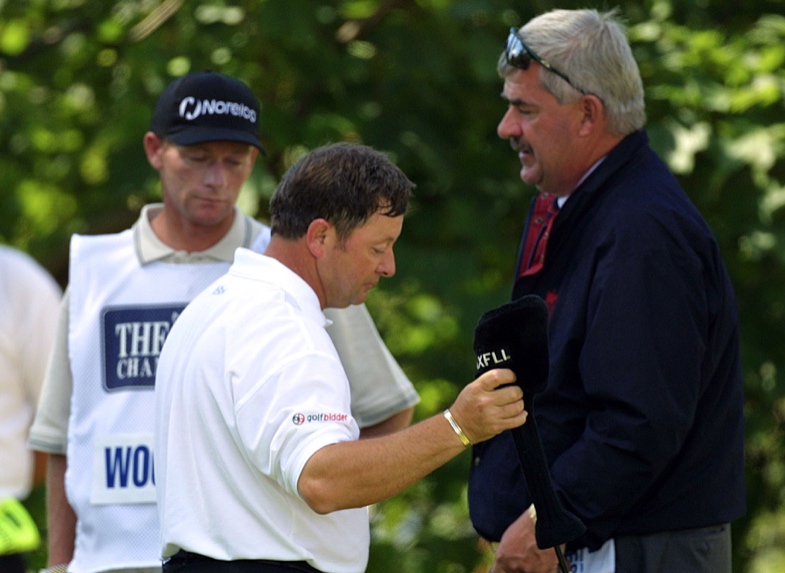 "You're going to go ballistic about this, I left that spare driver in the bag, we've got 15 clubs," whispered Byrne to Ian Woosnam.
In any circumstance, this sentence is never a good one to slip over a caddie's lips. On the second tee of the Open Championship where a 43-year-old Woosnam was leading in the final round however, Byrne would have been better off confessing to knobbing the Welshman's wife than what he had just discovered.
"The one fucking thing you had to do!" Woosnam snapped as he watched two shots and his grip of the trophy slip away. All on live TV.
7) Tiger & Steve Williams, 2006 Ryder Cup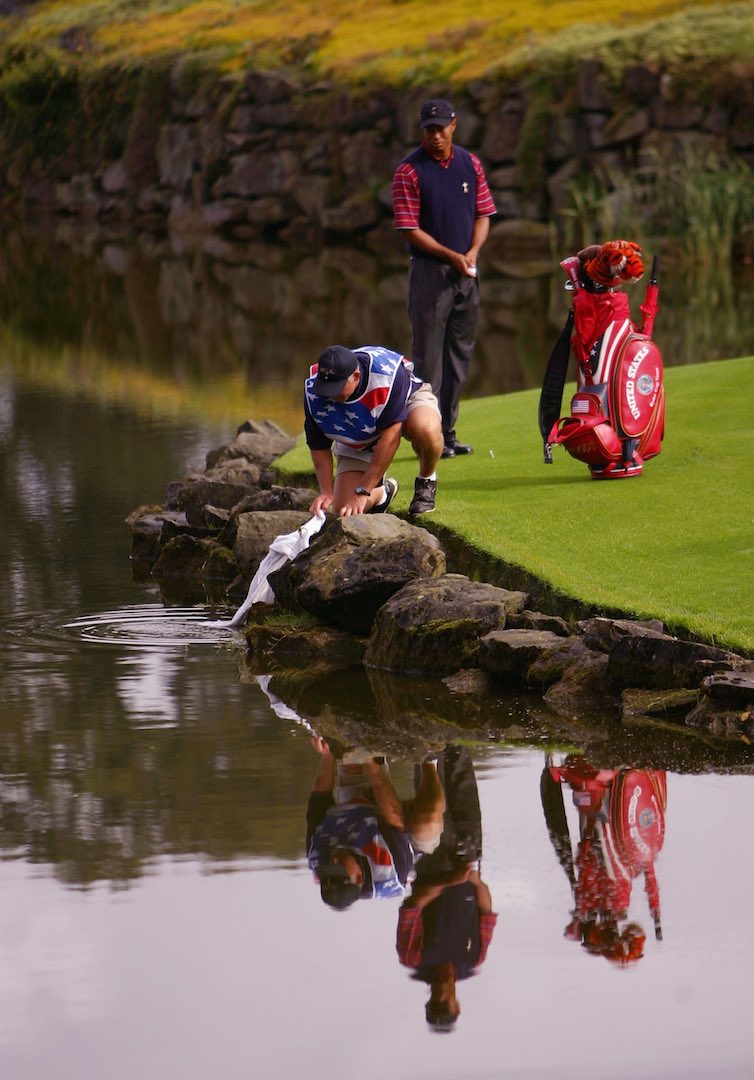 No words were needed for this exchange between caddy and player. Simply a grin and shake of the head that conveyed exactly what the entire world was thinking… 'You Berk!'
The schadenfreude made all the funnier by the fact that it happened to Steve Williams - a bulldog of a man - in one of the most intense atmospheres on the planet.
The Kiwi was dipping a towel in a lake during the 2006 Ryder Cup, when he dropped the nine-iron in his other hand. The colour drained as he looked at Tiger. Luckily, Tiger refrained from asking him to fetch it and still went on to beat Robert Karlsson 3 and 2.
6) Paul Lawrie & Paddy the Caddy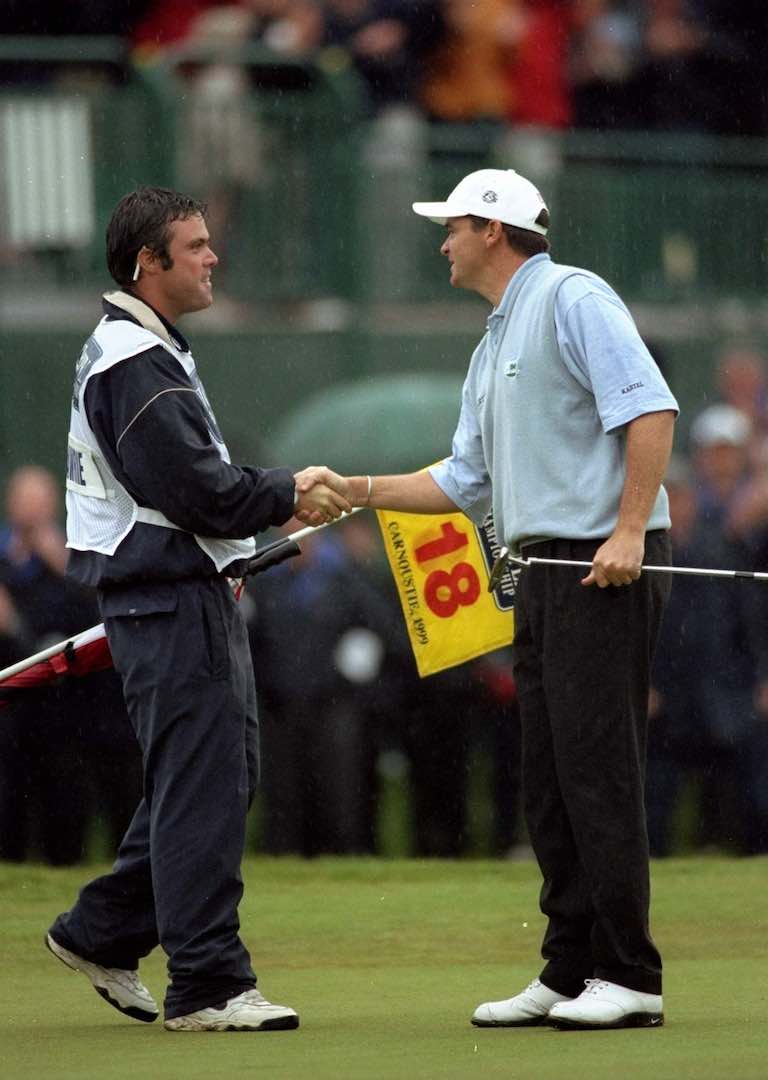 Caddies and players often part company. It's part of the game. It's rare however, that a split causes as much domestic distress as when Paul Lawrie called time on his bagman Paddy Byrne at the Accenture World Match Play.
Lawrie broke the news to Byrne 10 minutes before the second round of the event, though it wasn't received as well as he would wish and Byrne stormed off, leaving the Open champ with just 10 minutes to find a replacement.
The abruptness of it all caused concern to Byrne's family back in Dubai, who immediately thought that something serious must have occurred.
"Lots of people have been asking my parents whether it was anything to do with drink or drugs and even the other players have asked me what went wrong," said Byrne, forcing Lawrie to later clarify matters and make amends.
Byrne later revealed that it wasn't Class As or moonshine, but bananas that caused the rift.
"It was a lot of stupid, niggling things," he moaned "like there weren't enough bananas in the bag."
5) Seve Ballesteros and Billy Foster, Swiss Open
As usual, Seve was in contention and, as usual, he had blazed his driver into trouble. Serious trouble. He was five paces behind a wall eight-feet high, 120m from the green, there were pine trees on the other side of the wall too.
Needing a birdie to catch Barry Lane, the Fat Lady was just about to launch into a song. Seve asked his caddie, Billy Foster, what he thought.
"What do you mean what do I think? Chip it out, of course," Billy replied.
"Billy we need a birdie," he said.
"Yeah, but not even you can hit through concrete walls."


That was Foster's first mistake. Seve felt he could, took a club and shooed Billy away.
"I walked out onto the fairway to watch where the ball went. Then I looked in the bag, and the sand wedge was still there. My God, the man has the pitching wedge! By now I am convinced he is more likely to kill himself than get the thing over the wall." Somehow Ballesteros lofted the ball over the wall, through the tree and just short of a greenside bunker about 70ft from the hole. From there he chipped in for the birdie. (Lane won overall, however). "No one, ever, would have contemplated the shot. If they had, it would have been dismissed as insanity, and the ball would have been chipped out on the fairway." A plaque marks the spot.
4) Pete Bender & Greg Norman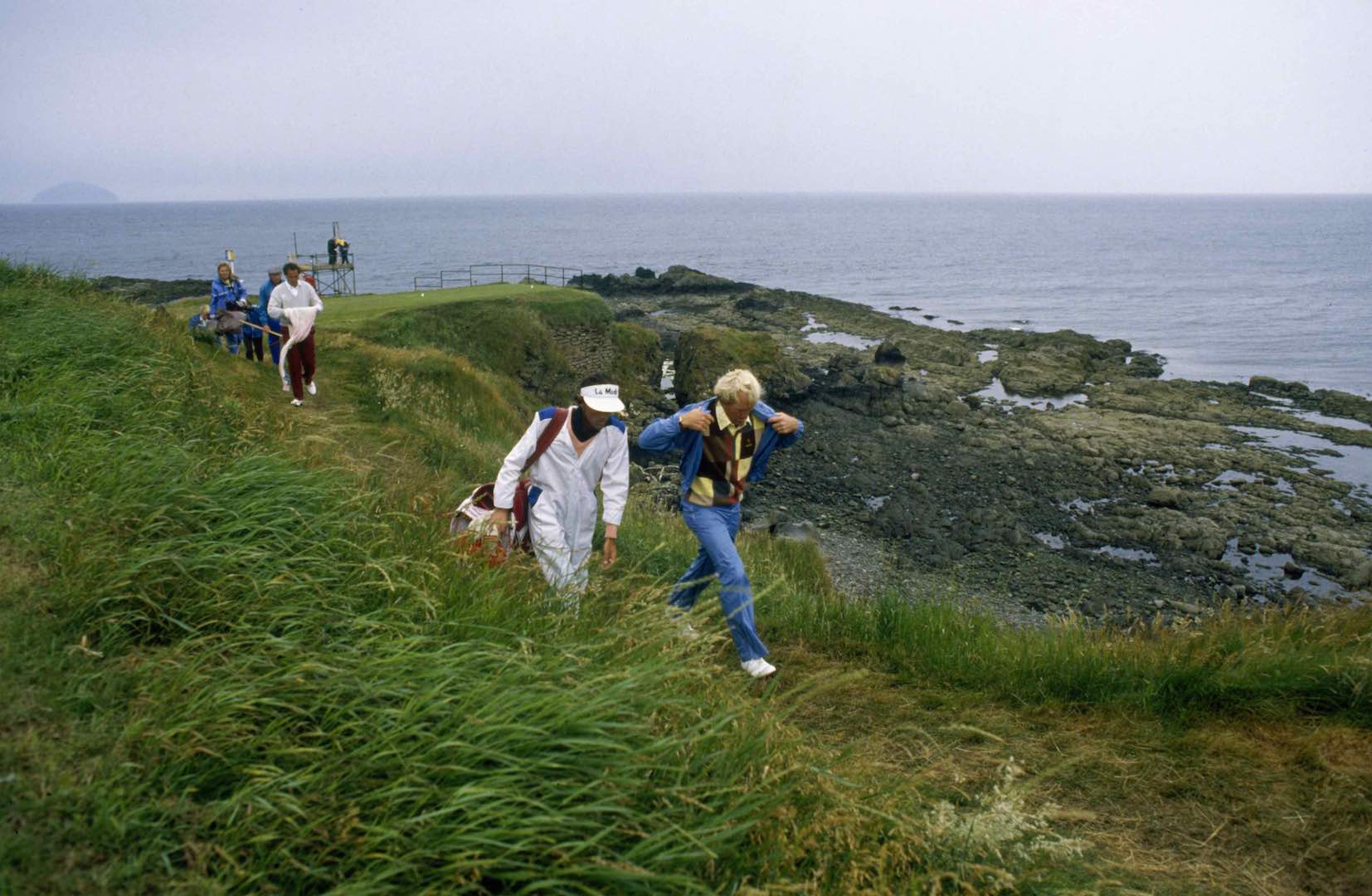 It was the last round of the 1986 British Open and Pete Bender watched Norman, holding a three-stroke lead, hit a snap-hook off the sixth tee.
"He was really nervous, and it was time for me to do something. So, I grabbed him by the shirt and pulled him back. I said, 'Look, Greg, you're playing too quick. You're talking and thinking too quick, and you've got to slow down. You're the best player in this field. You're going to win this tournament if you take your time and enjoy it, and don't press the issue.'
"I said, 'Do me a favor. Just walk my speed and talk to me. Don't be running down the fairway.' Norman birdied the next.
"On the 71st hole, when he hit to about three feet for birdie and a six-shot lead, he knew he was going to win. He turned around and said, 'Pete, I'm so damned nervous. I can't see that putt. You're gonna to have to tell me how hard to hit it and where to hit it.' I said, 'Greg, no problem, that's what you got me for.'
3) Corey Pavin & Eric Schwarz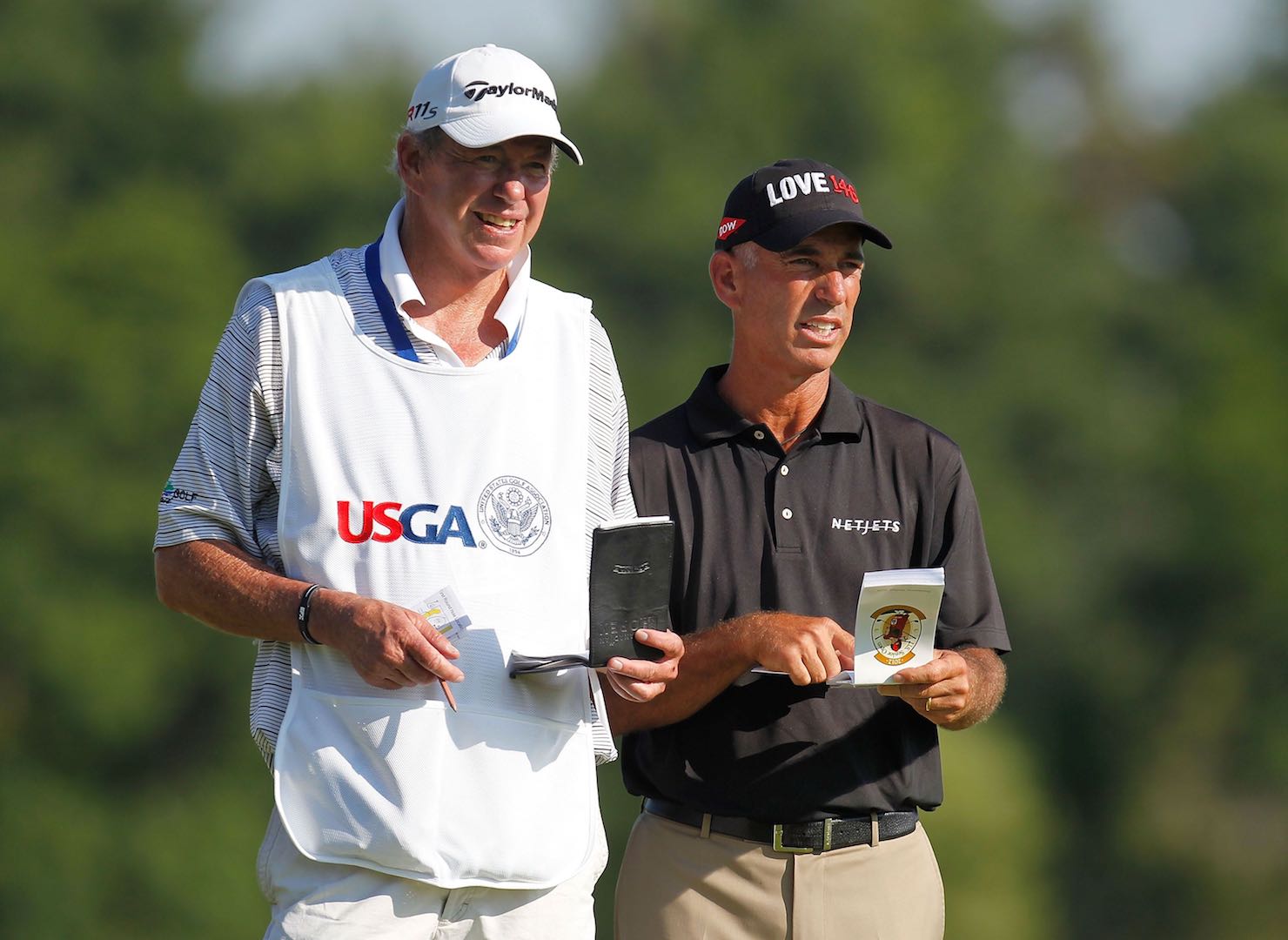 Corey Pavin will forever be remembered for his gritty US Open win at Shinnecock Hills and especially the sensational four-wood he played up the last to win. What many don't know is that it was his caddy, Eric Schwarz, who insisted on the four-wood, while Pavin favoured a two-iron.
I said to Corey, "Just aim it at the right edge of the green and let the wind take it. And just stay with it."
That tale shows you the value of a good caddy, but that's not our favourite story from this combo. Corey was playing in a showcase in Jamaica and Eric gave him a dud yardage.
"I did the yardages myself; I made my own book. On the first hole, Corey asks me how far we've got. I give him the yardage. He hits a 5-iron that comes up short of the bunker and short of the green.
He says to me, "Is that the right yardage?"
I said, "Nope."
We start walking towards the green and he says, "Alright, Eric, what's up with the bad yardage? What's going on?"
I said, "Boss, I'll tell you the truth. I was thinking about pussy."
Corey says, "Alright, you gave me an honest answer. Let's go." That was the only bad yardage I ever gave him."
2) Phil Mickelson and Bones, The Masters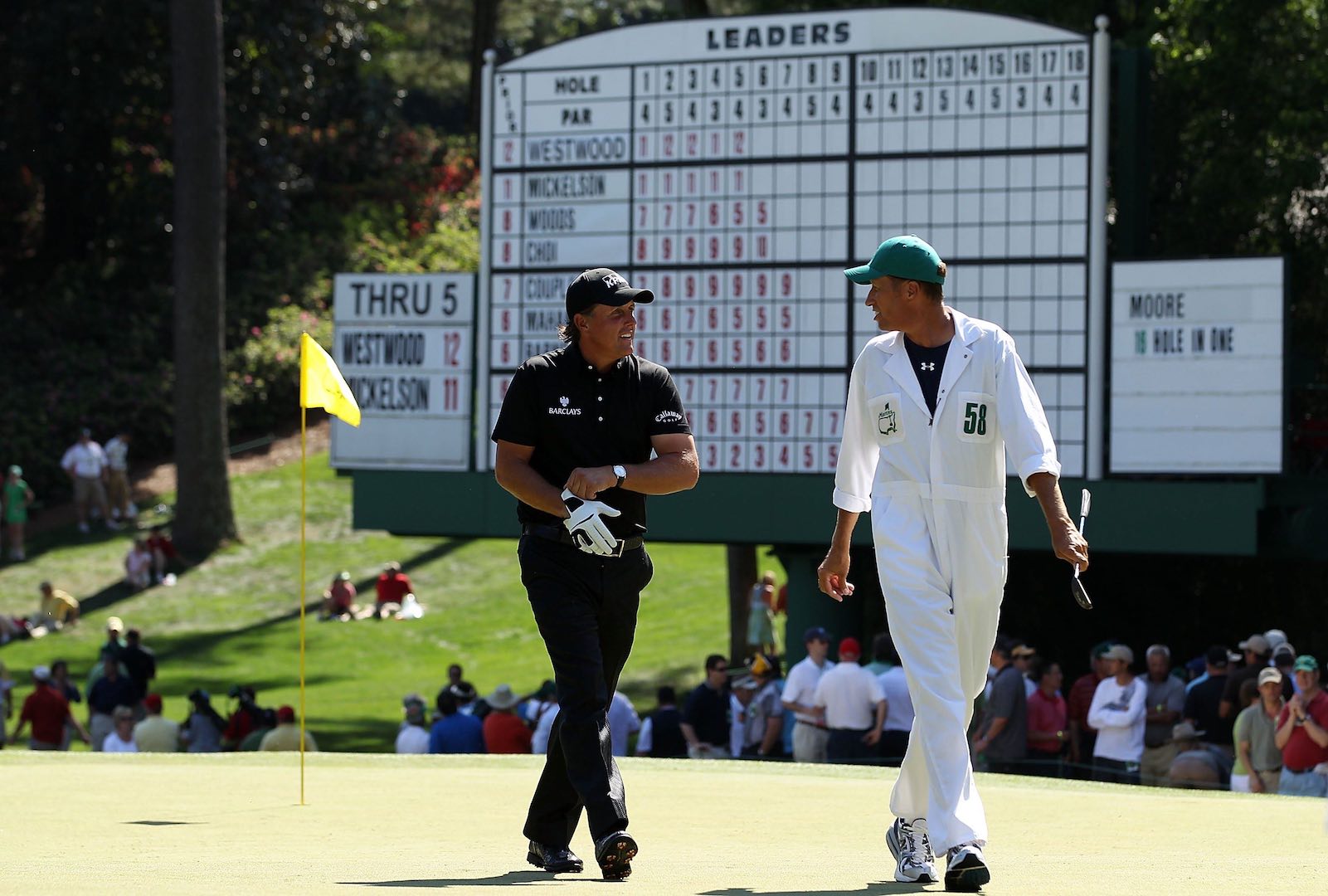 "I tried to talk him into laying it up," admits Jim Mackay. And we all heard him. It was the 13th hole on Masters Sunday and Mickelson was in the lead. He was also in the trees. Two massive pine trees towered in front of him and his ball precariously lay on their strewn bed. It was a shot where a quick kick of the boot or a medicine-taking drop was needed. But not to Lefty. No matter what his loyal caddy, Bones, implored.
"He said no. Then we found out [K.J.] Choi had made [bogey] 6 [playing the hole ahead]. I went at it again with him. I tried again. He said definitely no.
"All he basically said is there's an opening in the trees and it's a 6-iron. 'All I have to do is execute. It's not like I have to hit a big hook or a big cut on a big ol' green.' Fair enough. So I got out of the way and you guys saw what he did."
Mickelson hit one of the finest shots the Masters has ever seen to set up an eagle and victory.
1) Mason Rudolph & Arnie's lesson
Mason Rudolph, a '60s tour pro was playing a tournament and playing well. He was two-under going in to 14, a short par-three with water and the pin near the edge of the lake.
Mason's caddie that day had carried Arnold Palmer's bag the day before in a pro-am He asked his caddie for a club recommendation. The conversation went like this:
Caddie: "A seven-iron."
Mason: "You caddied for Palmer yesterday didn't you?"
Caddie: "Yes Sir."
Mason: "What did he hit?"
Caddie: "An eight."
Rudolph got jealous. He took an eight-iron and swung as hard as he could. Catching the ball absolutely flush he followed the path of the ball as it sailed into the air straight at the pin. Then he watched in horror as the ball splashed into the water, a few feet short of the green.
Enraged he turned to the caddie, "I thought you said Palmer hit an eight iron?"
"Yes sir, he was in the water too."