The Open 2016
Jul 3rd, 2016
The Open 2016: GolfPunk's Unique Troon Course Guide
When they met, it was muydaah!
Words: Gavin Newsham & Tim Southwell
We asked them if we could play at The Open.
They said "Don't be ridiculous."
"But we're GolfPunk, the golf website for the re . . ."
"We know who you are,"they said,"but we've got the world's biggest golf event to organise."
"Fine," we said,"be like that."
"OK," they replied, "we will be like that."
"Hang on, what about our Open Guide?"
"What Open Guide?"
"This Open Guide,"
"Not our problem; you can't play."
"So that's it, then?"
"Yes, I'm afraid so."
But we'd be failing in our duty to you if we took that for an answer. We had to play the Open. So, we called in favours, scratched backs, and tickled fancies, but to no avail. Then, as we were losing all hope, one stormy Ayrshire morning at dawn, we got the call we'd been hoping for: "Get your clubs – you're on."
So here it is then, our hole by hole guide to the 145th Open Championship. Whether you're going to the tournament itself, sitting at home in your pants or watching the whole thing from your local bier keller, we've got all you need: from the perils of The Old Course to Pub Golf, to the guy who lost the Open after being attacked by a rat. It's all here...
It's 7.04am on a Thursday morning and the car park at Royal Troon Golf Club is deserted. Deserted, that is, aside from Tim Southwell (14 handicap), the editor of GolfPunkHQ.com and yours truly. It is cold, wet and windy. But then this is Scotland and it is only June.
Tim is here to test his mettle against the Old Course, the venue for this year's Open, but he has come ill-prepared. In a dash to get here, he forgot his jumper and his waterproofs and is dressed like he's playing in the Caribbean. He is also having trouble with his contact lenses and will need to borrow a putter. It doesn't look good.
At 7.18am, Jimmy, our local caddie, introduces himself. He is wearing a bib with the number 69 on the back.
"Is that what I'll be shooting today?" asks Tim.
Jimmy stops, and looks out across the course. "No," he says, smirking. As Southwell heads off to sign in and find some suitable clothing, Jimmy picks up Tim's trendy new golf bag and ambles over to the first tee muttering something about "F***ing double straps." It's not the last time any of us will swear today.
Hole 1 Seal, 370 yards Par 4 (Stroke Index 16)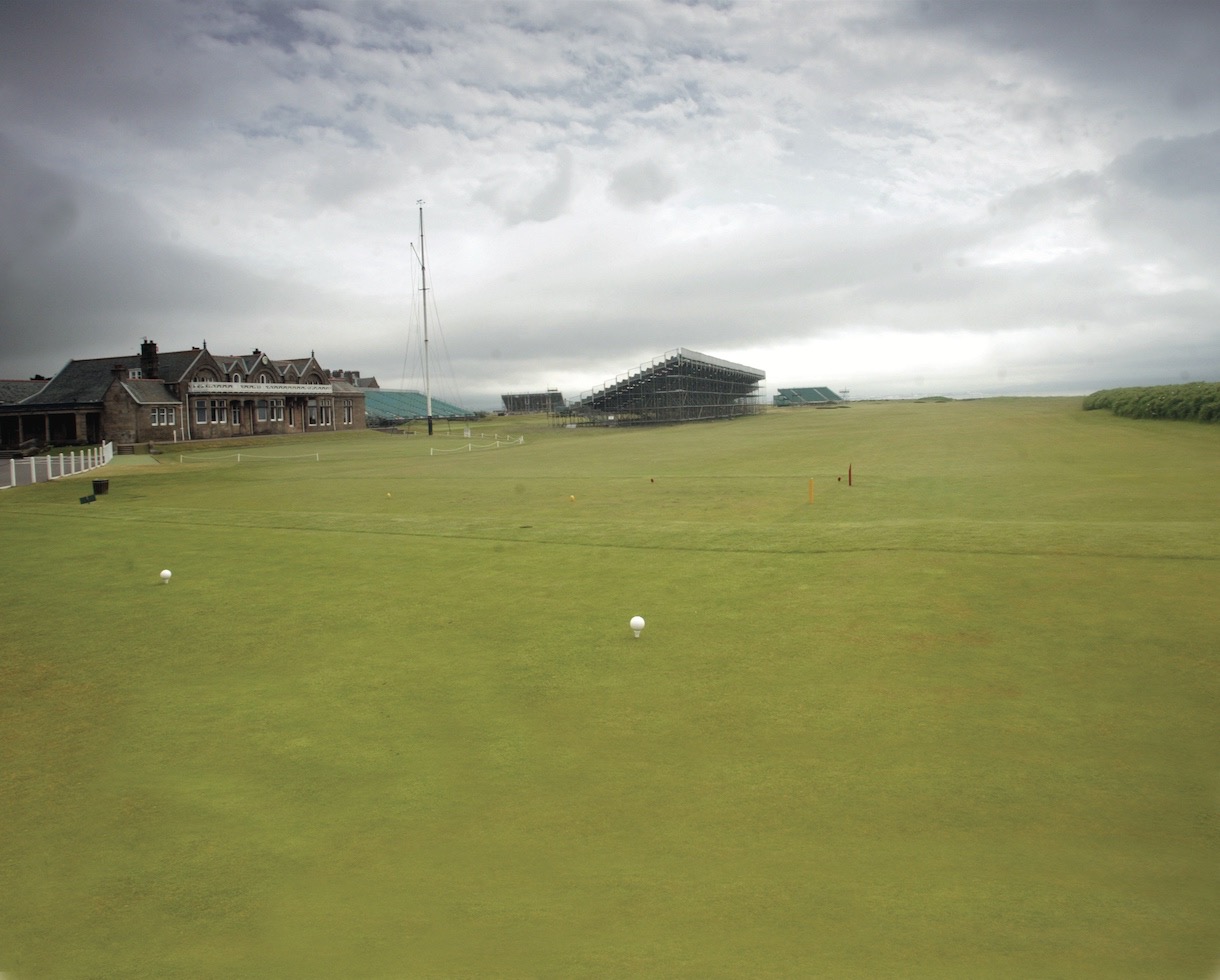 At just 370 yards, the opening hole on Troon's Old Course doesn't really give you any idea of the horrors that lie ahead. In fact, it's more like a friendly old neighbour who invites you in for a pot of tea and a slice of Battenberg but once you're through the door, her no-good family appears from nowhere and duff you up good and proper.
At the tee, Tim looks like a man who has spent the previous evening binge drinking until the early hours. Funny that. Jimmy, the caddy, hands him his driver and tells him to get on with it. The Southwell swing is slow and methodical but effective nevertheless. The ball sails out over the fairway and rolls into the light rough on the left.
"First cut..." mutters Jimmy." "Yeah, but the first cut is the deepest," replies Tim.
"Not here it isn't," laughs Jimmy. We arrive at the ball to find it sitting up nicely. It's only 130 to the front of the green but there's a fierce wind blowing straight into our faces. Jimmy hands Tim a 6-iron.
"Are you sure?" asks Tim, his masculinity clearly threatened.
"Trust me, I'm a caddy," says Jimmy.
Tim connects well again but the wind pushes it back and it comes up short on the edge of the green. He whips his putter from the bag and knocks it 20 feet past and through the green. His par putt isn't much better, crawling towards the hole and ending up six feet short. The next one slides by to the left and he taps in for a six. Southwell has hit the ground limping.
Southwell +2 after 1

Hole 2 Black Rock, 391 yards, Par 4 (SI 7)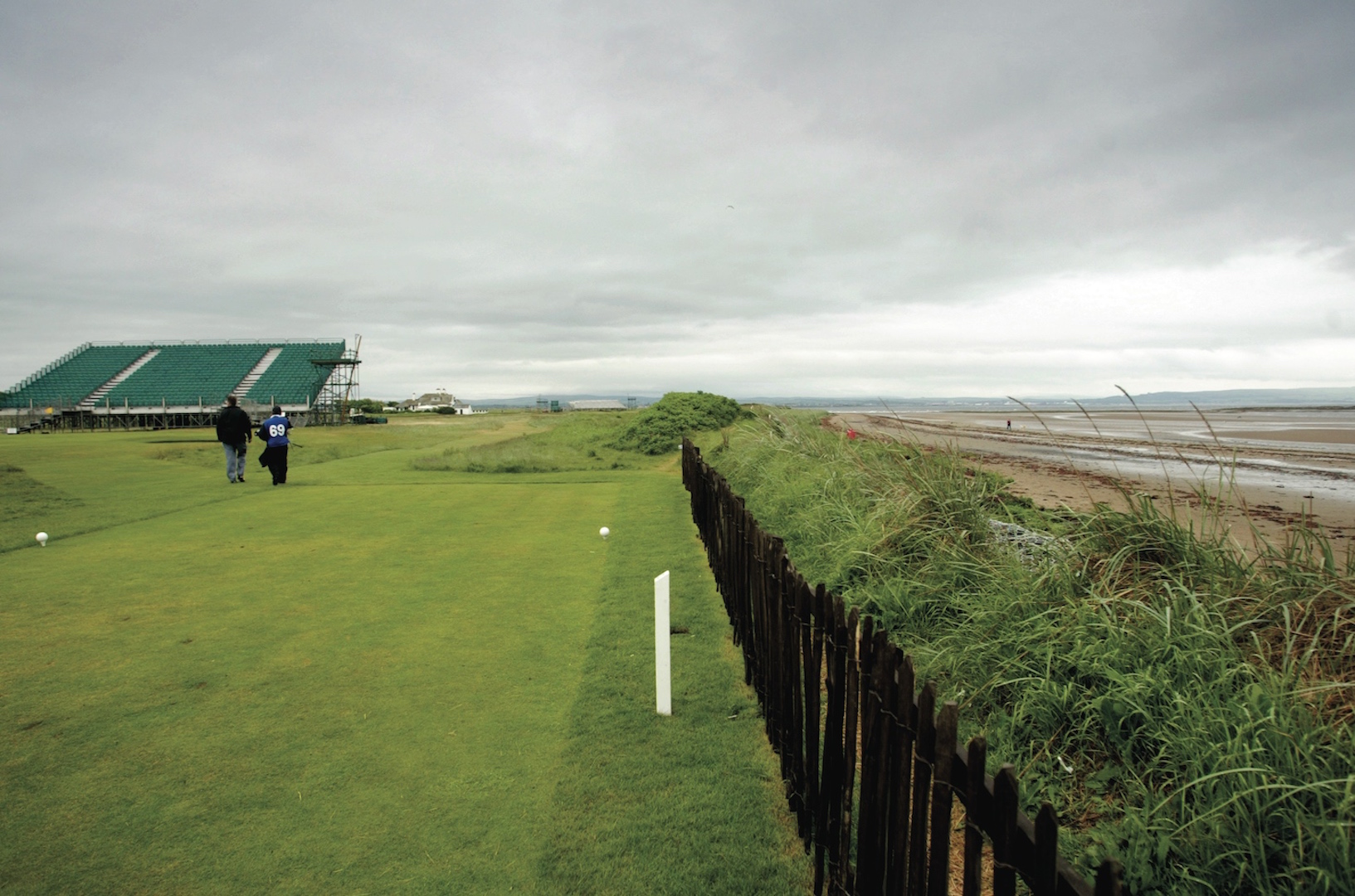 With the beach running parallel to the hole and Ailsa Craig in the distance, Black Rock is one of those picturesque golf holes that makes you feel glad to be alive. That's before you've played it, obviously.
Jimmy pulls out the driver and Tim hits it high and straight. It's a good-looking shot but the coastal wind knocks it down. It has travelled barely 180 yards and only just squeezed on to the fairway. There's 200 yards to the front edge, but with the wind picking up Tim can only advance it as far as the bunker on the left side of the fairway. He hacks it out to the right of the green and leaves himself a tricky little shot in between two bunkers.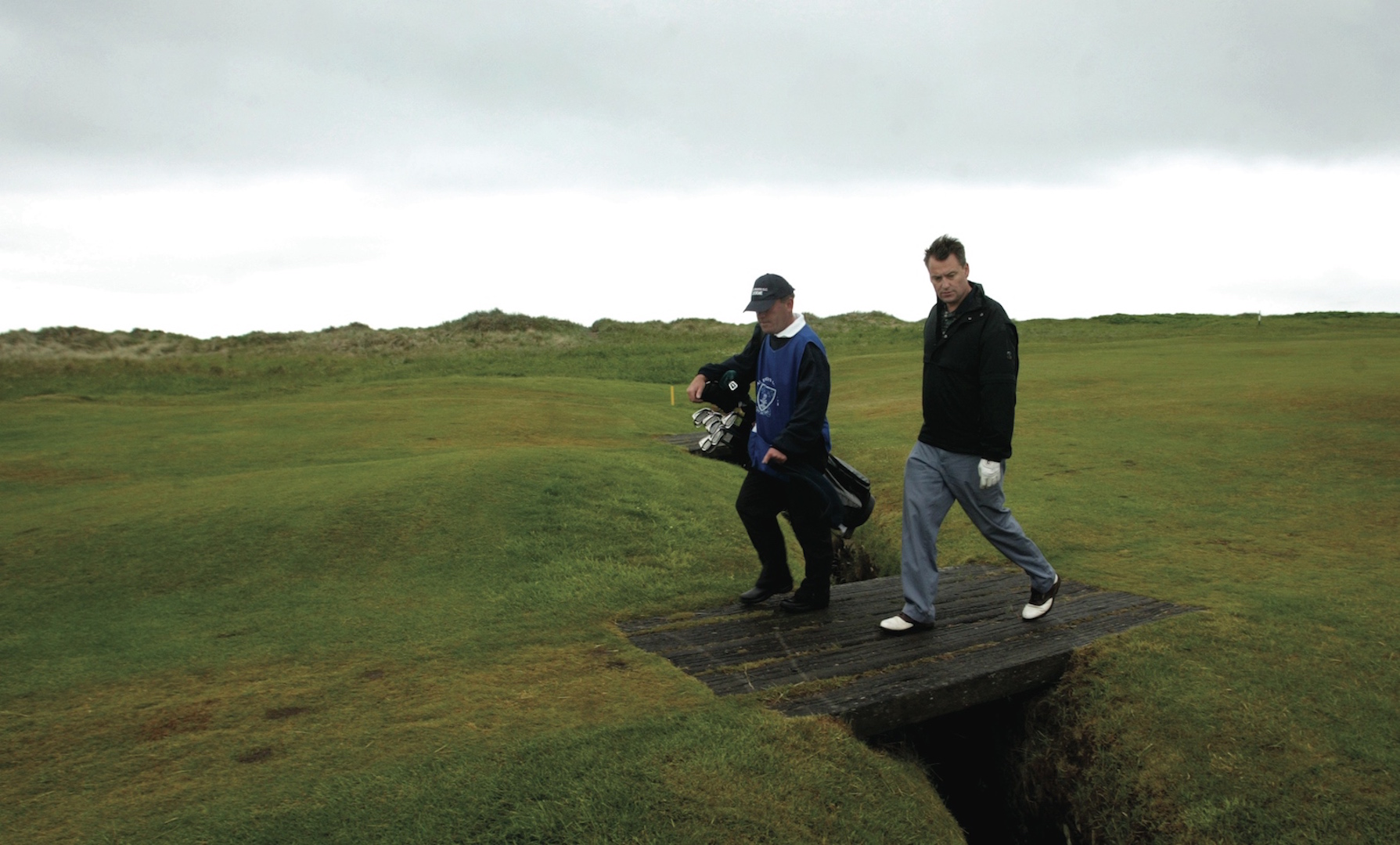 To the back of the green, there is a chap putting some temporary stands up. He stops as Tim is putting, paying him the kind of respect he patently doesn't deserve. With nothing to distract him now, Southwell focuses and, calling on all his years of experience, succeeds in knocking his chip off the green and then two putting for a six. 
Southwell +4 after 2

Hole 3 Gyaws, 379 yards, Par 4 (SI 11)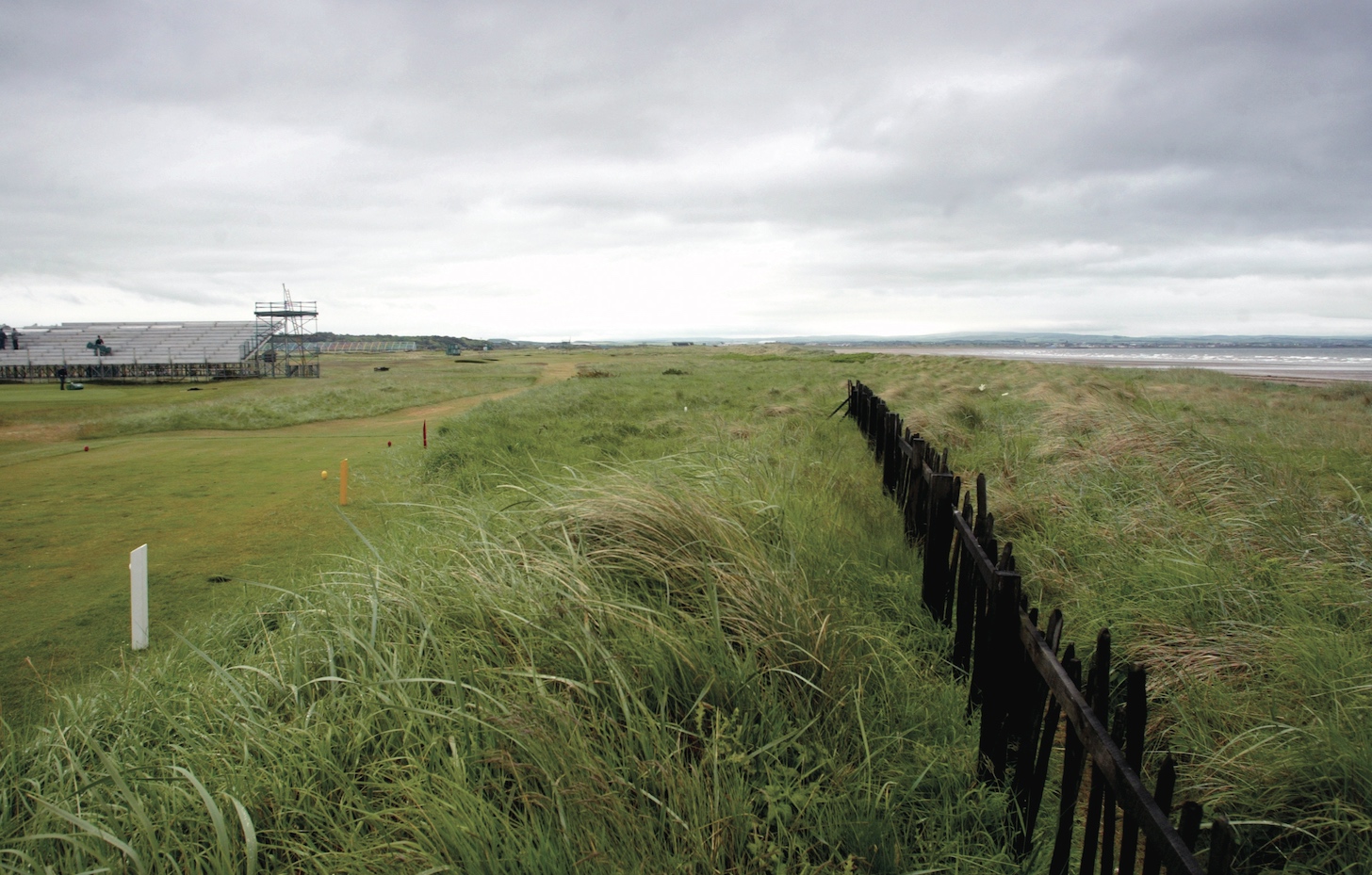 The wind has moved again and it is now blowing so hard it is sculpting Tim's hair into a style not a million miles away from that of Donald Trump. With his driver in his hand again, he finds the fairway with a good, clean hit. He has 156 to the front and his 5-iron approach reaches the front edge of the green.
With the benefit of some of Jimmy's local knowledge, he gets down in two for his first par of the day. There is a hint of a smile on his face. "The problem most people have around here is that they think they can beat the course but the secret is actually in how well you manage it," explains Jimmy.
He points to the small bunker half way down the fairway. "Take these bunkers. They may look harmless but if you get in one it's just like being a water hazard. It's a shot penalty."
Southwell +4 after 3

Hole 4: Dunure, 558 yards, Par 5 (SI 4)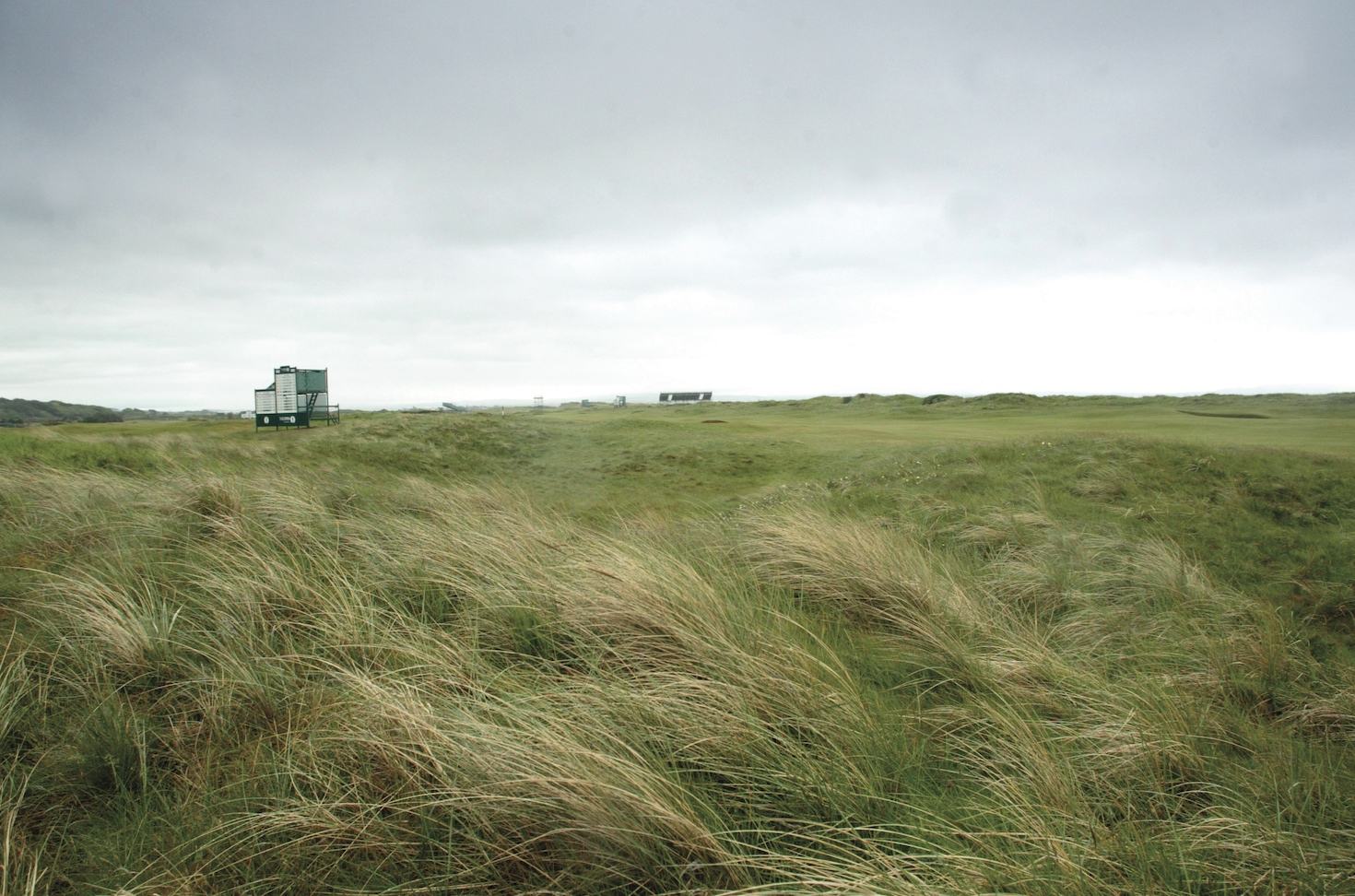 "Come on," says Jimmy, tapping Tim on the shoulder and walking off in the direction of the Championship tees. "Let's get a real feel for it."
Those of a nervous disposition should look away now. That said, those of you who enjoy nothing more than revelling in someone else's misfortune may want to carry on reading.
Tim is now faced with a 558 yard par five with a dog-leg to the right. There is a carry of over 200 yards just to reach the short stuff. To compound matters the wind is now swirling and there is rain in the air. His driver is pulled into the heavy rough to the left of the fairway. "I'm in the shite," he shrugs, declining to play a provisional ball.
"Aye," says Jimmy. "The real shite."
A search entails. Sniffer dogs are called in, adverts are placed in the local paper's 'lost and found' section and (UK crime show that examines real crimes) stages a reconstruction just to try and jog a few memories. After five minutes, Tim admits defeat. It's a long way back to the tee and it's raining hard. Given the undercover nature of our operation we decide to take a two shot penalty and get on with it. Tim grabs his 3-wood.
Sadly, the ugly rough claims another victim. I look at Tim as he kicks around in the rough, muttering, and guess that he's enjoying his Troon experience about as much as root canal surgery. He drops another ball and out comes the 3-wood again. This time, he finds the fairway. Remarkably, though, he still has 110 yards to the green.
By now, Jimmy is strangely silent. Clearly, as well as being a coach, confidante and court jester it is also part of the caddy's job to button it when necessary. He hands Tim a pitching wedge which his boss proceeds to lash through the back of the green. A duffed chip, a 12ft putt that races past and two more putts and Tim walks off the fourth green with a big fat nine on his card.
I ask him what happened. He declines to comment.
Southwell +8 after 4

Hole 5: Greenan, 210 yards, Par 3 (SI 14)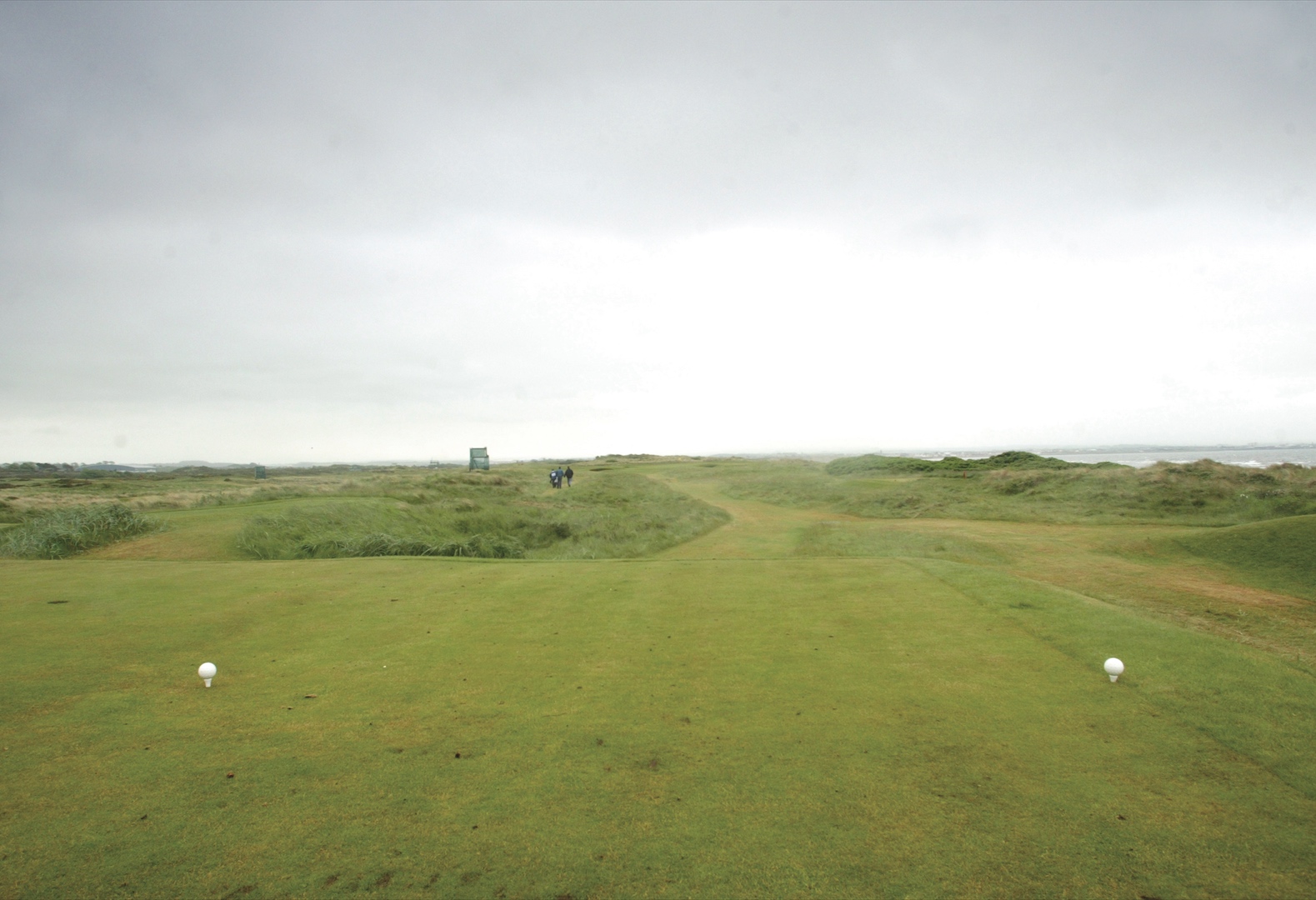 The first short hole on the Old Course and at 210 yards long it's just a gentle flick with, yes, you've guessed it, a driver. With the rain obscuring Tim's view he lashes out with his biggest club and his ball manages to avoid the four bunkers guarding the green. That said, it also manages to avoid the green and buries itself deep in the rough to the left. Another search ensues. It doesn't look good. Then, just as all hope seems to be lost, Jimmy finds Tim's ball. "That," insists Southwell, "Is the turning point."
He digs a wedge under the ball and sends it to the centre of the green and a narrow miss with his 30 foot par putt gives him a bogey. There is a leaderboard at the side of the green. The name 'Southwell' is conspicuous by its absence. 
Southwell +9 after 5

Hole 6: Turnberry, 601 yards, Par 5 (SI 2)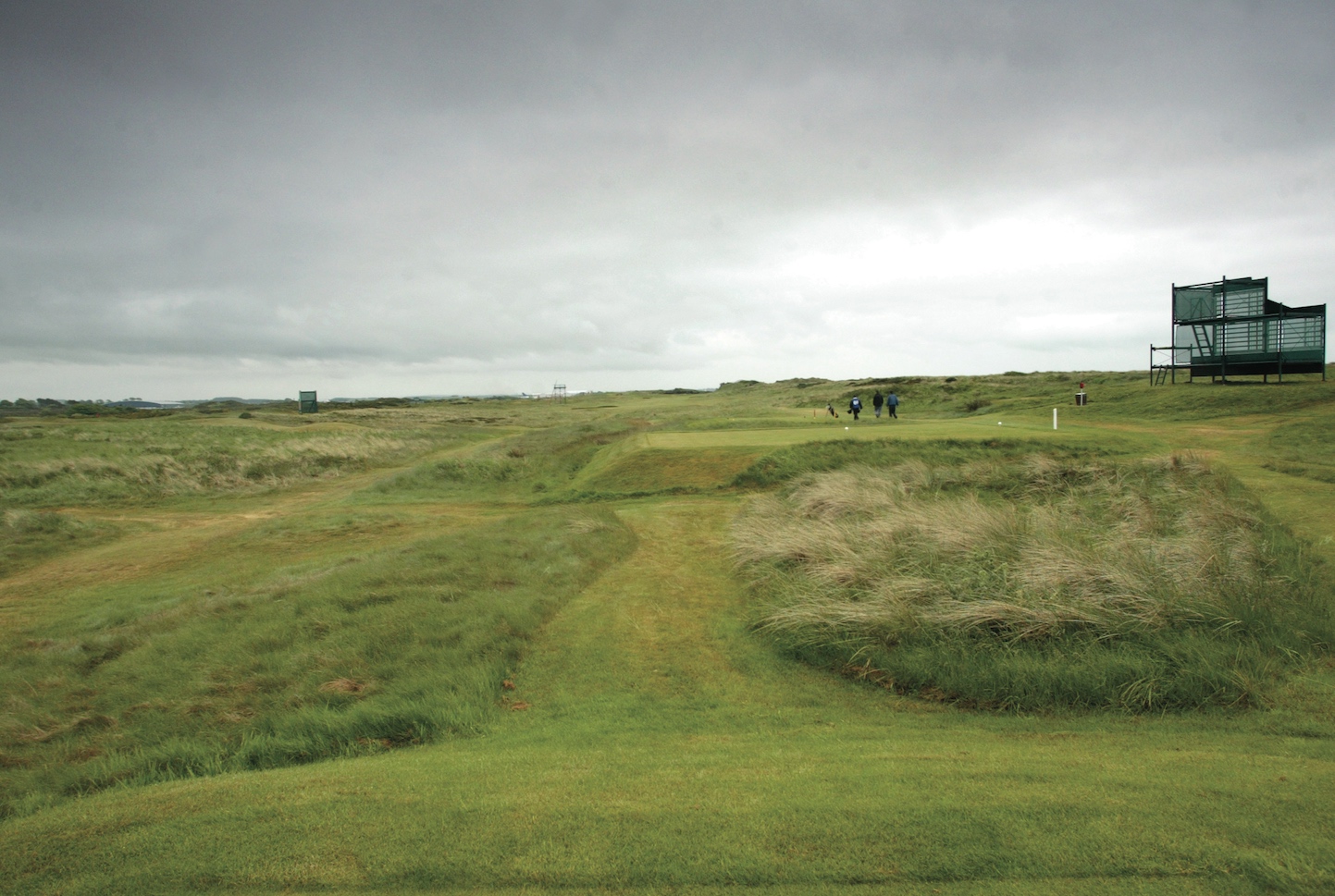 Troon has the longest and shortest holes in Open Championship golf and at 601 yards the sixth is bloody long. Tim's face, meanwhile, has turned white and his mouth is agape. "They're adding another 20 yards or so to it for the Open," explains Jimmy. "Just to make it a bit tougher."
Tim's drive finds the rough short of the fairway. As we walk down the fairway, Jimmy points out a small tee as we walk down the fairway. He explains that it is a short cut to the 13th green and is for those elderly players who can't be bothered to walk round the rest of the course. Politely, we suggest Tim heads that way. He ignores us.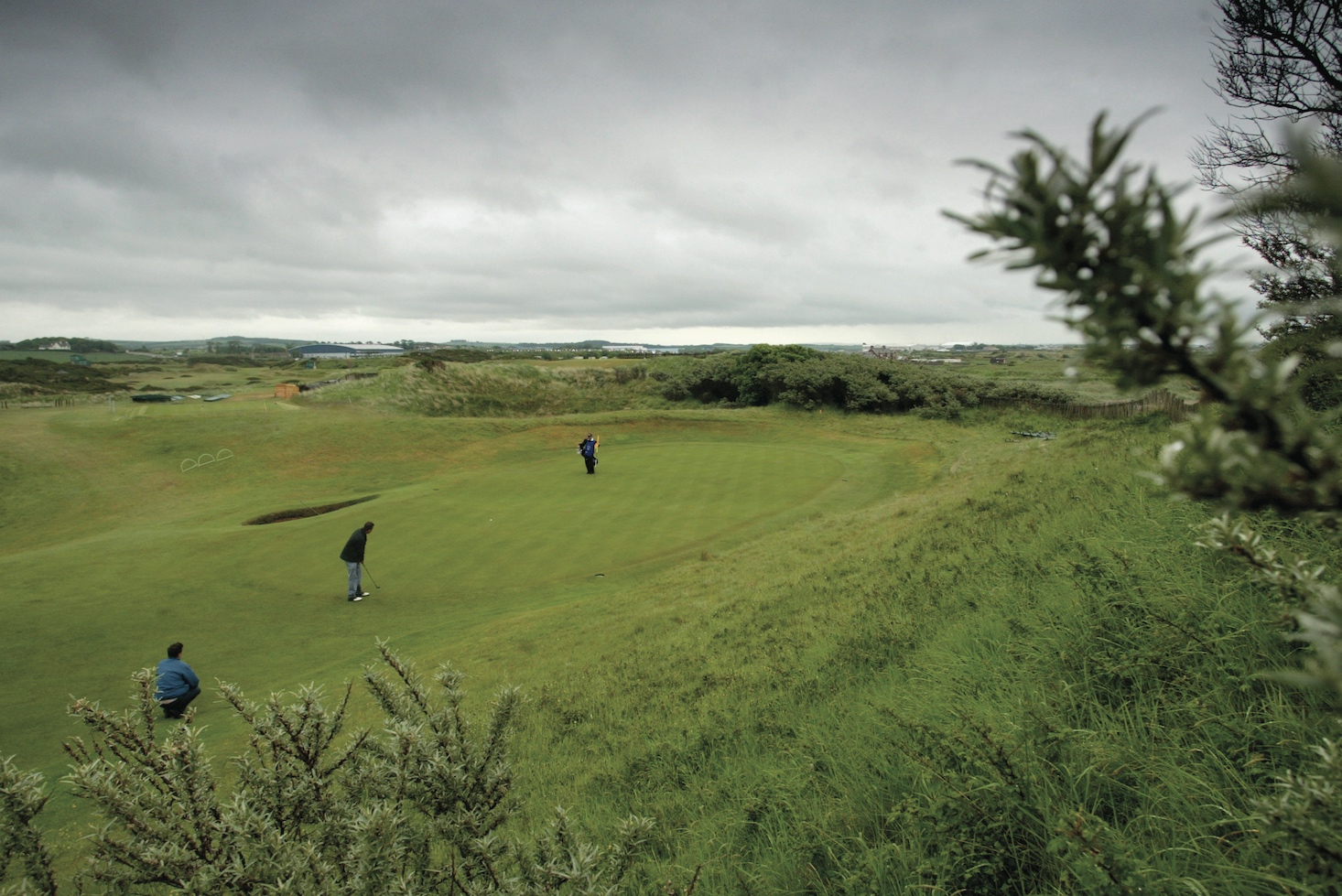 We reach his ball and there is still a very, very, very long way to the green. Tim takes to me one side. "I'm terrified," he confesses. With a 3-wood in his hand, he spoons his ball up into the sea air and watches as it plops down on the fairway just 80 yards nearer to the hole. He doesn't bother to put the club back in the bag and this time he pushes it right into an extremely receptive bank of rough.
With 110 yards left, he hacks a 9-iron to the front fringe of the green and leaves himself with a putt of 50 feet, with just the four breaks. Jimmy points out the line. "A couple of balls to the left," he advises. Tim hits his putt. It is way, way left. "I mean a couple of golf balls," says his caddie, "Not basketballs." Two more putts and there's a seven on the card.
Southwell +11 after 6

Hole 7: Tel-El-Kebir, 405 yards, par 4 (SI 9)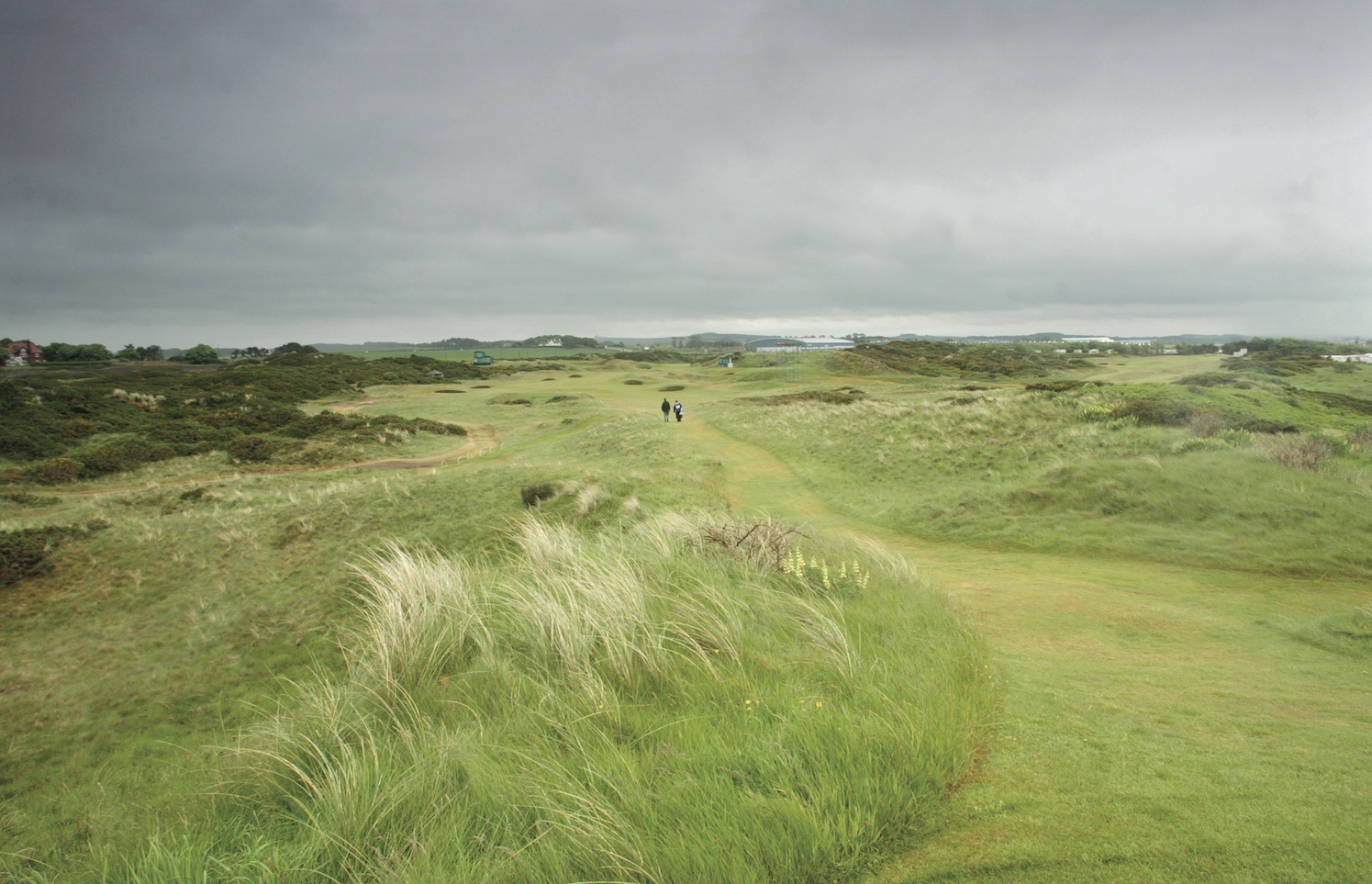 The drive is straight but nowhere near long enough to make the fairway and it drops pathetically into thick gorse. We look for ages but find nothing apart from a bugs' nest and, rather surprisingly, a pair of women's knickers.
With a blatant disregard for the rules of the game, Tim drops another one where he thinks the lost one landed in a manner that suggests that he believes he's doing everything above board. "What have we got, Jimmy?" he asks.
"Dunno," replies the caddy, "I've never been this far back before."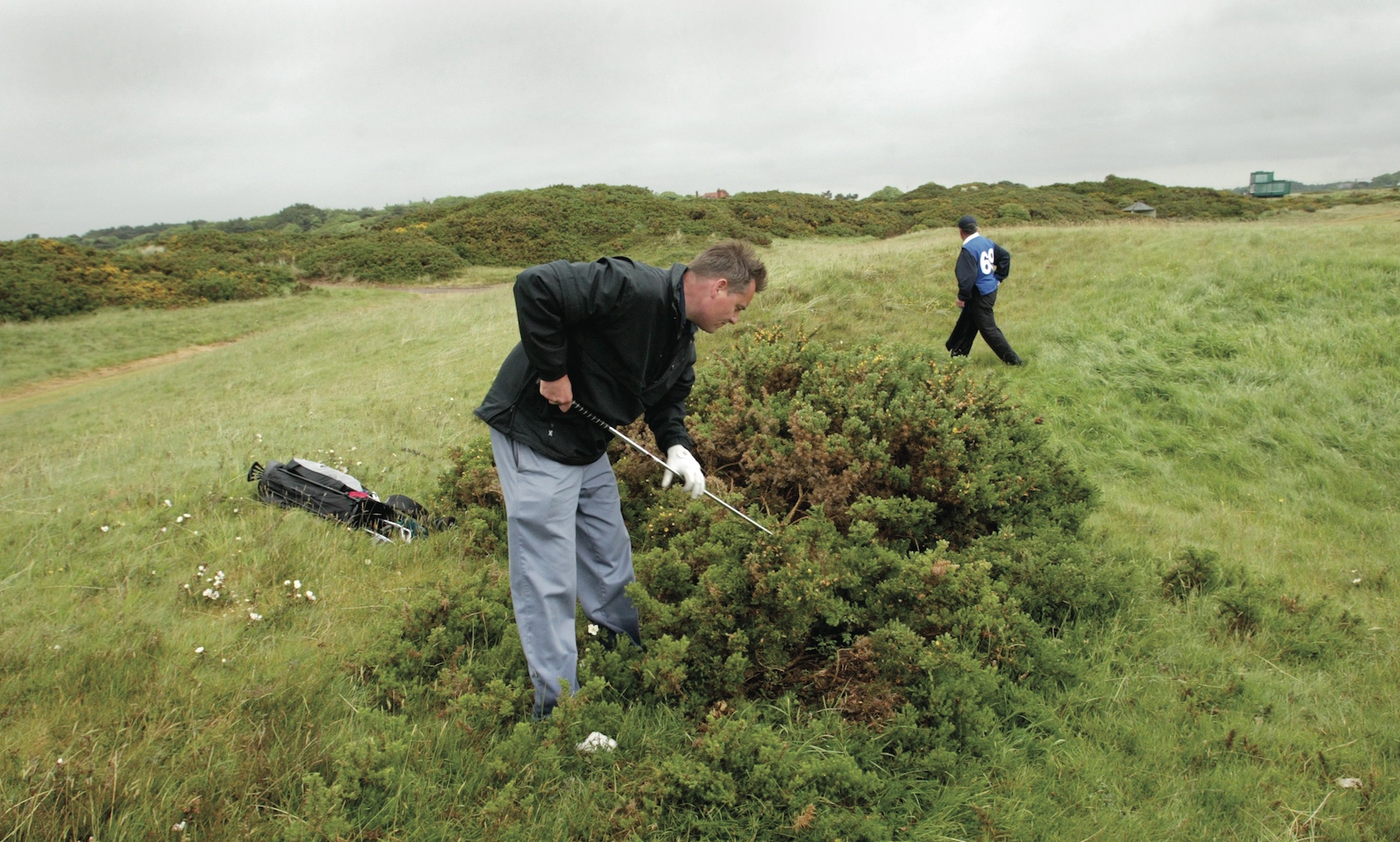 A 4-iron finds the light rough on the left of the fairway, leaving Tim with a 40-yard bump and run with more ups and downs than John Daly's career. He hits a great shot with another 4-iron, leaving himself with just four feet for a five. He misses it.
Southwell +13 after 7

Hole 8: The Postage Stamp, 123 yards, par 3 (SI 18)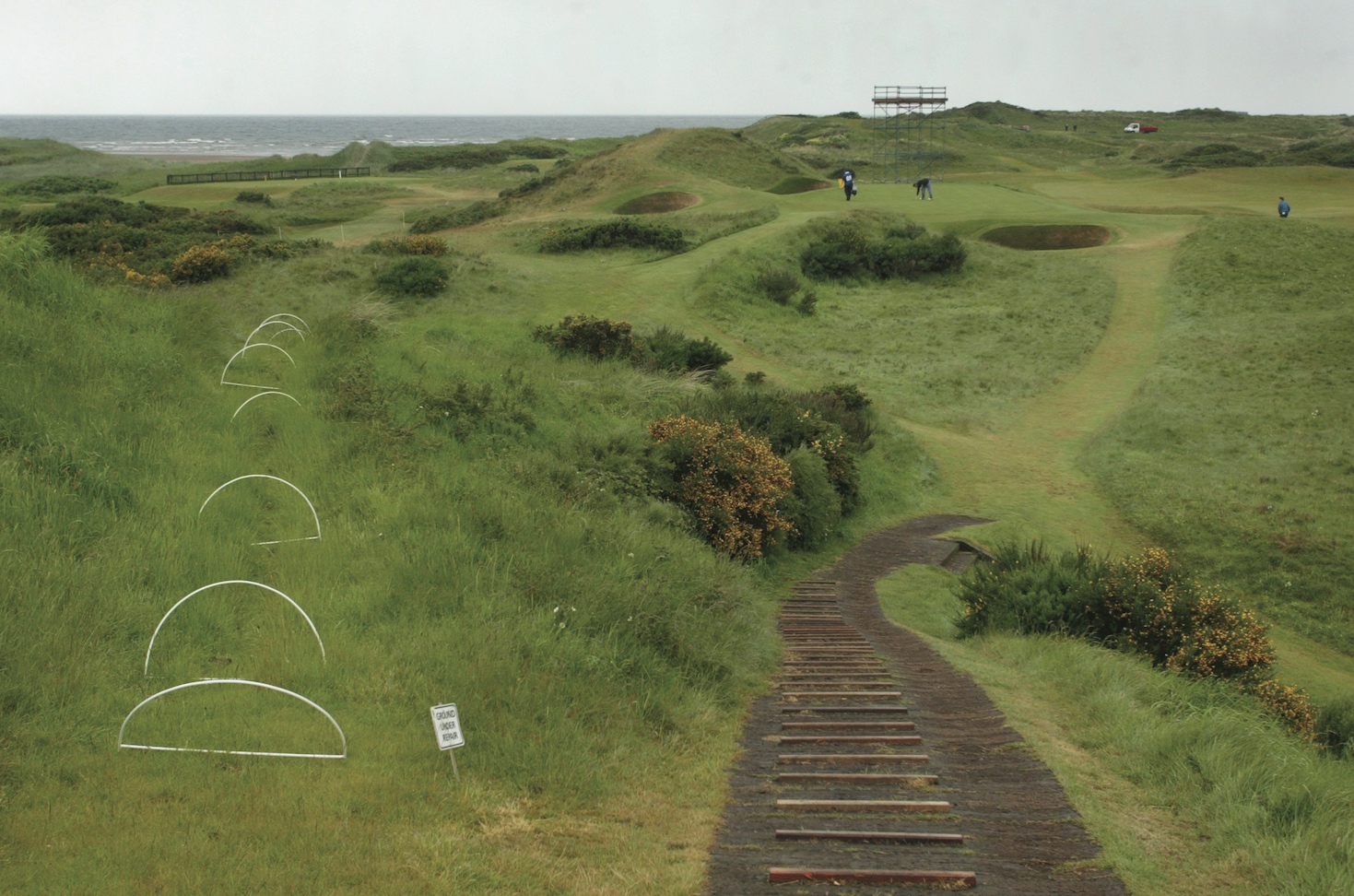 And so to the most famous hole at Troon. Tim's face is a picture. He looks as happy as a kid in an off-licence. Jimmy points out the bunkers to avoid, most notably the Coffin bunker, so-called not because it's where they bury their members but because it's shaped like a coffin, albeit a bloody big one made out of sand. Tim takes his 9-iron and hits the shot of the round so far. The ball arcs through the air and lands softly behind the pin, about 18ft from the hole.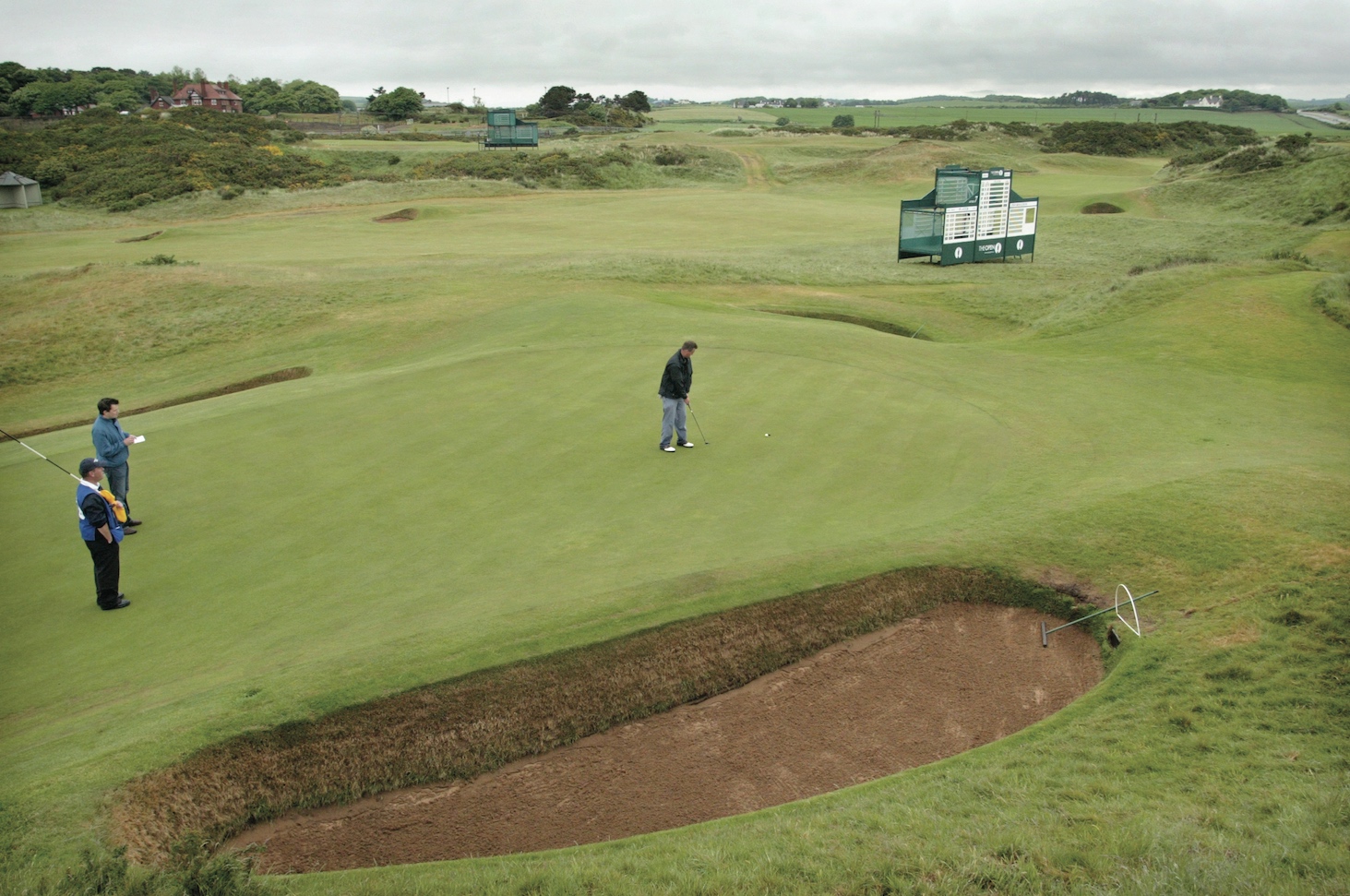 "Great shot," says Jimmy. "Thanks," says Tim, picking his tee out of the ground. Needless to say, Southwell misses the birdie putt and has to settle for a par. "Still," says Jimmy, "at least that's three shots better than Tiger got when he was last here."
Southwell +13 after 8

Hole 9: The Monk, 422 yards, par 4 (SI 5)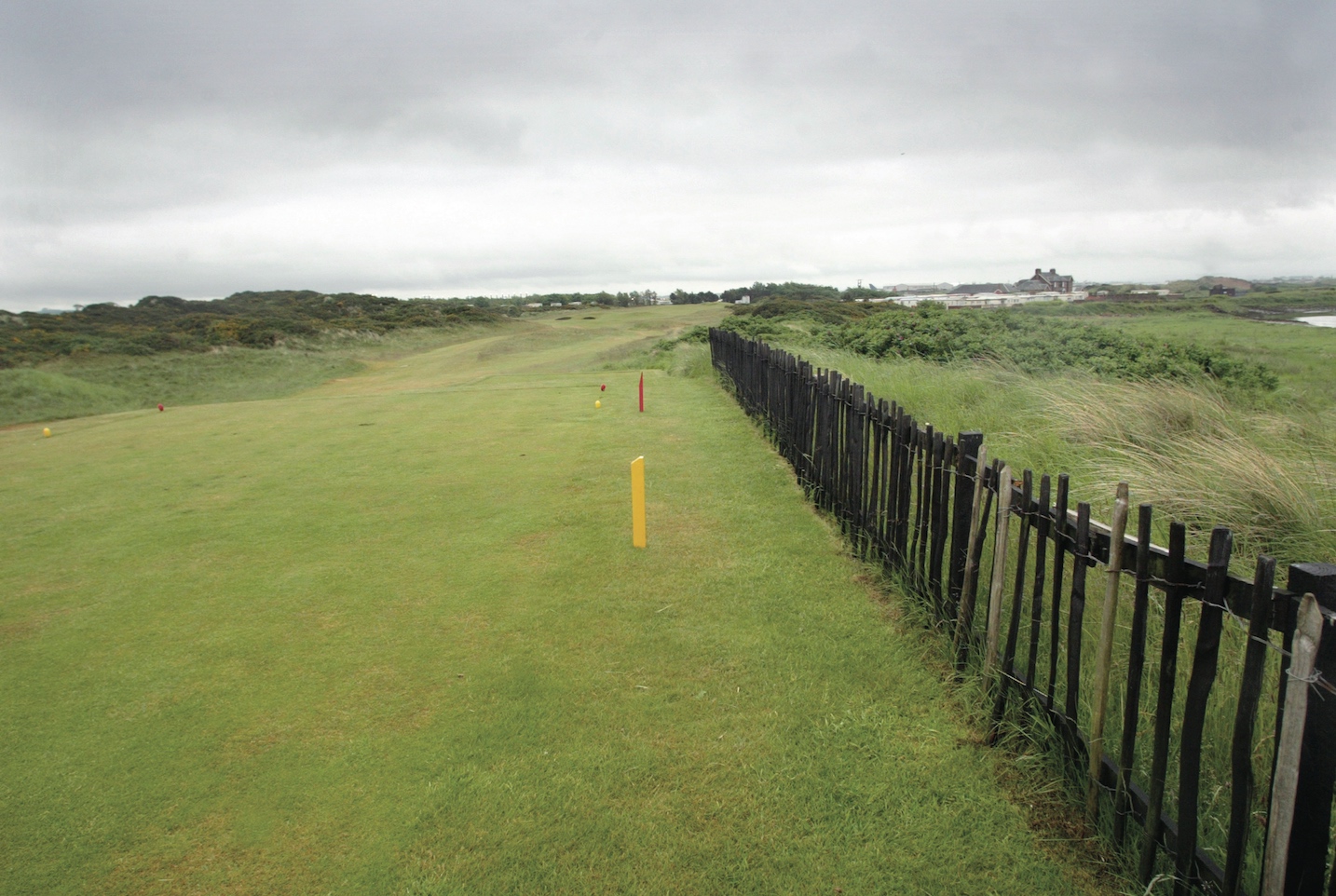 We reach the 9th tee. The rain has come in from the sea, the wind has picked up and my notepad looks like I've been crying into it, which, given Tim's showing so far would be entirely understandable. The Monk is a slight dog leg to the right and requires precision off the tee to negotiate the two ugly bunkers lurking on the left side of the fairway. Tim hits a screamer of a drive, narrowly missing a hawk hovering over the rough and finding the short stuff with ease.
His 3-wood approach, however, is less impressive and dives into the rough on the right of the fairway. As we look for Tim's ball, a Ryanair plane roars overhead on its way to land at nearby Prestwick airport. It is so low you can almost see the passengers looking at Tim skulking around the gorse and laughing. Eventually, we find his ball and Tim hacks it out on to the green. The ball is on the dance floor but a long way from the band.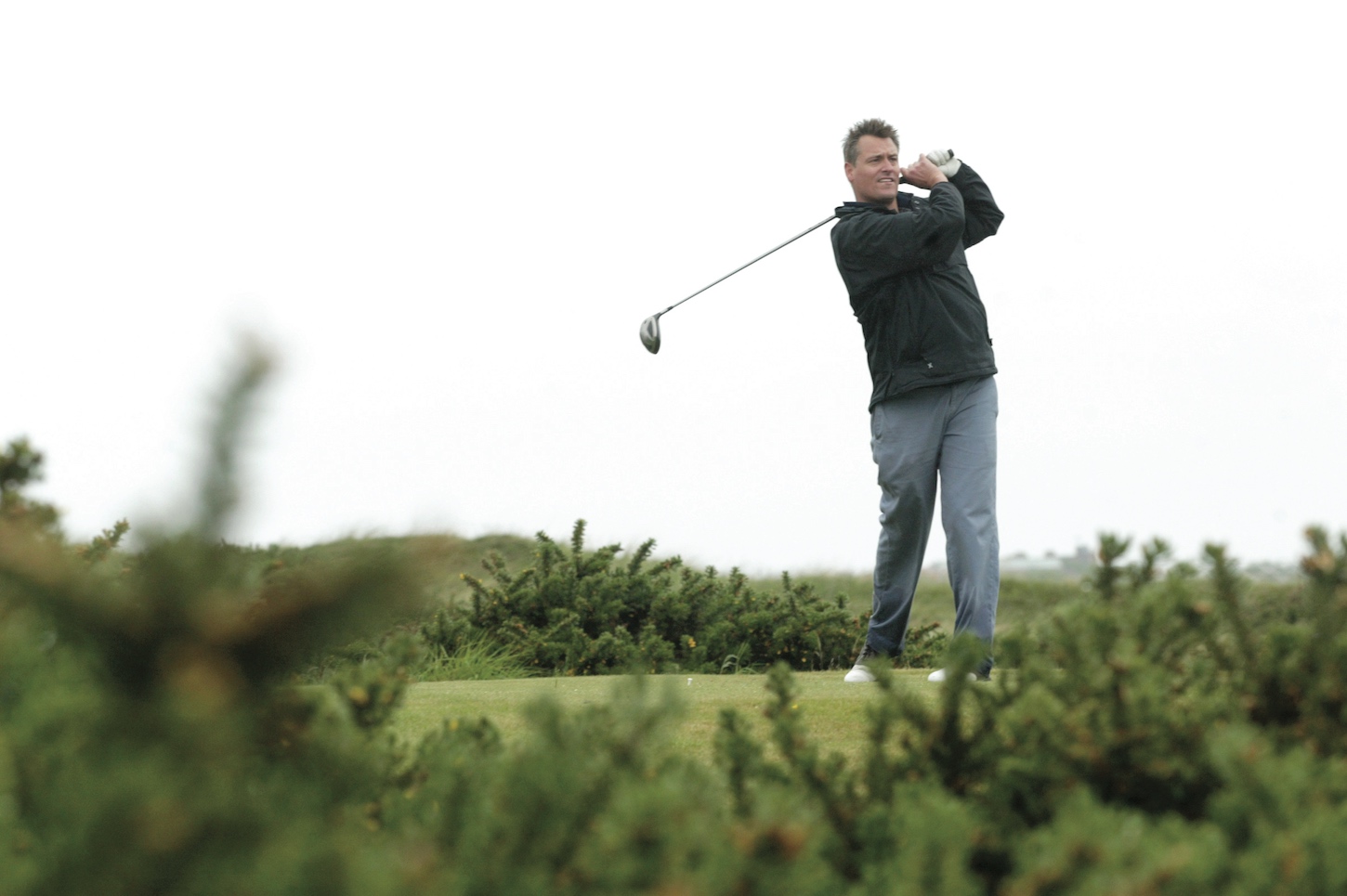 As we wander up to the green, the heavens really open and we run for cover. The only shelter we can find is the scoreboard already in place for The Open. We toy with the idea of hopping over the fence and going for a cuppa in the caravan park over the back of the 9th green but it is only 9.03am and, as Jimmy tells us, it won't be open for another two hours yet.
So we stand there talking rubbish for 15 minutes, occasionally looking up to see another plane screaming by or sticking our heads out to see if the rain is easing up. When we finally venture out Tim returns to his ball and two putts for a five.
Southwell +14 after 9

Related:
The GolfPunk Open Caddyshack 2016