The Masters
Apr 7th, 2018
Patrick Reed holds off Rickie Fowler for maiden major win
And why Reed is Augusta's Dark Knight
Words: James King
"Because he's the hero Gotham deserves, but not the one it needs right now." 
Very few people would ever have thought that the words spoken by Commissioner James Gordon at the close of Christopher Nolan's 2008 film the Dark Knight would ever be relevant to the game of golf, even less so to the winner of perhaps the most anticipated Master's of modern times.
After a historic performance that nearly included four rounds in the 60's for the first time in Masters' history, Patrick Reed's victory was more than deserved. As universally loved departing champion Sergio Garcia draped the Green Jacket over Reed's shoulders this evening, however, there will be many people perhaps feeling that they did not get the champion that they wanted.
This Masters, more so than any before, seemed to be about narrative. From Tiger, to Phil, through Rory, Poulter and Bubba, this tournament sat at the intersection of so many unique stories that appeared ready to reach their crescendo amongst Augusta's azaleas.
And any great story needs heroes and villains.
Golf is a game that so often delivers us pre-packaged heroes. Well groomed, respectful and polite young athletes who are easy to root for. For those who like their heroes clean cut and polished, you have Jordan Spieth, Justin Thomas and Rickie Fowler. For those who like their players with a little more edge, you have fiery competitors like Jon Rahm. Even Tiger Woods, a man with a chequered personal history with which we are all too familiar, has been swiftly admonished of his sins and uniquely and fervently celebrated as golf's most prodigal of sons.
Golf fans, it seems, are prone to focus on the more positive aspects of an individuals character. The ability to swing a thin sliver of metal at high speeds at a small white cylinder sphere appears to uniquely apply a "good guy' filter to most men.
With Patrick Reed, for some reason, that filter appears somewhat cracked. Reed's brand of confidence often translates as arrogance, as witnessed in the seemingly universal reaction to to his claim that he was "a top-five player in the world" after his win at the 2014 World Golf Championship at Doral, while his belligerent performances at the Ryder Cup both won him admirers for the tenacity and skill of his play, and drew criticism for his confrontational behaviour.
There are murkier allegations surrounding Reed from his collegiate past, including aspersions made in the book Slaying the Tiger of cheating in practice rounds and stealing from teammates.
All of which has imbued the final round of the 82nd Masters with a particular dramatic tension. Patrick Reed, golf's villain, might provide the perfect foil to a more palatable champion. 
With Reed holding a three shot lead coming into Sunday's round, it seemed that that hero would most likely be Rory McIlroy. If you were to craft the perfect Masters' script, who better to usurp Reed than the man seeking the Holy Grail, the career Grand Slam. The same Northern Irishman who as a younger man had relinquished a similar lead, only to come back older, wiser, more ready to grasp such an honour.
And for the first hole and a half, everything appeared to be following the script. McIlroy birdied the first as Reed bogeyed, cutting the lead immediately to two. Then on the following hole, the par five second, Reed found the bunker with his second shot and Rory pured an iron to within ten feet. While Reed played out of the bunker to the vicinity of the hole, everything suggested a momentous two shot swing. If Rory were to hole this they would both be level after just two holes, the momentum would firmly be in the Northern Irishman's favour and one could envisage the rest of the round simply being a procession to the Grand Slam.
But Rory slid a putt he would have easily holed over the preceding three days wide, Reed made his par, and Rory would never find his way back. For Rory, this was the defining moment of this Masters. The form that he had rebound over recent weeks with the putter abandoned him, and his round was to become a footnote in this years tournament. He eventually carded an incredibly disappointing 74, his worst of the week, and that was all she wrote.
Others would step up to the challenge of thwarting Reed over the course of this round. At various points Jon Rahm looked like he could muster a challenge, and become the man to ensure the Green Jacket remained worn by Spanish shoulders. His challenge sputtered out, however, truly ending when he found the water at 15.
The most heroic of challenges would come from a familiar name but an unlikely source. Jordan Spieth sat at -5 at the start of the day, a whole 8 shots of the lead. Even for a young man with so much history at Augusta already, it seemed unlikely that he would be able to muster a challenge from so far back. But muster he did, and he played like a dream. 
Coming into the 16th he had already put together 8 birdies, and not a blemish on his scorecard. He duly birdied the 16th from some distance, tying the lead with Reed at -14. The cheers that reverberated round every corner of Augusta's fairways only reinforced where the patrons support lay; if not with Spieth then with anyone who was not Reed. However his challenge, and an opportunity to break the course record of 63, was halted at 18, where he made his one and only bogey of the round.
He will win here again. That story is already written.
And so it was left to Rickie Fowler. A man who many believe can't close. A man who has competed in every major going, but never crossed the finish line. He gave it his best, birdieing the last to card a 67 and sit at -14.
Which left it in the hands of Reed. The man no-one seemed to want to win. he saw off his immediate challenger in Rory, and his card reflect the dogged determination that was evident throughout his round. Every bogey was immediately answered with a corresponding birdie, and just as he heard the roar from Spieth drawing level he found an approach and a putt at 14 for another.
With Rickie posting the aforementioned 67, all Reed needed on the 18th was to not make bogey. His driving had been solid all tournament, and he put himself in prime position just short of the bunker. His approach caught on the fringe above the hole, impeding the balls expected march back towards the hole and leaving him a nerve jangler backdown the hill. 
You see this is the point in the script where Reed would push it too far down the hill. Where he misses the putt back and let's Rickie into a playoff. Where Rickie wins, proving the doubters wrong.
But here's the thing. That's not how golf works. It is a game that is simply about putting a ball in a hole 72 times in as few strokes as possible. And that is what Patrick Reed did. With skill, with courage and with a belligerent determination.
So Patrick Reed may not have been the winner we all wanted. He is, however, Masters Champion 2018. And boy, does he deserve it.
https://twitter.com/PGATOUR/status/983115523725647872
You might also like:
GolfPunk Magazine Issue 2: Read FREE here!! Masters Special PLUS WIN an amazing golf break at the legendary Kulm Hotel in St.Moritz PLUS a 4-Ball at Europe's best new course, Monte Rei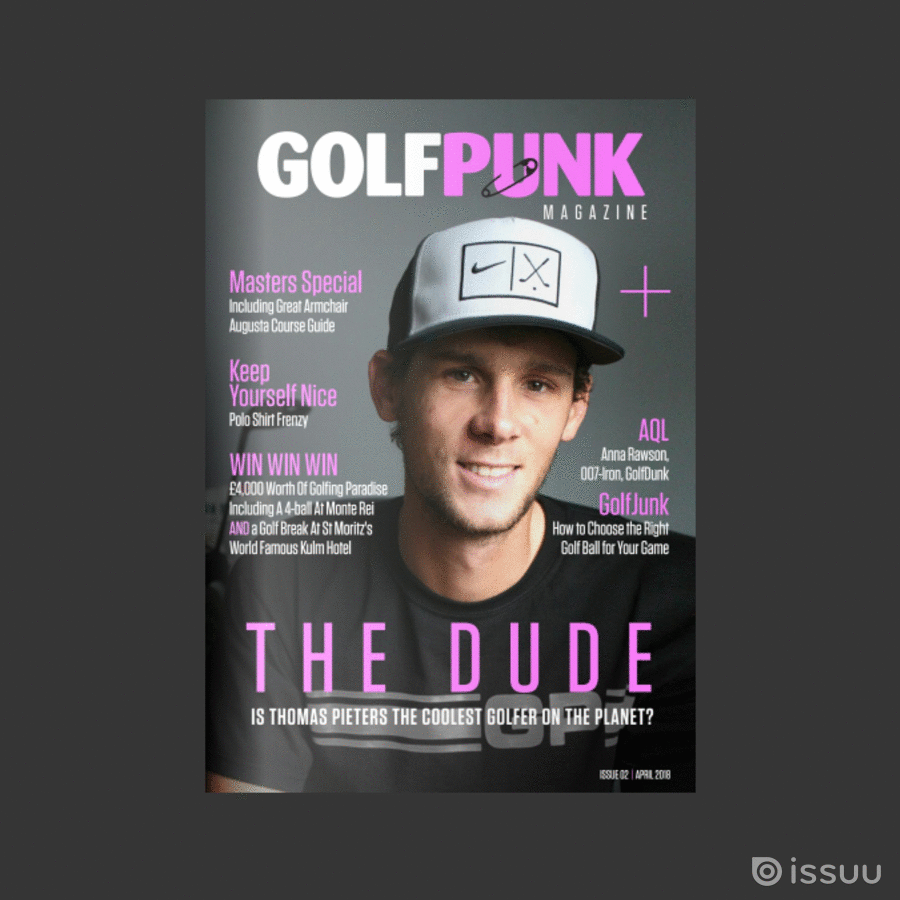 TAGS: The Masters, Augusta National, Players, Tournaments, Tiger Woods, Jordan Spieth, Rory McIlroy, Paul Casey, Patrick Reed, Tommy Fleetwood, 2018