News
Aug 5th, 2022
England sweep R&A boys' and girls' Home Internationals
All three competitions won at first combined team format
England not only made history by winning the first ever combined team format for boys and girls in the R&A Home Internationals, they swept all three competitions, winning the combined event and the boys' and girls' competitions too.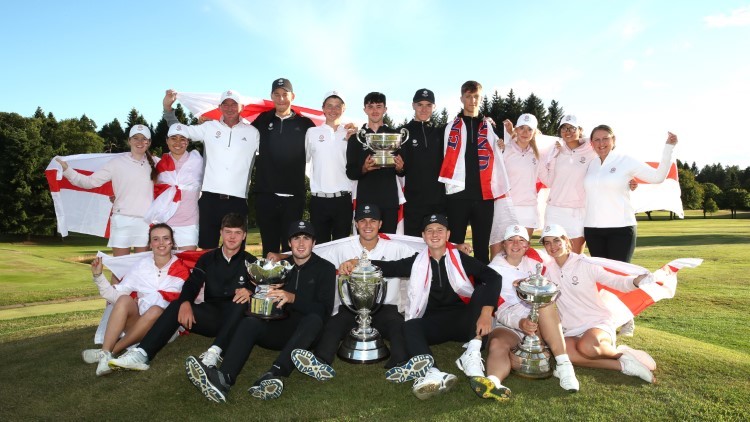 England topped the combined final leaderboard with a perfect three points from three wins, Ireland was second with two points, Wales and Scotland took half a point each, with the Welsh side finishing third thanks to more matches won.
Already in pole position heading into the final day and just needing to defeat Scotland to top the points table, England made sure of victory right from the start with a 6-1 win in the foursomes. England then dominated the singles too with an 11-3 advantage to beat the home team 17-4.
"We got out fast today," England captain Stephen Burnett said. "We changed things around for the foursomes and they smashed it this morning. They did this afternoon too. The team bats deeps, and in a way the format favours us because the more players there are the better it is for us, but they still had to go out there and do it. I couldn't be prouder of them to win all three trophies. The team was fantastic, they prepared well, played well and it's a great result."
Ireland assured themselves of second place with a 12½-8½ win over Wales. The Welsh provided strong resistance early on by splitting the foursomes session 3½-3½. However, the Emerald Isle players proved too strong in head to head play, taking the singles 9-5.
"I couldn't have asked for anything more from my players over the last three days, especially the last two," Irish captain Peter English said.
"It was a fantastic performance. We've got quite a few debutants, players that are available next year and the year after. It shows we're on the way up and we have a lot to build on for next year. We haven't had the exposure for the last couple of years, and it's critical they do get this exposure. It gives them important international experience for their development."
Welsh skipper Llew Matthews also left Downfield feeling immensely proud of his team.
"We played well in the foursomes this week and this morning to split the session, but the Irish came out fighting this afternoon and played a lot of good golf," the 2007 Walker Cup player said.
"We played good golf throughout the tournament which perhaps doesn't show up in the scores, and I'm proud of them. There's been great camaraderie, great togetherness. It's been a great learning experience for them, and they have something to build on for the future."
While it's perhaps unfair to pick out one player from the 64 on show, one deserves special mention. Scotland's Niall Shiels Donegan was the only player to emerge with a 100% record from his six matches.
"Niall was brilliant this week," Scottish captain Susan Jackson said. "He's been a real leader, he's led the team, he's confident and he's had great team work with his team mates. To win six matches out of six is very impressive."
The best juniors in Great Britain and Ireland will convene at Lindrick Golf Club, the 1957 Ryder Cup venue, for the 2023 R&A Boys' and Girls' Home Internationals.
---
And another thing...