The 2017 Staunchie Awards
Feb 2nd, 2018
GP Staunchie Reader Awards Part 2
From Player Of the Year to Swingin Siren...
Words: Tim Southwell + GolfPunk readers
The votes have been counted and you have chosen your favourite players, commentators, Bunch Of Arse and Help The Gravy moments of 2017...
1) GolfPunk Instructor Of the Year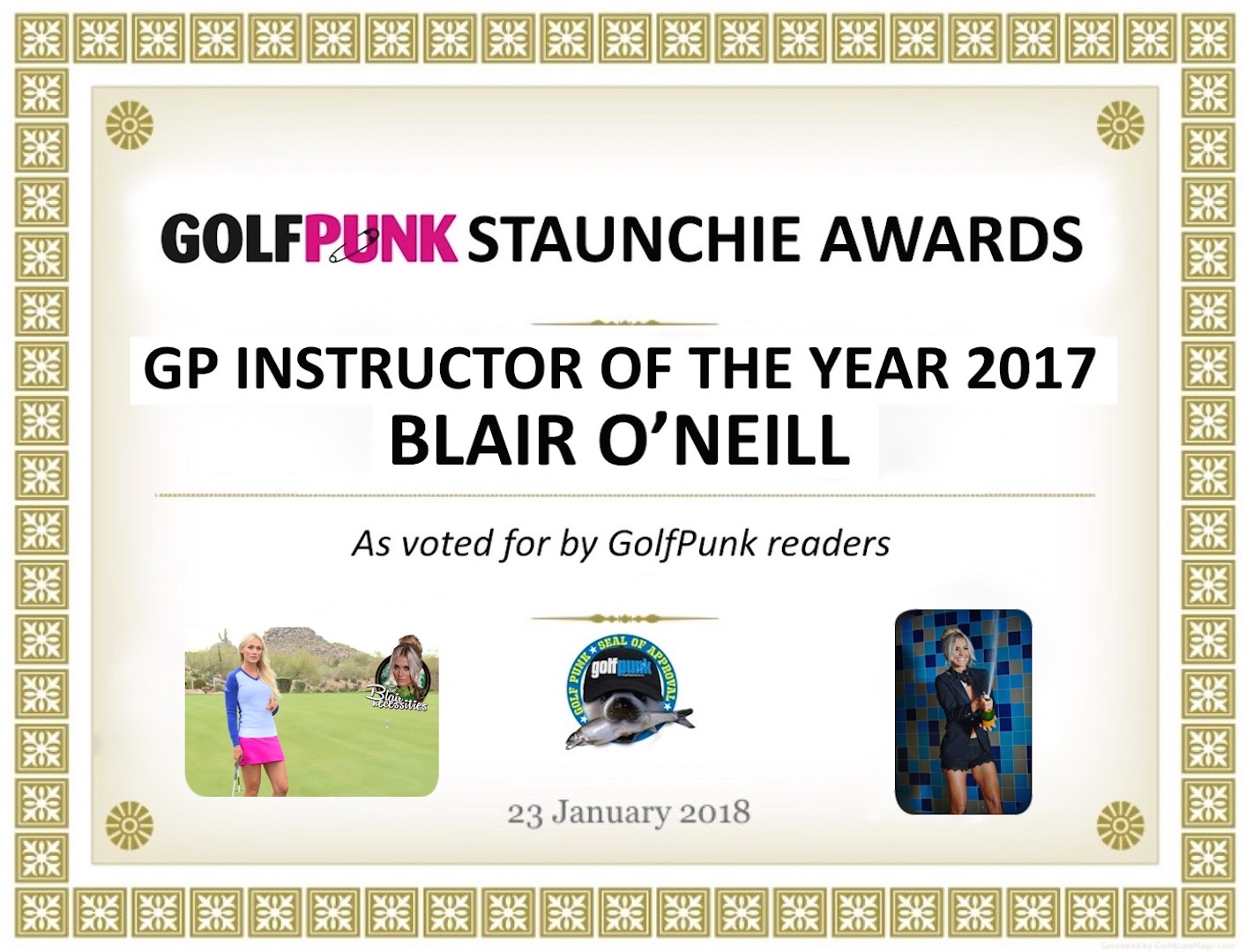 No wonder she's popping the champagne, Blair O'Neal is your GolfPunk Instructor Of The Year, pulling in 32% of your votes, with Carly and Maria claiming silver and bronze. Jeff Ritter did the best out of the boys for whom it really is a case of better luck next year. The Blair Necessities proved to be your favourite instruction format and personality. Congratulations Blair!!!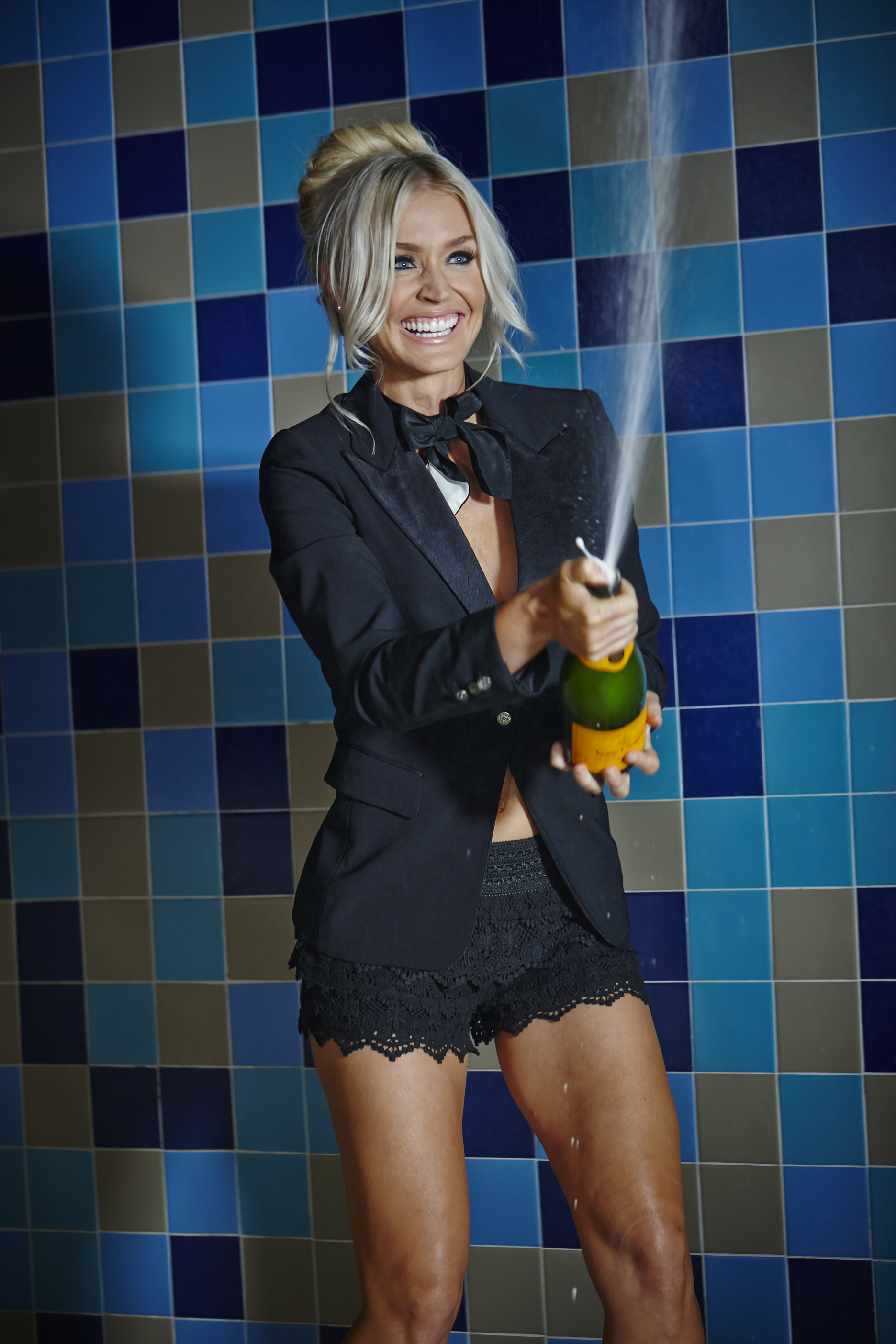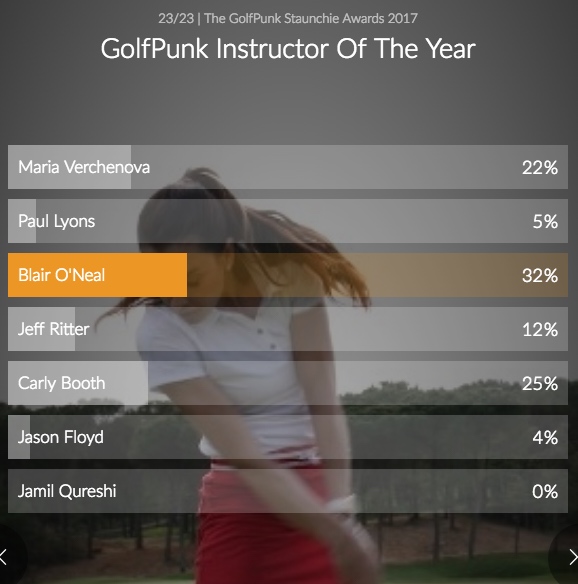 2) Male Golfer Of The YearThis one was tighter than Ernie Wise's wallet pocket, with Tommy Fleetwood just edging out Justin Thomas. Two wins (Abu Dhabi HSBC Championship and ANA Open de France) were backed up with runner-up finishes at WGC Mexico and the Shenzen International.
More importantly, Fleetwood announced his arrival on the world stage with 4th place at the US open and over €3million in prize money on the European Tour alone. He fended off late challenges from Sergio Garcia, Justin Rose and Jon Rahm to win the Race To Dubai title and has started 2018 in exactly the same vein, defending his Abu Dhabi title in January.
No wonder we call him The Guvnor here at GolfPunk.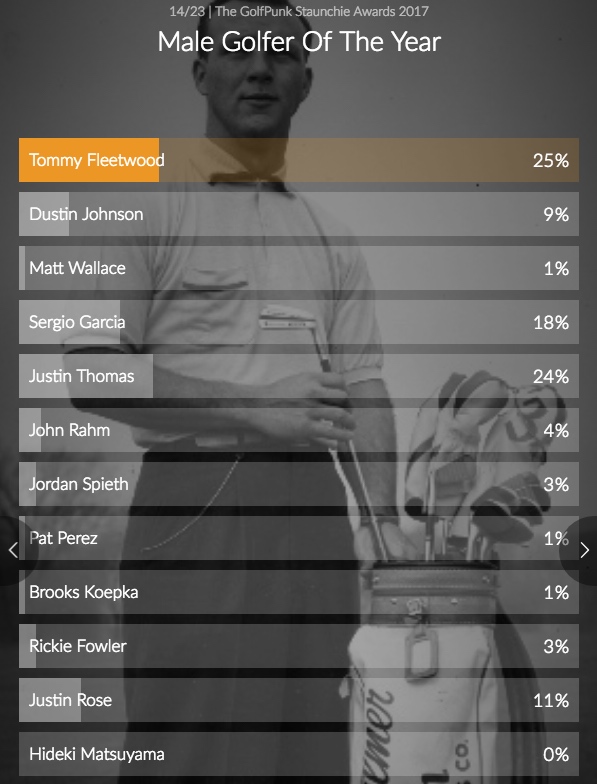 3) Lady Golfer Of The Year
No doubting this result. Lexi Thompson pulled in over 50% of the votes with only Georgia Hall offering any real resistance. Lexi started the year brightly with a second place at the Pure Silk Bahamas LPGA Classic and continued her stellar form throughout the year, notching 12 Top 10 finishes and winning The Kingsmill Championship in May and the brilliantly titled Indy Women In Tech Championship presented by Guggenheim... Try saying that with a mouthful of kebab.
Lexi would have had her second major at the ANA Inspiration in March had it not been for a 4-shot penalty handed out retrospectively after a TV viewer called in (the next day) and suggested Lexi had not replaced her ball 100% accurately. Lexi got 2 shots for the ball marking misdemeanour and another 2 shots for handing in an incorrect score for the hole, despite not realising her mistake. She lost the tournament by one shot. (See Bunch Of Arse Staunchie Award).
If that wasn't bad enough, Lexi missed the chance to finish the year as world number one after missing a 2-foot putt at the season-ending CME Group Tour Championship, losing the tournament after Ariya Jutanurgarn fired two finishing birdies. However, Lexi did still win the overall Race to the CME and a nice $1 million bonus. On top of that Lexi bagged herself almost $2million in prize money.
All she needs in 2018 is a major or two, and for TV armchair viewers to mind their own...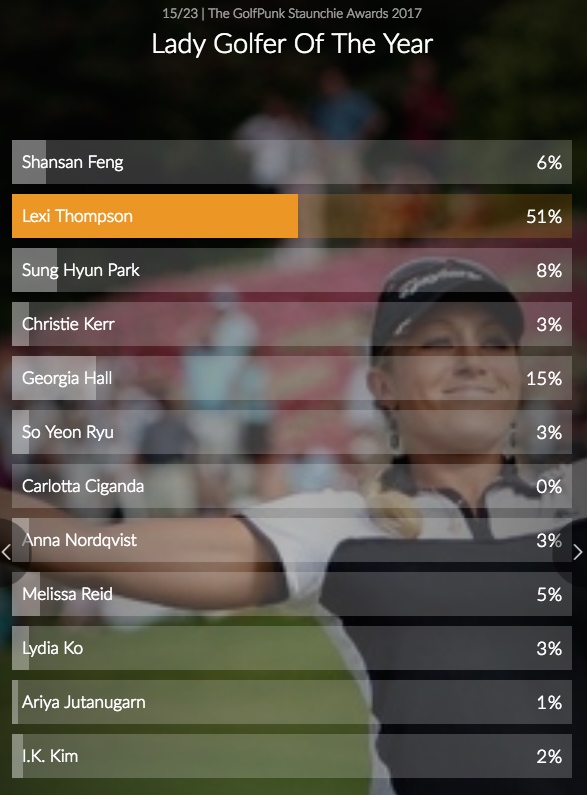 4) Commentator Of The YearI never really know what to make of it when Peter Alliss wins the GolfPunk Commentator Of the Year Award. He does it every year, despite the fact that the BBC have got virtually no golf TV rights. You'd think Sky would figure more?
For what it's worth, we always thought Sam Torrance should have been Alliss's successor-elect. He's funny, has a bag full of cracking anecdotes and has won multiple times on the European Tour. Plus he's a Ryder Cup legend.
But Sky obviously have other ideas. Nick Dougherty had a good showing as did David Feherty at CBS, whilst Radar (not on the grid below because we had to cut the list in edit) got himself 5% of the votes for at least trying to inject some humour and energy into proceedings.
Energy is not a word you would immediately associate with Peter Alliss. His is a languid – glass of port on the side, log fire on the go – approach in which it is perfectly reasonable for him to ignore the golf completely and reminisce about the antics of some ne'erdowell pal of his called Sydney from his schooldays.
Alliss has the playing credentials of course and was a staunch Ryder Cup player. But it is his no-nonsense, 'take it or leave it' style that draws us in. Not to mention his rye observations and obsession with giving shout-outs to Colonel Pine-Coffin and his mates at Royal North Devon who are organising a golf jamboree or Turkey Bingo or whatever. It never ceases to tickle my funny bone.
He used to drive me nuts when I was younger but I've grown to absolutely love him. Peter Alliss is one of a kind, our TV golf guilty pleasure and we will miss him if he decides that the 2017 Masters was his last gig.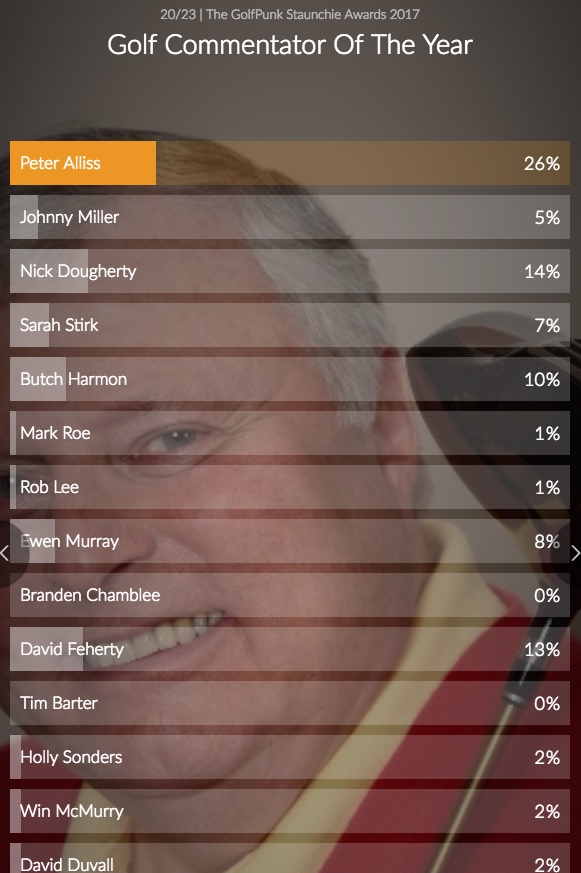 5) Major Of The Year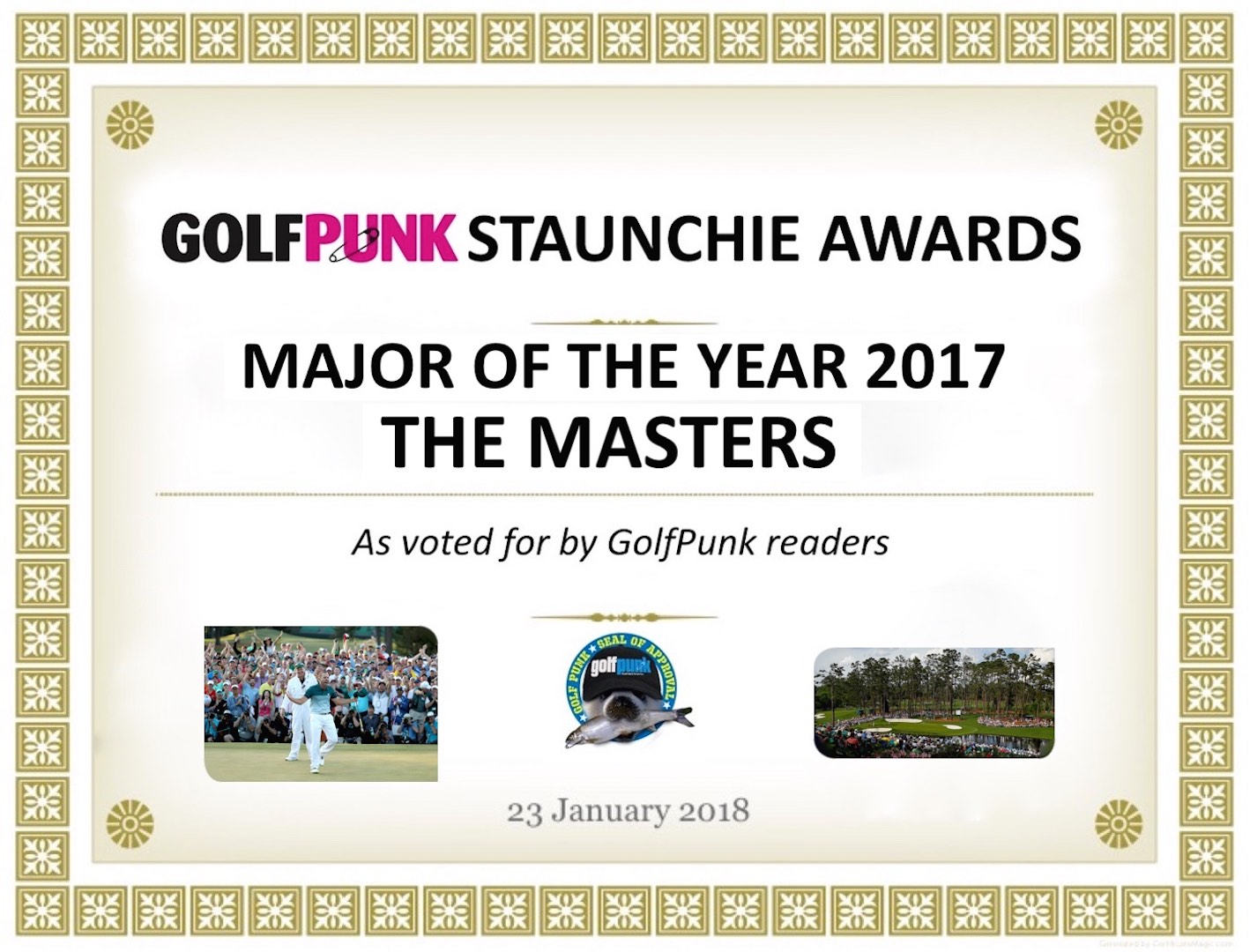 Personally, I thought the US Open was major of the year. Erin Hills looked spectacular on the TV and the antics of Koepka, Matsuyama, Fleetwood and Fowler had me on the egde of my seat the entire four days. But what do I know?
They say that nothing worth finding is easily found and Sergio will be saying amen to that after surprising us all with his majestic Masters triumph. Paul Casey and Thomas Pieters had us thinking it could be a European win but the final day was dominated by Sergio and Justin Rose who both finished at -9 and could not be separated after 72 holes.
Cue the playoff and Rose's woods-bound tee shot at the 18th. Sergio eventually had two putts from 12 feet to win. He needed just one and a vast, crippling weight seemed to fall from his shoulders as he celebrated like a man posessed.
Sergio's Masters was your clear winner and you can't argue with that. The poor lad had been waiting longer for his first major than someone who'd been waiting ages for something which kept not happening and then... (Stop it now – Ed)...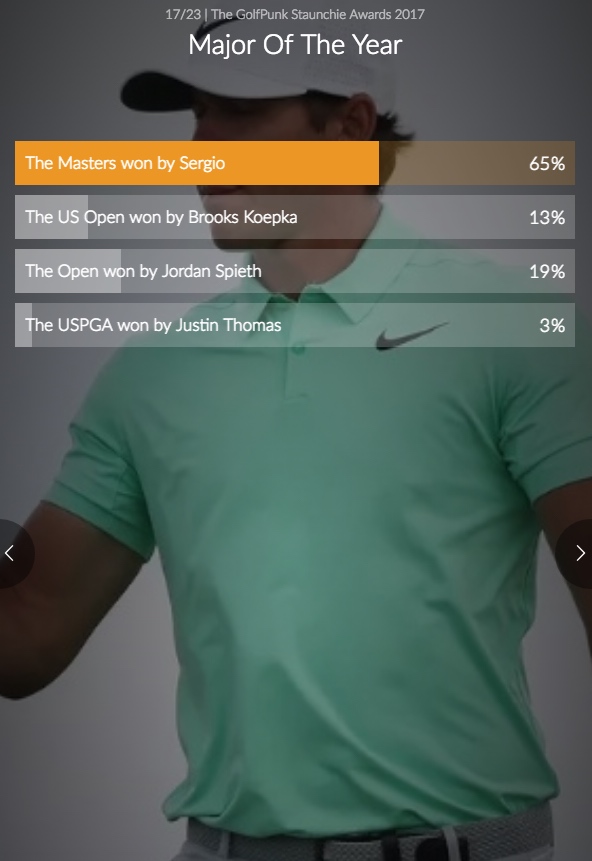 6) Comeback Of The Year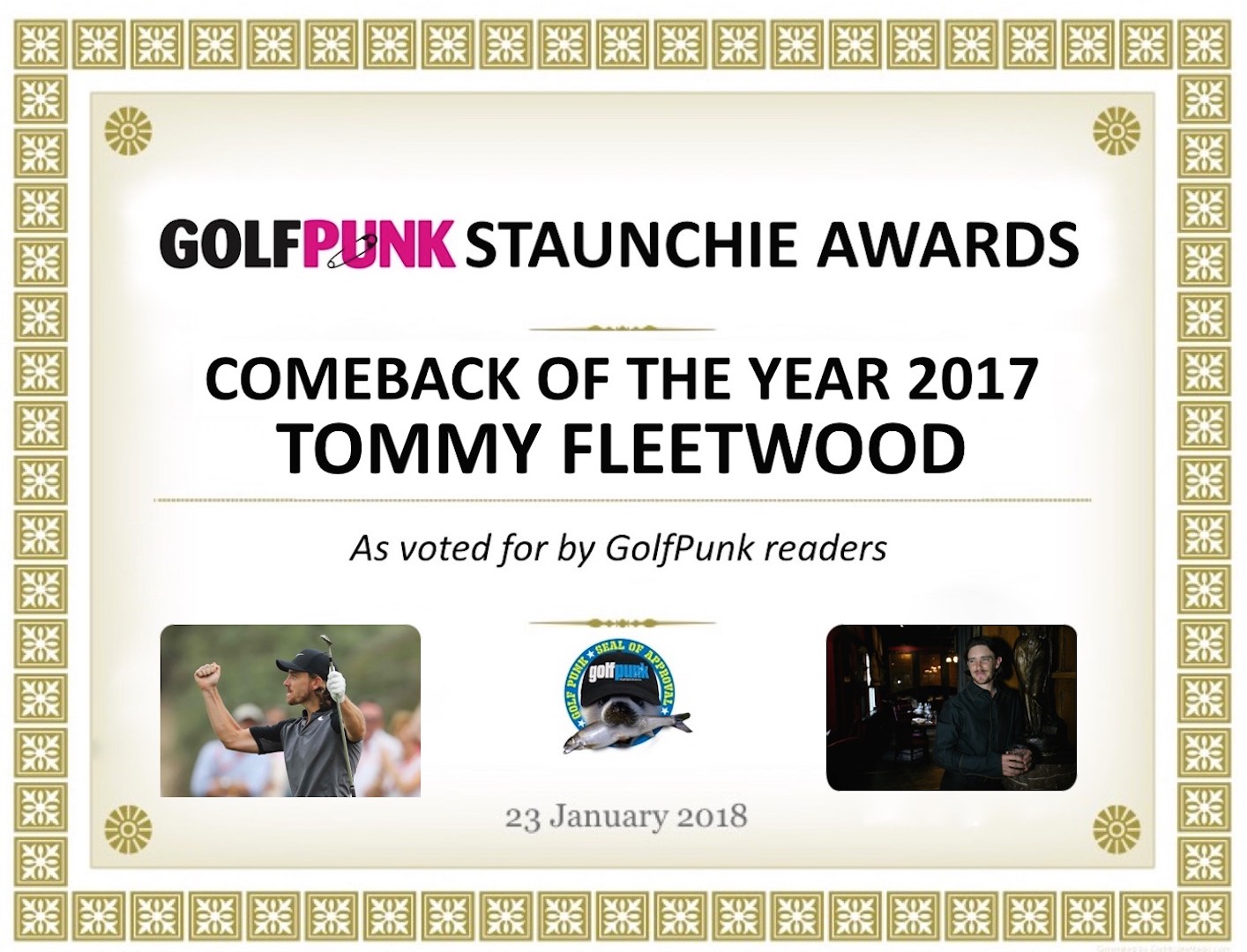 It just goes to show how popular Tommy Fleetwood is with the GolfPunk readers. Despite Tiger's re-emergence in December, you voted TF as the clear winner in this category. 18 months ago he was something like 200 in the world. He's now 12th. Now that is a comeback.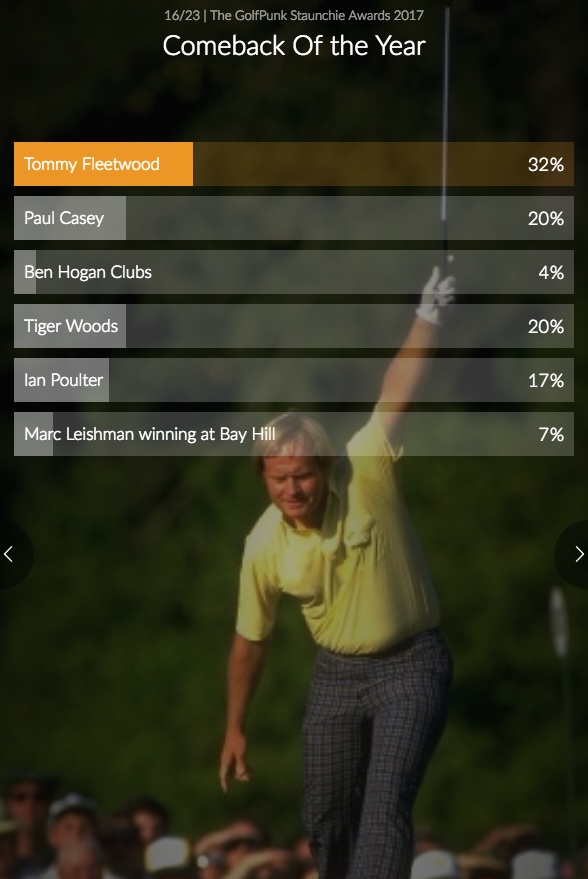 7) Swingin Siren Of The Year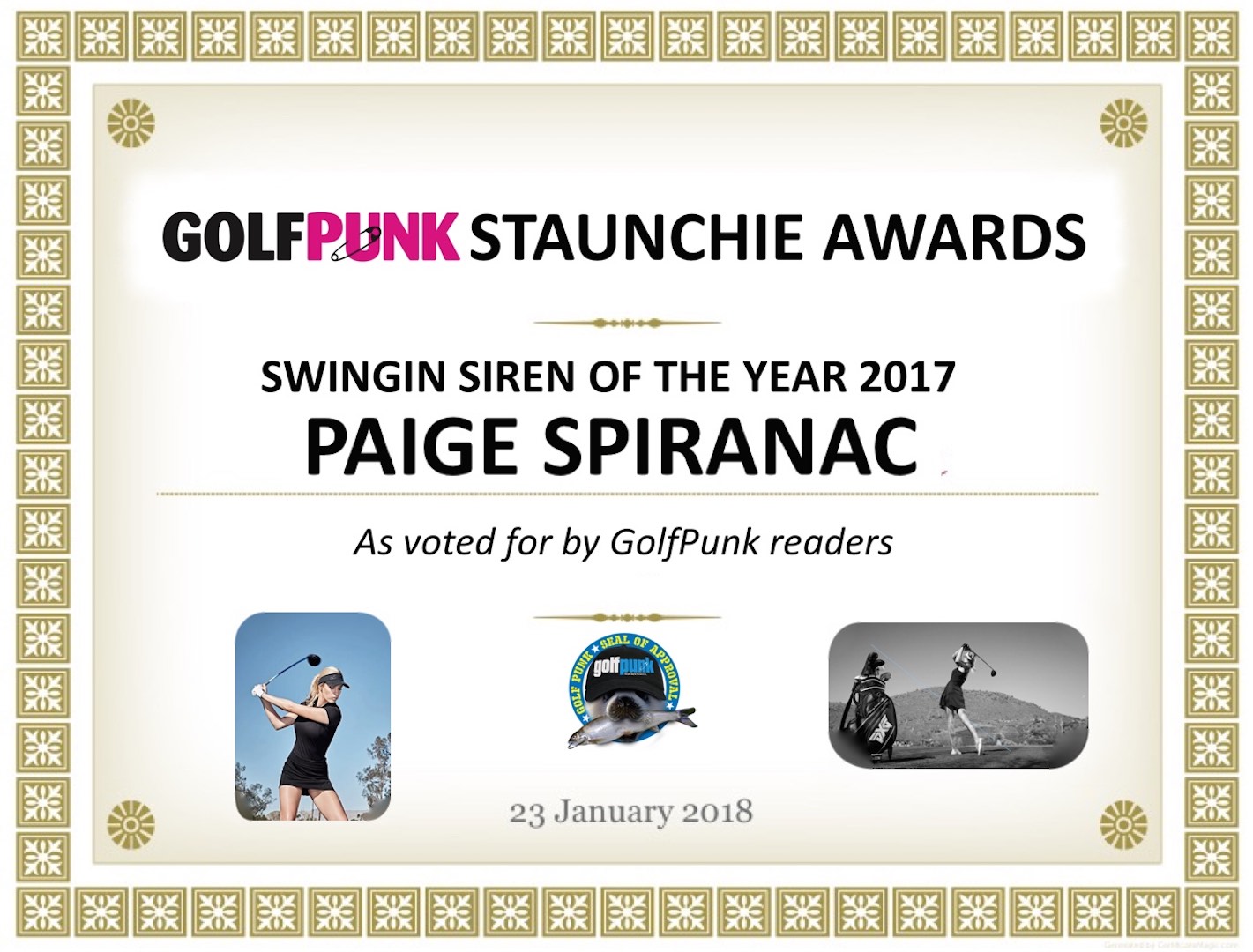 Well, you've certainly made your feelings clear in this department. Paige's closest competitor was our Carly with 17% but your overwhelming Swingin Siren Of The Year is Paige Spiranac. Now signed up to PXG, Paige has turned golf social media into an art form with a combination of swing tips, insights into her daily routine and general tomfoolery.
Paige is also committed to anti-bullying and is a spokesperson for The Cyber Smile Foundation. Paige has suffered at the hands of cyberbullies herself and has even been accused of being a 'disgrace to golf'. What a load of nonsense. Paige is a top-notch online influencer who is bringing a colourful, fun and empathetic approach to golf to a new audience.
Paige Spiranac is good for the game. Paige Spiranac bombs it. Paige Spiranac is GolfPunk Swingin Siren Of the Year 2017.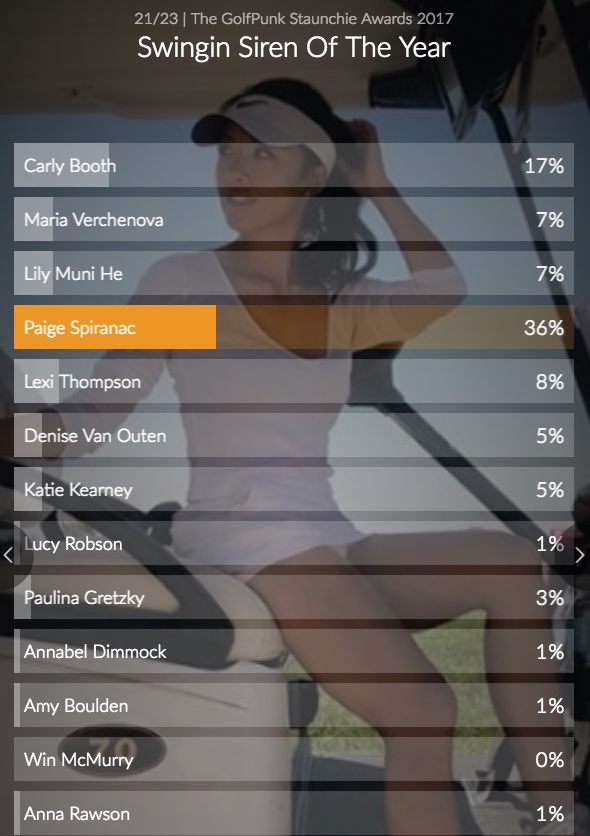 8) Help The Gravy Moment Of the Year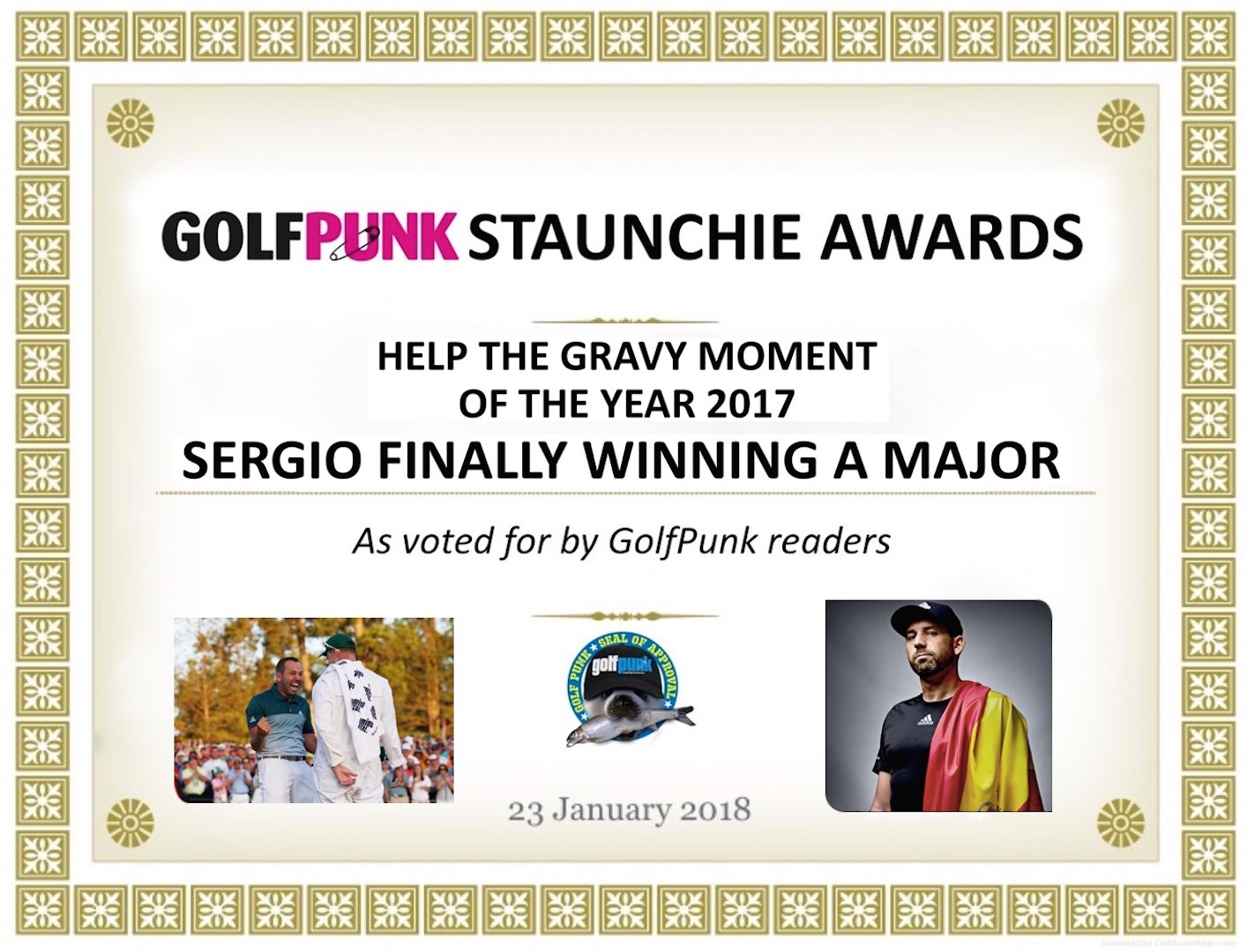 There was a lot to smile about form the world of golf in 2017: Tiger got healthy; Tommy Fleetwood won the Race To Dubai and GolfPunk rocked it at the Clubhouse at The Open. But your overwhelming Help The Gravy Moment Of the Year was Sergio winning his first major.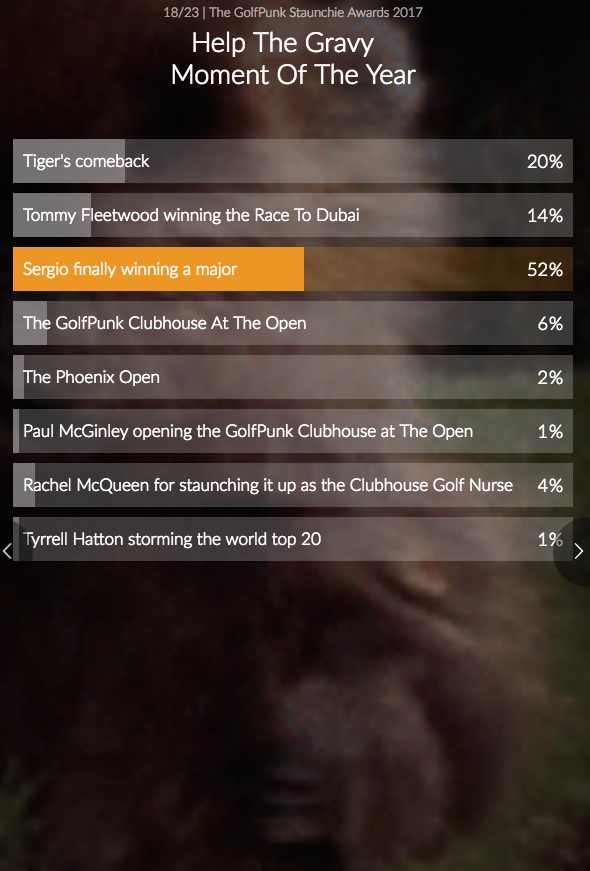 9) Bunch Of Arse Moment Of The Year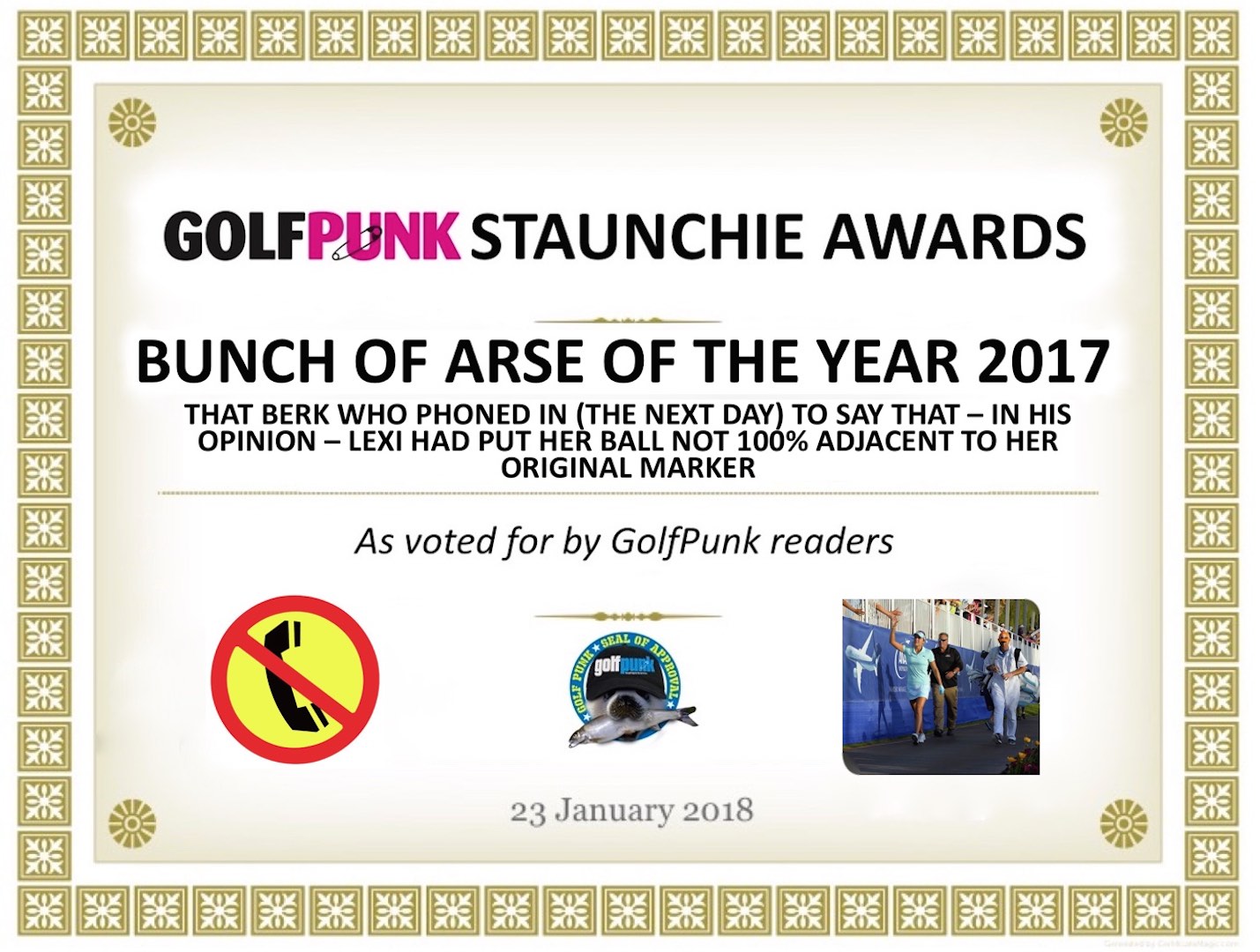 I was so hoping that you guys would give it both barrels to the madwoman from the TUI advert but you dutifully focussed on the golf and, whilst you are clearly livid with the R&A over their no-readmissions policy at the Open, you voted en masse to condemn TV armchair golf referees, specifically the person that waited until the next day (the final day of a major) to register their concerns about where Lexi had or hadn't replaced her ball at the ANA Inspiration.
Golf's governing bodies have since declared that they will no longer accept such information. But that's no consolation for Lexi who – even with the 2-shot penalty she received halfway through her final round for a misjudged placing – would still have won the tournament by a shot if it hadn't been for the extra 2-shot penalty she received for unwittingly signing for the wrong score the day before.
The world's top golfers joined together in condemnation at the way it was all handled but Lexi trudged off in tears. Bunch Of Arse indeed.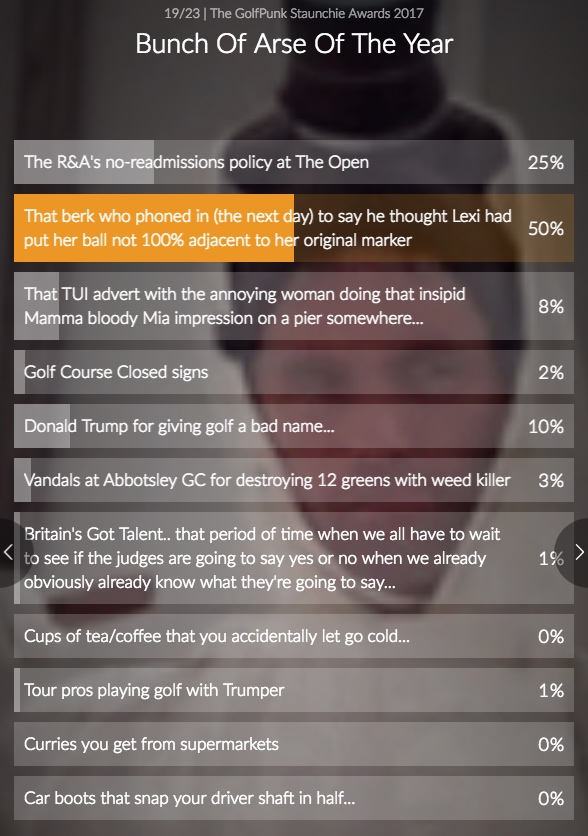 10) GolfPunk Of The Year
I can see this result recurring for some time to come. Beef is the ultimate GolfPunk: Brilliant at golf (a given); funny; self-deprecating; humble; generous and most definitely 'one of us'.
I followed Beef round the first two days at last year's Shell Houston Open and his interaction with the crowd was quite simply wonderful. If there was a quicker way to get from green to the next tee, he'd duck under the ropes and walk with the fans, chatting and laughing before re-entering pro-side and getting his game face on before his next shot. It seemed like the ultimate GolfPunk thing to do: No airs and graces, no 'them and us', just Beef being Beef.
GolfPunk went to war with the Two Mikes on TalkSport in the summer after one of them had labelled Beef a 'clown' during the Open. What a genuinely unpleasant and misguided thing to say about a guy who just happens to be as close to 'what you see is what you get' as anyone in world sport.
Beef can play. He won at Valderrama and only the finest players get to do that. He has thrilled us with his displays at US and British Opens, made us giggle like school kids with his antics while being interviewed by Valderrama the GP sock puppet, and he's bought us a pint. Or three.
Andrew Beef Johnston – GolfPunk Of The Year 2017.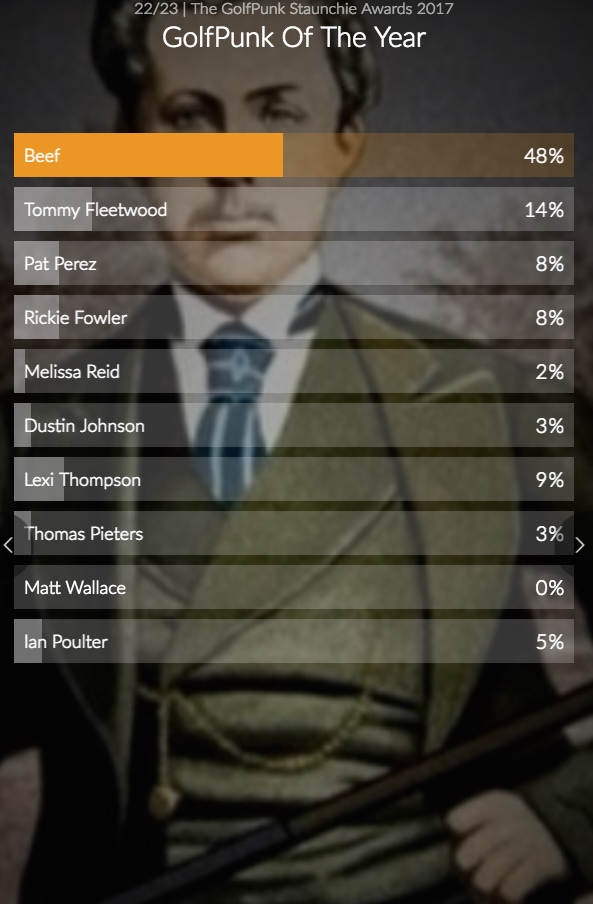 Related:
Who won the Golf equipment & Golf Fashion Staunchies? Find out here