Swingin Sirens
Mar 4th, 2017
Zoe Hardman: Swingin' Siren
TV presenter, funny lady and golf nut!
Words: Jack Hayward Photography: Steve Read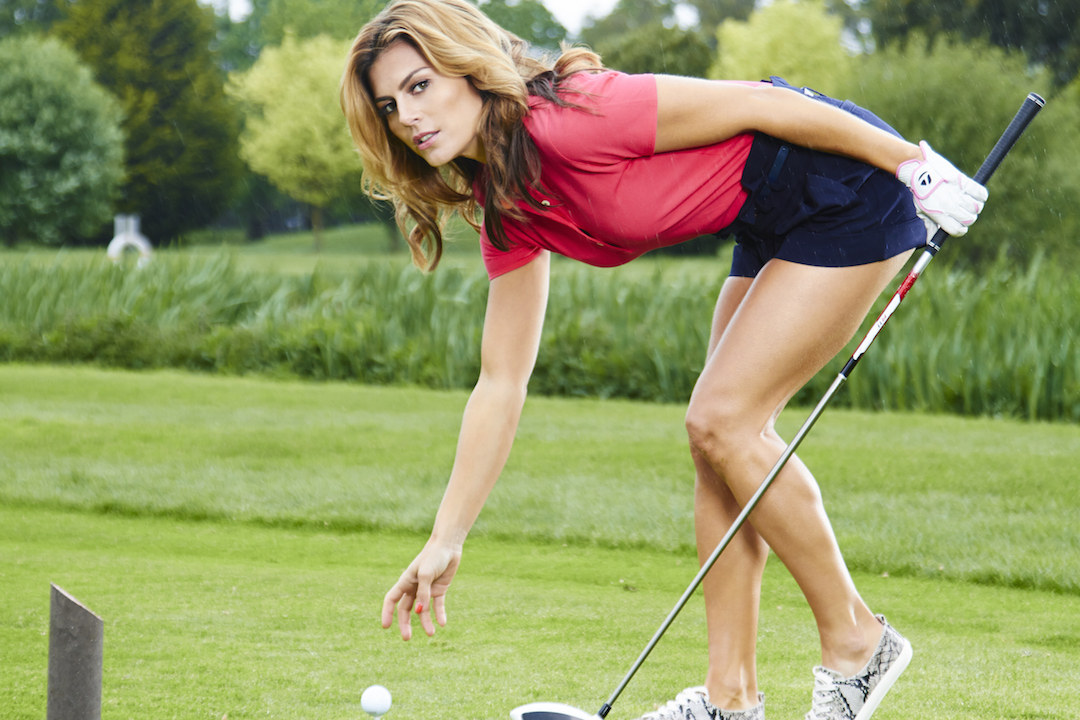 'Jack, are you single?' asks Zoe.
How the hell are you meant to answer a question like that especially when asked by a woman like her?
This is what I wished they taught me in school. Sod your General Studies or RE. Where was the hour on what to do when asked leading questions by beautiful women?
Certainly would've helped the scrambled egg mush my brain has become as my tongue tries to force out the words 'Why yes Ms Hardman, yes I am', neatly sidestepping my brain's clear roadblock that I am, in fact, very much not.
Turns out she wasn't asking me out, anyway. She was setting me up with one of her mates, who happens to be a lady-pro.
But this pretty much sums up Ms Hardman. 
We first met Zoe a couple of months back at the launch event for MacMillan Cancer's Longest Day Golf Challenge.
She was flirting with Valderrama who clearly made a big impression: "He's my favourite talking sock," she says while getting her make-up done. "He tweets me all the time saying 'Ah, tank you'. He's cheeky though. He wanted to kiss on the lips with tongues. What was he thinking? He's a sock."
Though, we can safely assume this isn't the first dodgy line that Zoe has ever heard. She presented Take Me Out: The Gossip with Towie's Mark Wright. It's the sister show to the modern-day Blind Date, presented by northern funnyman, Paddy McGuinness where 30 girls decide whether to date one lucky bleeder by flicking a light on/off. But while Paddy has the easy job of chucking an arm around the chap and a few innuendos around the stage, Zoe did the dirty work of getting all the gossip from the dates themselves.
"It's one of those shows where as the presenter it's a dream to present because it's fun, the contestants are hilarious, Mark is great, and all we did is laugh from start to finish.
"One of the first shows I ever did was a live TV show on channel, like 620 on Sky, and it was one of those awful late night game shows. This guy Steve would ring up all the time and always sounded like 'Hi it's Steve, [Zoe breathes deeply],' and I'd be like 'Steve, what are you doing…?'"
But on the back of the smash success of Take Me Out, Zoe moved to breathless, sweaty men of another type as an In-Venue presenter at the 2012 Olympics.  
"God. To be part of that, and to actually witness people getting their gold medals and the blood, sweat, and tears was a career highlight for me, definitely. When it finished I couldn't stop crying."
And it's here, away from the cameras, that Zoe's true colours come out. She's a total sports junkie. Though her route to the first tee was more a, er, hybrid of her two worlds.
"I met a very handsome tall, dark man on the rooftop of a bar about three years ago and he told me he played golf. My head went to mush, so I told him I played golf as well. A complete lie.
"Three weeks later we were on the course with his parents and I'd never swung a golf club in my life, and it took me five attempts to hit the ball on the first with my driver, and he came over and whispered to me 'Look, you haven't played before, have you?' We stayed together for two years, though."
And it seems her plan to make an impression had the reverse effect, because the moment that she spies her clubs Zoe disappears in the direction of the range.
This causes something of a consternation on a quiet Wednesday at the wonderful Dukes Meadow GC. Although it's a tremendous and teasing par-three course, the last thing they expected to see was Zoe flitting from clubhouse to course in a summery, yellow jumper and shimmering set of legs, chipping balls like she's preparing for tour school.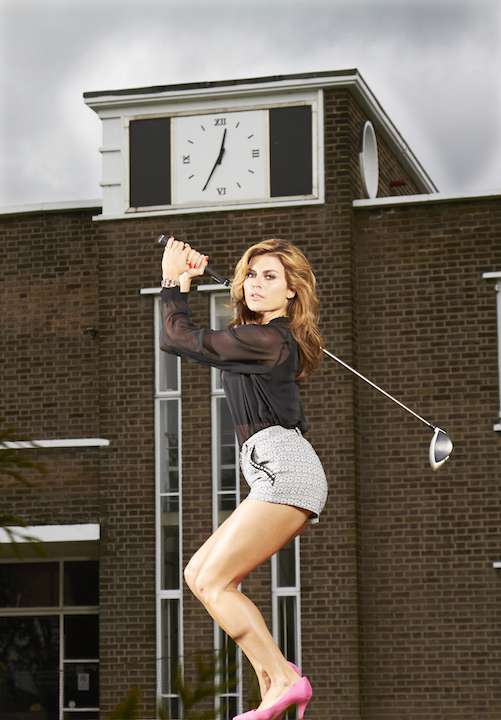 "It is literally going to be my biggest regret on my deathbed that I never turned pro as a golfer," she coos as she clips around the nearby green. "So, if there are any young girls out there thinking of being a pro golfer I would say, just do it. Do it now!"
And then she changes up a gear. In cute blue shorts and Lyle & Scott polo, she reaches for her R1 Driver and calls for space. You can see the results on the video, but as a teaser let's just say that you wouldn't want to be on the wrong end of her temper.
"Zoe, are you single figures?" I ask, with half an eye on doing some match-making of my own. We'd make a killer greensomes team.
"Oh, bless you. You are too cute. I love giving the driver a smash, but I've got a long way to go before getting to that standard. But that's going to be hours of fun, right?" 
So, next time you're slobbing out on the sofa, flicking through the channels and, inevitably, stumble across Ms Hardman doing the day job, just remember that underneath her mousy, tousled locks and inviting smile she is, in fact, just like you. A new breed of golf-nut. And probably looking for a game…
Related:
Amy Boulden Swingin' Siren Shoot & Video Interview
Maria Verchenova Swingin' Siren Shoot & Video Interview
Lexi Thompson Swingin' Siren Shoot & Video Interview
Denise Van Outen Swingin' Siren Shott & Video Interview
Jodie Kidd Swingin' Siren Shoot & Video Interview
Zoe Hardman Swingin' Siren Shoot & Video Interview
PollyAnna Woodward Swingin' Siren
Blair O'Neal Swingin' Siren Shoot & Video Interview
Zoe's favourite golfers. In every sense…
"I've got a soft spot for Justin Rose, but in my heart of hearts I want Lee Westwood to win all the time. He gave me a putting lesson in the pro shop at Stoke Park"
"When Adam Scott won The Masters and he did that slo-mo squat-thrust I was like: Pause. Rewind. Pause. Rewind."