Solheim Cup
Sep 5th, 2021
Solheim Cup 2021: Ruling mars perfect start for Europe
Team Europe lead by three but all talk was about the 10 second rule
Photography: Getty Images
As the Saturday play came to a close with Europe leading by 5½-2½ sadly all the talk was not about the great play from Team Europe but that 'ruling'. Nelly Korda and Ally Ewing won a vital point in the afternoon fourball matches but were assisted by a decision from the rules official.
At the 13th hole, Nelly Korda had an eagle putt stop on the edge of a hole and Madelene Sagstrom was penalised for picking up the ball too early and thus lost the hole.
As the players left the green LPGA Tour Rules official Missy Jones stepped in to inform Team Europe of the breach of Rule 13.3b and that Korda's previous stroke was deemed to be holed and thus the whole was awarded to the Americans.
OFFICIAL RULING STATEMENT: 
Rule 13.3b states that "if the opponent in match play deliberately lifts or moves the player's ball overhanging the hole before the waiting time has ended, the player's ball is treated as holed with the previous stroke, and there is no penalty to the opponent under Rule 11.2b." 
The chief referee, match referee, observer and TV observer all deemed that Nelly Korda's third shot on No. 13 was overhanging the hole and was picked up by her opponent before the waiting time had ended. Therefore, her third stroke was treated as holed.
"Obviously, I wasn't following the rules about leaving the ball for 10 seconds. But I do believe in integrity and honour of the game of golf and I would never pick up a putt that had a chance to go in," Sagstrom said after her round.
It was interesting that neither American player had claimed the hole and Korda and Ewing were clearly embarrassed by the episode.
"It was definitely awkward, and you don't want to win a hole like that," said Korda.
"I got off the green, we were kind of talking and Missy already came up to us and was like, 'I'm calling it in, I want to check it out.' We didn't even have a say, honestly. We told ourselves to focus on golf and finish it off."
Both pairings were rattled by the incident but it was the American held on to the one hole advantage they had gained at the 13th to win 1 up on the 18th.
Morning Foursomes
Europe had got off to the perfect start on day one taking the morning foursomes by 3½-½.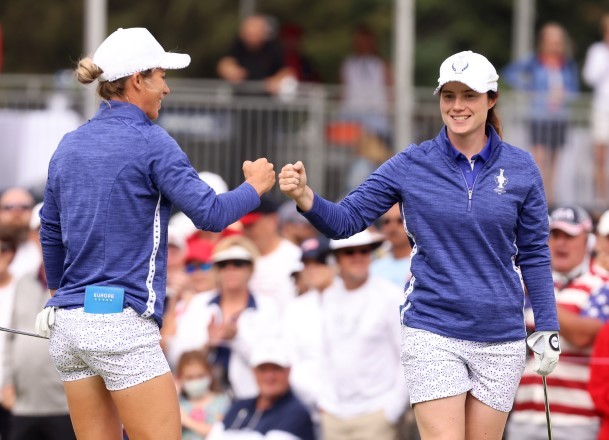 Mel Reid and Leona Maguire upset the odds by beating the Korda sisters by a single hole with the Irish rookie looking particularly at home in the event. It was the first time Nelly and Jessica Korda had tasted defeat playing together in the Solheim Cup.
"I couldn't have asked for a better start to my Solheim career," Maguire said.
"I think everybody had written us off, and we just sort of took that in our stride and wanted to be as relentless and fearless as possible, and I feel like we did that."
All four foursomes matches went to the final green and at one point it had looked like the Americans may squeeze out a small lead. However, team Europe had different ideas.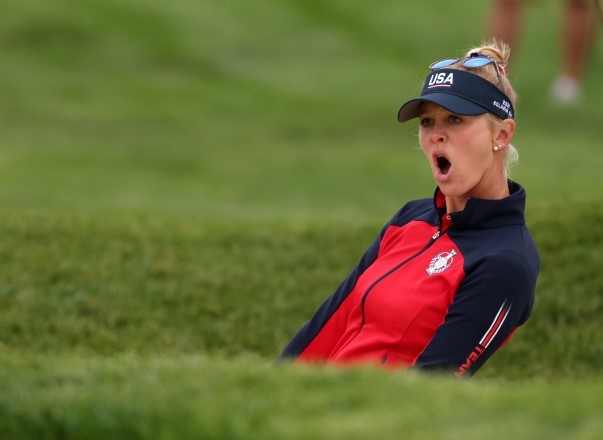 Ally Ewing and Megan Khang were two up with two to play against Georgia Hall and Celine Boutier. However, Hall holed from 15 feet for birdie to win the 17th and take the match down the last. A par at the last from Europe was good enough for the half point as Ewing missed a four-foot putt for the match.
"It was a really tough match actually. Both teams played really well," said Hall. "Being two down with two to play is not ideal, but really glad that we managed to get a half-point."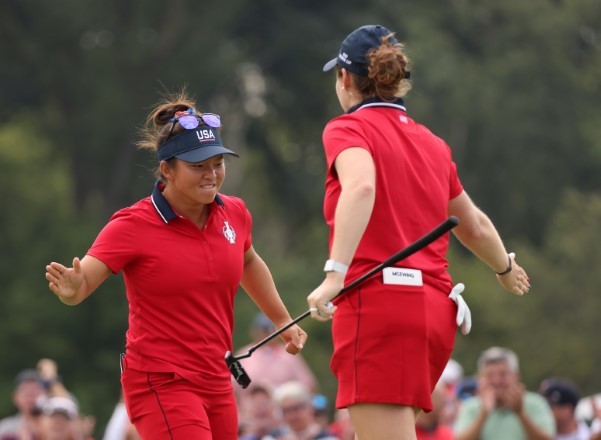 Women's Open champion Anna Nordqvist and Finnish rookie Castren had opened Team Europe's account with a battling victory, to take the top match against Danielle Kang and Austin Ernst 1 up.
"We're very happy to get off to a good start, and Matilda played fantastic," said Nordqvist. "For her to go out there as a rookie and just be fearless, it's not easy."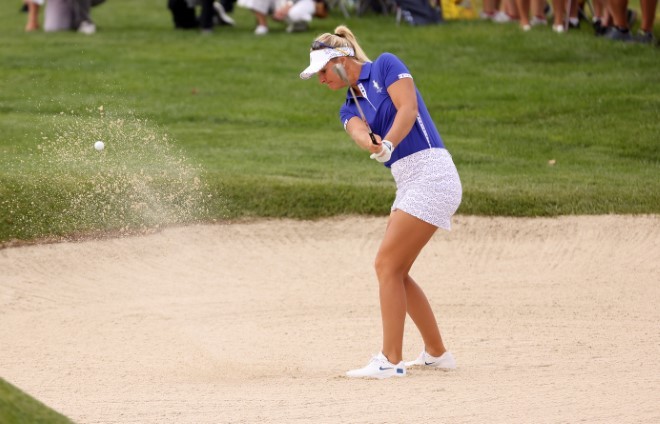 Meanwhile, in the final match, Charley Hull and Emily Pedersen launched a great comeback. Two down with four to play the Europeans rattled off three birdies in the closing holes to turn the match around and win 1 up.
"I don't know what to say about that," said Pedersen who had holed the winning birdie putt.
"Nothing feels better than winning a point for Europe. I'm so happy! I knew the line and I saw the putt the whole way. I just had to get a little bit of a stroke on it and I knew I was going to."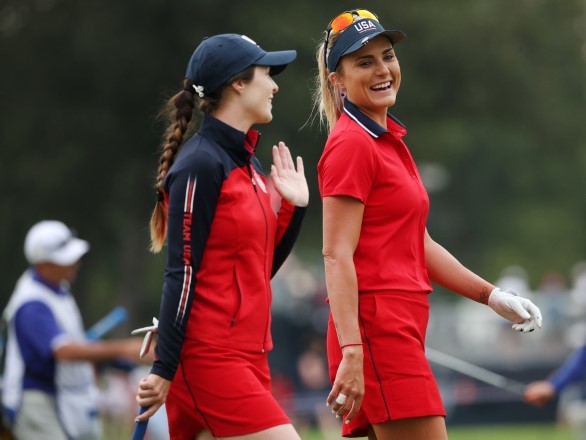 SATURDAY FOURSOMES RESULTS – EUROPE 3.5, USA .5
Matilda Castren/Anna Nordqvist def. Austin Ernst/Danielle Kang, 1 up
Celine Boutier/Georgia Hall halved with Ally Ewing/Megan Khang
Leona Maguire/Mel Reid def. Nelly Korda/Jessica Korda, 1 up
Charley Hull/Emily K. Pedersen def. Brittany Altomare/Lexi Thompson, 1 up
Afternoon Fourballs
After America took the top match in the afternoon following the rules controversy Lizette Salas and Jennifer Kupcho saw off Team Europe's Sophia Popov and Carlota Ciganda in a nail-biting finish.
After Ciganda missed a makable birdie putt at the 17th it was all square coming down the last. Salas hit a great second shot into a tough pin position and made the birdie putt to win the match and secure a crucial point for Team USA.
"I just embraced the moment. I knew what I had to do. Jen pretty much carried me all day. It was a great partnership, and I didn't have to tell her anything before the round. I said, just do your thing and I'm here for you," said Salas after the win.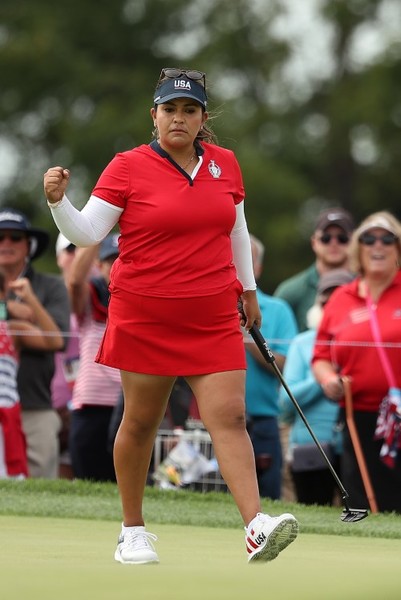 In the third match of the afternoon fourballs, European duo Anna Nordqvist and Matilda Castren returned to the scene of their morning success and picked up where they left off.
The European pair never looked in trouble against Lexi Thompson and Mina Harigae. Two up at the turn the Europeans birdied the 10th and 13th to go four up with five to play. They eventually closed the match out halving the 15th to win 4&3.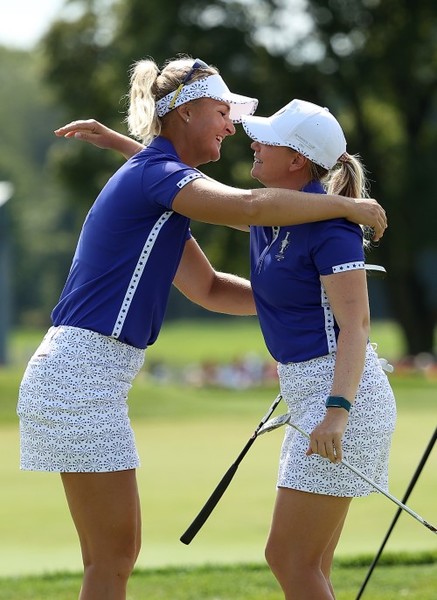 "It's been a great day for the both of us, and I really enjoyed playing with Matilda. She played great all day, and I think we're just happy to see some blue on the board. They're tough competitors, but I feel like we played great in the best ball and complemented each other pretty well," said Nordqvist.
After a strong performance in the morning rookie, Leona Maguire was teamed up with major champion Georgia Hall who took on Yealimi Noh and Brittany Altomare.
In a tight fought match Europe took a vital one-up lead when Hall birdied the 15th which they held coming down the last. When both American missed their birdie efforts Hall was left with the luxury of two putt for the win. The Englishwoman rolled the putt to the hole side for the win and Europe's second point of the afternoon.
"It was good fun. I think we played better the back nine and managed to hit some good shots in, so obviously very pleased to get a point," said Hall.
SATURDAY FOUR-BALL RESULTS – EUROPE 2, USA 2
Nelly Korda and Ally Ewing def. Nanna Koerstz Madsen and Madelene Sagstrom, 1 up
Jennifer Kupcho and Lizette Salas def. Carlota Ciganda and Sophia Popov, 1 up
Anna Nordqvist and Matilda Castren def. Lexi Thompson and Mina Harigae, 4 and 3
Georgia Hall and Leona Maguire def. Yealimi Noh and Brittany Altomare, 1 up
---
And another thing...