Solheim Cup
Sep 7th, 2021
Solheim Cup 2021: Europe win for the second time on US soil
Rookie Maguire shines as Team Europe secure famous victory
Words: GolfPunk Photography: Getty Images
As was the case at Gleneagles, it seemed inevitable that the Solheim Cup would come down to the final putt on the final green. However, this time it was a little different as Emily Pedersen had already secured victory for Team Europe when she went three up with three to play against Danielle Kang.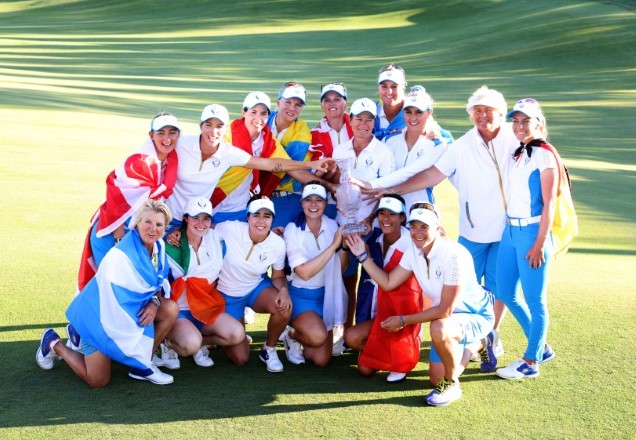 Maltida Castren had ensured Europe would take the trophy home when she holed an eight-foot putt to win her match against Lizette Salas to take her team to the magic points tally of fourteen. Shortly after. Danielle Kang missed a putt at the fifteenth, which guaranteed a half for Pedersen and an outright win for Team Europe.
"It feels amazing. It's just crazy, crazy. I can't believe I made that putt. I knew it was important. I knew it was going to break a little bit left," said Castren.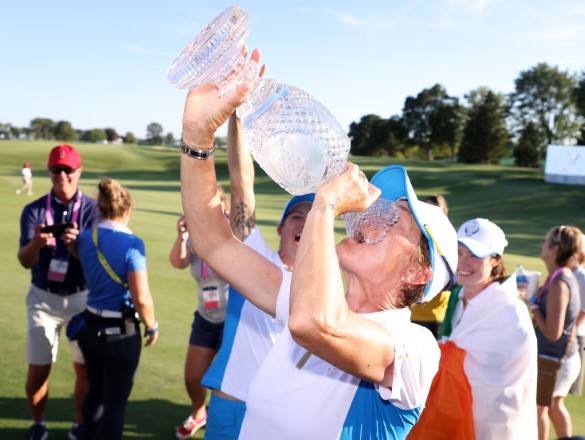 Catriona Matthew, the first European captain to win the trophy twice, was full of praise for her team.
"Just unbelievable. Really can't believe it," said Matthew.
"My team have been so fantastic all week, and it was really up to them. I really don't do a whole lot. They just go out there and they win the points for us."
Rookie sensation Leona Maguire had led the way for Team Europe sweeping aside Jennifer Kupcho 5&4 in a one-sided match. The first player from Ireland to compete in the cup, Maguire set a record for a rookie taking four and a half points from her five games.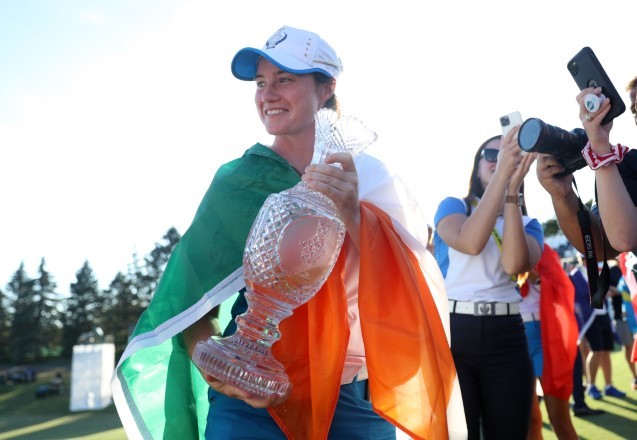 "The goal was to get my point. That's all I can do," said Maguire.
"I've given it my absolute all this week. I couldn't have given it anything more. I mean, I couldn't have asked for a better week."
The Maguire win seemed set to put Europe on their way to victory as Europe led 10-7 and blue dominated the top half of the leaderboard.
Madelene Sagstrom and Celine Boutier won their matches to take Team Europe within touching distance of the finishing line and the target of fourteen points needed to retain the trophy.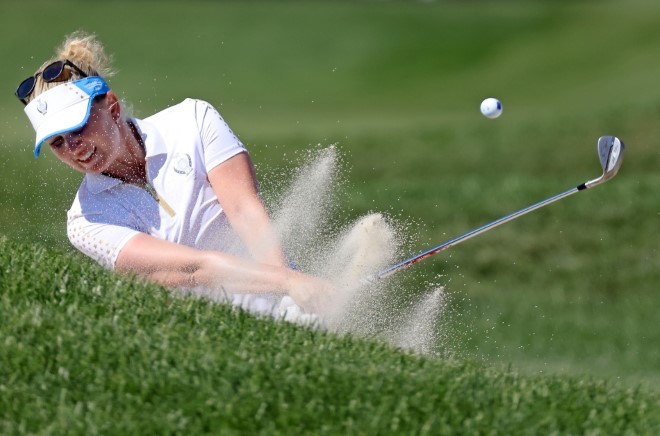 When Anna Nordqvist and Nanna Koerstz Madsen ground out hard-earned half points against Lexi Thompson and Austin Ernst the result looked inevitable with just one more point required but then a sea of red started to take over the bottom half of the draw.
Wins for world number one Nelly Korda, Brittany Altomare and Megan Khang got European hearts racing as a dramatic turnaround threatened. However, Matilda Castren held her nerve on the 18th, making an incredible up and down from a plugged lie in the greenside bunker to beat Salas one up and retain the cup for Europe.
Team USA added two further points, with Jessica Korda cheered on by her sister turning her match around to beat Charley Hull and Yealimi Noh, who beat Mel Reid on the final green courtesy of a three-putt by the Englishwoman.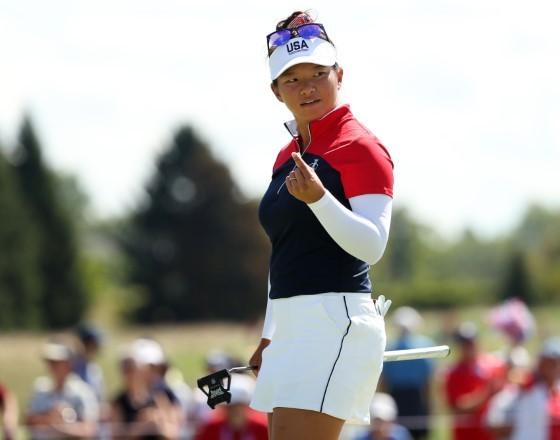 As Team Europe waited to celebrate, Pedersen lost both the 16th and 17th to take the match to the last. However, when she holed from eight feet to secure her win on the final green, the festivities could begin.
"It was a bit of a fight because after 15 I knew we'd won, and I just wanted to go celebrate with everyone, so I just really had to collect myself," said Pedersen. "But it felt really good to hole that last putt."
Team USA Pat Hearst was in a reflective mood once the result became clear.
"I think we got behind the 8-ball the very first foursomes, and that's just -- we fought our way back," said Hearst.
"I mean, it's still going to be pretty close, but it's not good enough."
MONDAY SINGLES RESULTS – EUROPE 6, USA 6
Anna Nordqvist (EUR) tied Lexi Thompson (USA)
Madelene Sagstrom (EUR) def. Ally Ewing (USA), 3 and 2
Leona Maguire (EUR) def. Jennifer Kupcho (USA), 5 and 4
Nelly Korda (USA) def. Georgia Hall (EUR), 1 up
Celine Boutier (EUR) def. Mina Harigae (USA), 5 and 4
Nanna Koerstz Madsen (EUR) tied Austin Ernst (USA)
Matilda Castren (EUR) def. Lizette Salas (USA), 1 up (clinching point)
Brittany Altomare (USA) def. Carlota Ciganda (EUR), 2 and 1
Megan Khang (USA) def. Sophia Popov (EUR), 3 and 2
Yealimi Noh (USA) def. Mel Reid (EUR), 1 up
Jessica Korda (USA) def. Charley Hull (EUR), 3 and 1
Emily K. Pedersen (EUR) def. Danielle Kang (USA), 1 up (winning point)
FINAL MATCH SCOREEUROPE 15  USA  13
---
And another thing...