Ryder Cup 2018
Sep 28th, 2018
Europe dominate in morning four balls
And lead US 8 points to 4
Words: GolfPunk
What an incredible morning for Europe, as they continued to build on the momentum from Friday afternoon, when they trounced America 4- nil.
The first European pairing of Sergio Garcia and Rory McIlroy got blue on the scoreball early on againat Tony Finau and Brooks Koepka, winning two and one. 
They were leading comfortably by four, when the wheels started to wobble. But Sergio was there to the rescue, and made a critical putt on the 18th for the point and confirm once again his legendary Ryder Cup status.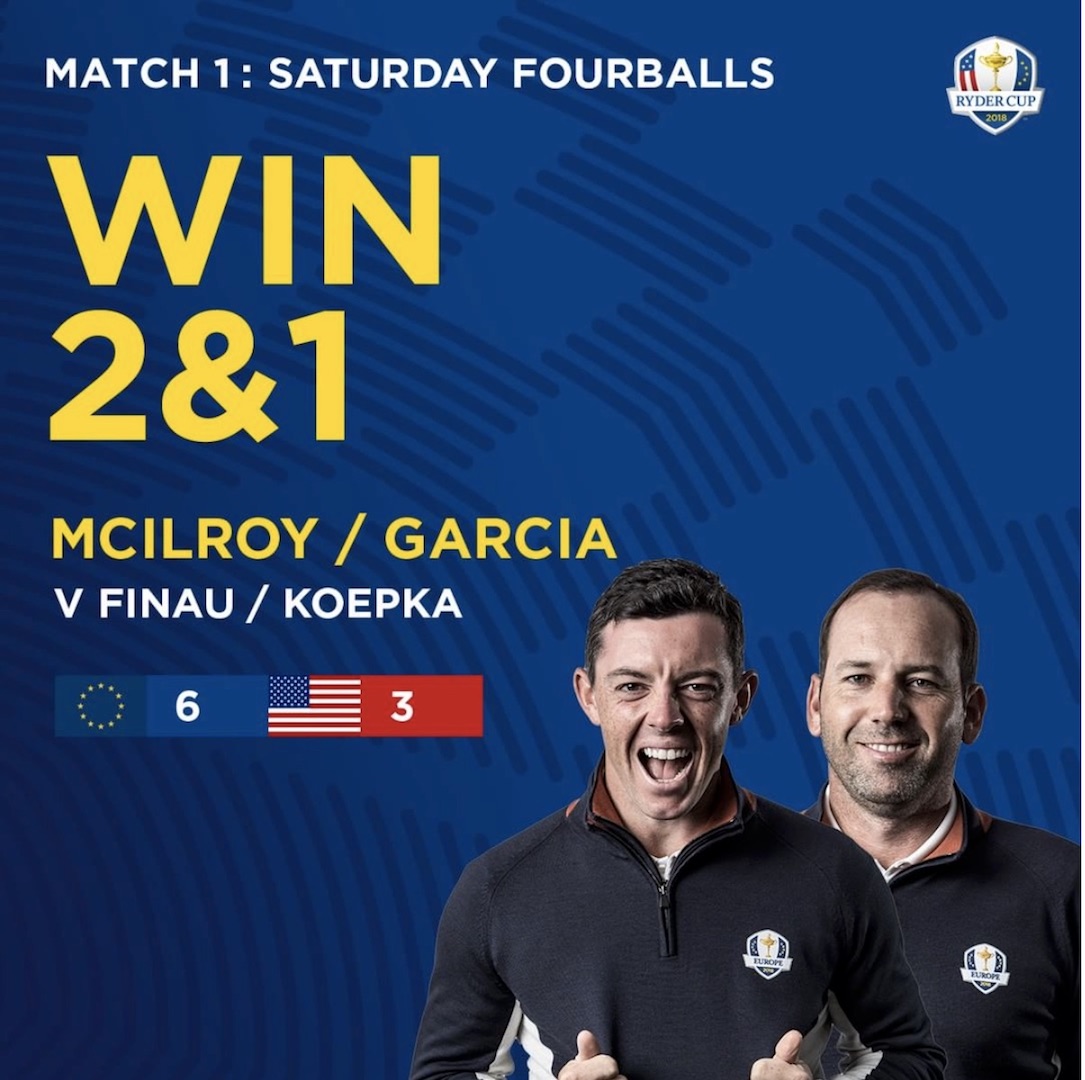 Next up were Paul Casey and rookie Tyrrell Hatton, taking on Dustin Johnson and Rickie Fowler, who had been well beaten 3&2 on the Friday afternoon by Henrik Stenson and Justin Rose. 
And it was another comfortable point with a 3&2 victory for the European pairing, with both Casey and Hatton making contributions. That's another great pairing in the making, as the pair dovetailed perfectly. Paul Casy rattle off 4 birdies in a row, and then shut up shop, as Hatton took over on the back nine. Brilliant stuff from the pair of them.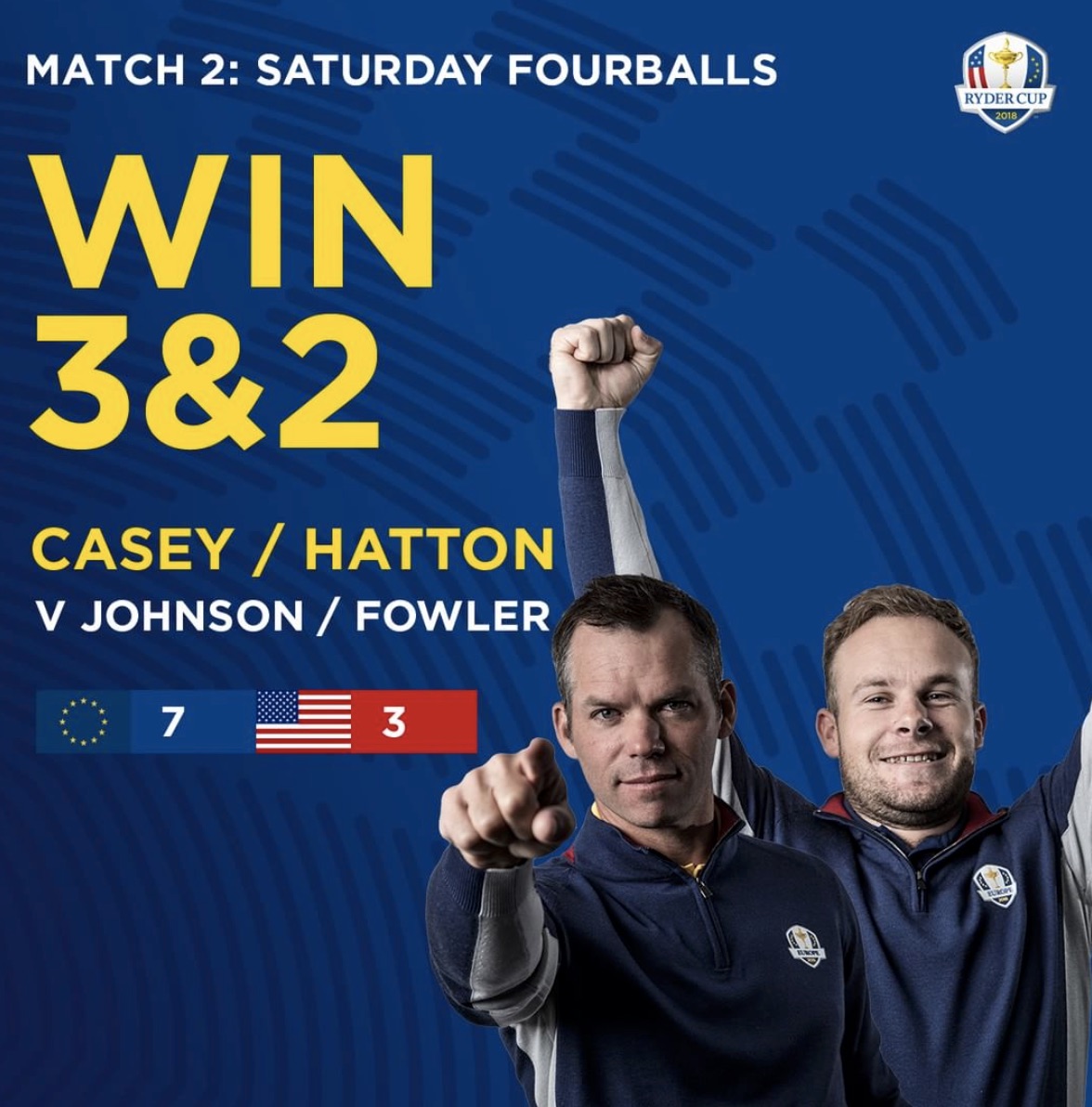 Next on the tee were Francesco Molinare and Tommy Fleetwood, fresh from their convincing win over Justin Thomas and Jordan Spieth, as they beat them 5&3 in the Friday foursomes. This time they were faced with the challenge of Tiger Woods and Patrick Reed.
And it was to be another point on the board for Europe, as the European pairing beat the American pairing 4&3 to take Europe into an 8-3 lead.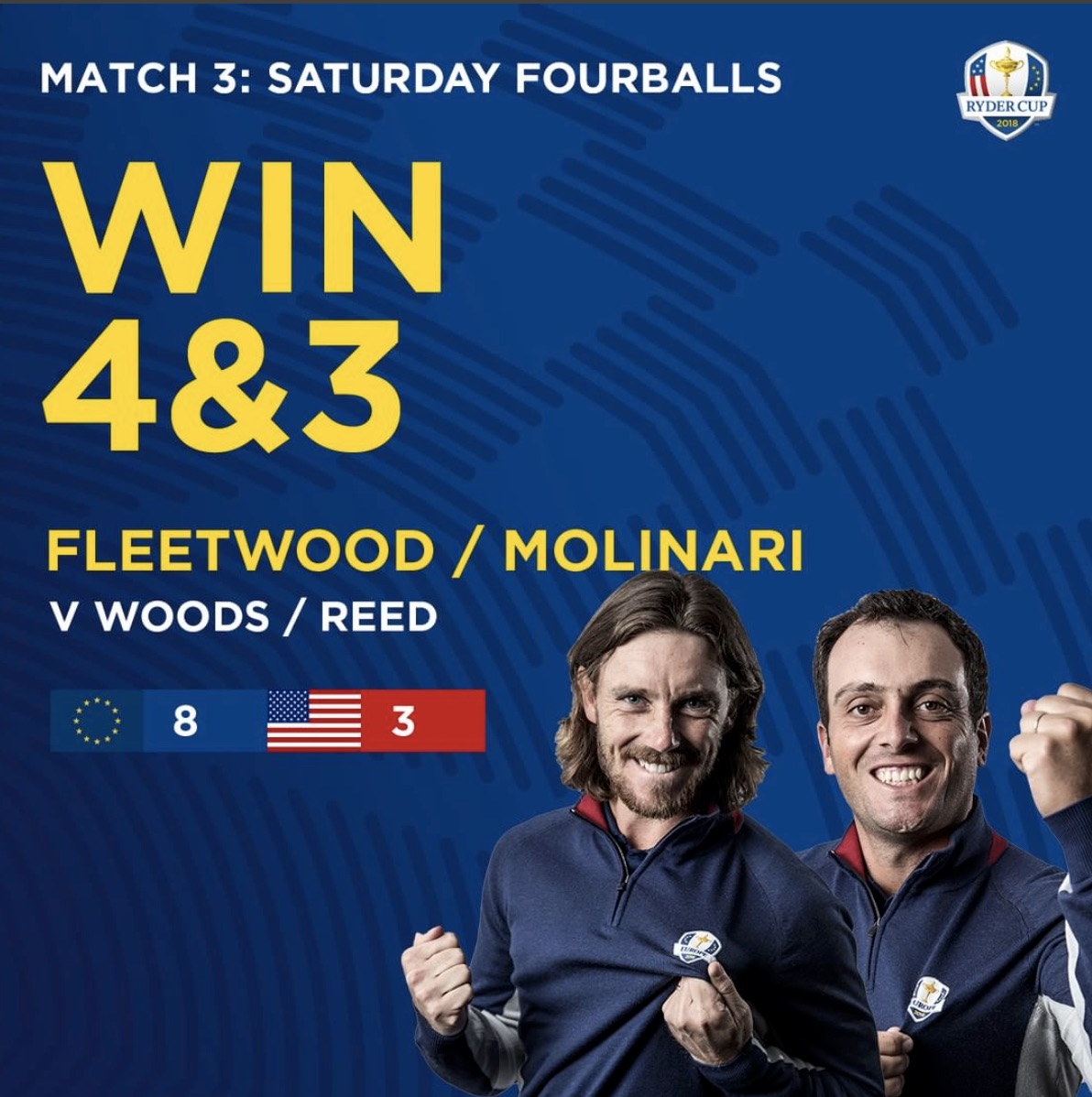 This left the final pairing of Ian Poulter and John Rahm against Justin Thomas and Jordan Spieth. Ian Poulter had to carry John Rahm, who was not firing on all cylinders, and has not enjoyed the best of Ryder Cup debuts. 
Could Ameria salvage a single point from the morning season, or would it be another whitewash? 
Through 15 the American duo were one up, with three holes to play. Jordan Spieth had a birdie chance on the par three 16th, but missed it from seven feet. John Rahm could only par, leaving it to Ian Poulter to make a biride putt, which he duly did, throwing the pressure back onto Justin Thomas to make a critical five foot putt for the half. That was a huge putt that he made under immense pressure, as it meant that they went onto the 17th tee with their single point lead intact. 
So, one up and two to play. It was still game on. But poor tee shots from Poulter and Rahm left the door open for the Americans, and Justin Thomas nailed his drive. 
Rahm made a terrific recovery shoot from deep rough, to land just behind the green, but Justin Thomas nailed one to seven feet, to live up to his billing. 
The Americans were able to shut the door on the game, and secure the solitary point for the US to finish the morning season Europe 8 - USA 4. Breathless stuff, and now for the foursomes!
Related:
Wow! Europe rout USA in afternoon foursomes