Players
Mar 3rd, 2017
Top 50 GolfPunks 25-21
These guys!!!
Words: Tim Southwell Photography: Getty Image & Steve Read
25) Paul McGinley
First Irishman to captain the Ryder Cup side, famously holed the putt against Jim Furyk to win the 2002 Ryder Cup at The Belfry, leaping like a salmon in ecstasy and gifting us with yet another priceless, iconic image to put in our bulging European Ryder Cup scrap books.
His captaincy during the 2014 Ryder Cup was exemplary. Lee Westwood's caddie Billy Foster declared McGinley to be the finest of all, and Foster has caddied in 10 Ryder Cups! In 1997 McGinley, partnered with Padraig Harrington, won the World Cup for Ireland. Despite not being long off the tee, McGinley managed to break into the World Top 20 in 2005. Famously conceded a 20 foot putt to his opponent JJ Henry for a half at the Ryder Cup in 2006, fearing his opponent had been seriously put off by a streaker.
Unlike most golfers, McGinley's iPod is not littered with Maroon 5 and Hootie & the bloody Blowfish. Swap that nonsense for The Clash, Stiff Little Fingers, The Jam and The Dead Kennedys.
Punk. Golf. Punk.
24) Lefty Stackhouse
The pre-war American pro once knocked himself out with a self-inflicted punch to the jaw after missing a short putt. He was reputed during one round to have plunged his right hand repeatedly into a rose bush until the skin was ripped and bleeding. He looked at his left hand and said: "And don't think you're getting away with it, either" before dishing out the same treatment. He was a notorious club thrower, once throwing all his clubs into a lake. He returned at dusk, waded into the water for his bag. He retrieved a wad of dollar bills from it and threw the clubs back in the drink.
In one tournament Lefty three-putted the 18th in one of the early rounds. Later that night, he had too much to drink. He took a spoon from the restaurant at which he had eaten and took a cab back to the tournament site. He stumbled back to the 18th hole and dug several holes in the green and dug the cup right out of the ground! Then he passed out in a bunker. He was found asleep in the bunker by a PGA Tour official the next morning and disqualified.
Stackhouse can also lay claim to inventing the Baffler, when he attached a metal runner on the bottom of his club in order to made the ball fly higher and straighter. Cobra Golf introduced the Baffler in the '70s. But Lefty Stackhouse had made his own 20 years earlier.
23) Beef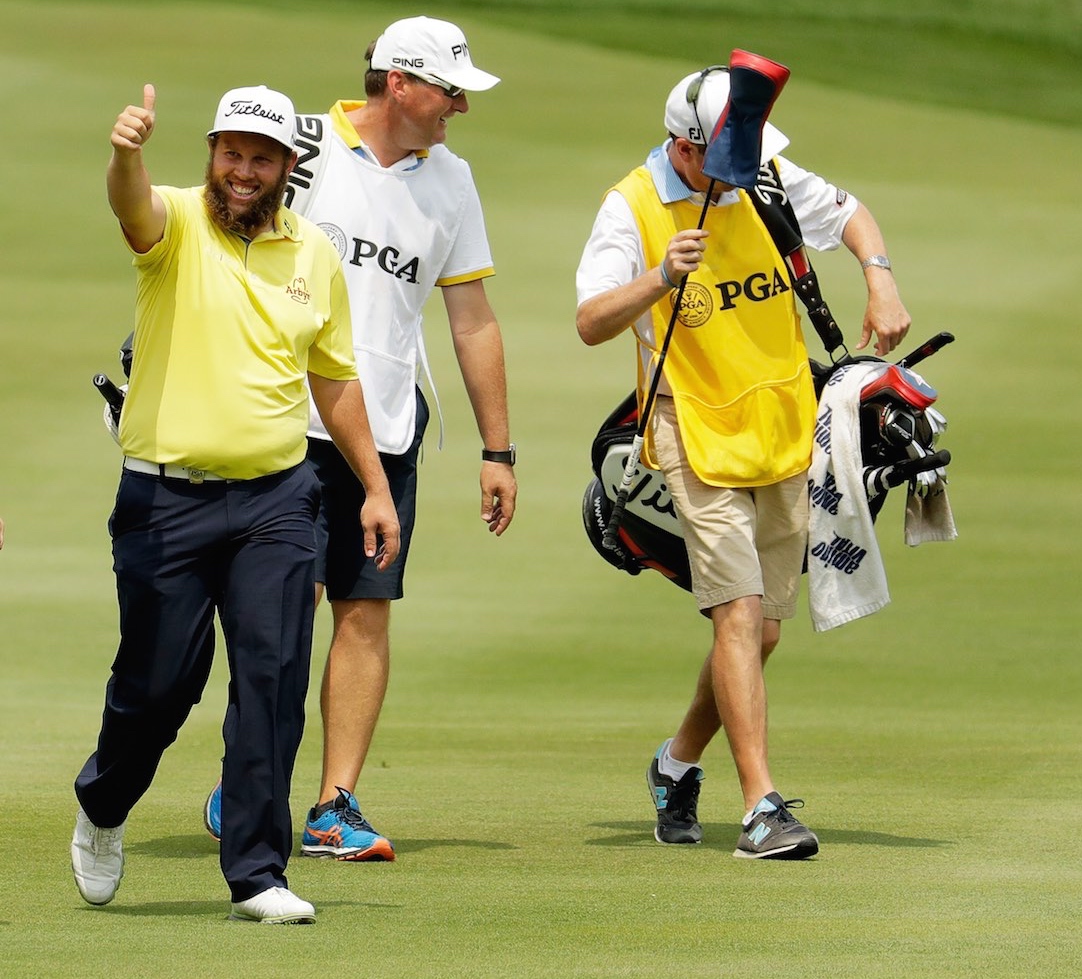 When Beef lurched onto the scene at the Open in 2016, it was like the world had stood still. Who was this grinning, affable, bearded, tubby chap? It seemed for a minute as if we had transcended to the silver screen and we were watching an unseen clip from Happy Gilmore. Beef was different. He was nice. To everyone. Plus, he could play. Boy could he play.
Andrew Johnston started playing golf with his dad (a bus driver) and siblings at the local pitch and putt course when he was four. By the time he was 16 he was playing off scratch. He represented Middlesex, England and Great Britain during a successful amateur spell, before turning pro and joining the Jamega Tour in 2009 on which he won in his debut season.
The ladder was duly climbed over the next couple of years: EuroPro Tour, Challenge Tour and then the European Tour in 2012. It seemed as if the Beef was on his way but, in 20 European Tour events in 2012 he failed to register a single Top 10 finish and found himself back on the Challenge Tour.
2013 did not go well either, but Beef is nothing if not a fighter. In 2014 he won two Challenge Tour events, finished top of the Order of Merit and was back in the big time. In 2016 he won on the European Tour for the first time, claiming the Open de Espana at the notoriously tough Valderrama course.
He celebrated by going back to his hometown club North Middlesex and getting everyone drunk for three nights and days solid. When he scored a hole in one at the 2016 BMW at Wentworth (winning a BMW M4 in the process), Beef celebrated by chest pumping one of his pals in the gallery.
By the time he'd finished with the 2016 Open, Beef had achieved folk lore status. Everyone loved Beef. Everyone screamed "Beeeef!" as he walked down a fairway, into a steak house or down the high street.
Throughout his time on tour, Beef has demonstrated that he has an acute allergy to refusing autographs. As we witnessed first hand when he made a sentimental return to the Jamega Tour last year at Enfield GC (he was really there for his legendary interview with sock puppet Valderrama) Beef spends as long as it takes to make sure no one goes home disappointed. Beef cares. Beef is, quite simply, one of us.
Sponsorship deals started coming in, most notably with Arby's, a real life version of Happy Gilmore's Subway deal. His every man status is no 'aw, shucks'  posturing. This is what he is like, a guy who doesn't take himself too seriously and realises how amazing it is to be able to do what he does for a living. 
Beef, who is quarter Jamaican, made his 2016 even more stellar when he joined the Web.com Q-School in September, finishing 4th at the second qualifying event (on National Cheeseburger Day would you believe...) and gaining his PGA Tour card. Beef is coming to America...
Oh yes, and he got his Beef nickname because, well, he loves beef. His mum (a school dinner lady), however, is a vegetarian. When Valderrama interviewed Beef at Enfield GC pre-Beef's Jamega home coming, he was hung over. He'd been at Wing-Fest in Dalston (outer London) with his pals the night before, and he'd extended himself somewhat. But he was brilliant with Valderrama. See for yourself... 
https://www.youtube.com/watch?v=t211D_dqbGQ
Only in Beef-land...
22) Happy Gilmour
The reason, "Get in your home," is shouted repeatedly on golf courses all over the country is because of this character and this movie. Sandler's, "You're gonna die clown," and Lee Trevino's, "Grizzly Adams did have a beard," quotes have become legendary. The Odyssey hockey stick/putter is another glorious tidbit from the movie. Happy Gilmore was one of the first steps in bringing our nation's youth to the course. It showed that golf can be loud, fun and cool. It doesn't belong to anybody it's simply a fun game to play … and who knew Bob Barker was such a badass? The price is wrong b**ch! Happy Gilmour's tussles and exchanges with Shooter McGavin (played by the brilliant Christopher McDonald) in the film are the stuff of comedy gold.
21) Sam Snead
In a real life precursor to Happy Gilmour, Slammin' Sam's first two drives of his professional career hurtled out of bounds. His third landed 345 yards from the tee, smack in the middle of the par four green. 82 US tournament wins later and a further 80 wins worldwide he is immortalised as one of the most effortlessly powerful hitters of all time.
He became the oldest PGA Tour winner with his victory at the 1952 Greater Greensboro Open (a tournament he won a record eight times) and remains the youngest PGA Tour player to score younger than his age – shooting 67 and 66 in the Quad Cities Open.
Born into a poor farming family in the backwoods of Virginia, he played up to his hick image by occasionally wearing a straw hat and playing barefoot. His reputation for meanness was enhanced by his trademark saying: "Keep close count of your nickels and dimes, stay away from whisky, and never concede a putt."
In December 1959, Snead took part in a controversial match against Mason Rudolph, at the Mid Ocean Club in Bermuda. Snead decided to deliberately lose the televised match, played under the 'World Championship Golf' series, during its final holes, after he discovered he had too many golf clubs in his bag on the 12th hole.
He could also get his foot higher than his shoulder when warming up, even as he got older. Slam it, Sam!
Representing For The GolfPunks All Across the World
Related: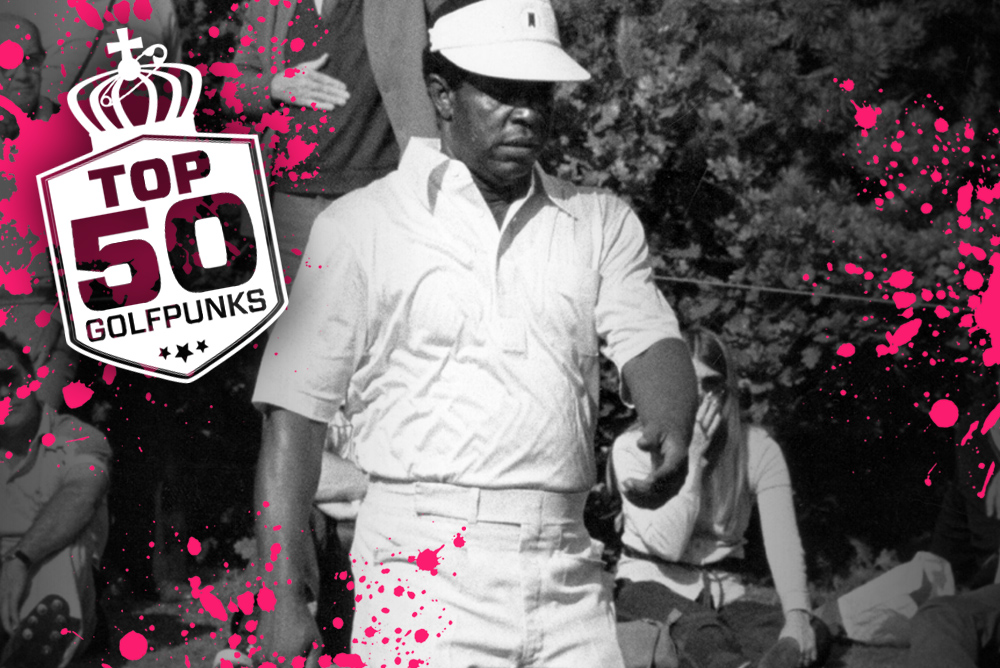 TAGS: Top 50 GolfPunks, Ryder Cup, Paul McGinley, Players, 2017