Players
Mar 3rd, 2017
Top 50 GolfPunks 20-16
Here we go...
Words: Tim Southwell Photography: Getty Images + Steve Read
20) Lee Elder

Lee Elder was the first African American to play at The Masters in 1975, having qualified by winning the Monsanto Open in Pensacola. This was the same tournament that, six years earlier, he and his fellow African American players were forced to change their clothes in the parking lot, as the club didn't allow non-whites into the clubhouse. In the lead up to the Masters, Elder received a barrage of hate mail and death threats, forcing him to rent two houses near Augusta and swap between the two. He missed the cut but the impact of Lee Elder's presence at the tournament was significant.
Despite the problems he encountered from racist galleries (on one occasion someone picked his ball up and threw it in a bush), Elder won four times on the PGA Tour, eight times on the Senior Tour and played in all the majors.
"It's hard to explain what it was like for Lee," says Gary Player, who as apartheid reigned in 1971, boldly invited Elder to play in the South African PGA Championship. Lee accepted. "How do you explain," asks Player, "what it was like being a Jew during the war?"
19) Caddies

Above: 'Laughing Gravy' Craig Connelly (Martin Kaymer's caddie) shares a joke (probably about a Tour player) with his fellow rake rats.
These are the heroes that only get a percentage of the glory. They get 10% of the girls, 10% of the riches and 10% of the fame (aside from Bones and Stevie). Tour players couldn't live without these guys, and in some cases, rely on them more than we'll ever know. They read greens, they take notes during practice rounds, they hush malcontents in the crowd and in some cases have to take verbal beatings from their guy whose name is embroidered on the bag they carry. It can be a thankless job at times but these guys, and sometimes girls, do it with a smile day in and day out. Having said that, at the end of the day walking around the world's most beautiful courses for a nice chunk of change isn't the worst thing in the world.
18) Lee Trevino

Lee Trevino came from a very poor background, making extra money by caddying and then taking on bets he couldn't possibly pay out on. So he forced himself to find a way to play. When he first went on tour he had a snap hook so he learned how to take the left side of the golf course out of the equation by developing a fade on every shot. Underneath his practical joker exterior, Trevino was a mean, tough competitor. Messing about and talking twenty ot the dozen was just his way of coping with the stress of competition. Just ask Tony Jacklin who lost out to Trevino in two Open courtesy of Trevino having a knack of chipping in when all seemed lost. Trevino didn't really focus and think about the next shot until he approached the ball. Instinct, graft and guile. Trevino was a born winner. 28 tour wins and six majors, the only one to elude him was the Masters.
17) P.G. Wodehouse

P.G. Wodehouse is probably most famous for his Jeeves & Wooster books, but his writing on golf is a thing of pure genius. At the age of 92 Wodehouse wrote: "If only I had taken up golf earlier and devoted my whole time to it instead of fooling about writing stories and things, I might have got my handicap down to under eighteen". Happily for us he didn't, so we can enjoy the richest of all mines of humorous golf writing, including many immortal lines. Here are few of his finest observations about the great game:
The least thing upset him on the links. He missed short putts because of the uproar of the butterflies in the adjoining meadows.
The only way of really finding out a man's true character is to play golf with him. In no other walk of life does the cloven hoof so quickly display itself.
A golfer needs a loving wife to whom he can describe the day's play through the long evening.
"After all, golf is only a game", said Millicent. Women say these things without thinking. It does not mean that there is any kink in their character. They simply don't realise what they are saying.
There are three things in the world that he held in the smallest esteem - slugs, poets and caddies with hiccups.
What earthly good is golf? Life is stern and life is earnest. We live in a practical age. All around us we see foreign competition making itself unpleasant. And we spend our time playing golf? What do we get out of it? Is golf any use? That's what I'm asking you. Can you name me a single case where devotion to this pestilential pastime has done a man any practical good?
They were real golfers, for real golf is a thing of the spirit, not of mere mechanical excellence of stroke.
Sudden success in golf is like the sudden acquisition of wealth. It is apt to unsettle and deteriorate the character.
What is Love compared with holing out before your opponent?
Golf... is the infallible test. The man who can go into a patch of rough alone, with the knowledge that only God is watching him, and play his ball where it lies, is the man who will serve you faithfully and well.
16) Charlie Sifford

Working as a caddie to support his mother, by the time he was 13, Charlie Sifford had figured out how to shoot par. He then became the first African American to play on the US Tour.
Sifford suffered the same road blocks that his African American predecessors Bill Spider and Teddy Rhodes experienced in the late 1940s – they simply weren't allowed to play PGA events because the PGA had a 'Caucasian Only' policy. The Civil Rights era heaped pressure on the PGA and eventually they 'obliged'. Sifford suffered terrible racial abuse during his years on tour. His friend, baseball legend jackie Robinson counselled Sifford on his quest to make it: "He asked me if I was a quitter," Sifford later recalled. "He said, 'OK, if you're not a quitter go ahead and take the challenge. If you're a quitter there are going to be a lot obstacles you're going to have to get through to be successful in what you're trying to do.' I made up my mind I was going to do it. I just did it. Everything worked out perfect, I think."
When Sifford won the Greater Hartford Open in 1967, hundreds of supporters and friends swarmed the 18th green in celebration. Black guys who weren't allowed to play the game where they lived whooped, and white guys who'd never seen the inside of a country club joined them. Sifford also won the Los Angeles Open in 1969 and the PGA Seniors Championship in 1975.
Tiger Woods referred to Sifford as "The Grandpa I never had" and that without Charlie Sifford "I probably wouldn't be here. My dad would never have picked up the game". In 2014, President Barack Obama awarded him the Presidential Medal Of Freedom. "He took the punishment," Earl Woods once said of Sifford, "he took the ridicule and he still persevered. For that he should be remembered. Because nobody else did it but him. He was the first one."
Related: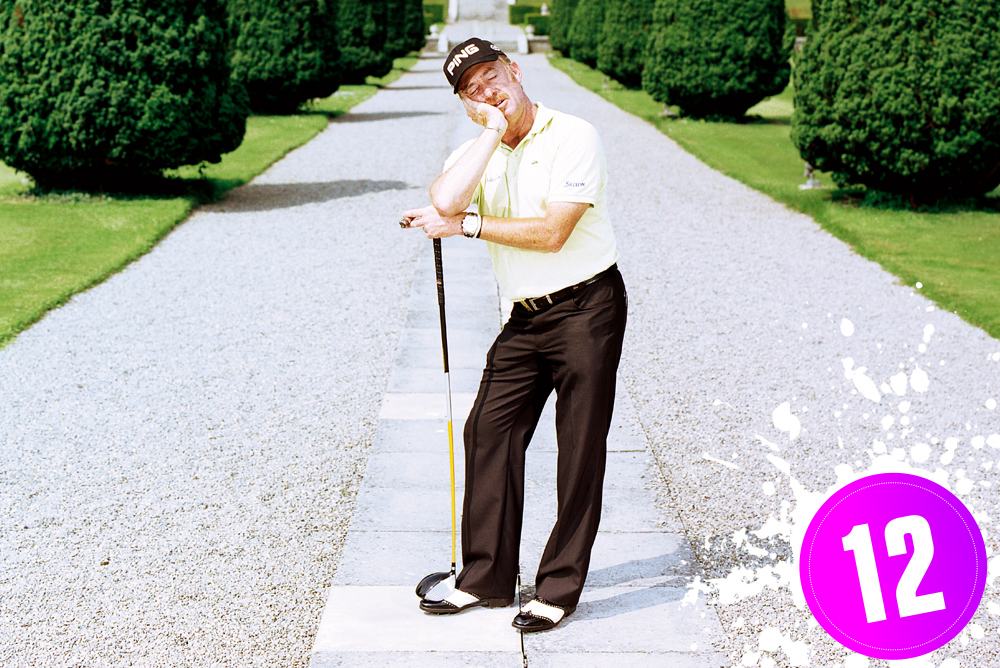 TAGS: Top 50 GolfPunks, Players, 2017