Players
Dec 1st, 2017
Tiger Woods return – GolfPunk's verdict
Meanwhile Tommy Fleetwood leads...
Words: Tim Southwell Styling: GolfPunk
Well, was it worth the wait? The greatest golfer of our generation finally played a round of golf in anger. From the moment his first tee shot sailed 30 yards past Justin Thomas's we were riveted.
And what did we learn?
Question: Will his body hold up.
Answer: Looks like it.
Question: Will he find any fairways?
Answer: Yes, most of them actually.
Question: Will he make clutch putts?
Answer: Absolutely, it was like watching the Tiger of old.
Question: Will the rest of his short game look a bit ropey?
Answer: Errrm... actually yes, a couple of semi-duffs and an over-compensated pitch shot suggest there is much work to be done in terms of confidence.
Question: What will he actually shoot?
Answer: 69. Three under par, and three behind leader Tommy Fleetwood.
Question: Was it worth the wait?
Answer: Hell, yeah!!!
All the back operations over recent years lead Tiger to suggest as recently as September that he might never return to competitive action. Well, round one at the Hero may not be 100% conclusive that he is 100% back, but we got more than we probably should have been wishing for.
https://twitter.com/PGATOUR/status/936535608368939008
Tiger was 45-1 to win here which, considering there are only 18 players in the tournament, seems pretty generous. The bookies rarely get these things wrong but the 3-1 odds still on offer for Tiger to offically retire from by the end of 2018 look less likely after yesterday's action.
Various odds on Tiger's future from Paddy Power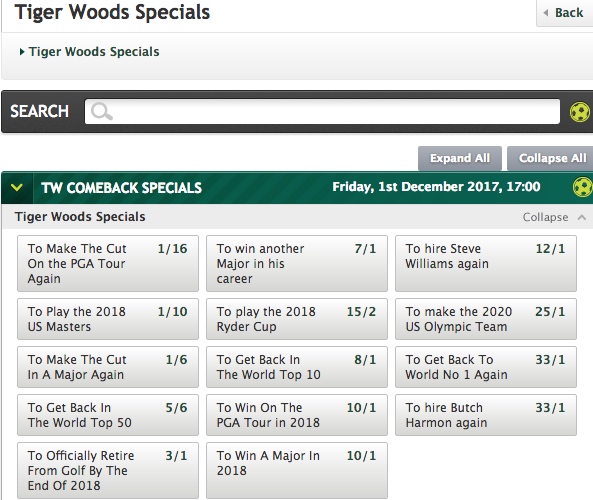 Tiger fired five birdies and two bogeys to trail Tommy Fleetwood by three shots in the Bahamas.
"I didn't know what I could do," said Tiger. "I've been playing a lot of holes at home but it's different when you are in a tournament. I had a lot of adrenaline going and I had to dial it back a bit.
"Those are the internal struggles I haven't been through in a while. To come out here and score like I did was nice. It was fun to be part of a scorecard again."
https://twitter.com/PGATOUR/status/936395803601526784
Tiger is looking for his first tournament win since 2013, and he'll have to beat not only Fleetwood but world number 1 Dustin Johnson, world number 2 Jordan Spieth and world number 3 Justin Thomas.
Tiger is ranked 1,199th in the world, but you wouldn't have known it as he narrowly missed birdies on his first two holes and then went into red figures at the third.
https://www.instagram.com/p/BcJD97sjoz7/?hl=en&taken-by=pgatour
Further success came on the fourth, when he recovered from a fluffed chip to rescue his par from 15 feet (followed by a fist pump), and a birdie from 25 feet on the eighth took him to two under.
He bogied the ninth (one of two bogeys on the par 5s), but bounced back birdies on 10, 13 and 14 before a wild tee shot on 15 led to a second bogey of the day.
Tommy Fleetwood, who will stay on in the Bahamas to get married next week to his manager Clare, never looked like making a bogey and shot six birdies in a majestic round to take a one-shot lead over Rickie Fowler and Matt Kuchar.
"I hit it really nice, drove it well and was solid on the greens," Fleetwood said. "I felt comfortable with my swing from the get-go and bogey-free is always good.
"It's a great place and tournament to end the year on and a great occasion to end the year on. We're just having a really good time."
Cancel everything, it's Tiger time...
Related:
The GolfPunk Golf Loot Advent Calendar Giveaway!!