Players
Sep 8th, 2015
Jordan Spieth: Boring or Genius?
The Jordan Spieth Story: From goofy kid to World Number 1
Words: George Stead Photography: Getty Images
Half the guys and girls at GolfPunk think Jordan Spieth is really boring – he never says anything interesting. The other half can't believe this, they think he's the dog's whatchamecallits, the second coming, a bit of alright!
Who's right? Gorgeous George goes deep to find out how a goofy kid became the World's Number 1 golfer, and finds out a load of stuff we didn't know...
Jordan Spieth is fast following in the footsteps of his favourite golfer (and the all-time number one GolfPunk) Arnold Palmer. We look at the baseball player turned golfing phenomenon's rise to power.
Although the week commencing the 26th July 1993 may have seemed like an extremely ordinary one for the world of golf, it most certainly was not. On the surface it looked like it was business as usual. Paul Azinger had just won on the PGA Tour at the New England Classic in Massachusetts, and the Great White Shark Greg Norman was probably enjoying throwing some 'shrimps on a barbie', whilst drinking out of his newly polished Claret Jug. However, during that all-too-ordinary week in July '93, something happened to the golfing world, which makes it a week to remember: On Tuesday the 27th July, 1993 Jordan Alexander Spieth was born.
Jordan Spieth: From goofy kid to Masters champion 2015
Born the son of Chris and Shawn Spieth, he is the elder brother to two siblings. Brother Steven, who is a basketball player at Brown University, and sister Ellie who has tragically grown up with disabilities. To call Spieth a family man would be a huge understatement. He repeatedly reminds us of the importance his family has had throughout his short career, insisting that he wouldn't be anywhere without them. 
He credits his younger sister Ellie by keeping him grounded and focused when playing golf, as well as putting the game of golf into perspective. Spieth's animated on-course attitude, the shouting, the fist pumps, and the frequent McEnroe-esc "You gotta be kidding me's?!" belie a crucial factor in his make up – at the end of the day, Jordan Spieth understands that golf is just a game.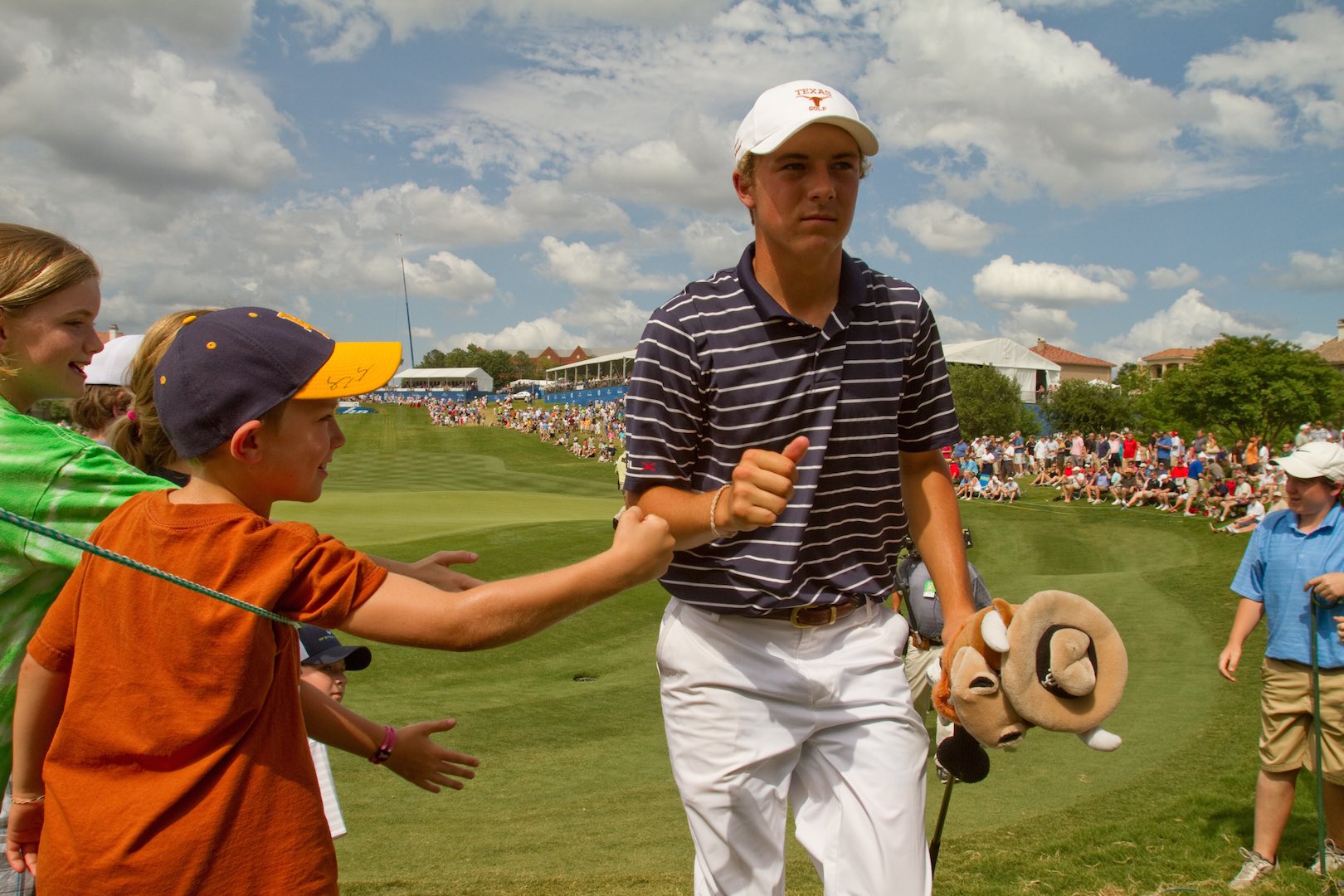 "Oi, careful son, I've got delicate wrists..."
At the scary age of just 22, Spieth, as you will already know, is a two-time major winner, becoming the second youngest player ever to win the Masters, at Augusta National. He donned the legendary green jacket by beating runners-up Phil Mickelson and Justin Rose. He opened his major account by quite simply putting the rest of the field to death, finishing with a total of 270 shots and a score of -18. 
Jordan is also a three-time winner on the PGA tour, with two wins at the John Deere Classic, and one at the Valspar Championship. Spieth has also won twice outside of the PGA Tour as a professional: the 2014 Hero World Challenge, followed by the Emirates Australian Open in the same year.
But here's the really scary bit: He has also had 33 top ten finishes since the start of the 2013 season. Looking back at the last three years of PGA Tour leader boards you'll find Jordan Spieth's name written large all over them. He has been up there nearly every single week without fail. 
Not only has he got the talent and a putting stroke to die for, he is intelligent. Intelligence leads to consistency. Intelligence is not a word often thrown into the mix when it comes to sportsmen these days. But with golf it's different. You only have to look at the all time legends of the game to see that with golf, it's a game where you need a brain. Jack Nicklaus, Tiger Woods, Walter Hagen, Gary Player, the list of golfers born with something more between the ears goes on. Spieth has already shown that he has this in abundance.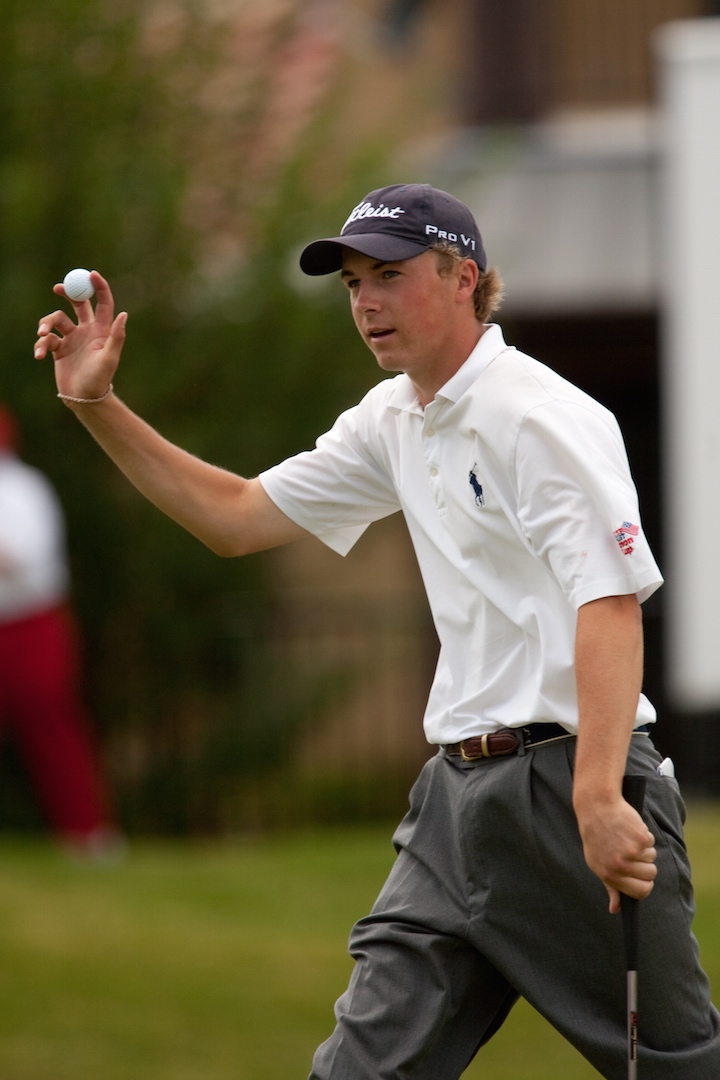 "Look, I found a Top Flite!"
The Dallas-born boy's career statistics scream superstar. One of the most remarkable things about the Jordan Spieth story is, however, that growing up, golf wasn't even his number one sport. He's one of those guys who is good at everything, folks. No doubt, he gets it from his parents. His father Shawn was a former college baseball player, and his mother Chris was a college basketball player. Spieth inevitably grew up playing all manner of American sports including soccer, football, basketball, golf, and the number one sport during his childhood – baseball.
Avoiding any "he's always been good at pitching" jokes…(I've got one... was he always 'pitch perfect' ha ha ahhaahhhmmm, I'll get my coat –Ed) Spieth was a pitcher growing up, and a good one at that. But something happened at the age of four that may have had a lasting effect as to why Spieth chose bunkers over baseballs. During a routine visit to a Texas Rangers game with his father, he went to catch a high pop-up but unfortunately lost the ball in the lights, resulting in his two front teeth being knocked out during the game. Ouch.
Spieth's deep desire to improve at the game of golf, was shown aged nine when he took the liberty of mowing a section of the family lawn as low as he could, to practice that now world famous putting stroke. This then spurred his parents on to joining the Brookhaven Country Club so their nine-year-old golf enthusiast could use some proper facilities. Just three years later, Spieth found himself taking lessons from former golf pro Cameron McCormick. This was the start of something very special.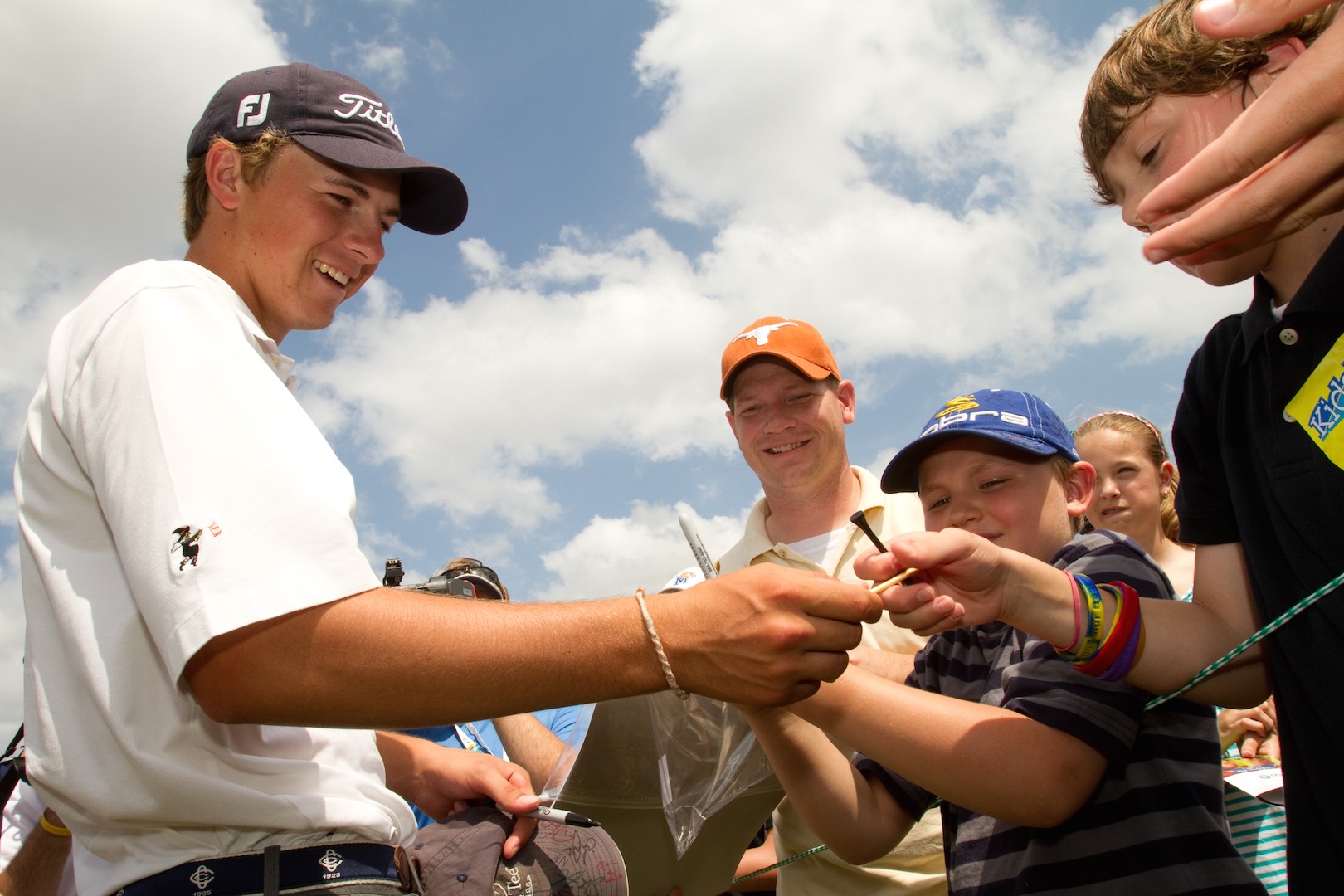 "Can you make it out to Rod Pampling, thanks"
Although Spieth has fond memories of growing up playing all sports including baseball for college, it all had to stop on what he refers to as the 'hardest day' of his life. He decided to tell his dad that golf was to take precedence over baseball, and that he would give up his favourite childhood sport. The reason being, (apart from the obvious teeth shattering) he believes that the game of golf can never be perfected. This fact attracted him to our beautiful game more than any other, and provides the day to day motivation needed for him to go on and become one of the best. 
Jordan, as well as making the right decision, you have hit the nail on the head, my friend.
Spieth attended St. Moncia Catholic School and then went on to join Jesuit College Preparatory School. It was during this time that his golf game really began to flourish. In 2009 he won the U.S. Junior Amateur when he was aged just 16 and then went onto to do it again in 2011, proving that he was more than just a child prodigy.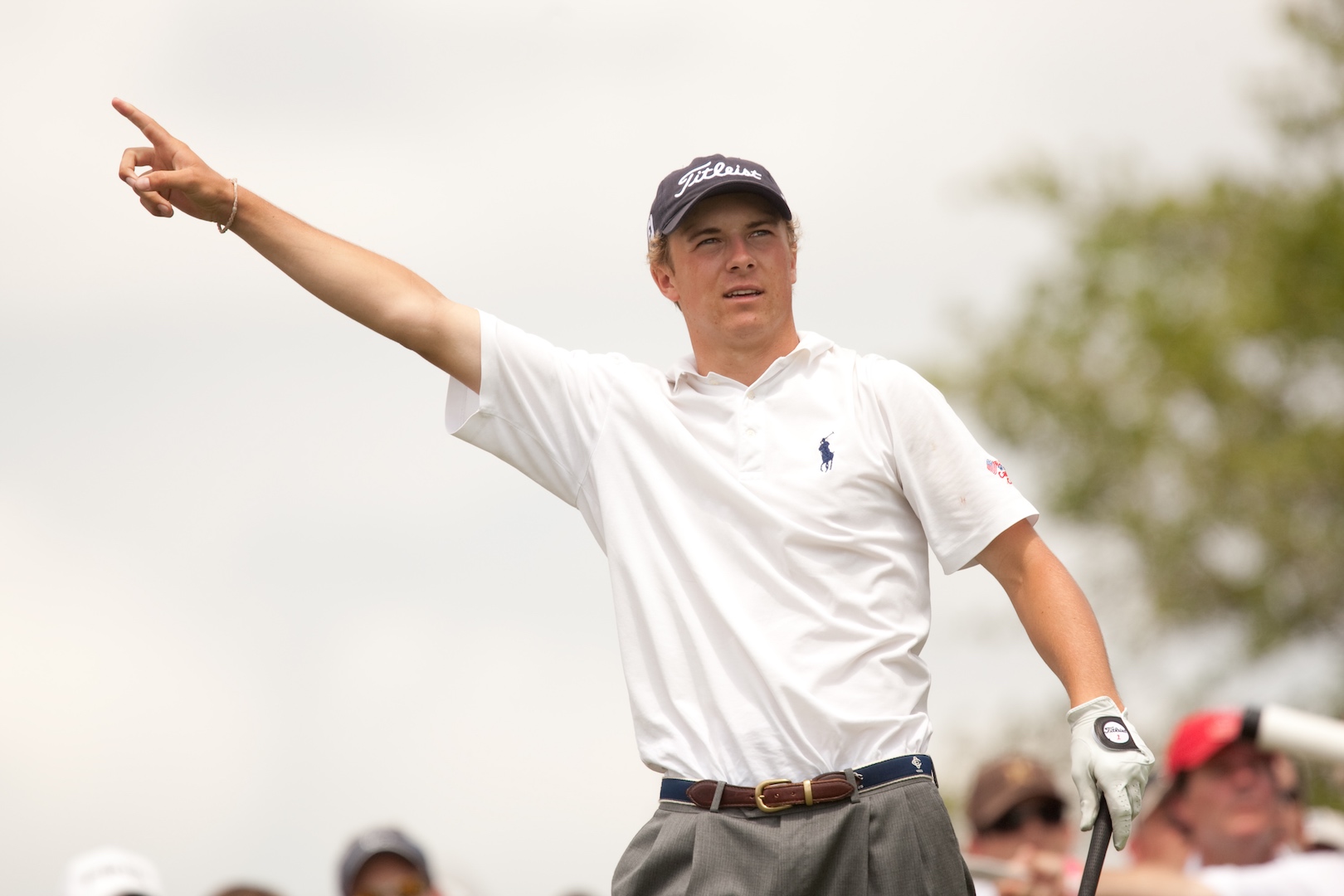 "Hi, I'm Disco Spieth: I'm here till Sunday. Literally every week"
Becoming only the second player ever to win the U.S Junior Amateur twice after Tiger Woods, opened the door to a barrage of obvious comparisons. The thing that impresses me most, however, is the way that Spieth uses these comparisons to his advantage, unlike Rory McIlroy – arguably his strongest competitor in the world of golf – who seemed to take time to adapt to the Tiger comparisons and the Nike machine that he has subsequently been consumed into.
Don't get me wrong, the sheer magnitude of press attention that McIlroy experienced after his first major win may have been greater than it has been on Spieth, but still the ex-baseballer seems to have dealt with it a little better, by simply holing more and more putts.
With his amateur success under his belt, Spieth received an exemption to play in the PGA Tour's HP Byron Nelson Championship in 2010, becoming the sixth youngest player ever to receive a PGA exemption, along with the likes of Justin Leonard and Woods. Obviously, he did himself extremely proud, by finishing tied 16th among a field of professionals, and gained an invite for the following year where once again he made the cut and eventually tied 32nd.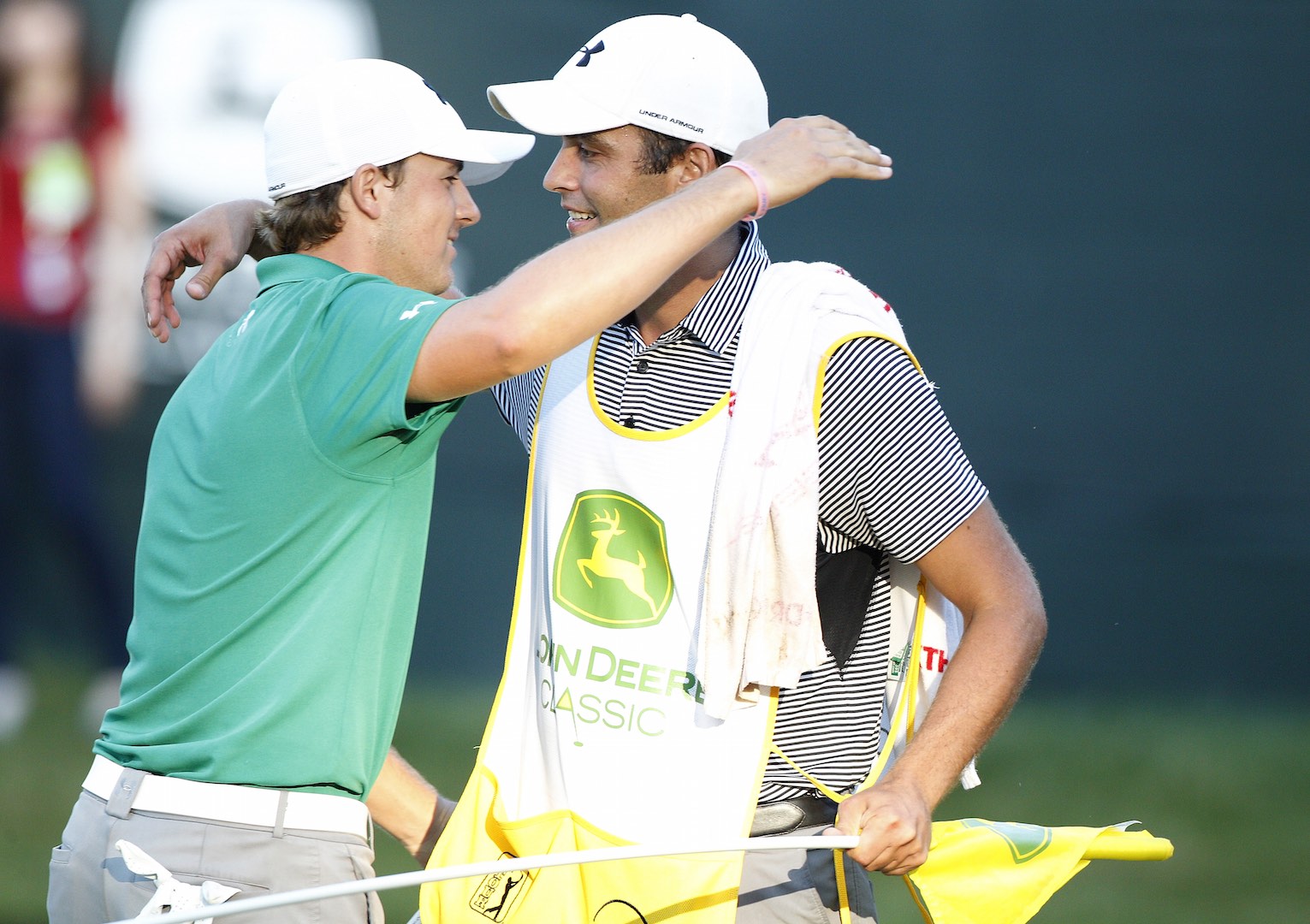 Spieth and caddie Mike Greller after winning the John Deere Classic in 2013
By this time, Spieth's college days were over. He was now 18 and studying at the University of Texas, representing his beloved team the Longhorns. He remains a die-hard fan, and his passion for all-sport is highlighted by the fact that he freely admits that he is so intense when watching sport that not many people can stand watching with him. Especially when it's a Texas University team – well, not without them wanting to punch him in the face. It paints a hilarious picture, the normally calm and collected Jordan Spieth we all know and love sat alone on his sofa shouting repeatedly at his TV screen, when some guy in tight white pants fails to catch a ball.
Spieth went on to become, without doubt, the Longhorns' best golfer, resulting in him being picked for the 2011 Walker Cup where he showed what a great match-play player he was once again. He finished the weekend with an unbeaten record having played three of the four matches, notably beating 2011 Open Amateur Champion Tom Lewis. During his time with the Longhorns, he earned some serious accolades: 'Big 12 Freshman of the Year', 'Player of the Year', and 'First Team All-American'.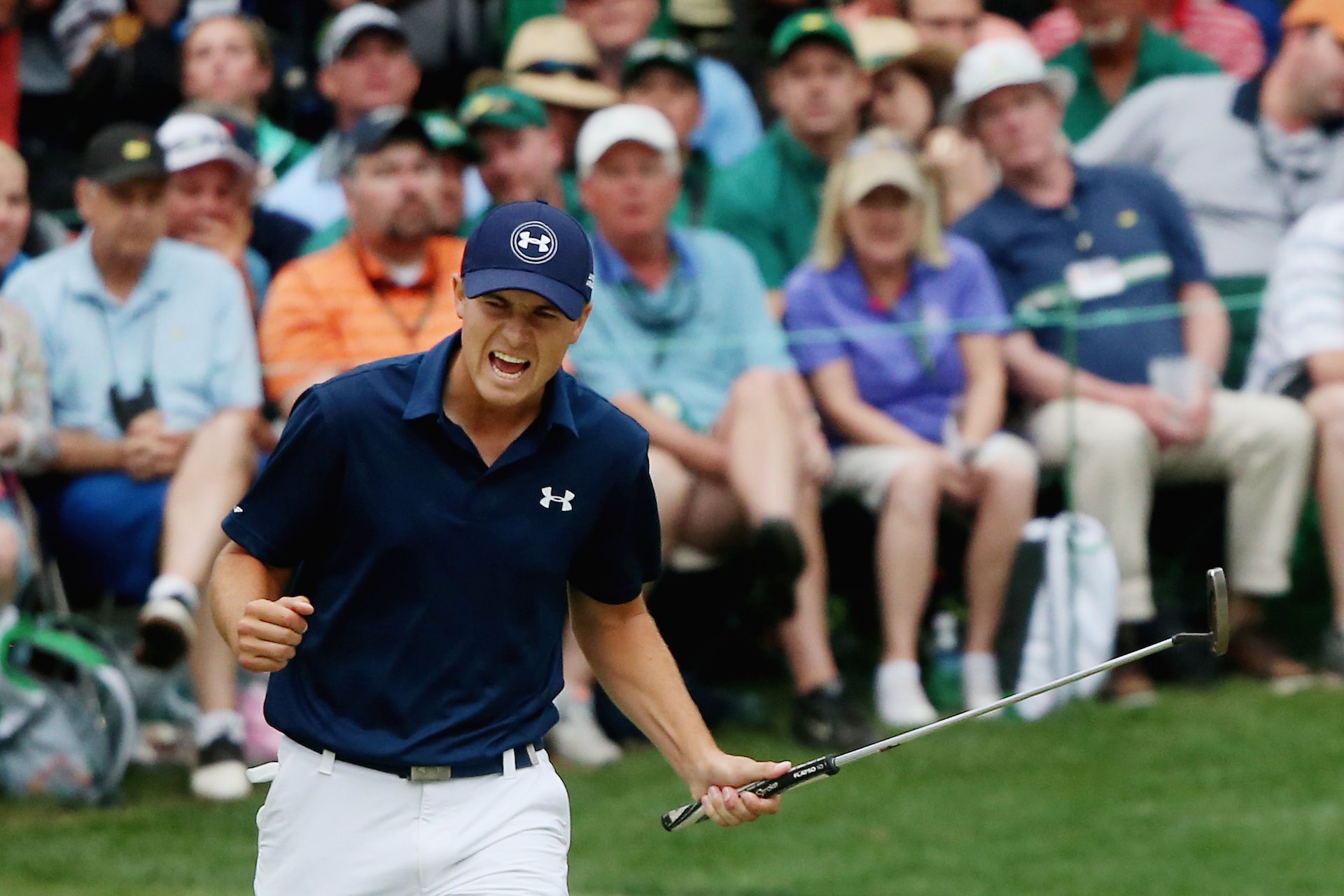 "Get in!" Spieth finds out its chips for tea
More big things were to follow for the once butter fingered baseball fan. As well as being an extremely gracious and grateful professional – he continuously thanks his family for being where he is today (mind you, they all do that) – he also owes a lot to fellow American putting machine Brandt Snedeker.
Spieth got his first big break when Snedeker had to withdraw from the U.S Open in 2012, at the Olympic Club, California, meaning that the young University star was in. He finished the week narrowly missing out on a top-20 spot, ending up tied for 21st. He was the low amateur for the week, and became number one in the World Amateur Golf Rankings, leading to the inevitable decision to turn pro. Cheers Sneds, what will we ever do without you?
Jordan had done it, he had achieved many of his dreams by the age of 19, and achieved them fast. In 2012 he was a professional golfer, and certainly not one that felt the need to 'get used to things'. Although he had a fairly shaky start to his professional playing days by missing the cut at the Farmers Insurance Open at Torrey Pines by two strokes, in March, Spieth went onto make three straight cuts and began the process of creating that ever-so consistent career that we have become accustomed to seeing week-in-week-out.
As you can imagine, things started to get serious: bags full of talent, coupled with a wise head on extremely young shoulders, Spieth's first win came calling faster than you can say 'John Deere Classic'. Just a couple of weeks before his 20th Birthday, he became the youngest winner on the PGA Tour since 1931, when Ralph Guldahl, won the Santa Monica Open. Spieth won in true GolfPunk style by holing out from a greenside bunker on the 72nd hole to force a playoff. He beat David Hearn and now two-time major winner Zach Johnson on his way to victory. 
The year ended in the same rich form with Spieth earning a place in Fred Couples' Presidents Cup squad. He finished 10th on the PGA Tour money list, was named Rookie of the Year, and had reached a staggering 22nd in the Official Golf World Rankings. What. A. Year.
So, here we are at the end of 2015, three years after the all-new world golf superstar had first turned pro: Two major victories and another three PGA Tour wins later. Given the impressive sporting prowess that the young Dallas-born boy showed in the early stages of his life, we can't say that it was a complete shock. But the style and the speed at which he has risen to number one in the world so quickly, is what gets us going here at GolfPunk.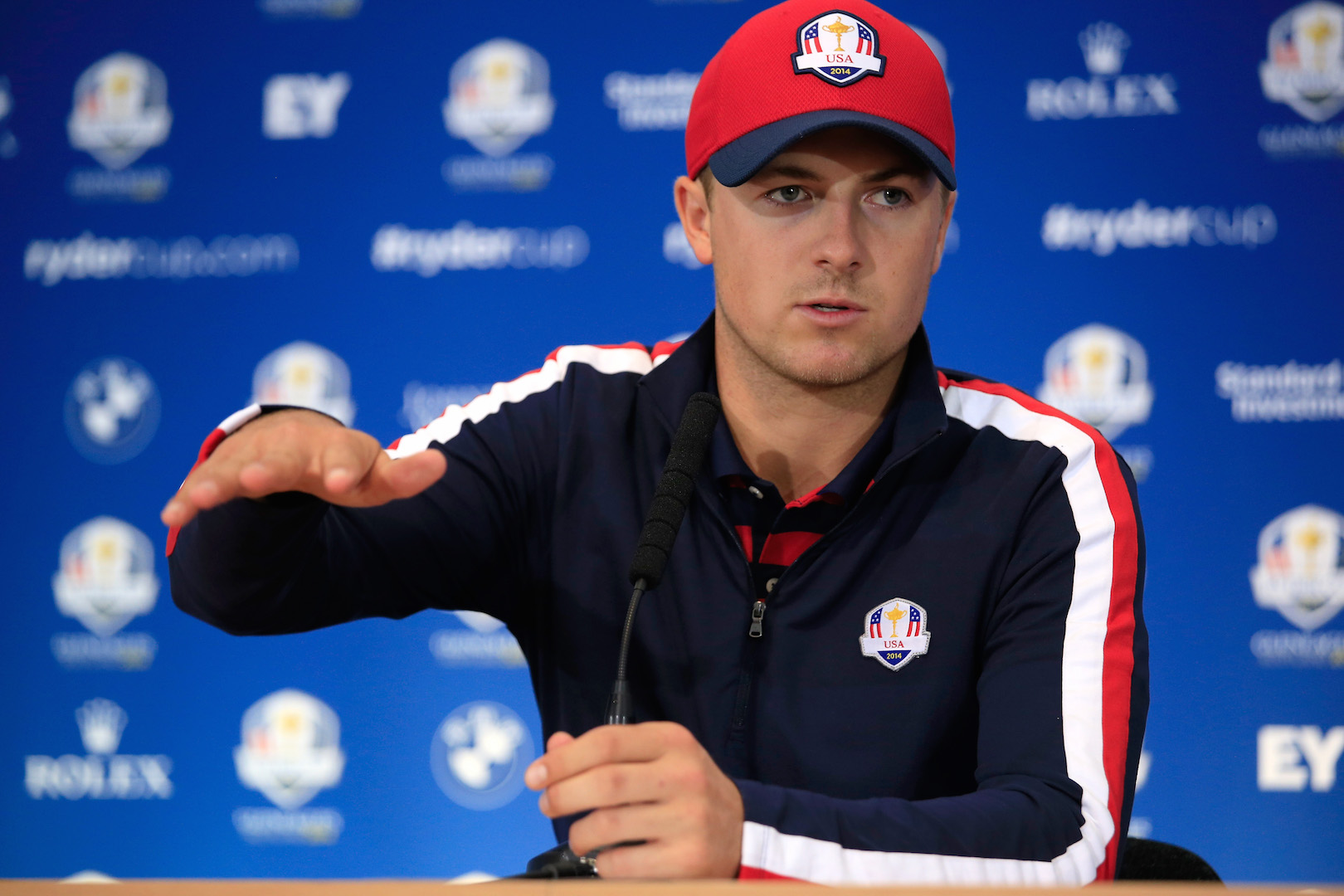 "Seriously, have you never actually met Woosie, he's this big!" Jordan entertains the media at the 2014 Ryder Cup
Some people say he is boring, well deal with it, because this guy isn't going anywhere. When all eyes were on McIlroy and the hopeful anticipation of the return of Mr Woods, Jordan Alexander Spieth smashed through the Majors' barriers like a golfing ram raider. He quite simply blew everyone else out of the water. This year he has treated us to a whole new world of golf, a putting master class, and a plethora of white pants – that, if we are being picky, are maybe a little too baggy for our liking. 
Not only has he won two majors, he came fourth and second in the other two. For a while at the Open we were all gasping in wonderment – Spieth was going to do it. He was going to complete the third leg of the Grand Slam and surely win the PGA for the set. It didn't happen but it was an exceptional effort at becoming the first ever Grand Slam winner. 
Spieth's 2015 Grand Slam effort is right up there with the greatest in major history. There are only two players that have won three majors in year: Tiger Woods and Ben Hogan. Bobby Jones is worth a mention too, having been the only man to win the 'old' grand slam, way back in 1930. Spieth joining those three for a knock of a Sunday morning wouldn't be a bad four-ball would it?
Spieth has a philosophy that he gained from his father way back in his baseball playing days: "You have to start setting goals", Shawn Spieth told him many moons ago, and boy has he done that. So far he has achieved everything he has set out do, and there is no doubt that he will carry on to do so for many years to come.
If that's boring, I'll take it every time.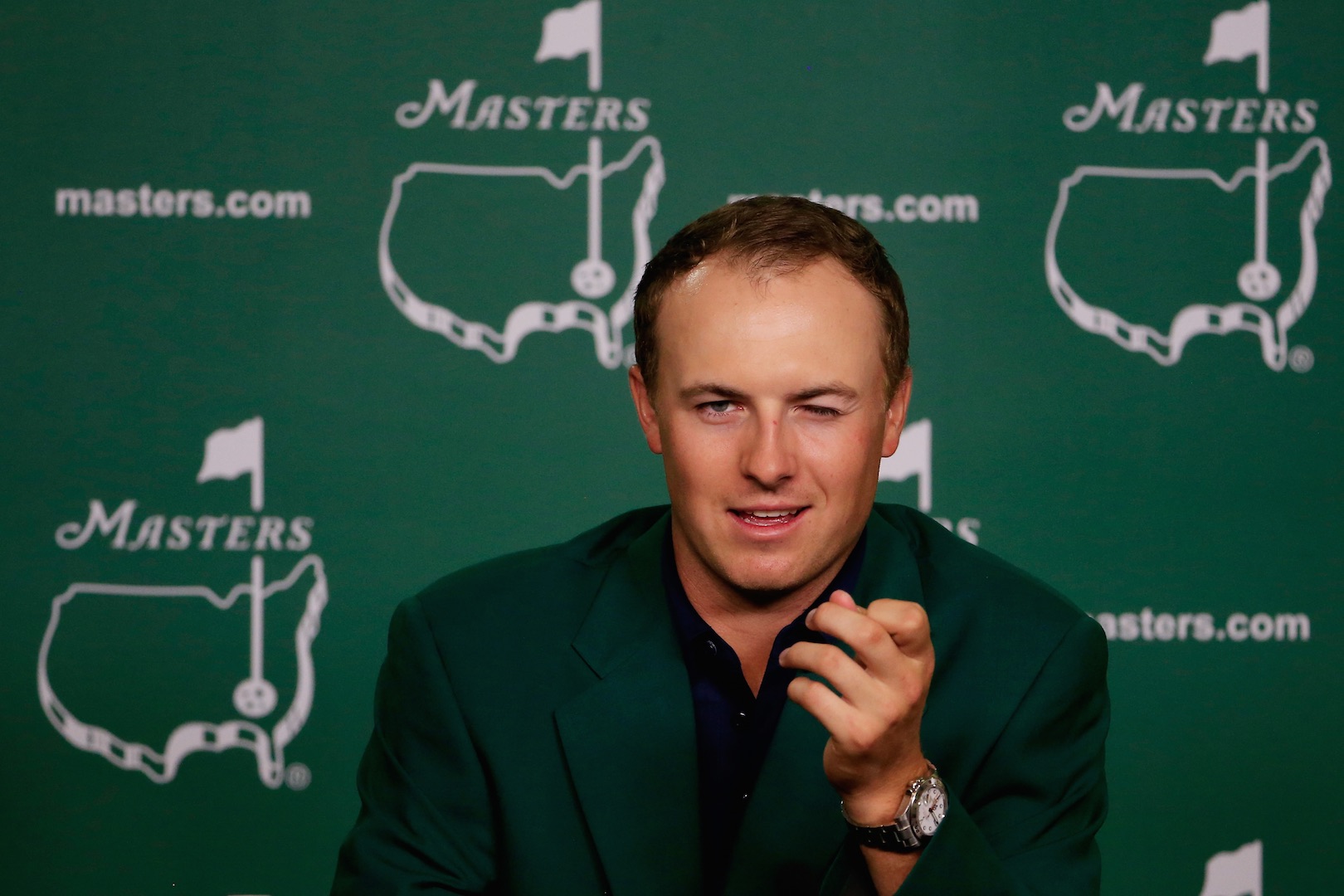 "Now I remember you, you're the jerk who stole my hat!"
TAGS: Jordan Spieth, Jordan Spieth World Number 1, Rory McIlroy And Jordan Spieth, The New Big 3, Golf's New Big 3, Players, 2015