Players
Dec 18th, 2018
BBC Shambles as Georgia Hall snubbed at SPOTY
What a bunch of arse...
Words: Tim Southwell
What a monumental Bunch Of Arse. Georgia Hall became the first British woman to win a major in 14 years and the BBC Sports Personality Of The Year cretins didn't even allow her to speak at the trumped-up awards ceremony on Sunday night.
She looked absolutely mortified as Gary Lineker stood next to her and glossed over her 2018 British Women's Open victory in August before moving onto 'more important matters'.
Imagine if a British woman had won Wimbledon? You'd never hear the bloody last of it. Just why the show's organisers granted Hall's victory such little merit is anyone's guess. Tyson Fury gets knocked vitrually unconscious by Deontay Wilder and he's lauded as some kind of public spokesman for the down-trodden and given all the airtime he can eat. 
After a 10-second video of Georgia's win, Lineker couldn't get to the England football team quick enough. An England team who – we shouldn't forget – didn't even get to the World Cup final. No one's denying Southgate's men and Fury have provided entertainment, but Georgia Hall was given such short-shrift it was gut-wrenchingly awkward, not just for Hall but for everyone watching at home.
While Hall sat there dumbfounded, the England team were the subject of a video that featured a marching band, audience singalong and performance of Three Lions by The Lightning Seeds, David Baddiel and Frank Skinner after Gareth Southgate got the squad to this year's semi-final.   
In an almost comical and certainly crass gesture, Lineker told Georgia that it was 'lovely' to see her at the ceremony but just as you were expecting him to ask Georgia what it was like going down the stretch at Royal Lytham with the world's best players snapping at your heels, he simply ambled off.
Not making the short-list is one thing – you can argue for and against all night – but to not make the short-list and then be virtually ignored really takes the biscuit. You'd need a warped mind to think that, if a British man had won the Open, they would have been tossed a miserly 10-second patronising.  
Hall didn't look particularly impressed. The shortlist was revealed to included England captain Harry Kane, Lewis Hamilton, James Anderson, Lizzy Yarnold, Dina Asher-Smith and winner Geraint Thomas.  
I'm not the only one who got upset, either.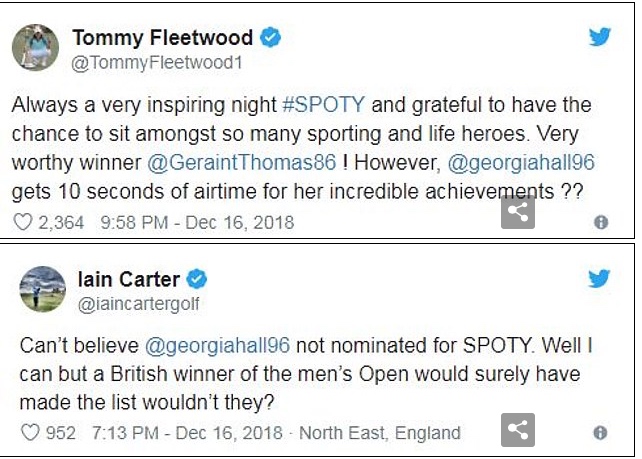 An independent panel compiled the shortlist with a 50/50 gender balance. The final list was kept secret this year to counter fans' voting campaigns. 
Looks like Georgia will have to win every major in 2019 if the rest of the country are going to find out what she sounds like when she speaks. 
Bunch. Of. Arse.
Related:
The Top 50 GolfPunks Of All Time