LPGA Tour
Jun 21st, 2021
Nelly Korda wins Meijer LPGA Classic
American wins hard fought battle with Ireland's Leona Maguire
Photography: Getty Images
It was a battle to remember in the final round of the Meijer LPGA Classic for Simply Give, as Nelly Korda prevailed against Leona Maguire to capture the fifth title of her LPGA Tour career and her second of the 2021 season.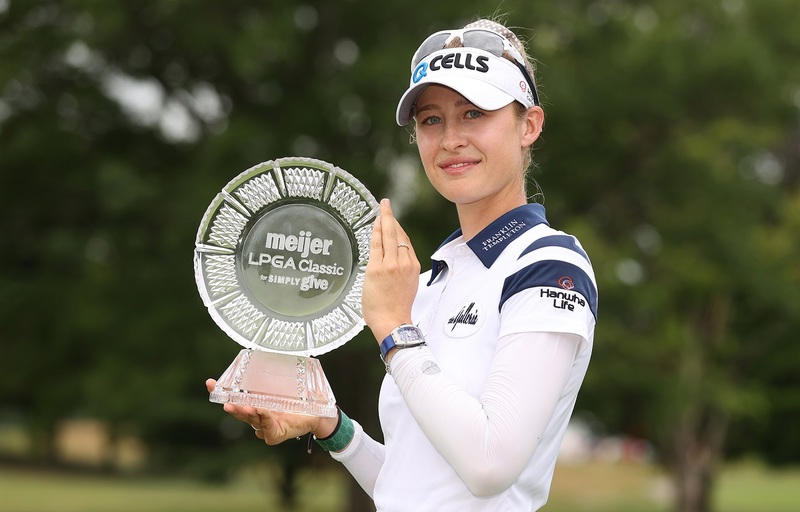 Korda fired a five-under-par 67 on Sunday at Blythefield Country Club for a 72-hole score of twenty-five-under 263, matching the tournament scoring record and setting a new tournament record score to par.
"Actually really enjoyed today. Honestly, there have been times where, on Sundays, I really like haven't enjoyed it, the stress kind of ate at me and I didn't stay in the moment or enjoy playing on a Sunday in a final group," said Korda, who is the first player with multiple wins on the LPGA this season.
"I enjoyed it today, and it was actually a really good battle between Leona and I. She definitely kept me on my toes."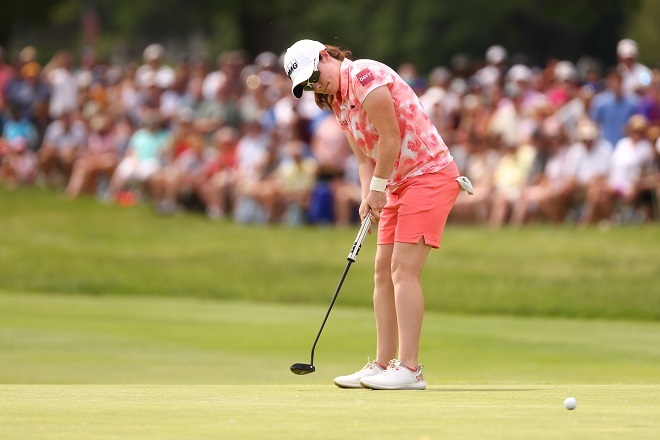 Maguire erased a three-stroke deficit with a third consecutive birdie on No. 4 and coupled with a bogey from Korda, it was a two-way tie atop the leaderboard at twenty-under. Korda bounced back and regained the advantage with a birdie at the 6th, but Maguire drew even with her thanks to a birdie on the 8th.
The duo made the turn each at twenty-one-under before back-to-back birdies at the 10th and 11th by Korda opened a two-shot cushion for the Rolex Rankings number four. A bogey by Korda on the 12th brought Maguire within one but an eagle-birdie run at the 14th and 15th widened the gap to three strokes, the lead she started the day with.
On No. 16, Maguire managed a birdie and modest fist pump to show signs of life, and moments later a bogey from Korda cut it to one. Korda worked her way to a birdie on the 18th, despite a challenging lie with her chip including a foot in the greenside bunker, to close the door and leave West Michigan the victory.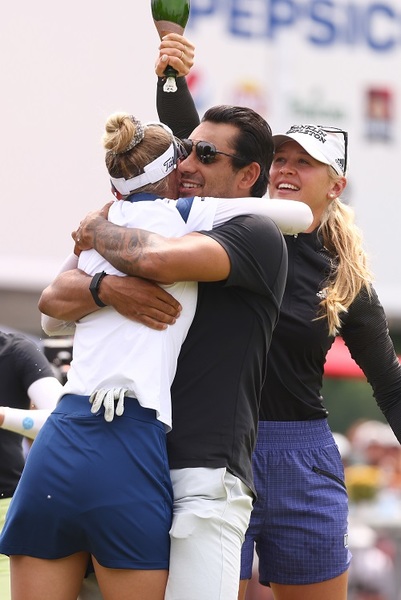 "If you told me at the U.S. Women's Open [after I missed the cut] that I was going to shoot 25-under, I would be like, 'Yeah, right,'" Korda said.
"I did a good bit of work back home [in Florida last week]. My dad was at every practice, a little boot camp with my dad. He's actually in Prague right now doing a little boot camp with my brother [Sebastian] before Wimbledon. So, he's flying back and forth."
"I worked on the right stuff and didn't really put too much pressure on myself this week, which I did at the U.S. Women's Open. I guess that was the key. Maybe I should learn from that again."
With the win, Korda moves to the top spot in the Race to the CME Globe standings ahead of the third major in the 2021 LPGA Tour campaign, the KPMG Women's PGA Championship.
"Competition is getting fiercer every year. You see Patty [Tavatanakit] won her first tournament, so the rookies out here are playing well. Leona is playing well," said Korda.
"I just think the girls are starting to dominate. You go into a week back in the day and think that 5-10 people could win. Now you look and anyone can take home the victory."
For Maguire, she secures her second runner-up finish of the year, joining her performance at the LOTTE Championship in April.
"Nelly is one of the best players in the world and I went toe to toe with her pretty much all day," said Maguire, who finished at twenty-three-under.
"I knew it was going to be a battle. I knew I had a lot of golf in front of me. I'm really proud of how I played all week. Hit some great golf shots when I needed to. Got off to a really nice start, which I have been doing, but then backed it up with three more solid rounds after that."
In Gee Chun and Brittany Altomare ended in a tie for third at twenty-one-under following rounds of 63 and 64, respectively. Rounding out the top-five was two-time major champion Anna Nordqvist (66).
England's Georgia Hall closed with a four-under 68 to share sixth place with countrywoman Charley Hull two shots further back following her round of 70.
---
And another thing...