News
Mar 23rd, 2016
There are sinkholes and there are SINKHOLES
This is a SINKHOLE
Words: John Dean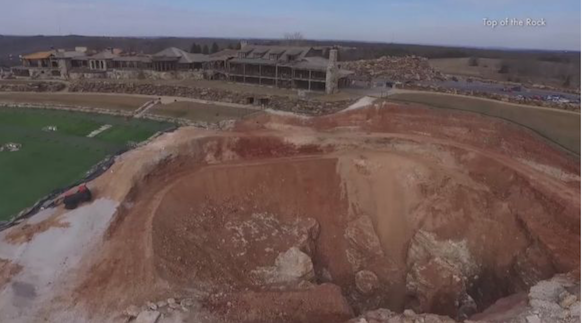 In May 2015, a massive 40-foot deep sinkhole opened up near the clubhouse at Top of the Rock Golf Course. But rather than filling it in, they kept on digging. Why?
Apparently their continued digging is in order to find a cave system below the course. With the continued excavation it's now more than 110-feet deep.
Here's what conservationist and founder of Bass Pro Shops, Johnny Morris, said of the course's plan:
"A treasure hunt is underway and we hope to one day discover a new natural wonder lying below," Morris said, via the course's website. "It's been an exciting few months here at Top of the Rock and we hope the best is yet to come. I am very excited about our chances to find a great cavern, but whether we find a cave or not, the incredible formations we have already uncovered have made the effort worthwhile."
The sinkhole could become a tourist destination in its own right, especially now that is 12 times larger than when they started. Watch the video here.
https://twitter.com/weatherchannel/status/712006531760259072
For more strange things that you can find on golf courses click here or on the image below.