News
Jul 29th, 2015
Ricoh Women's British Open Tee Times
Rev up the engines, ladies!
Photography: Getty Images

Above: Michelle Wie checks out the Turnberry lighthouse as she plots how to switch the rest of the field's off.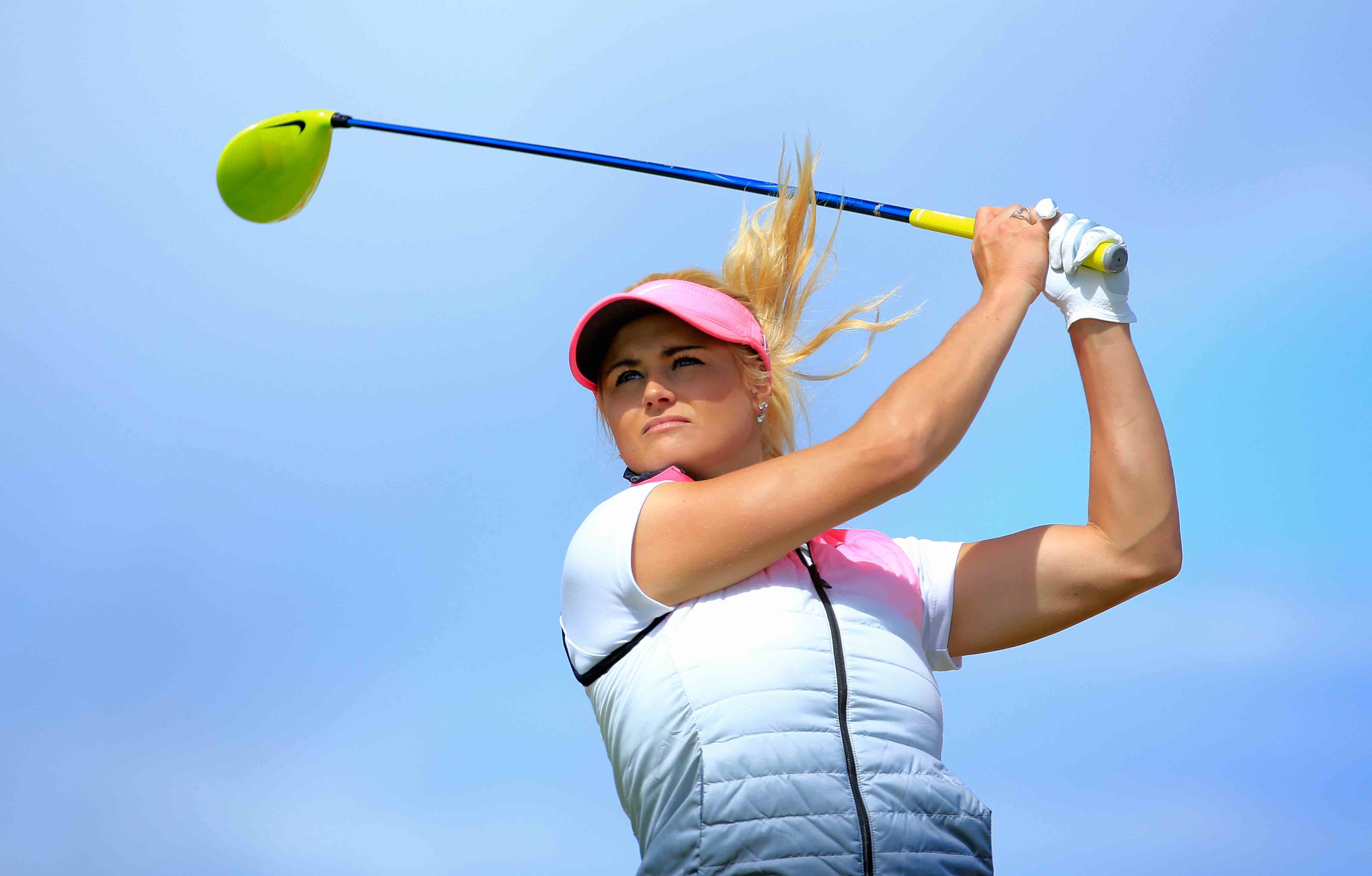 Above: Carly lets fly.

Above: Ritsuko Ryu

Above: Turnberry berkery with Marina Alex, Jane Park & errm, someone we can't quite see properly...
1

6:30

Misuzu Narita

Sandra Gal

Beatriz Recari

2

6:41

Ayaka Watanabe

Paula Creamer

Brooke Henderson

3

6:52

Suzann Pettersen

Catriona Matthew

Celine Boutier (A)

4

7:03

Haru Nomura

Cristie Kerr

Charley Hull

5

7:14

Inbee Park

Stacy Lewis

Azahara Munoz

6

7:25

So Yeon Ryu

Shanshan Feng

Anna Nordqvist

7

7:36

Yumiko Yoshida

Holly Clyburn

Amy Boulden

8

7:47

Stacey Keating

Alison Walshe

Isabelle Boineau

9

7:58

Lee-Anne Pace

Candie Kung

Lucie Andre

10

8:09

Connie Jaffrey (A)

Ariya Jutanugarn

Kelly Tan

11

8:20

Marianne Skarpnord

Kristen Gillman (A)

Wei-Ling Hsu

12

8:31

Xiyu Lin

Nicole Garcia

Dewi Claire Schreefel

13

8:42

Juli Inkster

Yani Tseng

Ha Na Jang

14

8:53

Austin Ernst

Pamela Pretswell

Su-Hyun Oh

15

9:04

Stephanie Meadow

Hannah Burke

Patcharajutar Kongkraphan

16

9:15

Jenny Suh

Danielle Kang

Carly Booth

17

9:26

Marion Ricordeau

Camilla Lennarth

Eun-Hee Ji

18

9:37

Titiya Plucksataporn

Nicole Broch Larsen

Caroline Masson

19

9:48

Min Seo Kwak

Kim Kaufman

Jennifer Song

20

9:59

Sydnee Michaels

M.J. Hur

Carlota Ciganda

21

10:10

Kylie Walker

Ashleigh Simon

Chiara Mertens (A)

22

10:21

Rebecca Hudson

Maria Balikoeva

Nina Holleder

23

10:32

Jade Schaeffer

Alison Lee

Sophie Walker

24

10:43

Vikki Laing

Minea Blomqvist

Linnea Strom (A)

25

11:15

Shiho Ohyama

Morgan Pressel

Gwladys Nocera

26

11:26

Mika Miyazato

Lydia Ko

Brittany Lincicome

27

11:37

Ai Miyazato

Michelle Wie

Laura Davies

28

11:48

Mo Martin

Gerina Piller

Jessica Korda

29

11:59

Sakura Yokomine

Lexi Thompson

Melissa Reid

30

12:10

Karrie Webb

In Gee Chun

Georgia Hall

31

12:21

Ritsuko Ryu

Angela Stanford

Florentyna Parker

32

12:32

Teresa Lu

Hyo Joo Kim

Lizette Salas

33

12:43

Christina Kim

Charlotte Ellis

Meena Lee

34

12:54

Katie Burnett

Jung Min Lee

Chella Choi

35

13:05

Jane Park

Pornanong Phatlum

Jaye Marie Green

36

13:16

Emily Pedersen

Pernilla Lindberg

Brittany Lang

37

13:27

Natalie Gulbis

Il Hee Lee

Sally Watson

38

13:38

Hee Young Park

Minjee Lee

Q Baek

39

13:49

Klara Spilkova

Mi Hyang Lee

Na Yeon Choi

40

14:00

Jenny Shin

Luna Sobron (A)

Sun Young Yoo

41

14:11

Rebecca Artis

Maria McBride

Tiffany Joh

42

14:22

Karine Icher

Amy Yang

Alena Sharp

43

14:33

Julieta Granada

Beth Allen

Mina Harigae

44

14:44

Felicity Johnson

Nanna Madsen

Paulo Reto

45

14:55

MariaJo Uribe

Jacqui Concolino

Ursula Wikstrom

46

15:06

Caroline Hedwall

Jin-Young Ko

Kelly Shon

47

15:17

Ssu-Chia Cheng

Marina Alex

Moriya Jutanugarn

48

15:28

Anne-Lise Caudal

Sarah Kemp

Sei Young Kim