News
Oct 21st, 2019
Manic Monday
Thomas takes 10th title in 3 years and Colsaerts back in action!
Words: GolfPunk Photography: Getty Images
CJ Cup, The Club at Nine Bridges, Jeju Island, South Korea
Justin Thomas won his second title on JeJu Island in three years, holding off local favourite Danny Lee by two shots and reaffirming he is the winningest PGA tour player over the last three seasons.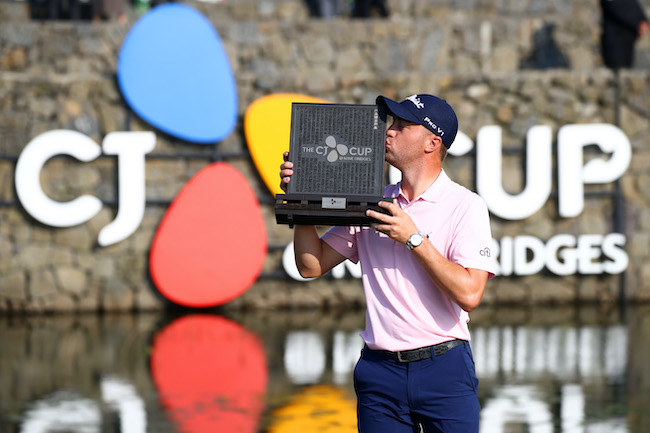 Yes, you read that correctly. Over the last three seasons Thomas has 10 wins to Dustin Johnson's eight, and the seemingly undefeatable Brooks Koepka with a measly six.
Thomas showed a lot of grit in taking this win as local favourite Lee was pushing hard. After making a long eagle putt on 18 on Saturday to tie the lead going into the final round, Lee made sure Thomas was in a dogfight on Sunday making a raft of clutch putts across the front nine and carded three birdies at the turn.
Lee's challenge effectively died though on 14. Thomas birdied, Lee hopped from bunker to bunker and the pressure told. With a bogey on this and the next Thomas had a two-shot lead that he took to the last.
Not that Lee was ready to give up! Thomas missed his eagle putt, but Lee gave his lengthy effort a good go and was only denied by an extremely cruel lip out. Thomas didn't need a second invitation and took the two putts he had to claim his 11th overall PGA Tour title.
"It feels great … It's very reassuring knowing that I could hit those shots when I needed to the entire day when I felt like the heat was on the whole day," Thomas added. "I feel like I'm starting to understand a lot better what I need to do, what my body needs to do on prior weeks before events and I feel like I'm doing a good job. In terms of the season, I definitely got off to a good start, there's no doubt about that."
https://www.youtube.com/watch?v=hgCSz5X61uY
For the final leaderboard click HERE.
Amundi Open de France, Le Golf National, Paris, France
Nicolas Colsaerts won his first European Tour title in seven years as Le Golf National lived up to its reputation on a dramatic closing day of the Open de France. The big hitting Belgian entered Sunday with a three-shot lead and quickly extended that to five in testing wet conditions but it would go right to the wire in arguably the most incredible back nine on any tour this year.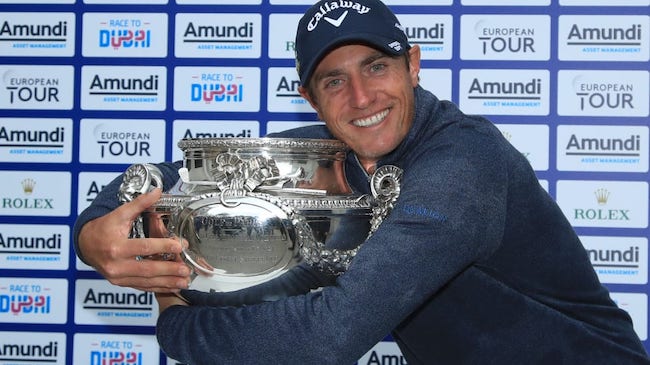 Colsaerts started this tournament staring down the barrel of potentially losing his tour card which is a far cry from 2012 when he was selected as a wildcard by captain Jose Maria Olazabal to be part of the European team that pulled off the "Miracle of Medinah" when they came from 10-4 down to defeat the USA 14.5-13.5.
Colsaerts' lead was quickly extended to five as he picked up a shot on the first with an approach to two feet, with nearest overnight contender Coetzee surrendering a bogey after finding water off the tee. However, despite this early advantage George Coetzee led by two with six to play.
It was all change at the 15th where Coetzee's chances disappeared as he found the water twice for a triple bogey. Colsaerts was also wet with his second and a double meant that JB Hansen was suddenly in the lead.
Hansen came up just short of the green at the par four 17th but put his first putt over and off the putting surface, needing three more for a double bogey that allowed Colsaerts to hang on for his third European Tour title and first since May 2012.
Understandably, Colsaerts' cut an emotional figure as he ended a victory drought of seven years and five months in his 389th European Tour appearance.
"It's very, very special," he said. "The French Open for me is very special because I'm French-speaking. I've been coming here for I don't know how many years, it's been a long road. So many people have supported me over the years, that's why I get so emotional. I went through up and downs for so many years now."
He added: "We knew the last four holes are always pretty dramatic, I proved it with hitting it in the water on 15. I don't know what happened on 17 with JB but it was a bit of a surprise when I got on to the green. I thought I was still going to be one behind."
https://www.youtube.com/watch?v=8x7QCkAFnEs&t=5s
For the final leaderboard click HERE.
Hainan Open Sanya Luhuitou GC, Donghai Bay, Sanya, Hainan Island, China
Francesco Laporta secured his first European Challenge Tour victory at the Hainan Open. The Italian began the day with a two-stroke lead and a final round of 70, two under par, was enough to clinch victory one stroke clear of France's Robin Roussel and two ahead of Dutchman Wil Besseling and Germany's Sebastian Heisele, who earlier aced the par three third hole on his way to a four under par 68.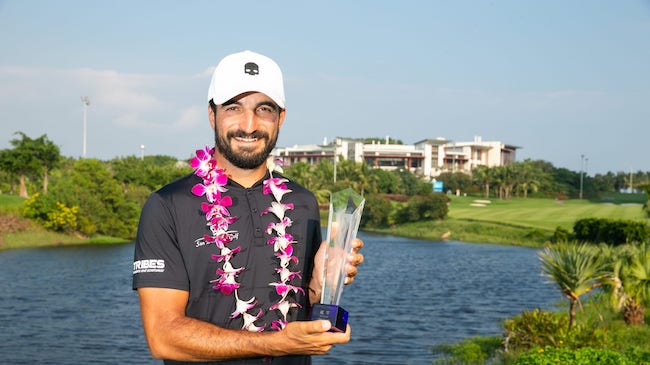 Laporta stayed in front throughout the final round, however he was joined momentarily at the top by Besseling following a two-shot swing at the 15th hole before the Dutchman then carded a double bogey on the 17th after hitting his approach into the water.
Laporta therefore had a one-shot lead with one to play and he calmly secured victory with a solid par at the last and duly marched to the top of the Road to Mallorca Rankings.
"It's unbelievable," he said. "It's my first victory on the Challenge Tour and it's just crazy. After last week in Italy, I came here just to play my best golf and I was aiming for a top ten. To come away with a victory is unbelievable and amazing."
"When I started this year, I just wanted to play my best golf and finish in the top 15 and now I'm leading, it's just crazy. I'll try to do my best to keep my place and finish top of the Rankings."
For the final leaderboard click HERE.
And another thing...