News
Dec 18th, 2015
Jason Day's wife gets wiped out by Lebron James
Ellie hospitalised after court side collision
Words: Daniel Owen Photography: Getty Images
There were dramatic scenes last night as Jason Day's wife Ellie was stretched off court side after being smashed into by Lebron James following a loose ball at the Cleveland Cavaliers VS Oklahoma City Basketball game.
Ellie, who only gave birth to her second child last month, took the full brunt of the 6ft 8, 18 stone basket ball legend as he was chasing a loose ball. She was taken to the Metro Hospital in Cleveland, while reports say she was smiling and alert. 
"She squeezed my hand, said she was fine. I think she was just a little weary." said Lebron.
"Obviously her health is very important and hopefully she's doing well. The guys told us she's doing great now. Going for a loose ball I was just trying to keep the possession going and I hate that that was the end result of it."
Ellie was clapped off by the fans at the Quicken Loans Arena. Jason Day is a regular at court side for the Cavaliers, their home stadium is in the Day's adopted home of Cleveland Ohio. 
Update: Jason's agent Bud Cauley has released the following statement.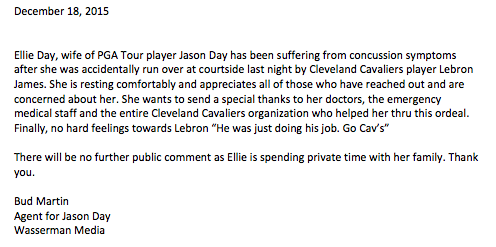 TAGS: Jason Day, Ellie Day, Lebron James, Cleveland Cavaliers, News, 2015