News
Jan 8th, 2016
Hollywood Turns On Trump
Words: Tim Southwell Photography: Getty Images
Fight, fight, fight! This thing just isn't going away. Now Trump has called Samuel L. Jackson out via twitter. No one likes to be called a golf cheat, especially if you are one, and things really seem to have touched a nerve with Donald Trump.
Here's his latest twitter response to Samuel L. Jackson and others (see below) from the worlds of the media and Hollywood... plus our take on how this got started...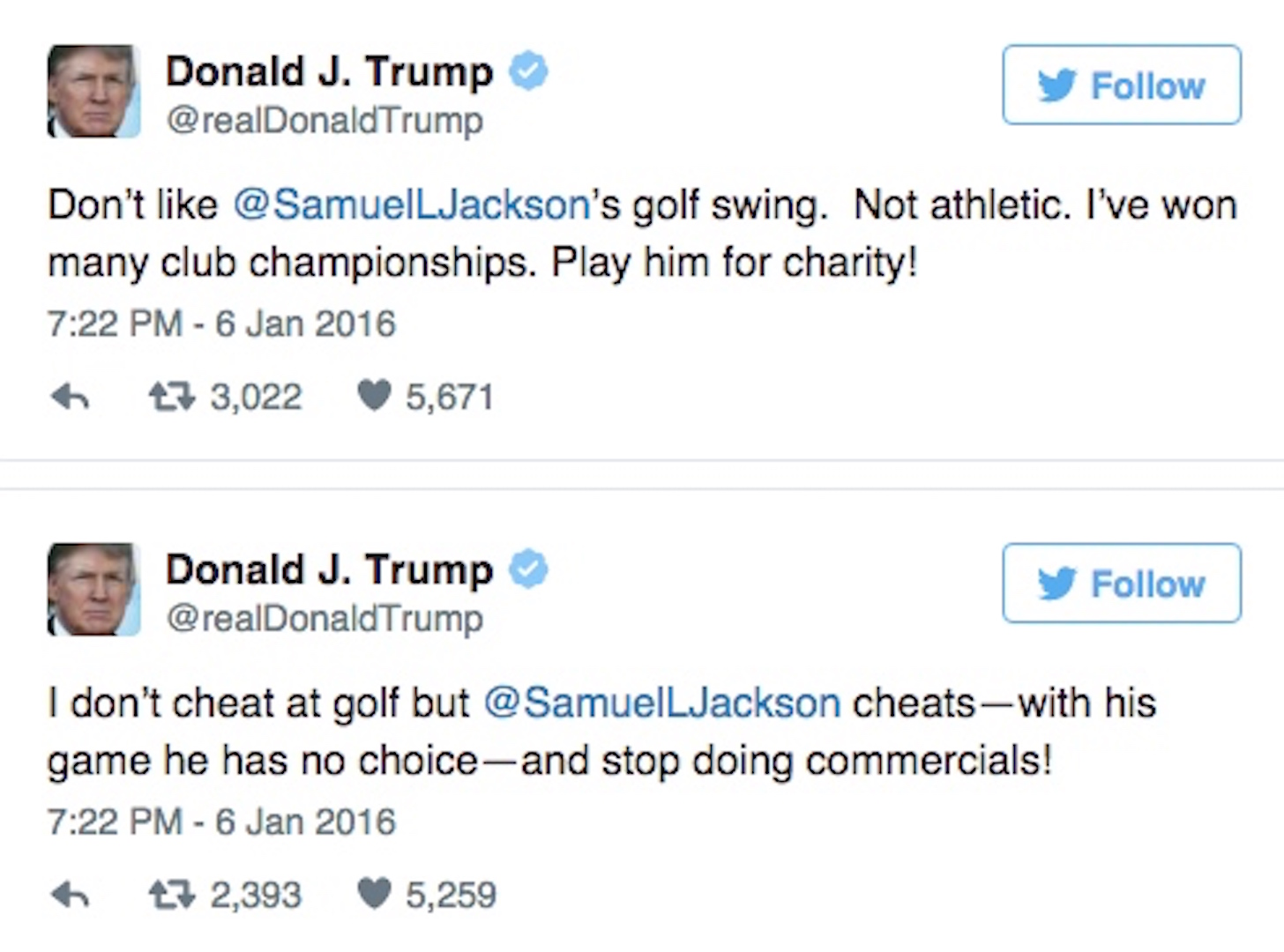 Next time you're near a playground, keep an ear out for Donald Trump and Samuel L. Jackson having another argument. It'll probably go something along the lines of:
Jackson: "Miss, Miss!! Donald just cheated at golf!! Miss!!" 
Trump: "Nonsense. I've never met this boy before, Miss."
Jackson: "He's lying Miss! I saw him chunk a seven iron into the water and then, when he should have been playing a penalty drop, Donald's caddie said he's found the ball, but.. but... he didn't, Miss!!"
Trump: "Miss, think about it. Are you going to listen to the words of a Negro, Miss?"
Jackson: "Miss, he can't say things like that, Miss!!"
Trump: "Nyaah nyaah, nyanyaaaaaahhnyaaaah!"
Anyway, back to what actually happened... actually, thinking about it, the above is probably a pretty accurate account.
After Trump claimed he'd never met Samuel L. Jackson, let alone played golf with him, Hollywood has closed ranks to support Jackson's versions of events, critically, that Trump definitely does know Samuel L. Jackson, has played golf with him and did cheat.

Actor and comedian Orlando Jones tweeted a picture apparently showing the property tycoon engrossed in conversation with Jackson at the 2001 Academy Awards. Jones, who stars in the Fox series Sleepy Hollow, wrote: "Hey @realDonaldTrump I know all black people look alike but apparently you DO know @SamuelLJackson".

This whole embarrassing argument was sparked by an interview with United Airlines magazine Rhapsody, in which Samuel L. called Trump out as a golf cheat. When his interviewer referred to the Hateful Eight and Pulp Fiction star and Trump as "golf buddies," Jackson countered: "I would never say buddies, or friends. I've golfed with him." When asked if he was a better golfer than the Republican presidential front runner, Jackson said, "Oh, I am, for sure – I don't cheat."
Jackson claims he was subsequently unaware that he'd caused such a pallaver until Late Night host Seth Myers showed him Trump's tweet (above).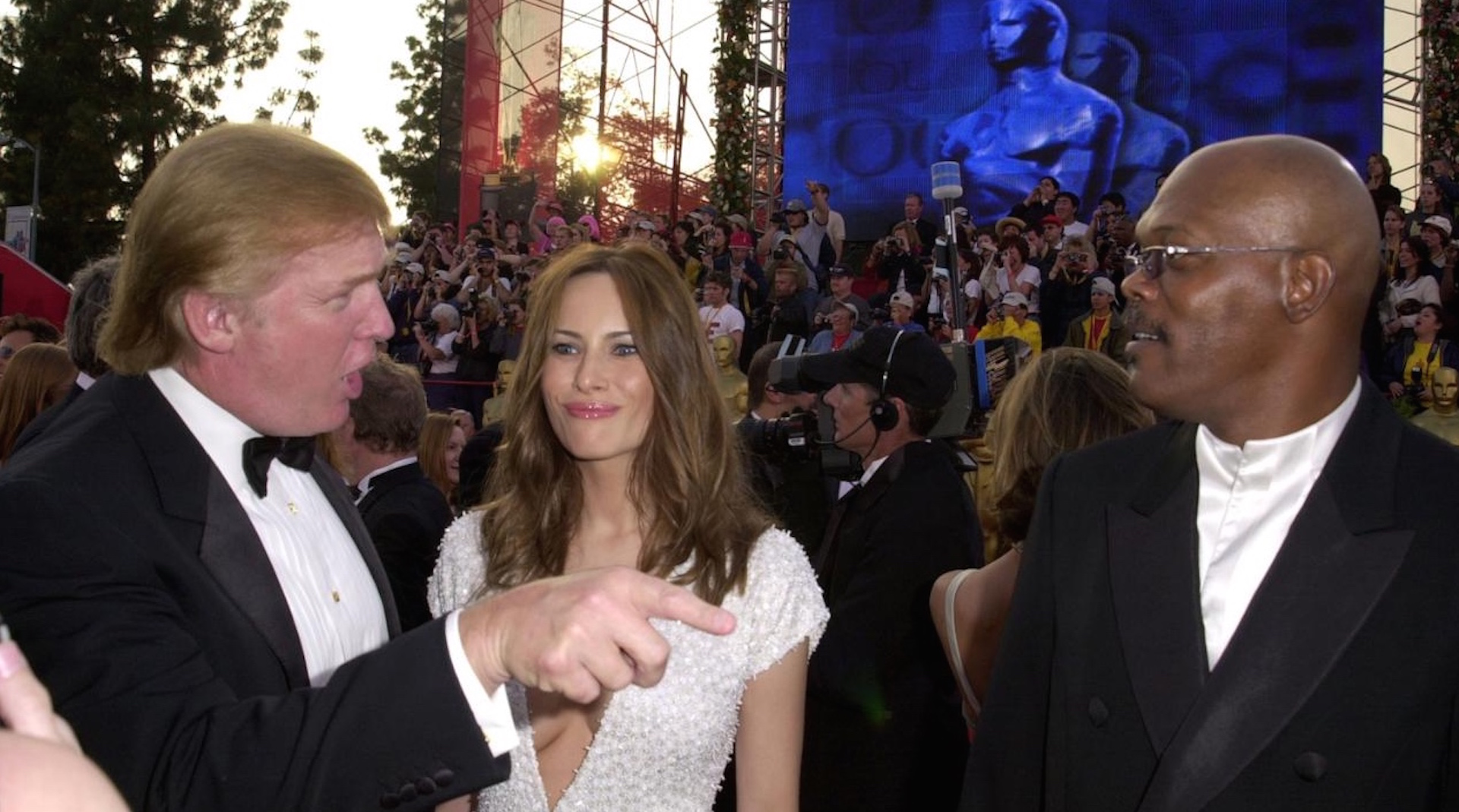 Meyers asked Jackson to officially confirm that he had in fact met Trump. Jackson replied: "Yeah, I've met him a lot! I've played golf with him. I actually played golf with him with Anthony Anderson one day, and we were all playing golf together, and we clearly saw him hit a ball into a lake at Trump National in Jersey – and his caddy told him he'd found it."
Myers then ventured that surely the caddie must have been soaking wet when he produced the ball?
"No!" Jackson said. "He was bone dry. We were like, 'Did you see a splash? I saw a splash.'"
Speaking to Access Hollywood, Jackson was bemused by Trump's response:
"Out of all the things that need to be dealt with presidentially," said Jackson, "he's worried about me saying that he cheats at golf, or that he doesn't't really know me? Is that what the deal is? Wow, that's awful."
To be fair Samuel, old stick, being accused of cheating at golf is about as bad as it gets in life. As we all know, anyone can cheat at golf, there's no referee and it's all down to your own honesty. Golfers are never surprised to hear about someone who called a shot on themselves. People who don't play golf are surprised, but golfers aren't. It's not how we roll. So for Trump to be accused of cheating at golf? It should be enough to bring his election campaign crashing down. Donald Trump? Golf cheat. I'm not voting for a golf cheat.
This row has prompted several other notable people to get involved, with Alice Cooper and Sports Illustrated managing editor Mark Mulvoy stating categorically that they have played golf with Trump and that he always cheats. Mulvoy told The Post that, mid-round, Trump confided in Mulvoy, saying: "Ahh, the guys I play with cheat all the time. I have to cheat just to keep up with them."
Trump stated that he'd never met Mulvoy either...
Jackson also said it's not the first time Trump has contacted him: "He called me one day to play golf, not to play with him but to play with a friend of his," he continued." I went to play with that friend of his and that friend of his turned out to be Bill Clinton… I'm sure he'll lie about that also, but President Clinton can either verify that, or ignore it – as he probably should."
In his interview with Rhapsody, Jackson also claimed that Trump had made him a member of one of his golf clubs, without the actor's knowledge. "It's funny," he said, "last week or so, I actually got a bill from Trump National Golf Club. And I haven't been there in four or five years, so I had my assistant call. They said it was for membership dues… apparently he'd made me a member!
Later in the week, during a speech at the National Board of Review Awards, Jackson referred to Trump's comments, saying; "'I'd say 'f--- him', but this is a polite crowd!"
Muslims, Golf Associations, gays, women, journalists and now Hollywood. Who's next Trumper?
TAGS: News, 2016, Donald Trump