News
May 16th, 2016
Harry Vardon's timepiece goes under the hammer
And fetches double the estimate
Words: John Dean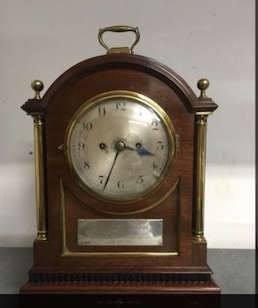 A clock presented to Harry Vardon, one of the first golf superstars, was auctioned in the U.K. on Saturday and fetched almost double its estimate.
The clock was presented to Vardon when he won his fifth British Open title in 1911. Vardon won the U.S. Open in 1900, and The Open a record six times. Nicknamed "Mr. Golf," Vardon was also runner up at the 1913 and 1920 U.S. Open tournaments.
Estimated at between £2,000 and £3,000, the clock was sold at auction in Wiltshire for £4,400.
A silver hallmarked plaque on the clock reads: "Presented by The South Herts Golf Club To Harry Vardon Open Champion 1896, 1898, 1899, 1905, 1911 July 2nd 1911."
South Herts Golf Club was where Vardon was the professional for thirty-five years, from 1902 until his death in 1937.
During that time he had a close shave with almost certain death. He won the US Open in 1900 whilst on an extended promotional trip for Spaldings golf equipment, and was due to return to play the US Open in 1912.
He arranging to sail on the new liner the Titanic, but fell ill and had to cancel the trip. In memory of his good fortune, there is a regular Sunday morning group of golfers named the 'Titanics'.
Related:
For more on another of the original golf triumpherate click here or on the image below to read all about J.H. Tyalor.