News
Mar 11th, 2016
Adam Scott Now Set For Rio Olympics After About Turn
According to Captain Finchy
Words: Sophie Southwell Photography: Getty Images
Adam Scott has seemingly changed his mind about playing in the 2016 Olympics, according to former British Open Champion Ian Baker-Finch, who will captain the Australian team in Rio later this year.
Speaking to Melbourne's SEN Radio Baker-Finch said "I know there's been a lot of talk about Adam, the way he started off this year, but he says: 'Finchy, I play in the green and gold every week, you know that,' and he'll be playing his butt of when the time comes."
Scott previously said the Olympics was "not really a priority of my scheduling" and was disappointed there wasn't a team event as well as the individual tournament and said "I would have liked to have seen it be a little more creative than a 72-hole strokeplay event."
Baker-Finch also expects to see Jason Day in the Australian team, adding "Every time I see Jason Day, he says: 'Finchy, I'm pumped, I'm pumped, I can't wait."
It seems like the reservations about the course have been overcome also, according to Baker-Finch "They were unsure how it was going to grow in and finish up, but it's all come up really nicely," he said. "But now, the course looks good, I've seen lots of photos and videos. The clubhouse is done (and) practice facilities look good. The course has grown in well. The last six months, that was their main concern, and it certainly looks pretty nice, right now."
The course has also had high praise from former tour pro Frank Nobilo, who strangely was against the idea of golf being in the Olympics is impressed with the course, after seeing it put through it's paces at the first test event, The Aquece Rio Golf Challenge.
"It certainly looks very established" Nobilo said "and I think it's the right blend to host an event where you're going to have a lot of different styles of play."
In reply to comments that the course was too easy and too flat he said "Flat and easy don't necessarily have to be synonymous in golf … It's very pleasing to the eye and I think there's enough uphill and downhill. It's not exactly the hilliest course I've ever seen, but it's fine."
The 2016 games take place this August in Brazil's winter months, and Nobilo says that the less humid conditions will make the play more of a challenge.
"The ball's going to tend to roll and bounce a little more. It might actually play a little bit more difficult because of that, it might play a little shorter for the players, but the second shots into the greens, when the greens start to firm up, will actually be a little more challenging."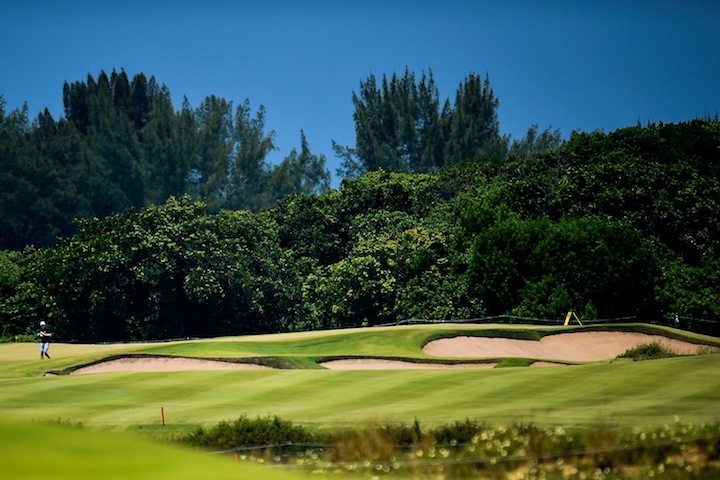 11th July is the day we will know the teams which will be based on world rankings. There will be a total of 60 players qualifying in both the men's and women's events. The top 15 players of each gender will qualify, with a limit of four golfers per country. The IGF (International Golf Federation) has also guaranteed that at least one golfer from the host nation and each geographical region (Africa, The Americas, Asia, Europe and Oceania) will qualify.
Once thing's for sure – we can't wait!