News
May 30th, 2017
How Affordable Golf Clubs Really Are
For Residents In UK's Towns and Cities
Words: GolfPunk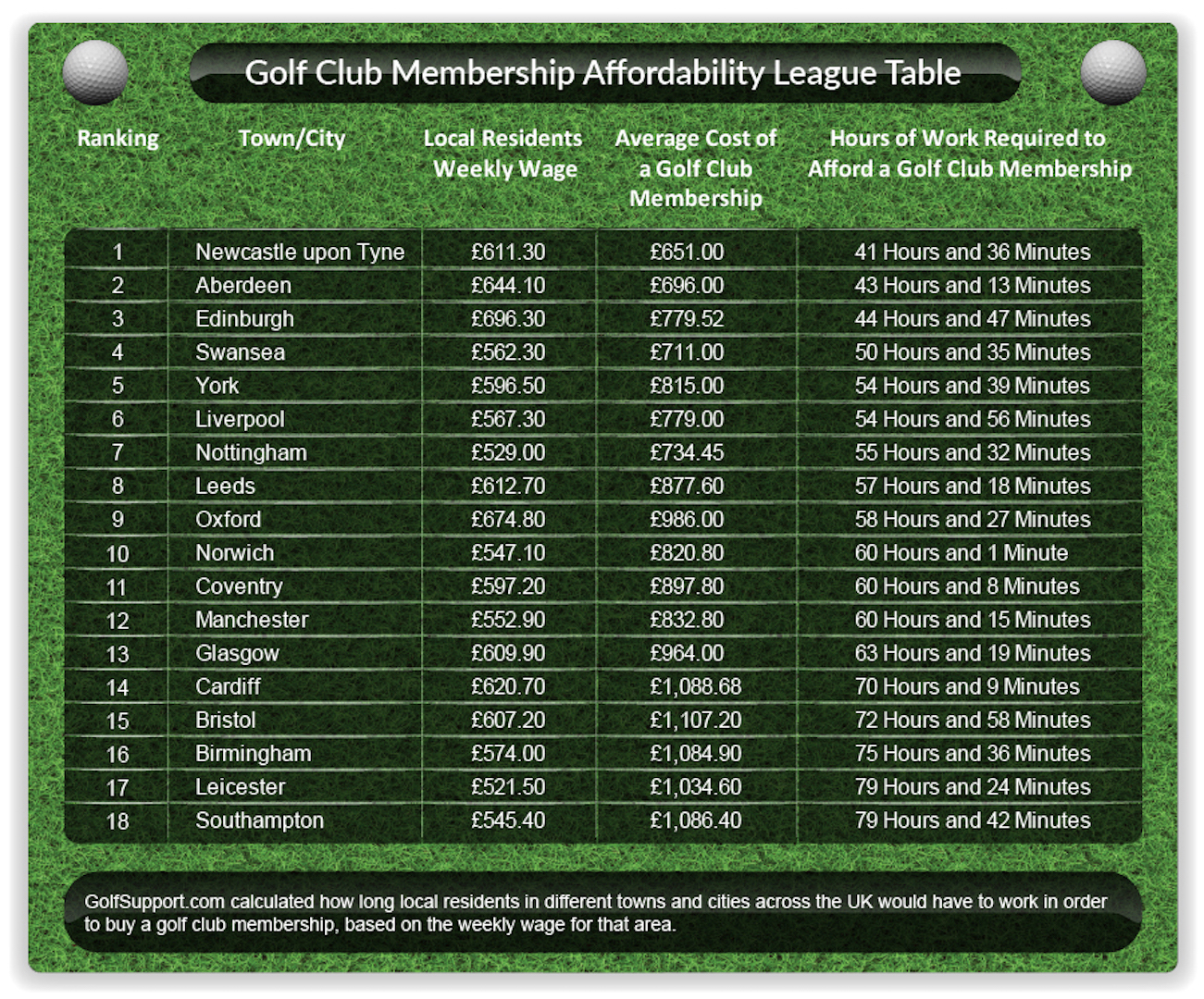 Golf over the years has unfortunately gained the association of being an 'expensive' sport, mainly because of the membership price of golf clubs.
Now Golfsupport.com has calculated how long residents in 18 towns and cities would have to work to earn a membership. GolfSupport.com decided to calculate how long residents in 18 different towns and cities outside of London would have to work in order to buy a golf club membership, based on the weekly wage for that area.
GolfSupport.com investigated the average cost of a golf club membership in each of the selected towns/cities (Newcastle upon Tyne, Aberdeen, Edinburgh, Swansea, York, Liverpool, Nottingham, Leeds, Oxford, Norwich, Coventry, Manchester, Glasgow, Cardiff, Bristol, Birmingham, Leicester and Southampton) and then, looked at the corresponding weekly wages for residents in the area, using statistics from the 'Office of National Statistics (ONS)'.
Golf clubs in Newcastle upon Tyne are the most affordable for local residents, as it would take them just 41 hours and 36 minutes to work for a membership.
Just above Newcastle upon Tyne, were golf clubs in Aberdeen, where residents would have to work slightly more, at an average of 43 hours and 13 minutes to attain membership.
Local residents in Edinburgh, who have the highest weekly wage at £696.30, would have to work the third lowest at 44 hours and 47 minutes to afford membership at their respective golf clubs.
On the other end of the spectrum, was Southampton which has the least affordable golf clubs for residents, as they'd have to work an astonishing 79 hours and 42 minutes to pay for membership – the equivalent of 10 working days.
Leicester, whose residents have the lowest weekly wage at £521.50, would have to work marginally less at 79 hours and 24 minutes to gain membership – the second highest after Southampton.
Overall, golf clubs in 50% (9 out the 18) of the reviewed towns and cities would require local residents to work more than 60 hours in order to afford membership.
Additionally, GolfSupport.com found in a survey of 560 residents in the reviewed towns and cities, that 72% personally believe the current membership prices of their local golf club do not offer value for money.
Related: