LPGA Tour
Feb 28th, 2021
Korda moves ahead at Lake Nona
American takes narrow lead into Sunday at Gainbridge LPGA
Photography: Getty Images
Nelly Korda had never played Lake Nona Golf & Country Club before this week. Despite the unfamiliarity, Korda cruised to the top of the leaderboard, finishing day three with a 68 and a thirteen-under-par total. This gave both Korda sisters something to celebrate on Jessica's birthday at the Gainbridge LPGA.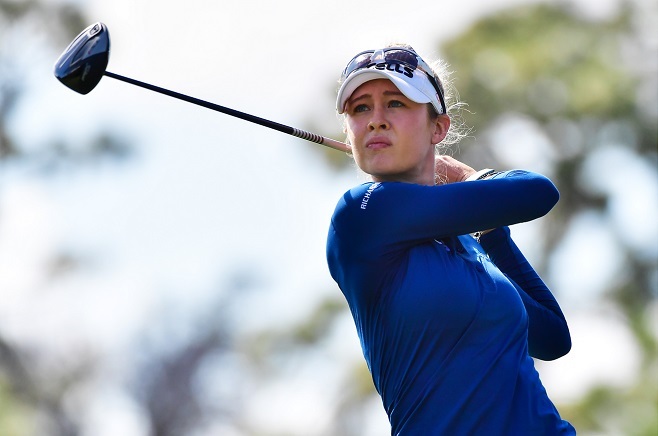 "The greens are really undulated. Completely different grass. I don't know what they overseed here with, but it has to be a bit of po and bent around the greens, which is very unusual for Florida, especially like the rough. But I really like it," said Korda. "It's a very pretty golf course and hopefully treats me right tomorrow."
Korda started with six straight pars before finding two birdies before the turn. "I made a long one on I think No. 7. Thank God I hit the hole, because that was coming in at a pretty hot pace," said Korda.
"No. 9 I just hit my drive really well and I had a 6-iron in so I just two-putted and made birdie."
The 22-year-old added three more birdies on the back nine along with a solitary bogey on the 13th hole. Korda traded the top spot with 36-hole leader Lydia Ko for most of the day but Korda finished the stronger to take a single shot lead into Sunday.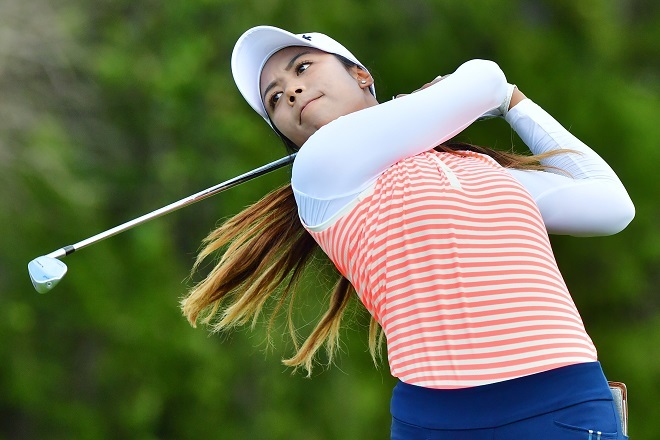 Patty Tavatanakit, a 2020/21 LPGA Tour rookie, took full advantage of moving day, shooting a 66 to sit alone in second on twelve-under-par.
"I was driving the ball pretty well. Hit it pretty well. Felt a little slow in the start. My body wasn't feeling the best in the morning, but hung in there and got through it and just keep my head down, just kept playing golf," said Tavatanakit, who closed with four birdies in her last five holes.
"My confidence just boosts up a lot during off-season, and then coming back with three good rounds it's just -- I'm just really comfortable. Not like over-confident but I know it's golf. It's a hard game. There is still a lot out there tomorrow. Just going to do the same thing."
An unfortunate double-bogey at the 12th hole along with two other bogeys including one at the last contributed to Lydia Ko dropping down into a tie for third along with World number one Jin Young Ko and Angel Yin at ten-under.
"I felt like it could have been a little bit better. Had pretty much one bad hole, but other than that I felt like I played pretty solid. Wish more putts could have dropped, but it's going to be -- it's pretty tough out there, so hopefully just be able to keep playing solid and give myself good opportunities tomorrow," said Ko.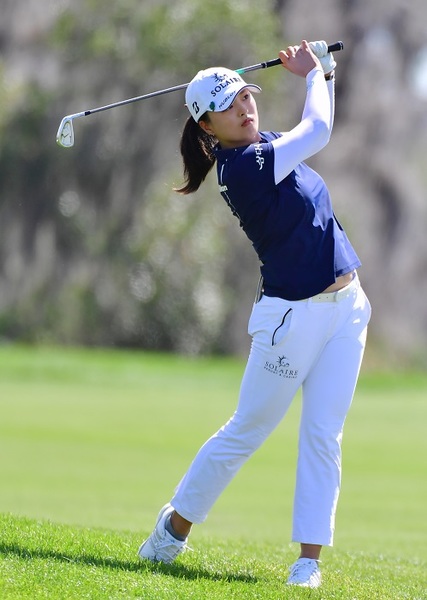 LPGA Tour winners Lexi Thompson and Chella Choi lurk in a tie for sixth at nine-under, with major champions Brooke Henderson and In Gee Chun along with Monday Qualifier Marissa Steen a further shot back in a tie for eighth. Annika Sorenstam, playing a third round at a Tour event for the first time 13 years, struggled carding a 79 and in 74th place.
"it was a hard day at the office, as they would say. Just didn't happen at all today. I was trying really hard but just short-sided myself on a lot of holes," said Sorenstam. "But I must say I think the course was set up really fun today. I really enjoyed the way they moved up 4. I really enjoy some of the fun pin placements, but it was tricky. I just didn't hit it solid or straight enough to be able to have a chance for some birdies. It was a rough day, but happy to be here, happy to be playing and just kind of hang in there."
England's Georgia Hall sits in a tie for twenty-first on four-under with countrywomen Charly Hull and Bronte Law three shots further back on one-under.
---
And another thing...