Ladies European Tour
Nov 12th, 2021
Team De Roey grab lead at Aramco Team Series
As Olivia Cowan tops the individual event
Photography: Tristan Jones/LET
The team captained by Belgium's Manon De Roey have a two-shot lead – and an amateur team-mate to thank – heading into the final day of the Ladies European Tour's Aramco Team Series – Jeddah.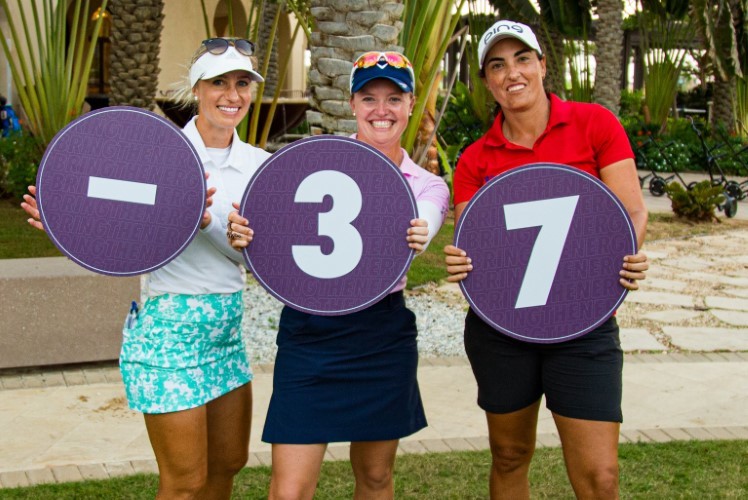 De Roey and team-mates Carmen Alonso (SPA) and Elina Nummenpaa (FIN) found a combined 13 birdies and one eagle en route to a Day Two twenty-under-par in King Abdullah Economic City.
However, it was their 61-year-old amateur team-mate Nic Davies – the general manager of a nearby Saudi golf club – carding a pair of net-eagles that proved the difference in propelling the fourball to thirty-seven-under after 36 holes and a two-stroke lead with one round left to play.
As the sun began to set over Royal Greens Golf & Country Club, Spain-born Davies – playing with a handicap – lit up his team's closing hole with an unlikely birdie four on the par five ninth, a score that after stroking became a net eagle.
Team De Roey now sit top of the pile – a spot that if they remain in by the end of Friday's play will see De Roey, Alonso and Nummenpaa share $150,000 and each earn their first Ladies European Tour victory.
De Roey said: "I'm really happy with my team. They fought really hard today. We didn't do so well in the first nine, but we came back strong and I'm very proud of them and how we played. We love playing on this course, it's very scoreable out there. We'll fight tomorrow as we have a great opportunity."
Davies said: "I've always followed women's golf, so as an amateur this is just phenomenal to be part of. I obviously now know Manon, Carmen and Elina quite well so if we were able to see this through, I'd be absolutely over the moon for them.
"They, to me, epitomize ladies golf. I've got a seven-year-old daughter who is just amazed seeing these girls whack the ball so well and so far. If I connect with the ball, I can get up there, but I've not nearly out-driven any of my team. It's amazing to see up close and hopefully, we continue doing well tomorrow."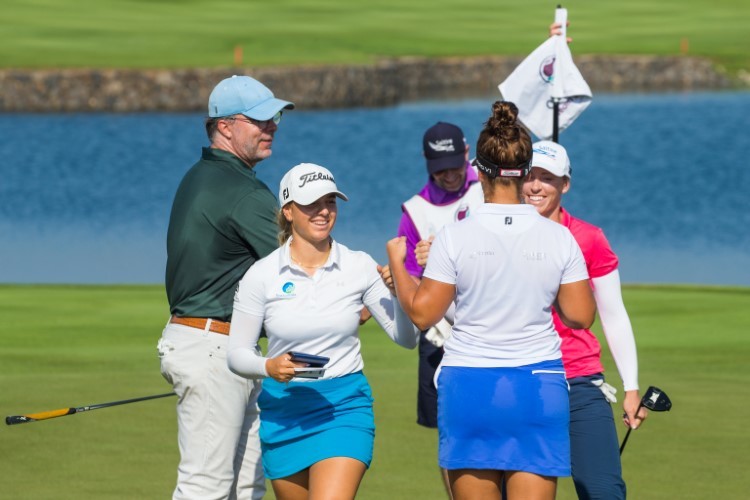 Team Kyriacou – captained by Australia's Steph Kyriacou, with Lina Boqvist (SWE), Laura Beverage (SCO) and amateur Andreas 'Andy' Feller, from Switzerland – shot the lowest round of any of the four Aramco Team Series events to date, twenty-two-under-par, a score that took them to thirty-five-under for the tournament and into second spot on the leaderboard.
Captain Kyriacou explained: "Up until the last hole neither of us scored on the same holes, which is what you need in this format. Lina came in real clutch at the end, Laura in the middle, and Andy our amateur played well. It was Andy and I on the front then Lina and Laura on the back nine."
Like Team De Roey, Team Kyriacou also had their amateur golfer to thank, with Feller's eagle three on 13 giving the fourball the first net-albatross at any ATS event.
Talking through the hole, 10.4 handicapper Feller said: "I went driver, then hit a five-wood to eight-foot. We got a good read on the putt, the team gave me good comfort, and I holed the putt.
"That was my best ever nine holes! I'm a bit of a wildcard but it worked out for me today. Let's do the same again tomorrow."
In the Aramco Team Series – Jeddah's individual format, Germany's Olivia Cowan leads by one over Argentina's Magdalena Simmermacher, two ahead of chasing English pair Bronte Law and Georgia Hall.
"I'm really happy with how I'm playing at the moment," said Cowan, who holed-out for eagle from the fairway of Royal Greens' par four 7th. "It's quite steady and I'm giving myself a lot of chances to hole putts, which I think is important out here.
"I think the relaxed team format of this event helps bring out the best in me. We as a team get on really well and are all quite chatty out there, which I like."
The Aramco Team Series – Jeddah is the last of four new $1million team tournaments added to the Ladies European Tour this season and follows events in London, Sotogrande and New York. It climaxes on Friday.
---
And another thing...