Ladies European Tour
Sep 10th, 2021
Skarpnord and Williams out front in Switzerland
Duo lead by one at VP Bank Swiss Ladies Open
Photography: Mark Runnacles/LET
It is a two-way tie at the top of the leaderboard as Marianne Skarpnord and Chloe Williams both finished day one of the VP Bank Swiss Ladies Open on eight-under-par.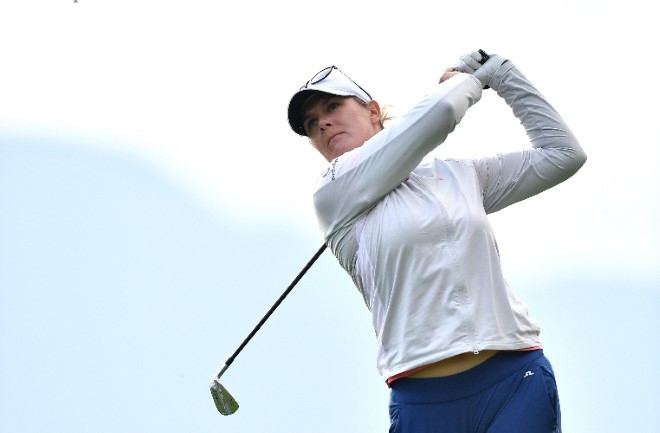 Williams, who went out in the second group this morning, set the clubhouse lead after shooting a bogey-free round of 64 which included eight birdies.
"It was very solid. I have great memories of this golf course – I did very well here last year. My game seems to fit this course. I have had a great couple of preparation days, and I felt like today was going to be a good day," said Williams, who came tied fifteenth at this tournament in 2020.
"You're not guaranteed to hole all the putts, but I think we have had a good draw. We were out second group, had fresh greens and everything was pristine. I played very good golf and I'm very happy."
The Welshwoman has had two top-ten finishes this season and led after the first round of the Creekhouse Ladies Open last week.
She added: "I learnt a lot from last week. My game has been solid all year, it is September now and anything can happen. The conditions are going to be very good; I don't think the course will change considerably. I need to just focus on me and take control of what I can and keep doing what I have been doing."
Skarpnord produced an excellent round of 64 herself to be in a share of the lead with the highlight of her day being her hole-in-one at the par-3 15th – her second of the 2021 season. 
"It was a nice 8-iron, tiny draw and apparently bounced once and then went in the hole. It was a combination of a good shot and a little bit of luck," said the Norwegian.
The five-time LET winner made four birdies on the front nine to make the turn in 31 and looked set to be the new leader, but a bogey on 18 ensured she joined Williams on eight-under.
"It was beautiful this morning with not much wind – it probably picked up the last four or five holes. I played very solid today. Last week in Sweden, I didn't hole a putt over a metre," said the Aramco Team Series – London winner. 
"Finally, after I changed putter, I am actually using Tonje's (Tonje Daffinrud) putter this week, I holed some putts, and it gave me a bit of confidence and I started to hit my irons better and it was a nice calm day."
Four players are tied for third place on seven-under-par including Swiss amateur Elena Moosmann, who is 13th in the LET Access Series Order of Merit.
An eagle, six birdies and one bogey contributed to the Zug native's fantastic round, and she was pleased to have the opportunity to play on her home course at Golfpark Holzhäusern.
"It was beautiful. Normally it is in great shape anyway, so I'm used to it, but it was amazing to play on my home course. It is always nice to have people supporting you. It was great to have them there," said the 19-year-old. "Hopefully I will have a great round again and I just want to enjoy it."
South Africa's Nicole Garcia and Scotland's Kelsey Macdonald both produced rounds of 65 without a blemish on their card, while Sweden's Johanna Gustavsson also joined them in tied third with eight birdies and one bogey.
"I really like the course from last year for other reasons – watching your best friend win – so there is a lot of good, positive energy around this course. I played really solidly the whole way around and I missed a reasonable chance on the last to go to -8. I'm absolutely delighted with seven-under," said Macdonald.
Another Swiss player who enjoyed being back in her homeland on day one was Kim Metraux, who carded a round of 66 (-6) to be tied seventh alongside France's Anne-Charlotte Mora.
The 26-year-old finished in third place last season but is not putting any pressure on herself and will try to keep the same mindset throughout the week.
Metraux explained: "I got off to a good start, I made birdie on the first hole to get it going and got a lucky break on the second tee shot. I just heard now that I hit my boyfriend and had the perfect lie after that, so I got a bit lucky. It was easy golf, hitting fairways and greens and making a few putts.
"I didn't want to put too much pressure on myself based on what happened last year and the form I have had so far this season, so I just wanted to go out there, enjoy and do my best. I will try and keep the same mindset as today and not really think about anything else other than the hole I'm playing at the moment. I know it is easier said than done but it worked today."
Five players sit on five-under-par after day one, while five more sit one shot further back on four-under including 2021 Race to Costa del Sol leader Atthaya Thitikul.
---
And another thing...