Ladies European Tour
Feb 20th, 2023
Lydia Ko wins 2023 Aramco Saudi Ladies International
World number one lifts the trophy for the second time
Photography: Tristan Jones/LET
Lydia Ko fired a final round of four-under-par 68 to triumph and record a one-shot victory at the 2023 Aramco Saudi Ladies International presented by Public Investment Fund.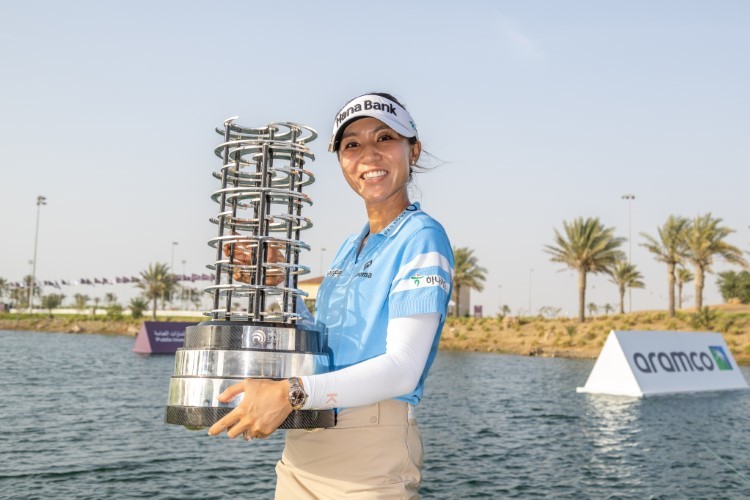 The New Zealander headed into the final day in second place, just one shot off the lead, having shot rounds of 64, 69 and 66 on the first three days.
It was a good start for the world number one with a birdie on the first before a dropped shot on the second but she soon picked up another birdie on the sixth. Three more birdies on her back nine were enough for Ko to seal victory with a total of 21-under-par.
"I'm two for two on this golf course," said Ko. "Clearly, something is going for me! This is a golf course where, in the last few days and when I played in 2021, there were a few players that went from the back that would shoot low scores, so I just wanted to focus on my game.
"I don't think I was setting myself up for a lot of birdie opportunities on the front nine, but I knew that every hole could be a birdie opportunity, so it was that mindset and I wanted to be aggressive.
"The 18th hole was a lot uglier than I would have liked to picture, but in the end, it's definitely nice to get the win this week."
It was an excellent start to the 2023 season for Ko, who will now head to Thailand to play on the LPGA Tour.
But it wasn't until her birdie on the 17th that the two-time Major champion went into the outright lead, and she held on to win the Aramco Saudi Ladies International at Royal Greens for the second time.
"The scoreboard is right behind the green, so it was really hard to miss," she explained. "I was more curious coming down the last because you could make eagle like Lilia [Vu] did yesterday, and so did Em [Pedersen].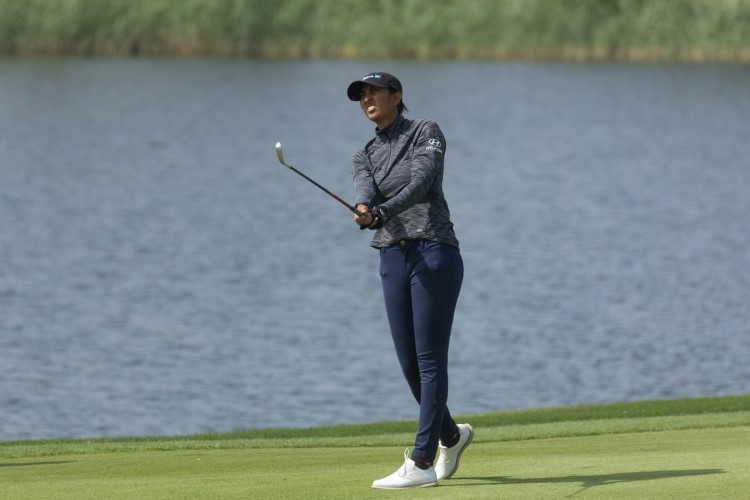 "With this pin position, I knew it would be tricky, but I just wanted to hit a couple of good shots. I had a really good second shot to set myself up for a wedge coming in. It was a little bit more stressful than I would've liked, but it doesn't matter how you get it done.
"I've just been very grateful. A lot of great things happening, especially in the last few months again and again. You don't know if this is real or not, but I've been trying to enjoy being out on the golf course!
"I'm playing with the world's best. The field this week was really good, so I knew it was going to be a challenge. The first one of the year is really hard because you don't have anything to base yourself off. You don't know if you're going to play well or badly.  The start definitely helped, I stayed really patient and I was not as nervous as I thought I would be."
Aditi Ashok's excellent 2023 continued as she also carded a round of 68 (-4) to finish in outright second place on twenty-under-par.
The Indian star made a bogey on the 5th hole, but soon rolled in three consecutive birdies on holes seven through nine before adding two more on the 15th and 16th.
"It's been great. I think twenty-under-par on this golf course with the wind that we had on some of those days is a pretty good score," said the four-time LET winner.
"I knew I needed to make a few birdies. I knew where I stood after nine when I saw the leaderboard. I didn't do much until 14. Yesterday I birdied three of the last four, so I tried to think that it was possible today too. I ended up making birdie on two of the last four, which was good."
Three players finished in a share of third place with Belgium's Manon De Roey alongside American duo Lexi Thompson and Lilia Vu on 19-under-par.
It was an exceptional final day for De Roey, who carded a bogey-free 63 and joined four other players in shooting that score around Royal Greens.
"Today, I was very solid throughout my whole game actually. I think I only had one bad shot," said De Roey, who finished fourth on the 2022 Race to Costa del Sol.
"I could just look at a putt and it went in. Today and then Friday were two days where it was just really good and I'm just seeing the ball go in the hole.
"I definitely knew that I had a chance for a 62 because I left my putt for eagle very short. I was a bit nervous on that putt, I had some shaky hands.
"I'm still happy that I hit the green because that was also very nerve-racking. I only had a 7-iron for 191 meters, so I'll take that. I took a club less because I thought I had some adrenaline going.
"Very happy to finish with a birdie and to have a good start to the LET season to build some confidence for the rest of the year."
Denmark's Emily Kristine Pedersen finished in outright sixth place on 17-under-par with England's Georgia Hall one shot behind in seventh.
Japan's Nasa Hataoka was in eighth place on fifteen-under-par while Korea's Hae Ran Ryu and Switzerland's Albane Valenzuela rounded out the top 10 on fourteen-under-par.
In the 2023 Race to Costa del Sol, Ashok extended her advantage at the top of the standings adding 480 points to have a total of 1,210 points from the first three events.
Sweden's Maja Stark sits in second place with 500 points, Belgium's De Roey is third with 428.13 points with England's Alice Hewson in fourth (387 points) and Sweden's Linn Grant in fifth (320 points).
---
And another thing...