Ladies European Tour
Jun 26th, 2021
Hall and Iturrioz share Czech Ladies Open lead
Pairing lead after first round suspensions for weather
Photography: LET/Tristan Jones
On an interrupted day of play, Lydia Hall and Nuria Iturrioz share the lead at the Tipsport Czech Ladies Open after the first round was suspended.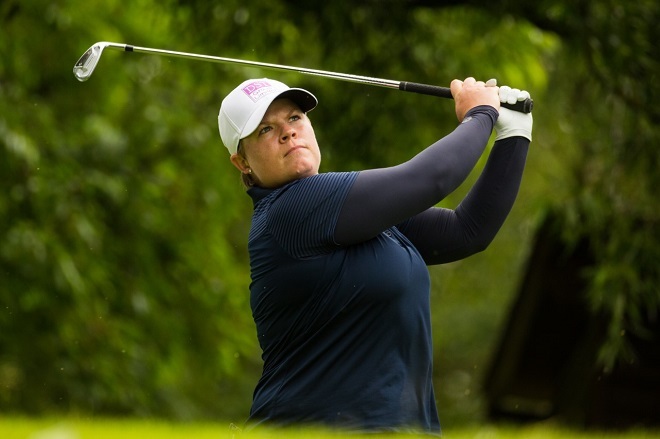 The play got underway at 10 am after a 2 hour and 15-minute delay due to lightning and there was a brief suspension in the afternoon for the same reason.
Despite the conditions, most groups managed to finish their opening round in time before play got suspended for the day due to darkness.
Wales' Hall set the clubhouse lead after firing a six-under-par 66 which included a superb run of six birdies in a row between holes two and seven.
"It was nice to get out there and I am glad I am on this side of the draw with the long wait and couple of delays today," Hall said.
"The golf course is in a good condition, a little bit wet but you can play a bit more aggressively into the pins. On the last seven or eight holes, even with the delay, I managed to get the putter a little bit hot and get six birdies in a row."
Sharing the lead is Spain's Iturrioz, who shot six birdies on her back nine, and joined Hall at the top of the leaderboard minutes before play was suspended due to darkness.
"I got off to a bad start because I did not warm up properly after the rain delay and hit the ball in the water on my first hole. But I am happy I fought back and played well and managed to have a lot of birdies. I have been working on my short game and it came off today," said Iturrioz.
The rain and delays did not seem to be a problem with five players tied for third and only one shot off the lead at five-under-par.
Four of them completed their opening round and carded a 67, while Germany's Olivia Cowan still has three holes to play in the morning.
One of those players in the morning draw was France's Isabelle Boineau, who produced a bogey-free round of 67.
"It was a long day today and I knew I had to focus a lot, but I made a lot of birdies and played really well. I took it easy during the delay and did not stress myself out at all. On this course you have to stay focused and patient, we still have two rounds to go," said Boineau. 
Softer greens at Beroun Golf Club made for great scoring conditions with 15 players currently T8 at four-under-par and 65 players under-par for the day.
---
And another thing...