Ladies European Tour
May 30th, 2022
Grant clinches second LET title in Belgium
Swede hangs on to win the Mithra Belgian Ladies Open
Photography: Tristan Jones/LET
Linn Grant won her second LET title in five starts in 2022 after firing a final round of 67 (-5) on the last day of the Mithra Belgian Ladies Open.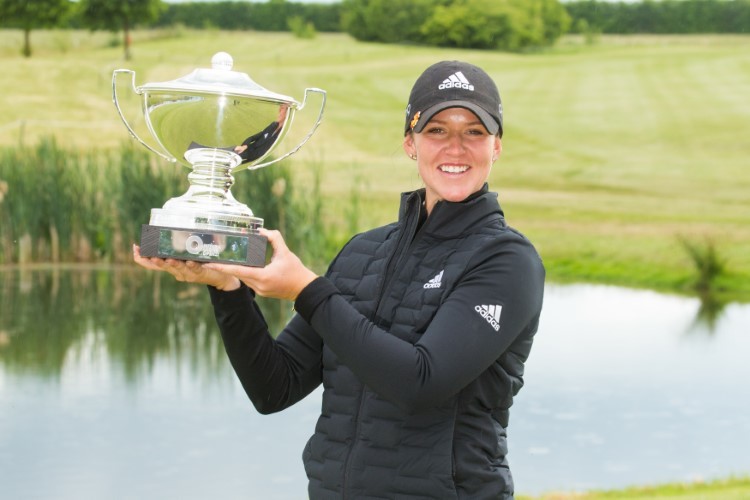 The 22-year-old, who won the Joburg Ladies Open in March, recorded rounds of 66, 68 and 67 to hold off England's Cara Gainer at Naxhelet Golf Club.
Grant maintained her lead on the front nine with birdies on the 3rd and 9th, before she went toe to toe with Gainer on the back nine.
Birdies on the 10th and 12th, as well as a crucial eagle on the 14th put the Swede back in pole position, however, a dropped shot on the 16th put the duo level before a par on the last was good enough to win Grant her second title with a total of fifteen-under-par.
"I was playing good all day, but I felt I needed something to get me on top of the leaderboard and I knew Cara was playing so well," said Grant.
"I was a little scared, but I managed to hole that eagle putt and make my way back in for the win.
"I was checking the leaderboard all the time just making sure everything was under control, which it wasn't! It wasn't under control, but I tried my best to keep up with her. On the last hole, I knew I just had to do my own thing.
"I think both me and Maja [Stark] and some other amateur girls had a good education before turning pro, so I'm not surprised we're doing well, but this is a good start."
It was an exceptional day for Gainer who fired a stunning eight-under 64, which was the joint-best round of the week, to finish in second place.
After rolling in five birdies on her front nine, the Englishwoman applied pressure to Grant and rolled in four more birdies on holes 10th through 14th.
A dropped shot at the last proved crucial, as she ended up with a total of fourteen-under, but it was still Gainer's career-best round and best finish on the LET.
"I'm so pleased, if you said I was going to shoot eight-under today I would have taken it straight away," she said.
"I can't be disheartened about the finish and Linn [Grant] has played amazing all week, so I've got to be happy about the week in general.
"I did see on the last hole that we were tied, did that add a bit of pressure? I don't know, but I wanted to see where I stood going into the final hole.
"Yesterday, I struggled a bit with the cameras, but today I thought to take every shot as it comes and make as many birdies as possible because I knew Linn wasn't going to go backwards, she was only going to go forwards. I gave it a go!"
Maja Stark, who leads the 2022 Race to Costa del Sol, also shot a round of 64 (-8) on the final day to secure a share of third alongside Switzerland's Morgane Metraux.
Three birdies on the front nine and five birdies on the back nine saw the three-time LET winner have a bogey-free round and finish the week on a high.
"I made some stupid mistakes this week, today could have gone better. I had some lip outs, but it feels good and 64 is my best round ever during a tournament," said Stark. "I'm super excited, I feel like my game is there and I just need to skip the stupid mistakes."
While Metraux followed up her second round of 65 (-7) with a round of 67 (-5) on day three to finish level with Stark in third place.
"Linn [Grant] played really well as did Cara [Gainer], I needed a really low round to have a chance and I started pretty well. I still shot five-under, so it is still a really good score, but it just wasn't my day," she said.
Sweden's Moa Folke finished in a tie for fifth alongside Spain's Luna Sobron Galmes, after they carded rounds of 66 and 70, respectively.
Belgium's Manon De Roey fired a final round of five-under to end her home tournament in a share of seventh place with Morocco's Ines Laklalech and Argentina's Magdalena Simmermacher.
Norway's Karoline Lund had an excellent finish to the tournament, signing for a round of 66 that included a hole in one on the 4th hole to share tenth spot alongside England's Gabriella Cowley.
In the 2022 Race to Costa del Sol, three Swedes sit at the top of the standings with Stark still in front and she now has 1,752.50 points.
Johanna Gustavsson is second with 1,339 points and Grant moves up to third with 1,239.39 after five events. De Roey sits fourth (1,207) with Simmermacher in fifth (1,090.50), Pace in sixth (900.92) and Tiia Koivisto just behind in seventh (875.40).
England's Meghan MacLaren sits eighth in the rankings with 746.59 points, while Ana Peláez is ninth and Australia's Whitney Hiller rounds out the top ten.  
---
And another thing...