Ladies European Tour
Jul 8th, 2022
Ciganda and Karlsson lead the Estrella Damm Ladies Open
Duo set the pace with seven-under-par rounds on the opening day
Photography: Tristan Jones/LET
Carlota Ciganda and Jessica Karlsson set the pace with a pair of seven-under-par 65s on the opening day of the Estrella Damm Ladies Open presented by Catalunya in Sitges. Both players made strong starts in hot and breezy conditions at Club de Golf Terramar to lead by three strokes over six other players.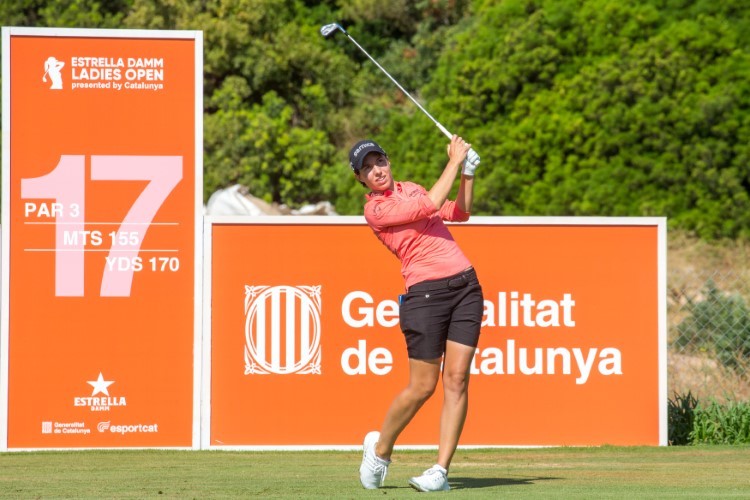 Ciganda, from the city of Pamplona, where the Running of The Bulls resumed for the first time since 2019 today, as part of the San Fermín Festival, coincidentally won this tournament three years ago and the Spaniard will be looking to make a similar charge over the next three days in front of her home gallery.
She birdied her first three holes, the 11th, 12th and 13th, on Thursday morning, before picking up another birdie on the long 16th hole. After carding a pair of bogeys in the middle of her round, she recovered a stroke at the third and then finished with four birdies in her last five holes to lay down the marker.
"A birdie-birdie finish always feels good," said the Solheim Cup star, who won the tournament at the same venue in 2019.
"I'm very happy. I love being in Spain. I love Sitges and it is just a comfortable atmosphere. I have my family here, so once I'm done, I don't really think much about golf. I can have a good time and eat good food and I enjoy that. It's always nice to come back to Europe, play in Spain and have a good time," she added.
Karlsson also started from the 11th and quickly eagled the 12th, where she hit her driver from the tee and then used a hybrid to hit her ball to within two metres of the flag before rolling in the putt. The Swede bogeyed the 15th, but then birdied the 18th.
She holed long birdie putts on the second and third holes, from 15 and 20 metres respectively, before picking up further shots at the fourth, sixth and eighth holes.
"I holed a lot of long putts today," said Karlsson, who opened last week's Amundi German Masters with a 63 and held the lead for three rounds, before dropping shots at the last two holes to lose by a stroke to Maja Stark.
"It's a nice feeling to know that I can score low. I've been a little disappointed for the last couple of days, but I've tried to forget that and focus on this week."
Like Ciganda, she is enjoying the special atmosphere at the Estrella Damm Ladies Open, which boasts fabulous sea views across the Mediterranean.
"I love this place. It's beautiful and one of my favourite spots on the road. You can go down to the beach or to the pool and take a swim. It feels a little bit like a vacation. You can rest and go out and have dinner and it's great weather."
The six other players lying in a share of third place are Alice Hewson, Anne-Lise Caudal, Moa Folke, Elin Arvidsson, Georgina Blackman and Michele Thomson. The defending champion, Maja Stark, opened with a two-under-par 70 and currently shares 18th place, five shots off the pace.
---
And another thing...