Instruction
May 30th, 2019
GOLFPUNK IS GOING ALL BROOKS
We're getting golf fit with GOLF.WOD
Words: GolfPunk
I think it safe to say that the GolfPunk team are not exactly regulars at their local gym. When it comes to preparing for a round of golf its usually a bacon sarnie, washed down with a few cups of coffee, a couple of swishes with an 8 iron behind the first tee and away we go.
For a while we have discussed the merits of getting fitter and whilst we know it would help us lose that bit of ballast we proudly carry, the real question is could it improve our game? Spotting a link to GOLF.WOD, we had an idea. How about we take two of the GolfPunk team, one older experienced golfer and one beginner, and put them on a fitness programme and see the results. 
When we say results we meant assess stats like swing and ball speeed and distance hit etc at the begining and see how it improved, if at all, throughout the programme.
We fired an email off to Michael the owner of GOLF.WOD and told him we wanted to take on his 6 week golf fit challenge.
Michael is both a qualified PGA professional and strength and fitness specialist, who claimed that he could help not only with our burgeoning waistlines but also our overall game and wellbeing. Instantly thoughts of Brooks Koepka and his famed fitness regime came to mind. Bring it on!
And so we found ourselves on the train to sunny York to meet Michael and find out what it was all about. There was no small amount of trepidation, particularly as he told us to bring training clobber.
First stop was the driving range where Michael measured all manner of metrics around swing speed but luckily nothing on our personal statistics. He also gave some really interesting insights into our swings (or in one of our cases lack thereof) and how we moved through the ball. 
Next stop the gym and when we say gym we mean hardcore gym. No rows of treadmills and cross trainers here just big serious weights and axle grease. It was time to learn about the programme we were to undertake, or so we thought. 
The first question (which probably shows how little we know about this area) was, what is GOLF.WOD all about
https://www.youtube.com/watch?v=Is9NqoZrn2Y
And then, because in no small measure we were playing for time and didn't want to actually get on with the training, we asked how he had developed the programme (maddeningly as you will see he was all too brief with his answer)!
https://www.youtube.com/watch?v=3cm35Ay0Tgs
Our expectation was that Michael would show us some moves, we'd do a few videos and be back in York station quick as you like to have a few beers and a pie before the trip home and with the work out and nutrition advice provided we'd be all Brooks K in no time at all.
https://www.youtube.com/watch?v=rX-wW9_9REk
Instead, what we got was a pretty solid beasting. Michael wanted to assess where we both were fitness wise and to show us the types of moves that we would be doing to help us get fit and to improve our game. 
This led the least proficient one (and the portliest) amongst us, gasping for air, to wonder why this was all strictly necessary given that golfers of yesteryear weren't exactly Adonises?
https://www.youtube.com/watch?v=y6h0Mlbd6jQ
After a solid hour of pain, and Michael wondering what he had let himself in for, we were ready. It was going to be a tough 6 weeks and time would tell if we could improve our game as well as getting ourselves in shape. 
So watch this space as each Friday we will update you on our progress and share technique and tips as we go about getting golf fit with GOLF.WOD!
And another thing...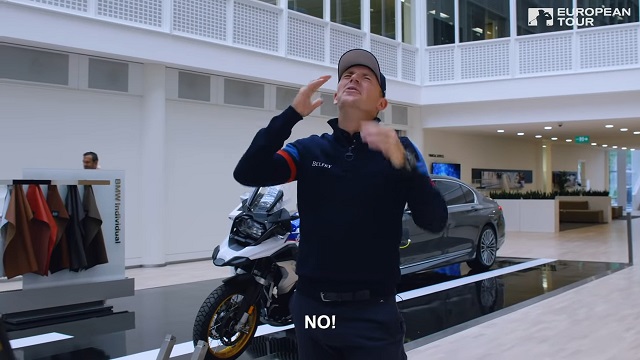 TAGS: Golf.WOD, Golf Fitness, Fitness Friday, Wellness, Golf Fit, Instruction, Training, 2019