GolfPunk Classics
Mar 14th, 2019
GolfPunk goes to Sawgrass
And beyond for a Jacksonville caper!!!
Words: Owen Blackhurst Photography: Darren Arthur
Sawgrass practice range
It's 9.30 in the morning, the Florida sun has turned my skin into a furnace and I'm sweating like a sow on market day. All around me, the great and even greater of American junior golf are pounding balls into the distance and I feel very inadequate.
After three topped 7-irons, I finally gather together the nerve to hit a few with something approaching accuracy when a klaxon sounds and a voice lets out a cry that turns my heart to stone and my legs to jelly. "Could Owen Blackhurst please report to the first tee."
The previous evening, full of lobster, bravado and Heineken, I'd dropped one of my biggest ever clangers. Attempting to live up to the good name of GolfPunk, I'd agreed to play the opening drive of the Red Bull Final 5 tournament. And now I have to go through with it.
"Go on then, punk," says Steve the marine, as I stride to the tee, "make our day."
I'd like to say that, as I stood there, the sheer beauty of what lay ahead focused me, but I'd be lying. The huge trees pointed at me with their spindly branches, the heat-fuelled mist laughed as it rose from the turf, and the gaping lake awaiting my customary slice shimmered as it whispered my name.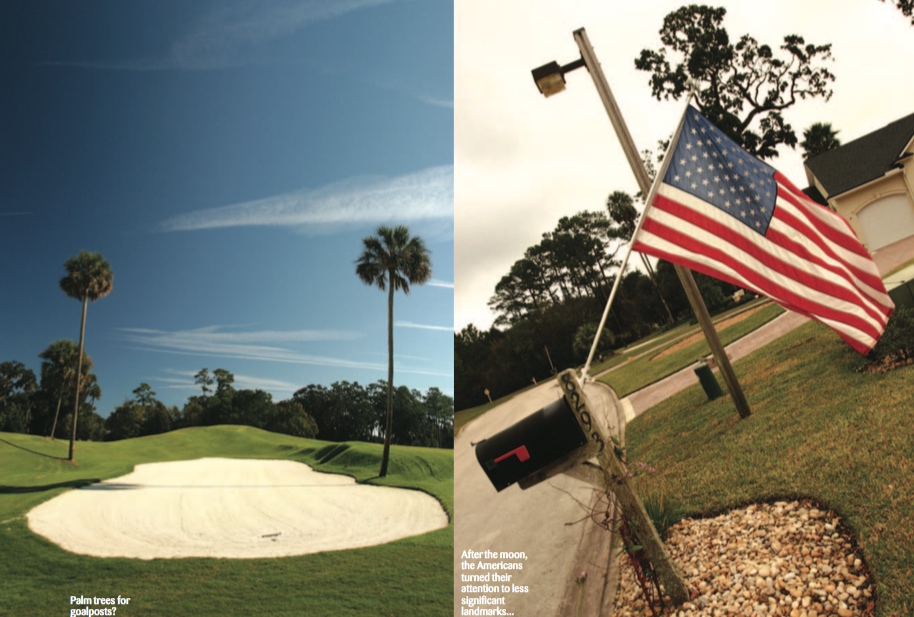 As I completed my violent swipe and watched my Srixon duck-hook into the trees, the embarrassment faded as it dawned on me that I had at least stood up to be counted on the opening hole of Pete Dye's masterpiece.
After two glorious pitching wedges and a ten-footer secured a par that would have had Seve fist-pumping with glee, I was feeling positively moist. One down, 15 to go before we reach the 17th, but more of that later.
Third Street Diner
Now, this may be showing my age, or even admitting to something that I shouldn't, but do you remember the song Ice, Ice, Baby by Vanilla Ice? Somewhere, among one of the ridiculous verses, Ice hollers, "A-1-A, Beachfront Avenue."
After 15 years of wondering (alright, I haven't really cared since 1991, but you get the picture), I now know what he was on about because Ed's Diner is located on a bonafide A1A that runs straight through the heart of Jacksonville Beach.
It is one of those stereotypical, long, straight American highways that you could stay on until you hit Canada. Something in my stomach has always yearned for a rich slice of Americana and after being sucked off the road by a sign advertising '24-hour breakfasts, burgers and beers', I feel like Marty McFly as he hits 1955 in Back to the Future when we walk into the neon-lit entrance.
"Of course I've been to London," says Ed the owner handing us menus. "I am Greek, but I will never go back."
"Why not?" asks Darren.
"Because this winter, 6,000 people will die from Siberian weather," he says gloomily. To cheer him up a bit we show him a few pictures of the Bunker Babes. "Maybe I will come back after all," he chuckles.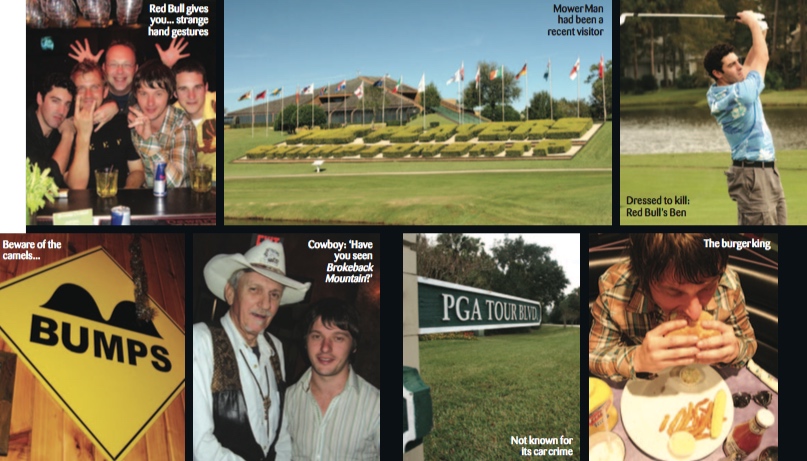 Ten minutes pass and we are transformed into bona fide gluttons. The table creaks under the weight of four huge cheeseburgers, Springsteen is blaring from the jukebox and a sour-faced waitress is adding ice cream to our milkshakes. Just as Bruce is hollering Born in the USA, three truckers walk in and order Miller Lites.
I've got my mustard, my fries are crunchy and I fancy adopting a drawl and calling myself Hank. Really, life doesn't get much better than this.
Sixth hole,TPCStadiumCourse
Actually, you can scratch that statement from history; life gets a hell of a lot better than that. After foozling my drive 170 yards, I've left myself 210 yards to the green.
"What bat you got there?" asks one of the greenkeepers sat behind me.
"A 3-iron. Why?"
"You're never gonna get close, use a 3-wood."
As a high-handicapper, there is nothing I detest more than someone I've never even seen before telling me what to do. I breathe deeply, bend my knees and take aim.
With a rifle-crack, the ball is sailing through the air like a missile, and as it takes two hops to six feet, the greenie fires up his John Deere mower and goes off to school Tony Blair in the art of deception.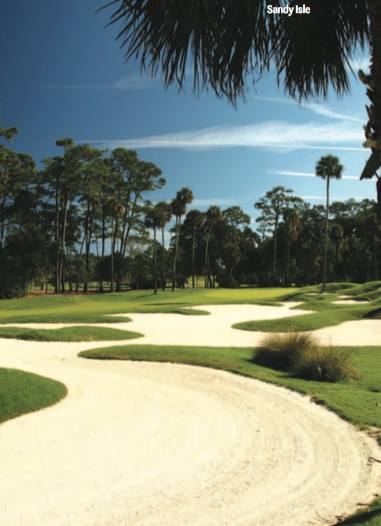 I just smile, kiss my 3-iron on the face and do a little jig on the way to my bag. Caddies, who needs them?
Walking up the fairway, it dawns on me again where I am. To give you an idea of the surroundings, take a mental picture of the best parkland course you can imagine, multiply it by ten, add cavernous sand traps and gargantuan trees, subtract crap weather and queues on the tee and you will still be a million miles away.
It is like walking through the greatest forest in the world. A forest where golf is king and the 17th is the Wicked Witch. Six down, ten to go and the suspense is building.
That evening, Jacksonville Beach
"Hey guys," screams Jim, a young buck who has joined our parade, "let's get seriously fucked up."
Amazingly, we're in Florida for Thanksgiving and 'Jax Beach' is rammed. People hang from cars, high fives are being dished out with relish and shots are being downed with fury. "All these people who never go crazy," said beat author Charles Bukowski, "what boring lives they must lead."
Looking at the scenes in front of us, it would seem that this statement has been taken as a state of union address. Just as a redneck band are reaching the peak of Takin' Care of Business (no one would bat an eyelid if Patrick Swayze walked in and started cracking skulls), I stumble into a 100 percent, tobacco-chewin', rootin'- tootin' cowboy.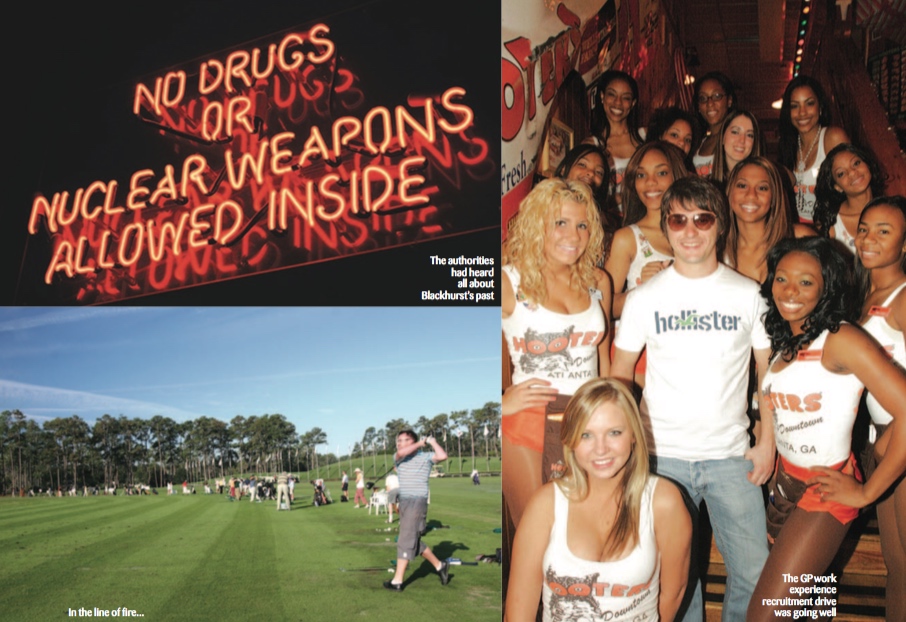 "Do you fancy having your picture taken for our magazine please?"
"Boy, I bin' exploited for 60 years, why'd I let some limey exploit me?" he drawls with menace. "You want a picture of Nelson Osborn Jr, you gotta pay $15."
"I'm not paying, mate. Is there any other way?"
"Alright, you can sing with me. But if you mess up, no picture."
"What's the song?" I ask, knowing that, unless he is a fan of Britpop or punk, I am a dead man.
"Streets of Laredo by Johnny Cash."
"OK then," I reply, trying my hardest to look like someone who hasn't been listening to Cash all of his life. When we get to the third verse and I haven't missed a beat, Nelson breaks into a huge grin.
"Boy, you hustled me, I never had you down for a Cash fan, 'specially with that haircut."
As he walks away after the picture, Nelson half turns and delivers one of the most baffling lines in history.
"Hey boy," he shouts, "don't be forgettin' to cowboy up."
13th hole, TPC Stadium Course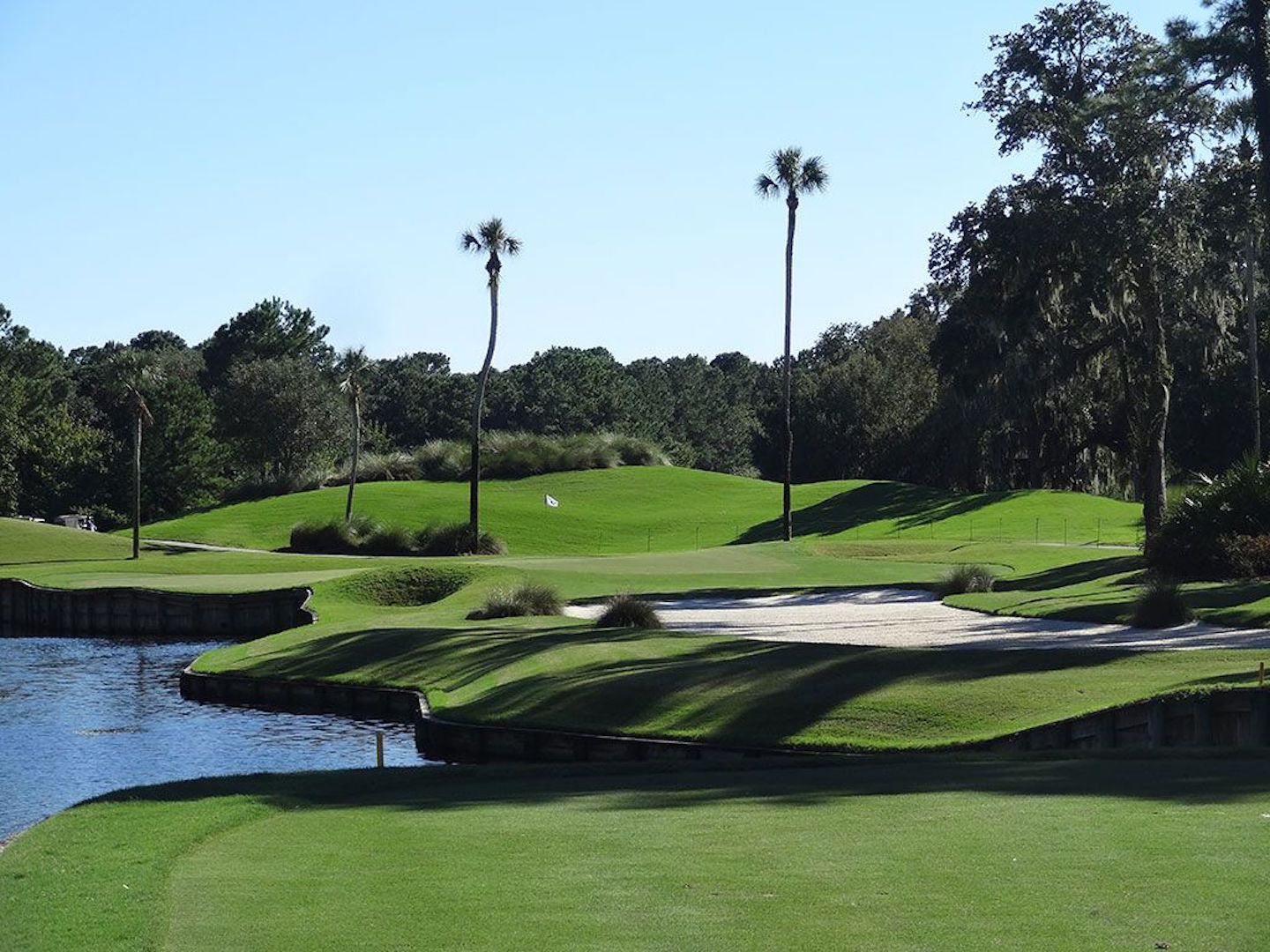 In retrospect, I know what Nelson means. The 13th is a little par three with a narrow lake down the left, and I've just jarred three into the alligator-infested depths. As a warm-up to the 17th, this couldn't have gone any worse, and while I lay on the tee, mentally and physically broken, I could do with going cowboy. A horse could carry me, some bourbon could neuter my synapses, and I could chew some tobacco to remove the taste of dread from my mouth.
"Come on, Owen," says Ben from Red Bull, picking me off the floor, "three more holes to go until we meet our maker."
Adventure Landing
After leaving Ed's diner with swollen stomachs and heavy hearts, we were all desperate to hold on to the moment for a second. We didn't want to be English, professional and uptight. What we wanted was a slice of metaphorical apple pie, so we drove a little further down A1A until the magnetic pull of Americana bit again. And there's nothing more American than a spot of baseball practice at Adventure Landing.
"Sur-wing batter, batter, batter, batter, sur-wing," screams Red Bull Stu as a baseball whistles past my head at 90mph. What started as a joke has become the Holy Grail. I simply cannot hit the thing. I've been too late, too early, dropped the bat and almost fell over swinging with menace.
I'm sweating, my nerve-endings are frazzled with exhilaration and I still can't hit it. 'C'mon you fool,' I think, 'just one, do it for Blighty.' And when it happens, sweet Jesus when it happens, the feeling that pours up your arms and into your heart is like a 3-iron from a bare lie into the wind. I hit it with violence and it flew straight over left-field and into the imaginary crowd. Babe Ruth, eat my homer.
Although Adventure Landing is no Disney, in fact, it isn't even Southend Pier, it's a real slice of USA pie. People talk about white America, black America, neoconservatives and Mexican immigrants.
But much like Blackpool on a sunny day, this is the heart of America. And on a personal note, the fact that Darren the photographer nails two holes in one on the trot to win the crazy golf and earn himself $30 makes me wish I was on The Big One eating a Slush Puppy. Bloody snappers.
16th hole, TPC Stadium Course
You know that feeling when you see a famous person and you don't want to look? 'Is it her? Really? No, I can't look, what if she sees me?' That's exactly the feeling you get walking up the 16th at Sawgrass.
You know what's to your right, but you try and wait to savour it in all its glory. Then, before you know it, you're forced to take a quick peek and whether it is Tiger Woods, Dolly Parton or an island green, your breathing stops and your legs buckle. Sixteen down, none to go. I think I want my mother.
Irish bar, Jacksonville Beach
"Nice tats," I say to a heavily-tattooed girl. As the look of horror creeps across her
face, I realise I've done it again. Not content with asking for 20 fags in a petrol station, I've just, unwittingly, commented on the girl's breasts.
"No, er, sorry, what I meant was tattoos," I mumble as her huge boyfriend with metal hanging from his cheeks moves
in for the kill. "No, really, I meant tattoos, I've just got a Birmingham accent and it sounded funny. Would you, er, like to be in our magazine, it's called TattooPunk?"
"I ain't being photographed man, I'm wanted in Orlando, but Lucille might," replies metalhead.
"Yeah sure, you say it's a tattoo magazine?" she asks.
"Yeah, it's all about making tattoos fun for everyone."
"OK, no problem."
After extracting myself from the situation, I grab Darren and Ben and flag a cab before metalhead realises that we, quite blatantly, have nothing to do with tattoos.
17th hole: 132 yards, par three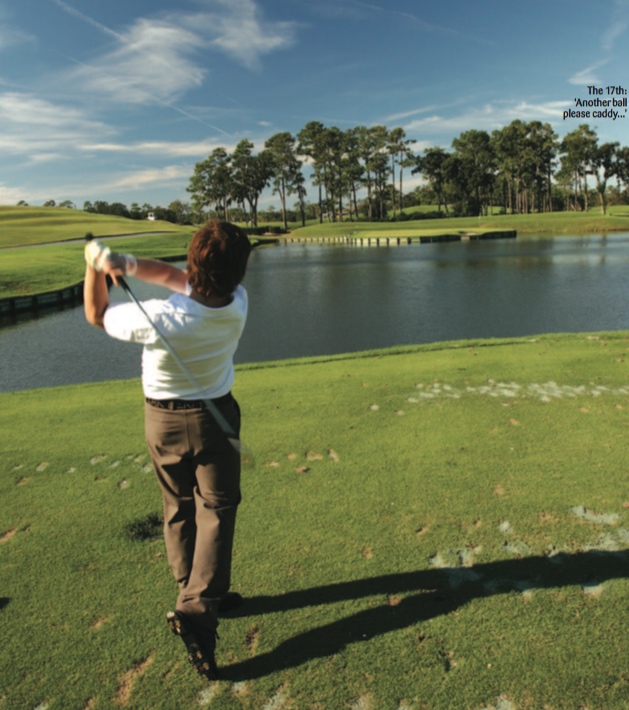 When you think about it, it's an easy par three. Wind blowing? Take an 8-iron. Nice and calm? Just pop a wedge up there. Slight breeze? Hit a nice stiff 9. But when it stands in front of you, like a dormant volcano that could spray at any minute, you can't help feeling scared. It's not the fear of the water, or that you'll get a ten on your scorecard, it's just that you want to achieve greatness for a moment.
You want to be able to strut over the walkway at the rear of the green and know you're putting for birdie. Pete Dye's most famous hole is reviled by tour players. Tiger hates it, Bob Tway said it put years on him and Jerry Pate threw Dye into the water after he won The Players Championship. Blimey, anyone would think they were the 18 handicappers with a hangover.
My first big mistake was asking what Ben hit. Upon hearing 8-iron, I took my most hated club from the bag and walked to the tee box. I wanted music, lights, anything to take the heat off me. I felt like Audley Harrison on his way to meeting Muhammad Ali in his prime; small, inferior, and waiting to get my arse smacked.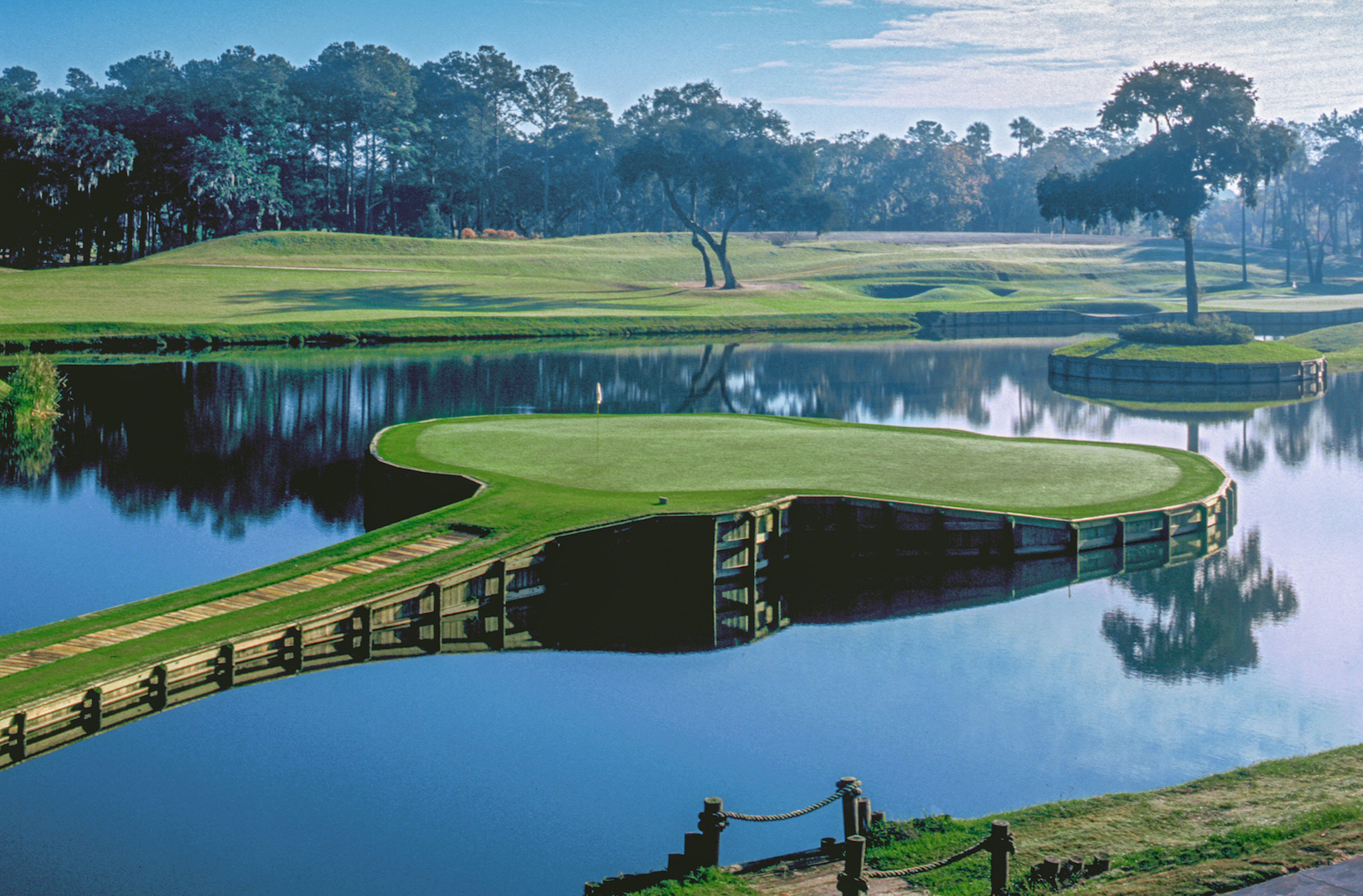 Unbelievably, I hit it so sweetly that I didn't even feel it, and as I watched my ball sail through the air, I raised my fist as the same people who had watched us at the first started to cheer. As I watched the ball sail high over the flag and into the water at the back, I almost cried.
"Bastard," I shouted as the crowd let out a collective sigh. It doesn't really mean anything that I then struck a 9-iron to four feet and drained the bogey. OK, so I might have got birdie with my second ball, but I stumbled when walking with giants.
A steakhouse, Jacksonville Beach
I'm not usually bothered about playing badly, but after falling on my sword in a golfing amphitheatre of the highest order, even the succulent taste of a 16oz porterhouse couldn't stop me thinking about what might have happened had I trusted my judgement and hit a 9-iron first time around. But after a few soothing vodkas, I realised it wasn't the be-all and end-all.
We had set out with a mission to gain a feeling for the previously unchartered fourth corner of global golf. It wasn't about personal gain or individual achievement; it was about burrowing under the skin of American golf to find out if it really rocked as hard as we thought it would. And believe me, it did.
There are many other incidents to report – one that we won't go into here involving a visit to Hooters and falling unconscious in a yard – but the truly great thing about spending time in a place like this is that after a day you could write a book; a week would require a trilogy. Floridian golf doesn't just fill pages, it fulfils hearts, minds and expectations.
One state down, 49 to go.
And Another Thing...
7 Of The Best Drivers for 2019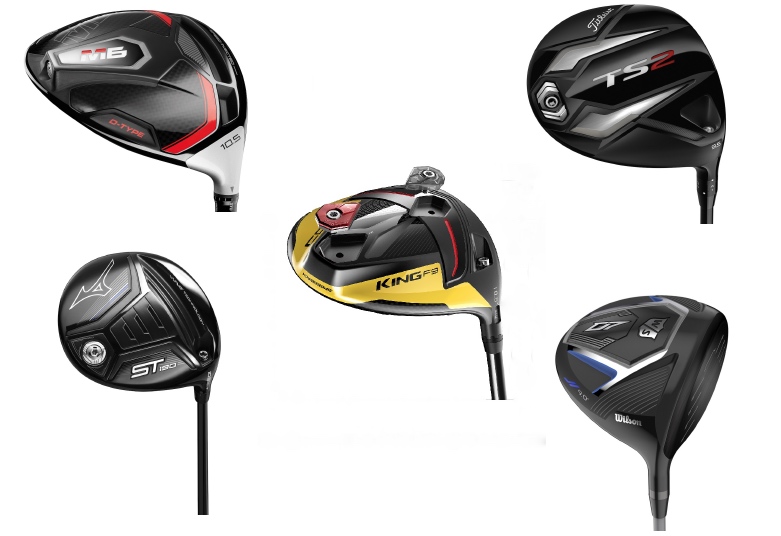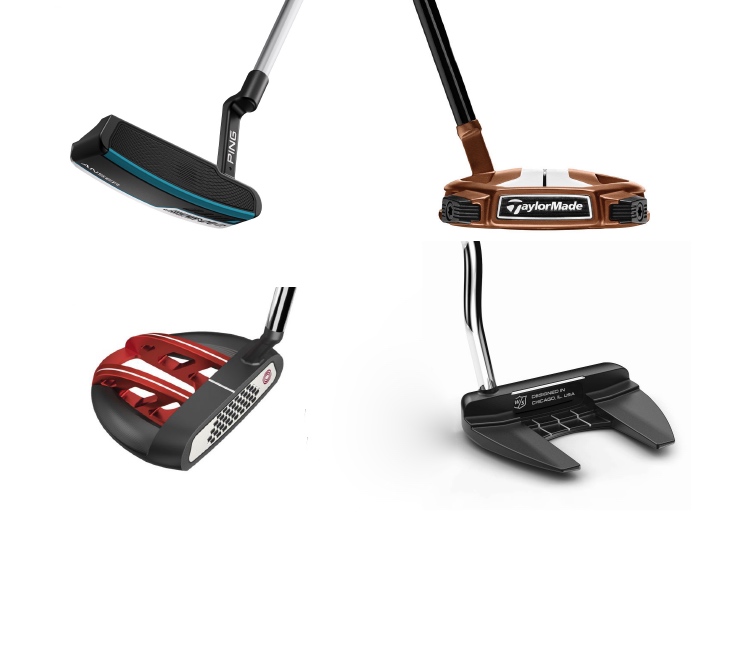 Course you can! The details...
TPC SAWGRASS STADIUM COURSE ADDRESS: 110 TPC Boulevard, Ponte Vedra Beach, Florida 32082; Tel: +1 904 273 3230; www.tpc.com
DETAILS: 18 holes, par 72, 7,093 yards COST: Free to guests at the Sawgrass Marriott. Although this may sound a little exclusive, a double room is roughly £120 a night, meaning you get to play Sawgrass for £60 each.
HISTORY: In 1978, PGA Tour members were looking for a site on which to build the first in a new series of stadium courses. After purchasing the 415-acre site for only one dollar, they asked Pete Dye to design a course worthy of the grandstands that would frame it. And with the help of his wife, Alice, Dye created a mystical masterpiece that is now host to 40,000 rounds a year.
REVIEW: There is no doubt about it, Sawgrass is simply a stunning location to play golf. You can be pretty wild from the tee and still find yourself with a shot at the dancefloor, but the greens are where business is taken care of. Small, quick, guarded and framed by penal rough, any approach of the high, wide and handsome variety will be punished severely. American target golf gets a lot of stick in the UK, but when Dye has designed it, you can guarantee it will have a few tricks up its sleeves. KILLER HOLE: OK, so I've told you about the 17th, but if you want the truth the 18th is possibly even more daunting than its precursor. With a huge lake on the left and an extremely narrow fairway to the right, you have no room for error and your tee shot has to be bang on. Probably best to take an iron here and avoid doing what I did, which is duck hook four into the lake. GP RATING:
TPC SAWGRASS VALLEY COURSE ADDRESS: 110 TPC Boulevard, Ponte Vedra Beach, Florida 32082; Tel: +1 904 273 3230; www.tpc.com
DETAILS: 18 holes, par 72, 6,864 yards COST: Free to guests at the Sawgrass Marriott. HISTORY: In 1987, with the PGA fearing for the health of the Stadium Course, they commissioned Pete Dye, Bobby Weed and Jerry Pate to design a younger, slightly tamer version of its more famous neighbour.
REVIEW: Although a lot more open than the Stadium, the Valley relies upon water and single file fairways to protect the holy grail of par. The course is framed with the sor t of real estate that, were you to be unlucky enough to hook one through a window, could see you working overtime for the rest of your life to pay for the damage.
Jim Furyk is said to have a house on site and can regularly be seen practising his 'individual' swing.
19TH HOLE: Both courses share a clubhouse, and we thought it was a pretty nice place to sit with a cold one and tot up the noughts on your scorecard, though the PGA has decided to completely demolish the entire clubhouse after The Players Championship to make way for a space- age facility. 
WHERE TO STAY
Sawgrass Marriott Golf Resort Spa, 1000 PGA Tour Boulevard, Ponte Vedra Beach, Florida 32082; Tel: +1 904 285 7777; www.sawgrass marriott.com.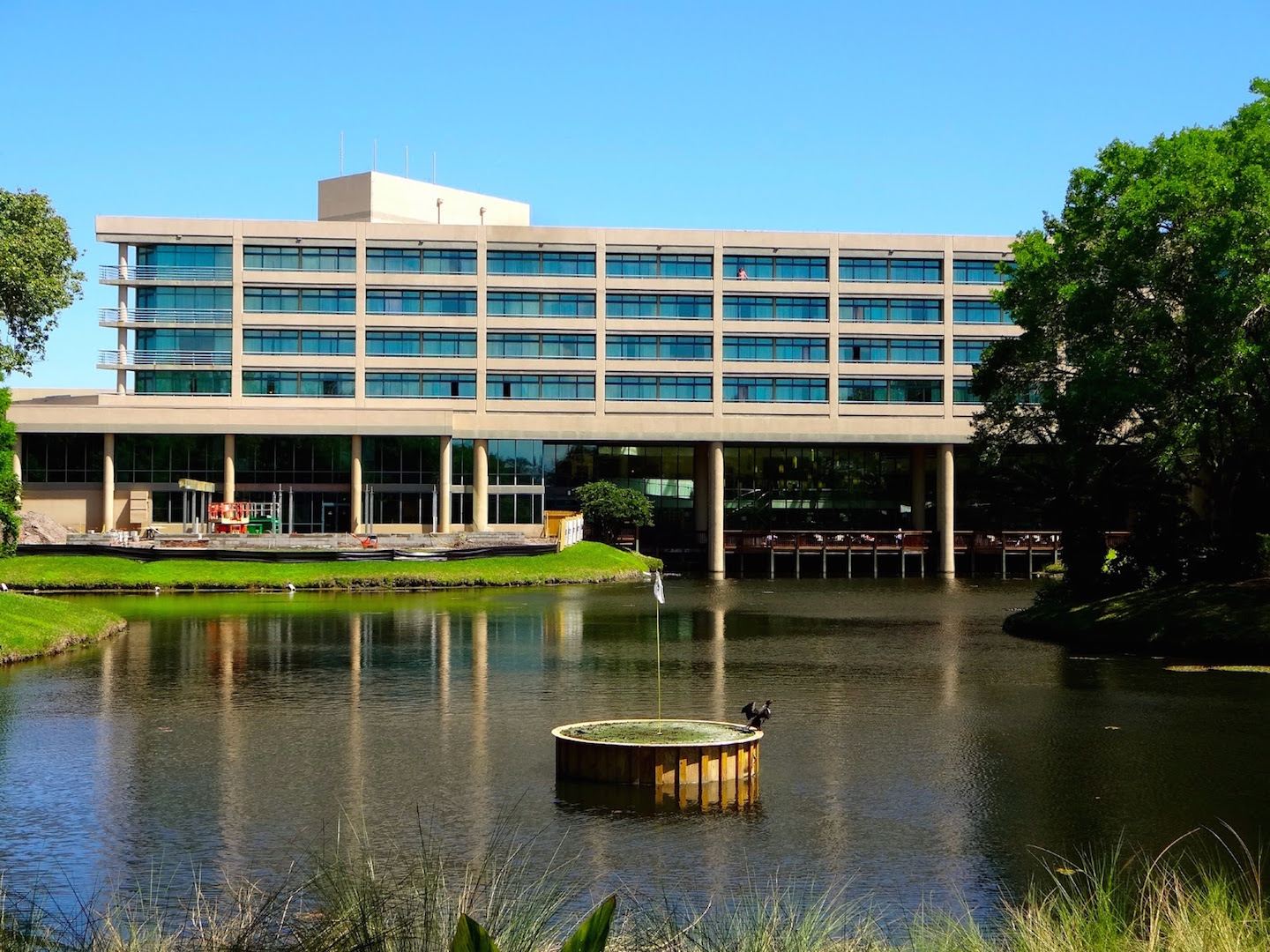 Top notch in every way, with several restaurants and bars. If you're lucky you may get to stay in the room once trashed by an irate John Daly.
WHERE TO EAT
Third Street Diner, 223 9th Avenue South, Jacksonville Beach, Florida; Tel: +1 904 270 0080.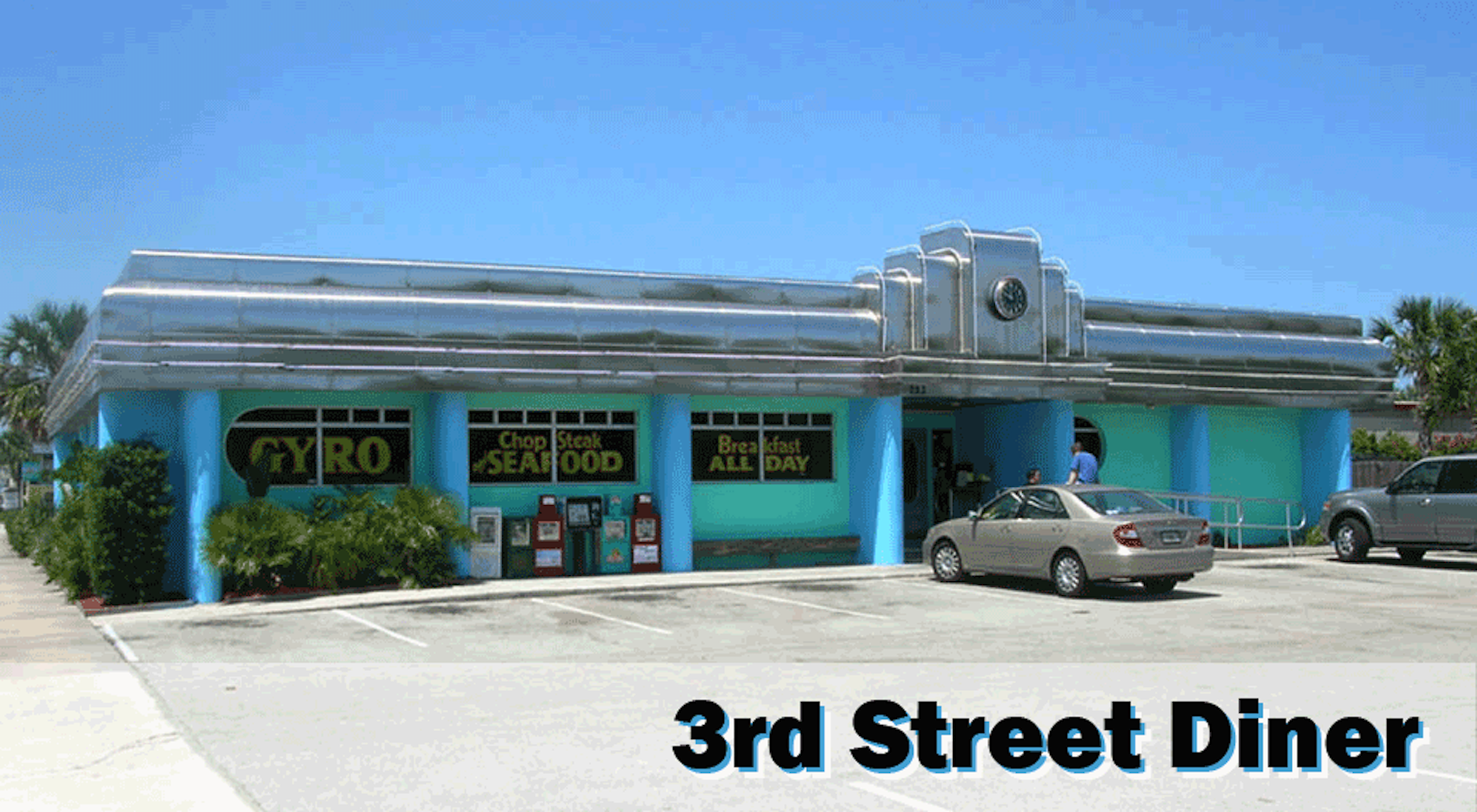 Burgers, milkshakes and truckers 24 hours a day. Mention the mag and you might even get a discount – the owner, Ed, is a GolfPunk reader.
WHERE TO DRINK
Jacksonville Beach is a veritable feast of bars and clubs with a hedonistic atmosphere to boot. Because it's constantly busy, it's best to land centrally and see where you can get in. We particularly liked the music and tequila in Roxy nightclub.
Roxy, 14185 Beach Boulevard, Jacksonville Beach, Florida 32250.
ADVENTURE LANDING AMUSEMENT PARK A short taxi ride from TPC Sawgrass, Adventure Landing has something for everyone. Go- karts, crazy golf, baseball cages, a water park, alligator feeding and laser quest.
The baseball batting cages provide a stern test of hand-eye co-ordination and the go-kar ts are loads quicker than their British equivalents.
Adventure Landing Amusement Park, 1944 Beach Boulevard, Jacksonville Beach, Florida 32250;
Tel: +1 904 246 4386; www.adventure landing.com