Golf Bedlam
Sep 2nd, 2020
Looking for love? Get your golf kit on
Tinder survey shows the gals/guys like a golfer
Words: GolfPunk
In a new study,
GolfSupport's Under Armour Team
can reveal that wearing your favourite sports kits online could affect how lucky in love you are! Apparently the tested who did the swipe left or is swipe right thingamajiggy?
Using 12 popular UK sports, separate Tinder profiles were created which kept all details the same except the sports kit worn in the profile picture. GolfSupport then made 300 right swipes and waited three days to see who swiped back.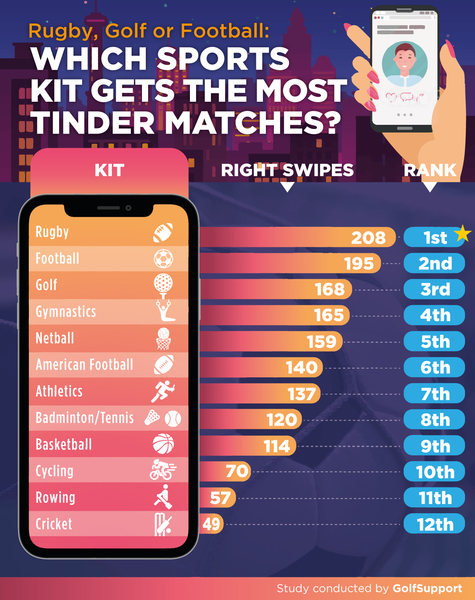 The most attractive sports kit to wear on Tinder is rugby. Out of 300 swipes, 208 matched, as it seems the appeal of the rugby hunk is as strong as ever.
Second place went to football. Wearing a football kit in your dating profile gets hearts racing, as 195 of the 300 swipes were reciprocated, just 13 less than rugby. 
What is a little surprising, however, is golf in third place. Love for golf was previously more niche and specialised, so it's interesting to see this changing – the smartly dressed golf guy ticked the boxes for 168 out of 300 people.
Oh, and another tip is not to feature your favourite team. 68% of Brits are turned-off by someone listing their favourite sports team in their bio. Also when asked would you swipe right to someone who supported a different sport/team to you? 51% answered yes, however, 365 stated no (13% not sure).
---
And another thing...