Golf Bedlam
Jan 29th, 2016
Thomas Pieters Isn't 'Preppy' enough for the PGA Tour?!
Vogue! Strike a... golf ball?
Words: Joseph Donohue
Thomas Pieters didn't have a 'preppy' enough look for the PGA Tour - so they gave the 24-year-old a quick haircut...with Photoshop.
Pieters uploaded a side-by-side image onto social media on Tuesday of his original headshot (right) and the image the PGA Tour was using (left). The editor didn't chop off all of Pieters' mane but he did give it a good tidy up!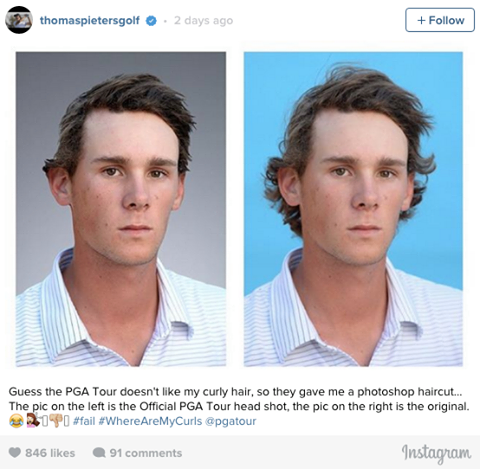 Ty Votaw, a PGA tour executive admitted, via GolfChannel.com, that Pieters' hair had been 'de-punked', saying that retouching photos is standard protocol:
In the standard process of prepping new headshots for broadcast TV, electronic scoreboards and other uses—which always requires a bit of retouching and color-correction—our vendor was a bit too heavy-handed in the editing of Thomas Pieters' photo. The image has been returned more closely to the original photo—although some editing is always required—and reissued to our database. We regret this sequence of events and meant no disrespect to Thomas. We think he has a great head of hair.
This issue is very close to our hearts - check out GolfPunk Gorgeous George! We thought we'd give him the same treatment and see how he felt. So here's an image of George on his last GolfPunk trip to Jamaica.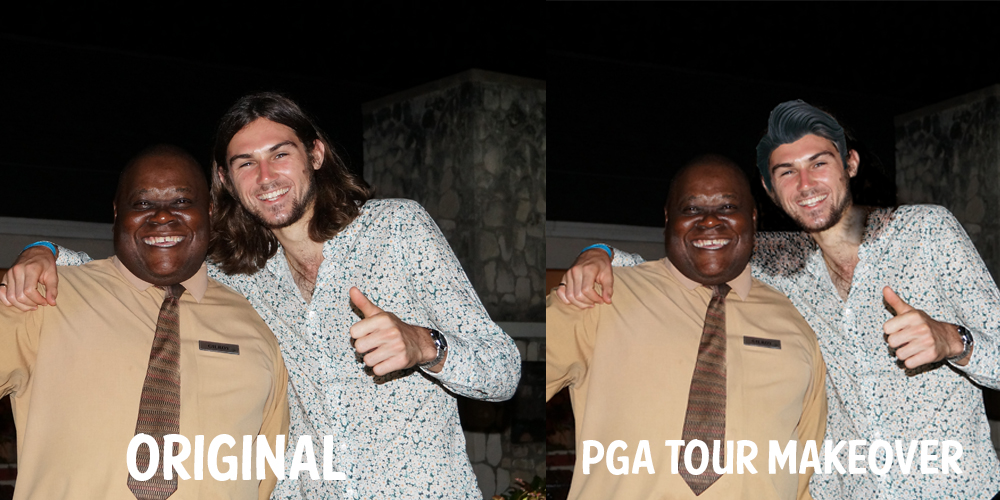 Don't worry Thomas & George you're wavey locks are restored and safe for now.