Golf Bedlam
Mar 21st, 2020
The Lefty Challenge gathers momentum
First Brooks and now Dustin goes long
Words: David Adair
I must say as a lefty I am in awe of these young pros who seem to be able to switch around and bomb the ball, playing left-handed. It is well known that lefty-in-chief Phil Mickelson is very handy playing right-handed, but it seems a couple of the world's best can switch round with ease and bomb it!
Rickie Fowler and Justin Thomas set the ball rolling with their "Lefty Championship" at The Grove XXIII in Hobe Sound, Florida. The pair didn't exactly shoot the lights out with Fowler taking bragging rights with a score of 94 to Thomas's 101.
Step forward the until recently number on in the world, Brooks Koepka who showed them how it to do it in a video taken by his coach Claude Harmon. With a rather powerful looking southpaw swing the man from West Palm Beach, Florida, was rather chuffed with himself when the monitor showed he had smoked the ball an impressive 293 yards
https://twitter.com/claudeharmonIII/status/1241033974920740864
However, Dustin Johnson catapulted himself to the top of the lefty league when during a TaylorMade testing session with Jason Day he switched round and bombed a left-handed driver which carried 294 yards with a total distance of 311 yards.
https://twitter.com/TaylorMadeGolf/status/1241125637873524737
I've tried right-handed a few times but I think my record stands at about 150 yards – pathetic in comparison!
And another thing...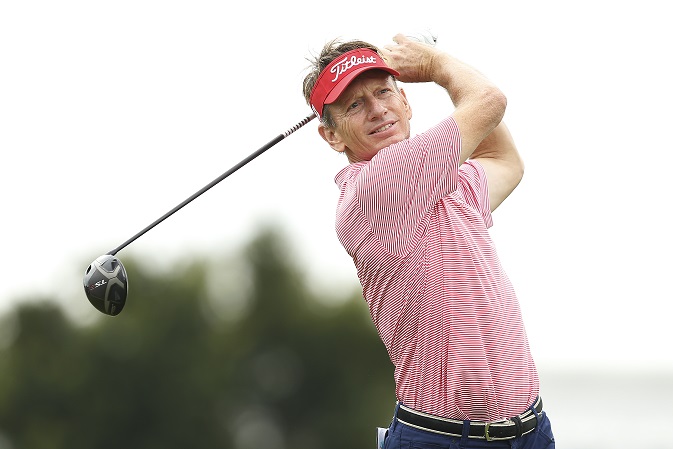 TAGS: Brooks Koepka, Dustin Johnson, Ricky Fowler, Justin Thomas, Lefty Challenge, Golf Bedlam, 2020