Golf Bedlam
Nov 16th, 2019
Luckiest shot ever?
Step up Thomas Detry
Words: GolfPunk
We have reported a lot of lucky shots over the years but this latest one really must be up there. Thomas Detry was staring down the barrel of a disaster at the Nedbank Golf Challenge on Friday when lady luck smiled down on him. When we say smiled we mean totally beamed and showered him with lucky dust as what transpired will go down as one of the luckiest breaks in the history of well, lucky breaks.
Belgium's Thomas Detry was sailing along very nicely, four under par for his round and ten under for the event when things threatened to unwind. An awful tee-shot at the 17th found the water and resulted in Detry choosing to take three off the tee. His next tee-shot looked like it too was heading to a watery grave when one of the luckiest bounces ever saved the his bacon.
https://twitter.com/EuropeanTour/status/1195334297781227520
He could stand there and hit balls all day, all week, or in fact all year and not hit that wind sock pole. Detry escaped with a double bogey when he was surely looking at something a lot worse. He ended the day seven under, only four off the lead. Thomas you are one lucky boy!
And another thing...
Previous luckiest golf shot ever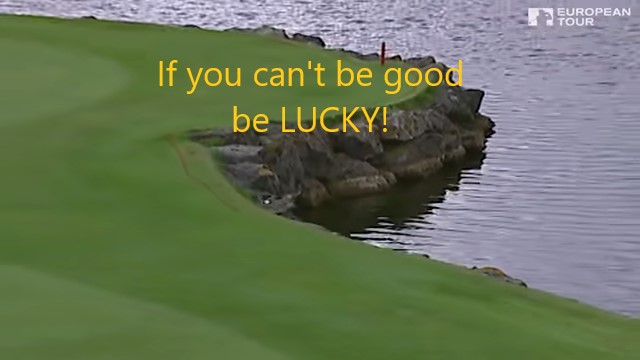 TAGS: Luckiest Golf Shot, Lady Luck, Thomas Detry, Nedbank Golf Challenge, Golf Bedlam, 2019