Fashion
Mar 23rd, 2023
Oscar Jacobson extends range for Spring-Summer 2023
Design team add performance garments across the range
Building on the success of recent collections, Oscar Jacobson is introducing several new garments and colourways for the new golf season. 
There are five new polos from Oscar Jacobson for spring/summer 2023, lining up alongside the core, timeless Chaps TOUR 2 and a number of midlayer and outerwear options that demonstrate how the design team are adding performance garments across the range.  
The first new polo is the Wellington, which comes in 3 colours, including a new Electric blue.  Made from a sportier fabric than other polos in the collection, this new garment carries the logo on the sleeve, leaving the chest unbranded in line with current trends. 
Another addition to the polo range is the Gilman.  This new technical garment is made from the same mixed yarn and delivers a subtle, mottled effect unique to Oscar Jacobson.  The white body of the polo carries a horizontal heat-sealed stripe and has contrast colouring to the front and back yolk. 
In line with fashion trends, patterns have been introduced to the Oscar Jacobson range.  The Sceneway and Sceneway Tour uses a unique Jacquard-style knit to create an understated camo pattern and the Kingswood has a geo-print pattern constructed from a combination of two-tone diamonds and brush marks, which can only be seen close up remaining true to the OJ DNA. 
As well as an excellent selection of new polos, Oscar Jacobson has introduced a number of warmer layers.  For colder mornings or twilight golf, Oscar Jacobson has added a new padded gilet called the Quinn.  Made from a synthetic down this is a lightweight, performance garment, which benefits from padding to the chest and upper back.  This design also delivers a very fashionable looking gilet which will be worn away from the golf course as well as on the fairways.
Another new addition that will become a regular staple is the Winwood and Winwood TOUR.  These cotton zip neck sweaters come in 4 popular colourways.  The Jacquard detail that runs across the top of the sleeves and through the front and back yolk creates a clean, classic look for this great lifestyle garment.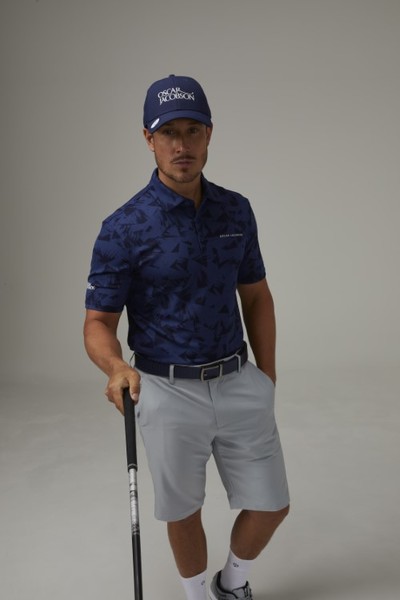 The Lockhart combines the best of the Hawkes and Trent midlayers to create a modern, sporty zip neck garment.  The outer fabric has a textured look but retains an extremely premium soft handle.  Completing the new midlayers is the Telford.  This lightweight zip neck comes in 3 colours and has a very cool geo-print under the arm through the side panels that uses the OJ logo for great visual appeal. 
Oscar Jacobson continues to offer golf garments that follow fashion trends without compromising on the brand's impressive design heritage, making it the perfect brand for stylish golfers.  
---
And another thing...