Fashion
Jul 18th, 2019
Who wore it better?
The Tie
Words: GolfPunk Photography: Getty Images
GolfPunk takes a look back at some of the trend setters on the course over the years and gets the expert opion of Stephen Doig Men's Style Editor and Assistant Luxury Editor, The Telegraph as to 'Who wore it better'. The third bout in our series of matches the legandary Walter Hagan and the young Justin Thomas in the battle as to who passed off playing in a tie best.
Justin Thomas v Walter Hagan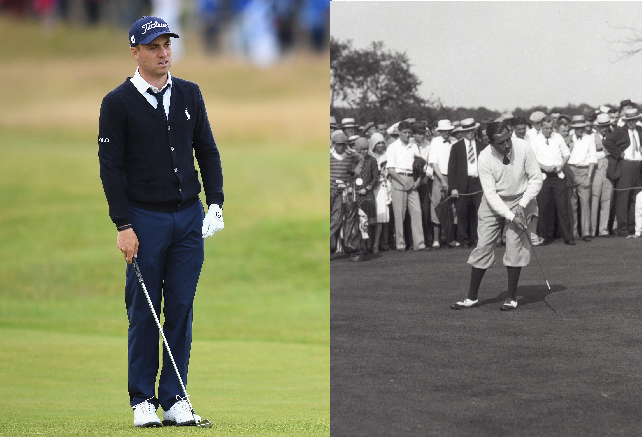 Justin Thomas turned a few heads at the Open at Royal Birkdale in 2017 when he showed up in a rather fetching Ralph Lauren outfit featuring a tie. JT was definitely kicking it old school, as Walter Hagen here proves. JT may be lagging behind Hagen in terms of major wins, with JT's sole USPGA title looking a bit thin compared to Hagen's 11 majors, including five USPGAs (four in successive years between 1924-1927), but how is he faring in the fashion stakes?
Stephen Doig's take:
Justin Thomas: Polo Ralph Lauren is a byword for the preppy, collegiate American dream, for which a tie in an essential component; but if you're going to for a tie, button your shirt up - it's not the end of the office Christmas party.
Walter Hagen: Some excellent plus fours action here, with the tie tucked underneath the sweater nodding to formality. Brogues are a country formal shoe, so work well with the sweater-tie combo.
Verdict: You have to admire JT's confidence to play one of the world's most important tournaments in an outfit he knows will make headlines – especially if he plays badly – but, Hagen has it, for me.
And another thing....
Who wore it better? The Trousers or Pants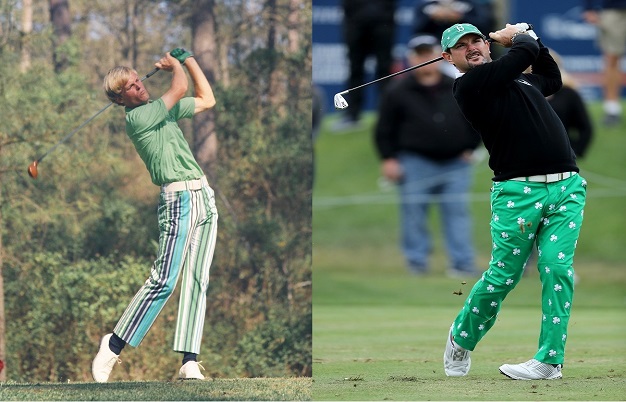 TAGS: Fashion, Golf Fashion, Walter Hagen, Justin Thomas, Equipment, 2019