Fashion
Nov 6th, 2015
Oscar Jacobson
Tailoring for 112 years
Words: Daniel Owen Photography: Joseph Donahue
Oscar Jacobson. You know, the guys who make the really good trousers? Their waterproofs are pretty damn sweet too. Well, have you seen their suits?​
"What do you mean, suits?" See the thing is, Oscar Jacobson makes awesome golf gear. We love their full button down golf shirts, and in general they offer a tailored aesthetic that looks totally on point without being in your face. But what most of you probably didn't know, is that long before they ever thought about golf clothing, they were dressing Sweden's sharpest.
Oscar Jacobson was founded in 1903. We're not talking about some fly-by-night brand here, OJ has a real history. It was originally founded to produce work wear for the locals of Borås by Oscar Jacobson himself, and his aunt's husband. Later on he was to partner with his brother to grow the business. And in 1908 they came up with the genius idea of ready to wear clothing. Although the most normal of things now, in 1908 having set sizes for clothing was a game changing move. Previous to that everything before that was tailored, and cost prohibitive.
In the the late 50's the brand was taken over by Oscar's son, Anders. His interests in fashion were the start of moving the company to where it's at today. He added more expensive fabrics to production, such as cashmere, while going to a slimmer, more British fit.
So that's where OJ came from, where are they today? Well the reason they make well fitted tailored golf clothes, is because, well, they are a company of tailors. 
In the 1980's Oscar Jacobson started their golf line, and it wasn't long before they were dressing the European Ryder Cup team. OJ have become known for their technical innovation and perfect fit. They currently dress Freddie Jacobson, Wade Ormsby and Richard Bland on Tour. We've seen next years line and it looks super slick.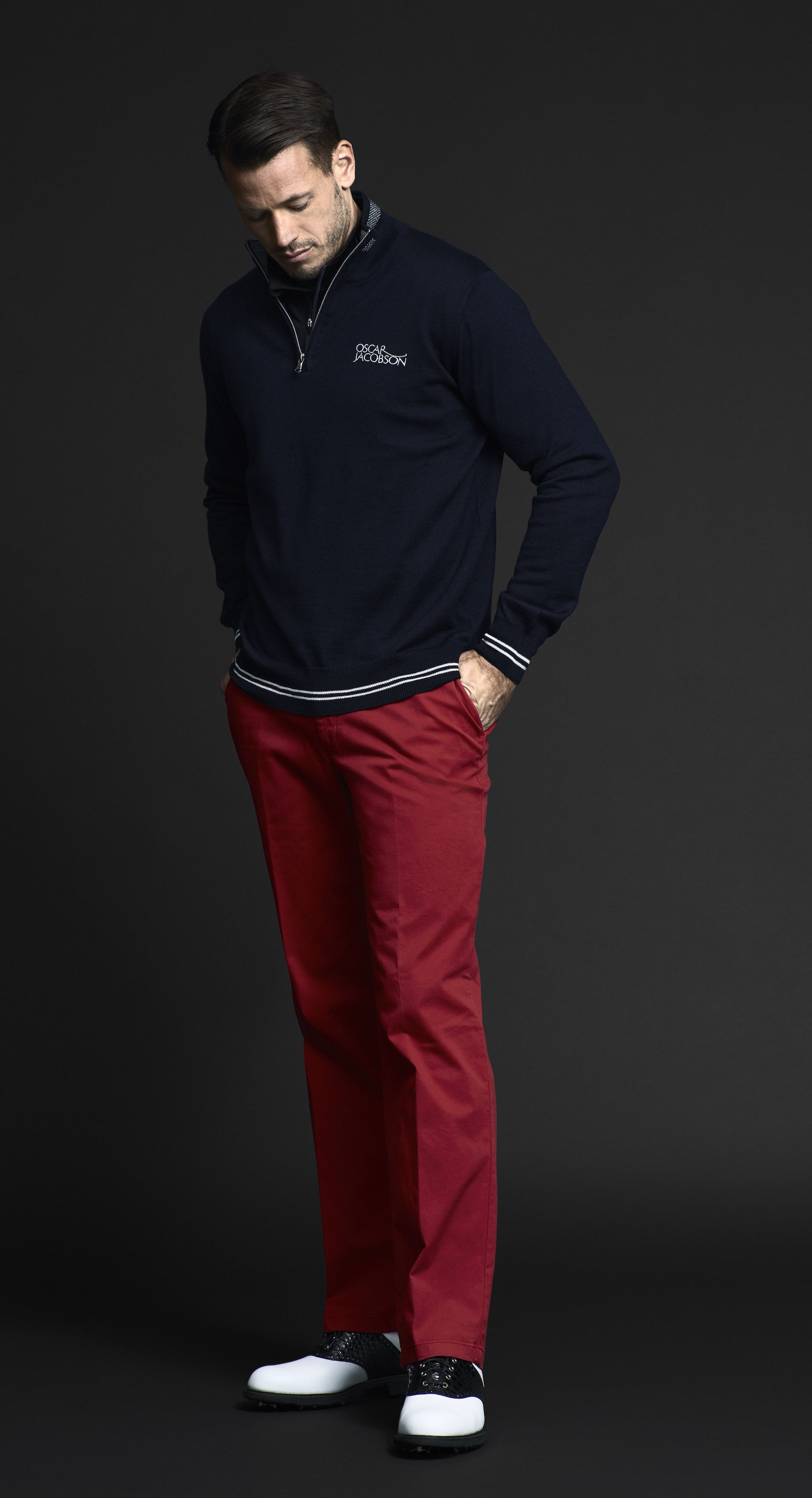 So while the tailoring experience has created better golf clothing, how has golf influenced the menswear side of the buisness?
Well according to Gunnar Hedenhal, Global Sales and Marketing Director, it's added a third range of clothing going forward...
"Golf has brought more technical fabrics into the fashion side of the business. We have menswear on the fashion side, and golf on the golf side. We felt we need a bridge between these two now. People now are more active, they're taking more care of their heath, we are seeing this on the streets today. So we've combined the knowledge from fashion and golf to launch a new collection, called Active."
Massively impressed with what we saw, the key to the technical fabrics that OJ are using is that they look and feel natural. We don't want all our clothing to be shiny, which is the danger with a lot of technical wear. 
Oscar Jacobson is a refined golf brand. It's also a historical menswear brand and maker of darned cool suits. And if what we saw is any indication, it's soon to be seen everyhere from walking down the street, to the gym, to on the back of that red light jumping cyclist dashing through the city to get to work. We love it.
All clothing is available at www.oscarjacobson.com
TAGS: Oscar Jacobson, Freddie Jacobson, Tailoring, Golf Fashion, Swedish Fashion, Fashion, 2015