European Tour
Jun 10th, 2021
Stenson and Sorenstam looking to inspire at Scandinavian Mixed
Superstar Swedish duo hoping mixed event will encourage youngsters
Photography: Getty Images
Tournament hosts Henrik Stenson and Annika Sorenstam are hoping to inspire the next generation of golfing superstars as the European Tour and Ladies European Tour break new ground at the 2021 Scandinavian Mixed.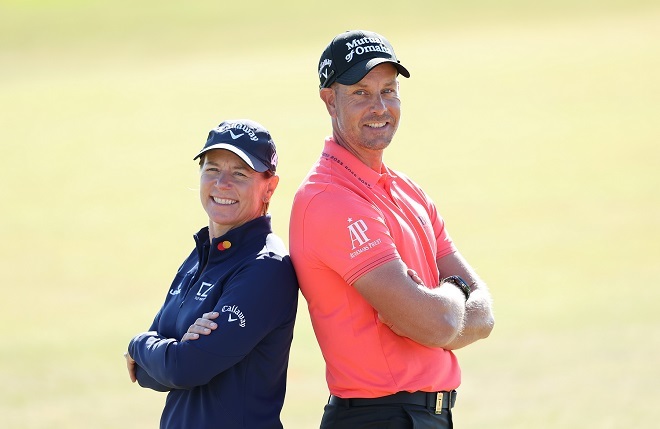 For the first time, a field of 78 men and 78 women are going head to head on the same course competing for one prize fund and one trophy at Vallda Golf and Country Club.
All the players share the same practice facilities and men and women have been drawn together for the tournament days, as well as playing practice rounds together.
Sorenstam and Stenson have both enjoyed incredible careers at the very top of the game, with Sorenstam claiming ten Major Championships, while Stenson has won the Open Championship and twice came out on top in the Race to Dubai.
And the superstar Swedish duo are now hoping the ground-breaking mixed event in their homeland can inspire boys and girls alike to follow in their footsteps.
On the course, the duo have very different goals this week, with Sorenstam having retired in 2008 and only recently started occasionally playing competitively again. Stenson, meanwhile, is looking to put some indifferent form by his high standards behind him and kickstart his mission to make a sixth Ryder Cup appearance.
"I retired 13 years ago so I don't know why I'm really playing but it's exciting to be here and I look forward to really being part of the event and not just walk outside the ropes and see it - now I can experience it with all of them. I'm thrilled. It's going to be interesting but it's also going to very memorable," said Sorenstam.
"It feels great to be in Sweden. To be partnering up with Annika and doing this event it's a great feeling," said Stenson. 
"She's the greatest female player of all-time, certainly in my book and I think in pretty much everyone else's too. It's a great honour to do this event together with her and to do it in Sweden as well, I think it's a very fitting place to do it."
The pair will tee off with fellow Scandinavian great Thomas Bjørn on days one and two, with the trio boasting 44 wins between them across the LET and European Tour. And the 2018 Ryder Cup Captain is looking forward to playing with golfing "royalty".
He is joined in the field by fellow Danish star Emily Kristine Pedersen, who begins her 2021 LET season this week in Sweden having played at last week's US Women's Open where she finished tied 23rd.
Meanwhile, two time LET winner Meghan MacLaren is also relishing the chance to once again take on the men as she tees it up this week having already proved she can take on her male counterparts, having finished second at the Jordan Mixed Open - a 2019 European Challenge Tour event where the field included players from the Ladies European Tour and the Legends Tour.
---
And another thing...