Equipment
Aug 20th, 2020
SkyCaddie LX5C Ceramic Watch
Giving 'smart' a whole new meaning
Words: GolfPunk
Golf's most desirable-looking wearable tech joins the award-winning 2020 SkyCaddie GPS family today in the form of the new LX5C with ceramic bezel GPS Smart Watch from SkyCaddie, makers of the most-trusted rangefinders in golf.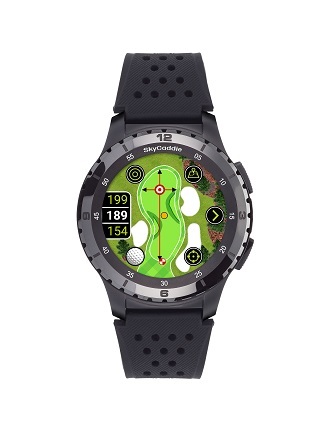 And you can buy the new LX5C at £50 off until August 31st, if you trade in any golf rangefinder at the same time, any make, any model, dead or alive – a deal which applies to the whole SkyCaddie 2020 family.
The scratch-resistant, hard-wearing LX5C ceramic bezel holds its colour practically forever and retains that 'new' look for longer than a traditional bezel – as seen by the recent trend towards ceramic materials in the luxury watch market.
The stylish, handsome LX5C – which has identical functionality to the LX5 – is the closest thing to having one of SkyCaddie's high-performance SX400 and SX500 rangefinders on your wrist. 
Both LX5 models pack golf's only truly comprehensive ground-mapped course data into the game's largest and most-brilliant wearable HD colour touch screen at 1.39 inches.
They both contain next-generation technology including powerful and popular features which are exclusive to SkyCaddie, such as HoleVue® and IntelliGreen® Pro in high definition.
"The LX5C is the most powerful and attractive GPS rangefinder golf has ever seen," said James Holmes, SkyCaddie General Manager UK & Europe. "Adding the ceramic bezel adds yet more desirability to what was already golf's most-praised smart watch of 2020.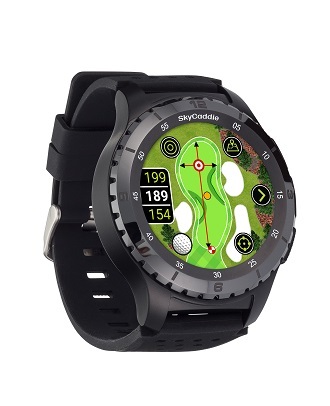 "It looks fabulous both on and off the golf course, but the LX5C is about way more than just good looks. Both versions of the LX5 exist to save you shots on the golf course, more than any other golf watch, pure and simple.
"Because only SkyCaddie professionally creates and updates its course maps on foot, the LX5C gives you golf's most accurate and up-to-date golf course information."
Packed with features from the award-winning SkyCaddie SX400 and SX500 handhelds, the LX5C delivers the best wearable HD golf graphics now available. Zoom and Pan to get the yardages you need, and enjoy intuitive, almost touch-free navigation while you play.
LX5C has SkyCaddie's proprietary HoleVue® technology, giving instant distances to any point on the hole in HD course graphics. Or, simply swipe up to see critical distances to all hazards, carries and layups on the current hole.
LX5C shows everything between you and the green instantly, giving you the distances you need to plan your shot and avoid hazards – even if you can't see them from where you are standing.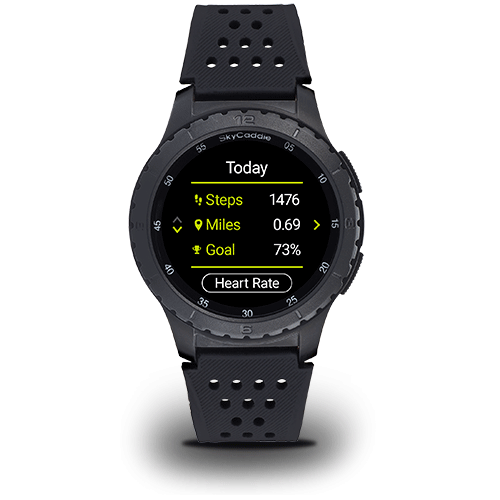 It also features SkyCaddie's patented and exclusive IntelliGreen® Pro technology, rotating the green's exact shape to match your angle of attack, giving you the distances you need from where you stand including yardages to the major green contours.
Even if you can't see the putting surface your LX5C turns every approach shot into a scoring opportunity by providing the exact shape of the green plus front, carry and back distances and the distance to any other point on the green simultaneously.
Try doing that with a laser! With a SkyCaddie, you are never blind.
Preloaded with over 35,000 ground-verified, full-colour HD SkyCaddie course maps – unavailable on any other GPS watch apart from the LX5 – the SkyCaddie LX5C ceramic bezel GPS Smart Watch is ready to go out of the box, with a three-year premium Worldwide Membership at no extra charge.
Robust Bluetooth and Wi-Fi connectivity enables you to easily sync your LX5C to get the latest course maps, or update your scores and stats wirelessly in your SkyGolf 360 account.
The water-resistant LX5C boasts a hi-capacity rechargeable Li-Polymer battery that lasts up to two rounds (over three days in Time mode). It allows you to score as you play and track stats such as total score, total putts, fairway hit or miss, greens in regulation and much more.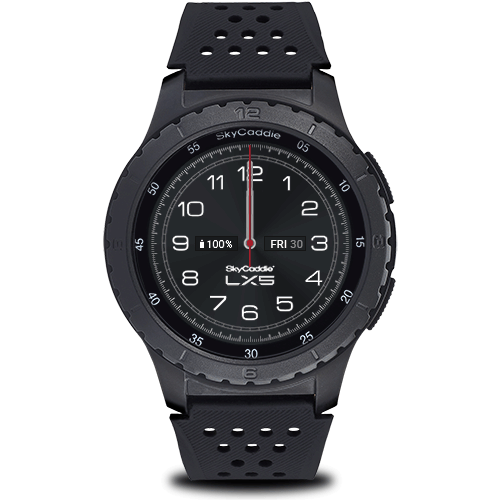 More LX5C features include: RangeVue® yardage arcs for easy club selection, shot distance measurement, multiple tee box options, gender selection, yards or meters option, digital scorecard and multi-constellation navigation satellite capability to enhance GPS tracking.
The SkyCaddie LX5C comes with two user-replaceable, soft-touch silicon wristbands, and away from the golf course it also offers multiple watch faces and time-related functions, plus a Heart Rate Monitor and Step Counter with Distance Walked.
SkyCaddie is golf's only GPS brand which creates and updates every UK golf course map on foot. Professional SkyCaddie course mappers use survey-quality equipment recording thousands of points per course with sub-metre precision. The resulting maps are accessible by SkyCaddie users only.
The SkyCaddie LX5C GPS Smart Watch retails for just £349.95 (€399.95), including a three-year premium Worldwide Membership. It joins the LX5 (£299.95), SX400 (£299.95) and SX500 (£379.95) in the 2020 SkyCaddie family.
For all SkyCaddie information please visit
www.skycaddie.co.uk
.
---
And another thing...