European Tour
Feb 9th, 2020
Was Gmac lucky not to be penalised?
Champion in Dubai ran the slow play gauntlet
Words: David Adair Photography: Getty Images
It was great to see Graeme McDowell win again on the European Tour but had the tour applied the slow play rules more strictly come Sunday afternoon might it have been a different story? The Northern Irishman was carrying a 'bad time' after a transgression during his second round and playing in the final pairing come Sunday he and partner Victor Dubuisson became detached at the back of the field.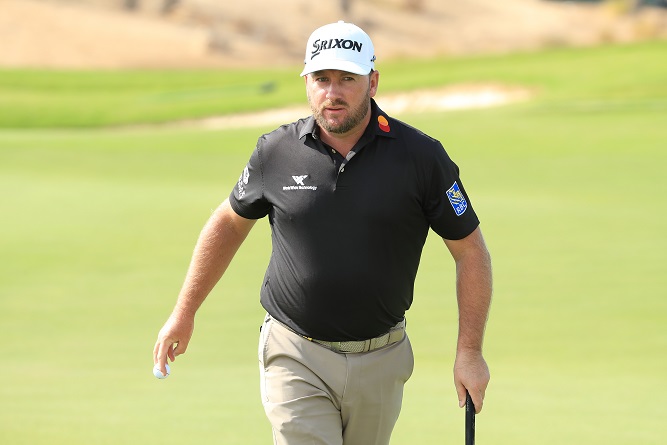 McDowell had been critical of his penalty in the earlier round which had occurred straight after he gave an on-course interview to Sky Sports commentator Tim Barter. McDowell was behind his playing partners and then took 84 seconds to take his shot.
"I was first to go and I had 215 yards into the wind. It was a difficult shot," McDowell said after his round. Regardless of the interview he gave, he did take an age over his shot and so arguably deserved a 'bad time'.
The consequence of the 'bad time' was that a repeat at any time during the event would result in a shot penalty, a fact that weighed on McDowell's mind during the final round. The Northern Irishman was aware of the rules official, Andrew Snoddy, on the 11th hole and the fact he and  Dubuisson were out of position.
"I'm running around that front nine, and I spoke to him (Snoddy) walking off 11, I said to him, "We realise we're out here and we're trying our damndest and can't seem to get back in position."
"He said, "I'm watching. I see the effort. I appreciate it."
The 'I'm running around' description must raise eyebrows as every golfer knows how to speed up and close a gap to the group in front. It would seem that McDowell was trying to convince himself that he was playing as fast as possible.
McDowell was not put on the clock on his last nine even though by the letter of the guidelines he probably should have been.
"I was glad we didn't get monitored and put on the clock coming down the stretch because that would have been something not necessary, not needed.
"It's just one of those intangibles. It's the last thing you need when you're trying to win a golf tournament."
McDowell is not a quick player and does like a good chat with his caddie about his upcoming shots. Had he been given another bad time on Sunday and the one shot penalty it is questionable whether he would have won as he was emotional enough winning with no penalties.
We can see the argument for giving a bit leeway to the final group but where does the tour draw the line. If you are three groups from the back and in with a chance, should you be allowed extra time?
Our reading of McDowell's comments is that he actually does not see a problem with slow play and had he not won the event his attitude may well have been quite different.
McDowell apologised for his comments about the rules official on Friday but continued to say the following:
"Like I say, disappointing what happened. Thankful we all handled it well. I was really happy with the European Tour and the way they handled it, and you know, now we can all move on."
Sorry Gmac, we are big fans but you did not handle it well and if anything you were seeking to pressurise the tour officials. You were lucky not to have been put on the clock on Sunday, and no one should be above the new rules!
And another thing....
Top 5 Slowest Golfers Revisited