Equipment
Jul 12th, 2023
KBS EXPANDS GAME-ENCHANCING GRAPHITE SHAFT OPTIONS
Easy launch PGH shaft features new Wrap Technology

KBS, the pioneering golf shaft brand that offers a high-performance shaft for every club in the bag, has expanded its game-enhancing Graphite range by launching the Players Graphite Hybrid (PGH) shaft to provide more golfers with easier launch options and better spin performance.
Aimed at players of all abilities - from junior to elite level - the new shaft also incorporates Graphite Wrap Technology that eliminates the variables for more consistency and shot control, while providing the same optimal tight tolerances and dispersion as the pioneering KBS Tour Steel shafts in a lighter weight.
Based on its proven Players Graphite Iron platform and family, KBS sees the PGH shaft delivering tangible performance benefits and features that enable playability beyond the universal standard for traditional graphite hybrid shafts. "The new Graphite Wrap Technology makes it easier for every type of golfer to swing and improve their performance," said KBS Director of R&D and master shaft-maker Kim Braly.
"During our extensive testing of the PGH shaft, we found that adding characteristics like a lower Centre of Gravity created a swing weight that produces a much easier strike in a hybrid club. "Graphite shafts are becoming increasingly popular and are no longer associated just with older players with slower swing speeds. Graphite has been used consistently in drivers by the world's best golfers for over two decades and we see Tour players using graphite shafts in their irons, wedges and putters as well as hybrids to great effect. So, it makes sense for the technology to move through the bag and introduce a similar shaft for more players to enjoy," added Kim.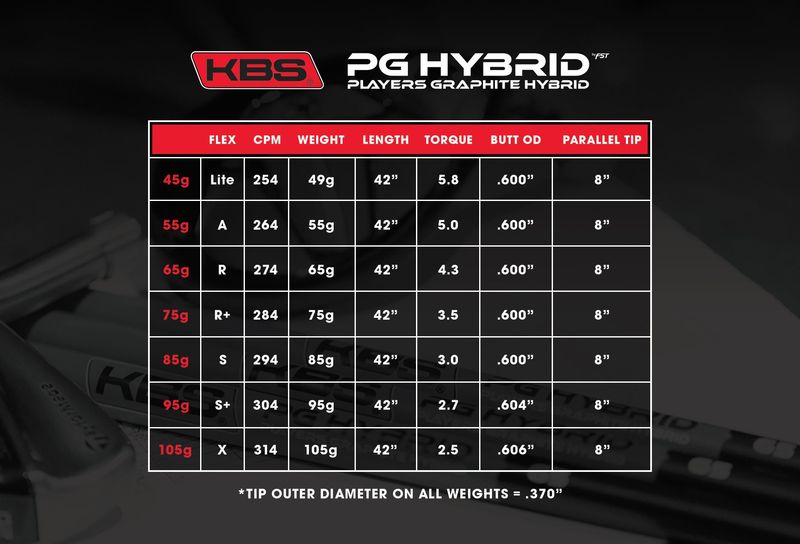 Offered in .370 Parallel Tip options, the new KBS PGH shaft comes in weights ranging in 10-gram increments from 45 to 105 grams and with coinciding differentiating flex patterns. The seventh graphite shaft on offer from KBS is added to a list that now includes the TD Driver/Wood; the Tour Graphite Hybrid Prototype; three iron choices each suiting a different type of player – the Player Graphite Iron (PGI); the Tour Graphite Iron (TGI); and the Max Graphite iron shaft; and the Graphite Putter Shaft (GPS), which was launch earlier this year to global acclaim.
Played by more than 300 Tour players worldwide and partnered with all the leading club manufacturers, KBS offers 19 different shafts across every club in the bag, including nine iron options depending on swing speed, all featuring different weights and flexes.
The KBS PGH shaft is available this month at an RRP price of £105.00. For further details or to order KBS shafts, speak to your local KBS distributor or visit www.kbsgolfshafts.com.
---
And another thing...