Equipment
Apr 2nd, 2018
Titleist launches popular ball promotion for 2018
To reward loyalty
Words: GolfPunk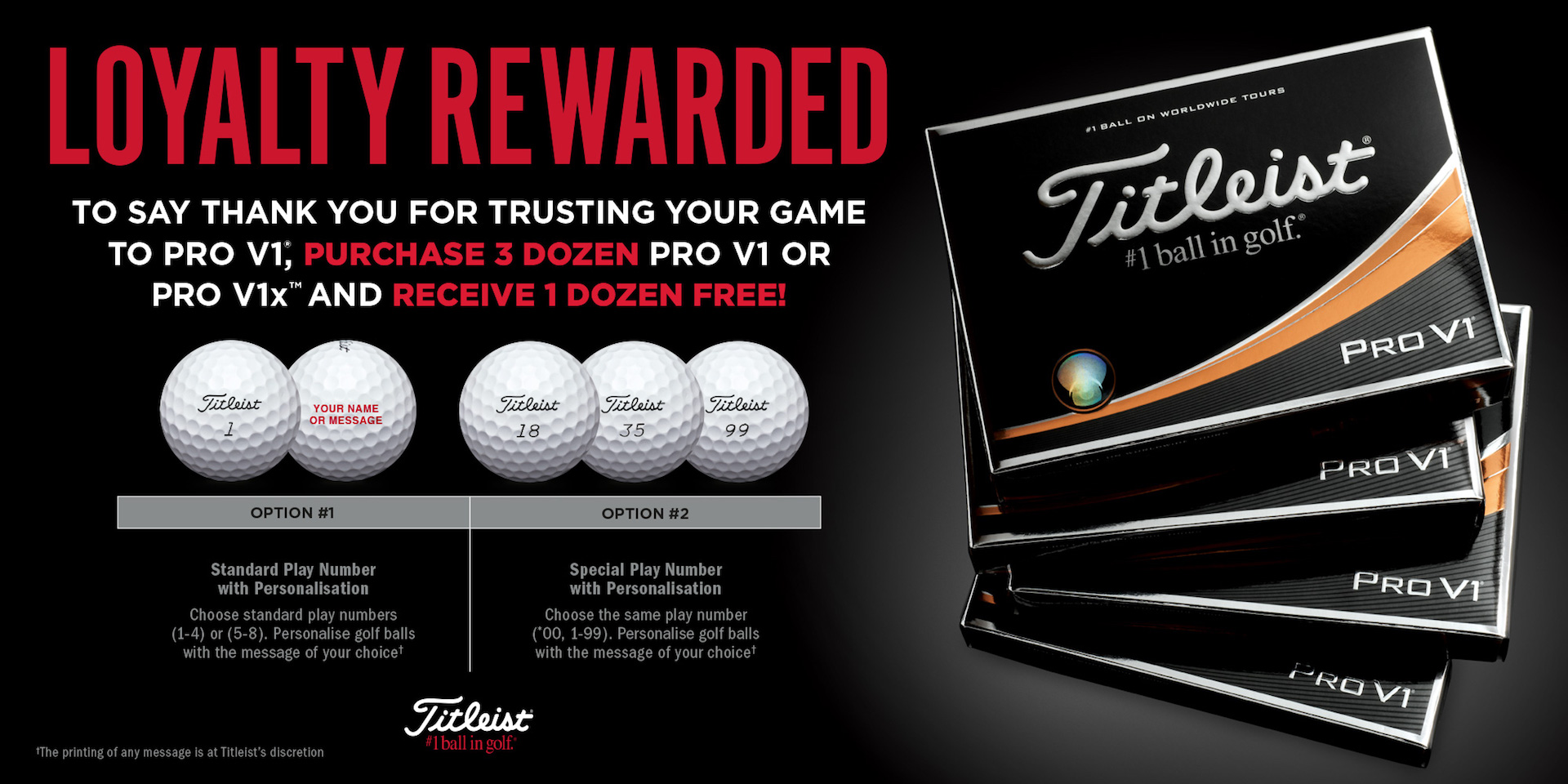 Titleist is reaffirming support for dedicated golfers across the UK & Ireland by rolling-out its Loyalty Rewarded promotion once again in 2018. 
The highly popular scheme will offer golfers who purchase three dozen Pro V1 or Pro V1x golf balls, one dozen free. All balls purchased will include a personalised message of the golfer's choice as well as either their preferred standard (1-4, 5-8) or Special Play Number, (including 00 and 1-99).
Loyalty Rewarded has been designed to give loyal brand fans the chance to stock up on a season's supply of golf balls at reduced cost and to thank them for continuing to choose the performance benefits of the Pro V1 and Pro V1x, used for more PGA and European Tour victories than any other golf ball in history.
Titleist Pro V1 and Pro V1x continue to be the overwhelmingly most-played balls on the world's major tours, with 74% of professionals worldwide trusting their unrivalled performance. Notable Titleist Golf Ball Loyalists include 3-time Major Champion, Jordan Spieth; Major Champion and 8-time PGA Tour winner, Justin Thomas, and 2017 Race to Dubai Champion, Tommy Fleetwood.
Michael Creighton, Titleist Golf Ball Manager, said: "With Loyalty Rewarded, we wanted to devise an initiative that provides a valuable incentive and reward to the most loyal Pro V1 players. Not only will the consumer receive exceptional value for money, but by arming themselves with the same industry-leading golf ball model, in either Pro V1 or Pro V1x, for their year of play, we're helping golfers play their best."
The Loyalty Rewarded promotion is now live with Titleist Golf Ball Partners, with the last date for purchases being 30th April. A maximum of one dozen will be offered free per customer. 
Related:
Read Issue 2 of GolfPunk Digital Magazine here