Eds Letter
Jun 30th, 2021
Slow play penalties in women's game too random
Rules need to be applied consistently and fairly
Words: David Adair Photography: Getty Images
I must admit to being quite confused when Maria Fassi received a two-shot penalty at the KPMG Women's PGA Championship, which contributed to her missing the cut. It was not that I did not think she deserved punishment but rather why it was two shots and why were no other penalties handed out at the tournament?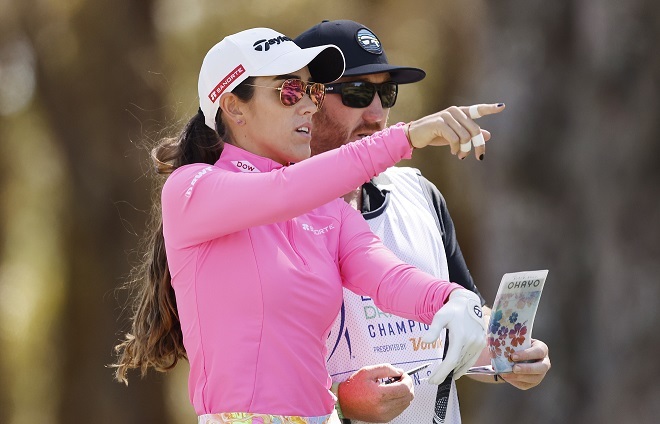 There have been two other penalties handed out to LPGA players this year. 
LPGA rookie Yealimi Noh received a $10,000 fine for slow play at the Kia Classic in March
Carlota Ciganda received a slow-play penalty on the last hole of her match with Sarah Schmelzel at the Bank of Hope LPGA Match Play, resulting in losing the match.
Noh's fine was a pretty hefty one for the LPGA rookie, with it wiping out two-thirds of her winnings accrued over her first three events of the year. The fine was high due to a fine she received at her first LPGA event last year.
Does it also beg the question as to why Noh did not receive stroke penalties rather than a financial penalty for her two 'bad times'?
Ciganda is a serial slow player, so I have little sympathy but again, I would question the timing of her penalty. 
One assumes she had been slow all round, but the penalty handed out on the last hole she had won to take the match gave the hole to her opponent and reversed the game's result. A penalty at a hole they had halved may not have had such a dramatic impact.
Turning to the most recent penalty for Maria Fassi, it seems harsh compared to other punishments meted out at recent events, both men's and women's. Someone will hopefully educate me but I fail to see how you get straight to a two-stroke penalty?
The statement from the tournament officials stated that 'Fassi was in breach of Rule 5.6 while being timed by a member of the Rules Committee.'
Looking at Rule 5.6a suggests the penalties for a breach are the following
Penalty for first breach: One penalty stroke.
Penalty for second breach: General Penalty.
Penalty for third breach: Disqualification.
The 'General Penalty' in stroke play is two penalty strokes.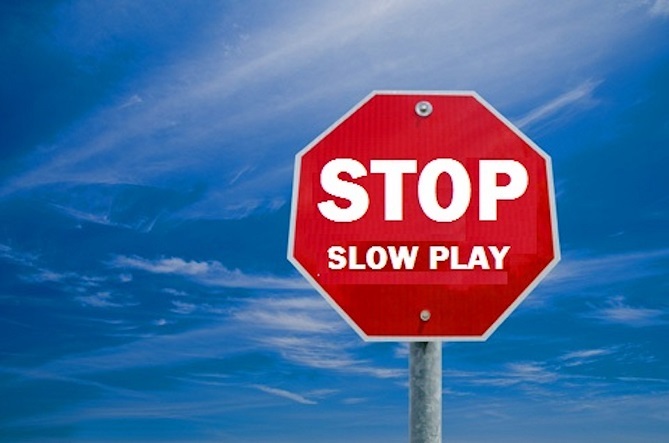 I can only assume that the tournament committee has a more draconian set of local rules covering pace of play as if it was Fassi's first breach, she should have received a one-stroke penalty. If it was considered she breached twice on the 18th, it would have been a cumulative three-stroke penalty. I struggle to find any scenario under which she receives a two-shot penalty.
Clearly, Fassi's group had been put on the clock and ironically, this could have been due to the slow play of one another member of the group, which Fassi alluded to when talking after her round.
This seems an area where common sense should apply. If a group is out of position, it makes sense to identify the offending member or members of the group. A faster player being penalised for one slow shot does seem rather like the old 100m sprint rule (now changed) where the culprit for a second false start was disqualified regardless of whether they caused the first one.
Watching the whole of the Women's PGA Championship and the crazy situation where the final group were waved up on the par-three 15th hole, perhaps contributing to Korda finding the water, I can't understand why there are not more penalties.
I timed as many putts as I could for Nelly Korda and Lizette Salas for the closing holes as an experiment. Salas, who I consider a slow player, averaged around 50 seconds with Korda at 20 seconds!
Players on both men's and women's tours take an inordinate time over putts and this includes a number of the big names.
But returning to the LPGA, my biggest beef is the lack of consistency and selecting what I believe are soft targets. Again, I think the men's game is just as guilty and I am tired of seeing penalties meted out to rookies, amateurs and overseas players.
The day we see regular penalties and a penalty handed out to a big American or International star, I will believe the tours want to address slow play!
TAGS: Eds Letter, Slow Play, Maria Fassi, Yealimi Noh, Carlota Ciganda, LPGA, 2021
---
And another thing...