US Open
Jun 16th, 2021
Torrey Pines revisited: 2008 U.S. Open
The year Tiger hobbled and broke Mediate's heart
Words: GolfPunk Photography: Getty Images
The 2008 U.S. Open at Torrey Pines was probably the major that summed up Tiger Woods best. Hobbling around on one leg for most of the tournament, Woods refused to concede defeat and somehow contrived to break Rocco Mediate's heart and win his fourteenth major title.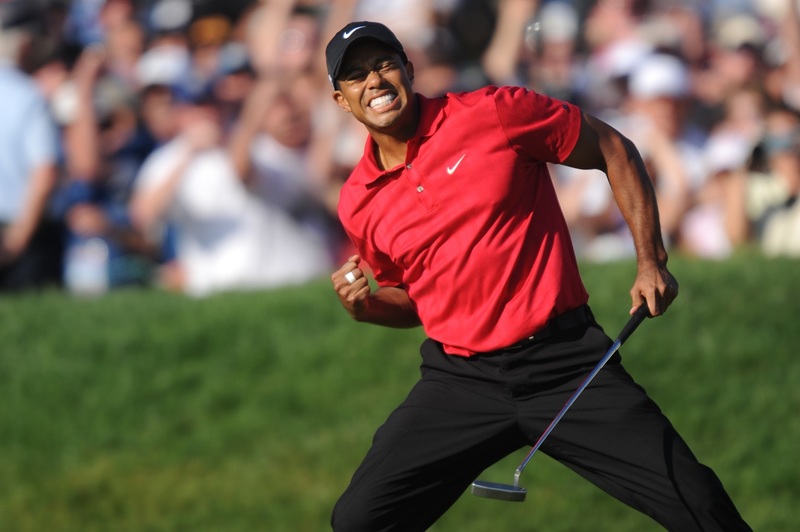 Mediate at 45 was looking like being the oldest player to claim the coveted U.S. Open title and sat in the clubhouse on one-under a shot clear of both Lee Westwood and Tiger Woods, who were playing the last.
Both Woods and Westwood missed the fairway at the par five 18th and had to lay up, in Woods case into thick rough. When Westwood left himself a long birdie chance, the odds were on Mediate. Step up, or should we say hop up, Tiger Woods. Tiger amazingly managed to get spin on his third shot, finishing twelve feet from the hole.
Westwood's putter let him down once again and his putt came up agonisingly short. Westwood tapped in and the stage belonged to Tiger. Mediate was watching on a TV as Woods stroked the putt towards the hole. The putt bobbled over the spikes marks and just caught enough of the right edge of the hole to fall.
"I knew he'd make it," said Mediate as the cameras focused in on him as he watched Woods. He was not out of the event but would need to beat Tiger over an 18-hole playoff.
Mediate led by one once again going down the 18th hole of the playoff, but Woods found a birdie, this time, it was less eventful as he hit the green in two. Mediate had missed the fairway and could only make par and so it was off to a sudden-death playoff.
At the first extra hole Mediate finally succumbed to the juggernaut that was Tiger Wood. Finding a bunker off the tee he missed the green and could only pitch to twenty-odd feet. When Woods narrowly missed his birdie Mediate had the difficult chance to extend the playoff. The putt missed right and Woods took his third U.S. Open title.
Fact File
Tiger double-bogeyed the 1st hole three times during the tournament, including the final round.
Woods and Mediate were the only two players under par for the event (-1)
Woods won all fourteen major championships in which he entered the final round with at least a share of the lead
Woods sat out the rest of the 2008 season following an operation on the troublesome knee 
Woods would wait another 11 years before tasting another major success at the 2019 Masters
TAGS: US Open, 2008, Tiger Woods, Rocco Mediate, Lee Westwood, 2021
---
And another thing...