US Open
Jun 13th, 2019
Pebble Beach Remembered
The year of the Tiger
Words: GolfPunk Photography: Getty Images
Tiger Woods didn't just win the 100th US Open at Pebble Beach in 2000 he totally obliterated the field. Tiger was so far out in front that If it had been a Formula One race Tiger he would have lapped the whole field several times.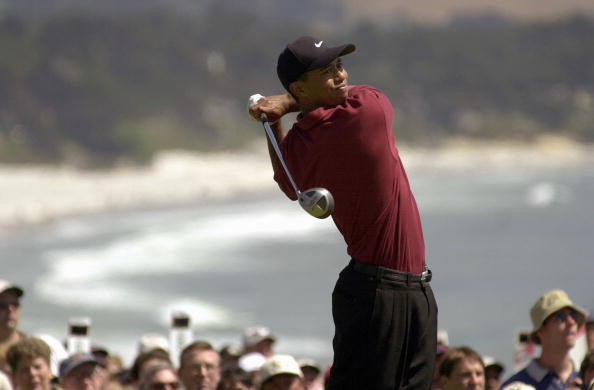 Woods was the only player under par finishing on a remarkable twelve under, especially considering fifteen shots back on three over came South Africa's Ernie Els and Spain's Miguel Angel Jimenez. It was a record for the largest margin of victory in the US Open and for that matter any major championship, a record that still remains today.
Tiger was out of the traps fast with a 65, which turned out to be the best round of the week, and he never looked back, leading from start to finish. In most respects he was playing a different game to the rest of field and this was clearly demonstrated by the miraculous shot he hit in his second round at the 6th hole.
Woods hit a seven iron 205 yards out of 4 inch rough up and over a tree and on to the front of the green, leading NBC announcer Roger Maltbie to say, "It's just not a fair fight!"
https://www.youtube.com/watch?v=_m5bGEzaq3g
The event was tinged with sadness though.
Payne Stewart, the flamboyant defending champion wasn't present as he had died in a plane crash some eight months earlier. A guard of honour of players formed along the 18th fairway and simultaneously struck balls into the Pacific Ocean to honour the memory of Stewart.
Fact File
- Woods shot a level par 72 in round three despite taking a triple birdie at the 3rd hole.
- Tiger nearly ran out of balls when completing his second round early on the Saturday morning. His caddy had forgot to stock up the bag and so when Woods pulled his drive in to the ocean on the 18th he only had one ball left. He proceeded to drive down the middle and make forur with his second ball to get away with a bogey six.
Related article
Pebble Beach Remembered - 1972 US Open