Travel
Apr 29th, 2021
Chart Hills set for relaunch on 1st June
Complete 18 hole renovation completed in under a year
Chart Hills Golf Club will be officially relaunching on 1st June 2021, following an intensive year-long redevelopment.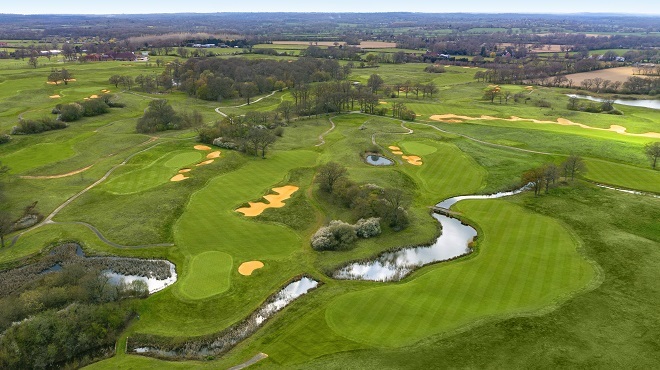 Led by Director of Golf, Anthony Tarchetti, and Course Manager, Neil Lowther, the club has been subject to a total property renovation. Ramac Holdings (also owners of Prince's Golf Club in Sandwich) purchased Chart Hills in December 2019, with a significant task in front of them as they looked to restore a golf course that had suffered for some years.  
The result is the restoration of a playable, yet challenging layout that will be presented and manicured to championship standards year-round, set among some of the most picturesque countryside in the southeast. 
"We have made enormous strides and are hugely proud of the product we will be presenting," commented Tarchetti.
While the work has been significant, we absolutely will not rest on our laurels. This is just the beginning of a road of continuous improvement at Chart Hills, with plans already in place to continue developments over the coming years. 
We are extremely excited to welcome our members and their guests back to the club in the coming months." 
Anthony Tarchetti, Director of Golf
Initial planning indicated that a complete redevelopment project would take more than two years to finish, with the hope of a late summer opening in 2022. However, the emergence of the Covid-19 pandemic and forced closures due to government restrictions, presented an opportunity to dramatically accelerate the timeframe.
The decision was made to officially close the golf course in July 2020, with no reopening scheduled until all 18-holes had been completely renovated. The focus of the project was to completely relay the fairways, to produce carpet-like surfaces that are playable year-round. 
Every fairway was completely stripped, exposing the bare soil. The maintenance team then laid thousands of metres of irrigation piping down before more than 30,000 tonnes of sand was shaped onto the holes to produce a four-inch capping. The finishing team spread Creeping-Rye seed on each fairway area before the watering and fertilisation processes began. 
Off the course, the entire venue has been remodelled, with a completely redecorated clubhouse, all-new club shop, modernised bar area, improved car park and signage, and upgraded practice facilities that include a state-of-the-art simulator room. 
Despite a challenging winter, the club has been able to make great strides in continuing the renovation of the clubhouse area and green complexes, while applying the finishing touches to the new fairways. There has also been a complete bunker overhaul to manicure all 100+ of Chart Hills' famous sand traps. 
The full facility, including the striking and vast clubhouse, will be open and fully operational from 1st June, with Covid-19 guidelines adhered to at all times. 
For the latest updates on the renovation project, find Chart Hills on social media: Twitter - @ChartHills, Instagram - @ChartHillsGolfClub, Facebook – Chart Hills Golf Club.
---
And another thing...