Travel
Oct 9th, 2015
Workie World Tour
This month we send him to South Africa
Words: Robbie Greenfield Photography: Graham Kuhn
The Workie World Tour:
This month we make our own tea while Robbie gets to go to South Africa!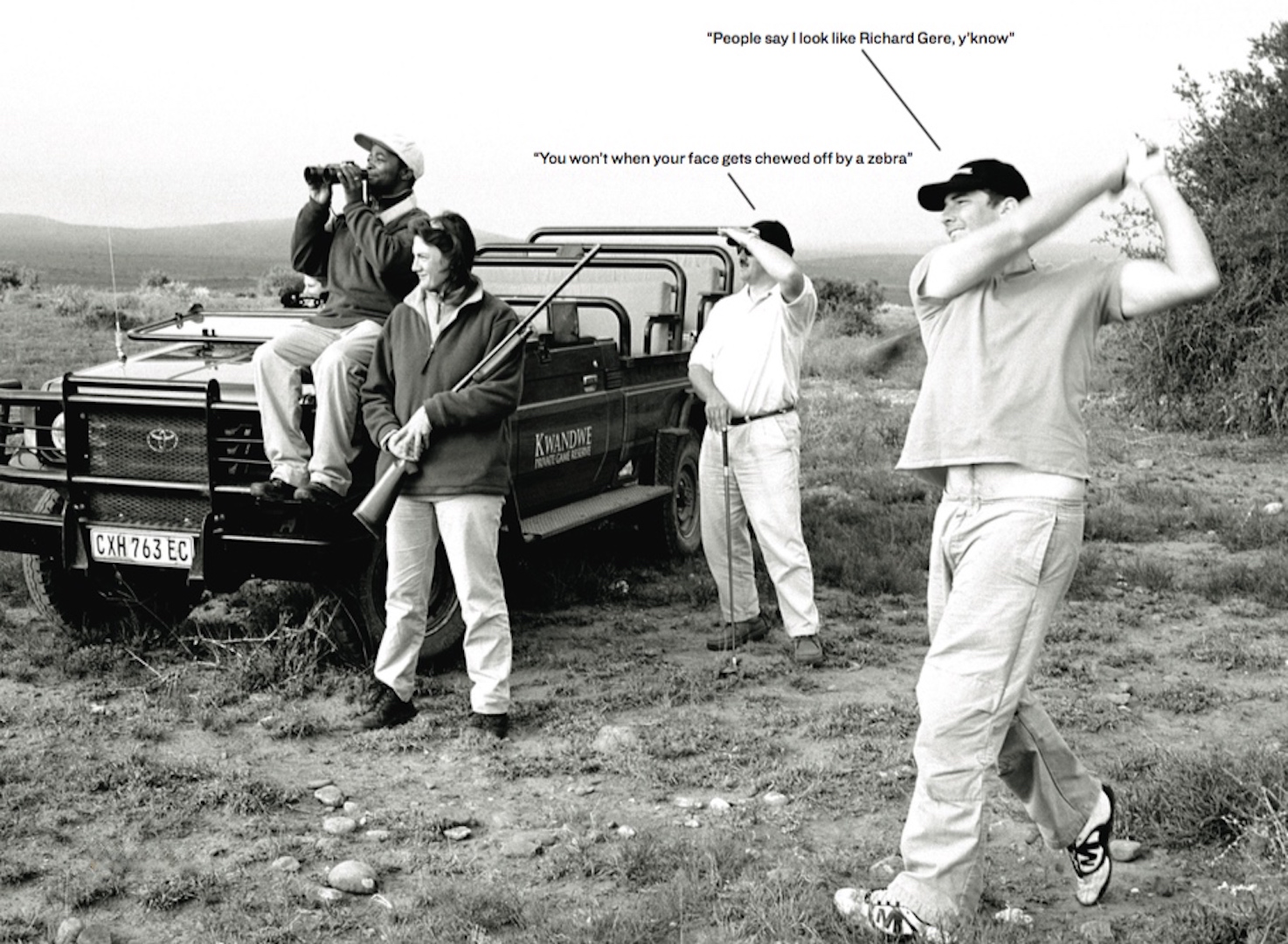 It's 6 am at Spier golf course in Cape Town, South Africa. I'm standing on the cusp of a bunker watching the sun begin to emerge over the mountains. My view is interrupted by two semi-naked models gyrating in the sand beneath me, flanked by a couple of cheetahs who, frankly, look like they've seen it all before. The closest I've ever come to a big cat is next-door's corpulent tabby, so I'm pretty impressed. "I'm not sure who's better looking, the girls or the cats," I say to GP's photographer. He pauses for thought before detaching himself from his camera lens. "I dunno," he offers, "would you shag a cheetah?"
The stark difference between Graham and I became apparent from our first meeting at the airport. I get there an hour early, loaded like a baggage mule and looking like a past-his-prime rent-boy, making fruitless advances to every lone man in the vicinity in an attempt to locate Graham.
I'd pretty much abandoned all hope and was rehearsing my apology to GolfPunk when Graham casually breezed past and swept us professionally through check-in. I was palsied and hyperventilating; Graham looked like a twenty-something Hugh Hefner. South Africa might have its divisions, but it had nothing on me and Hef.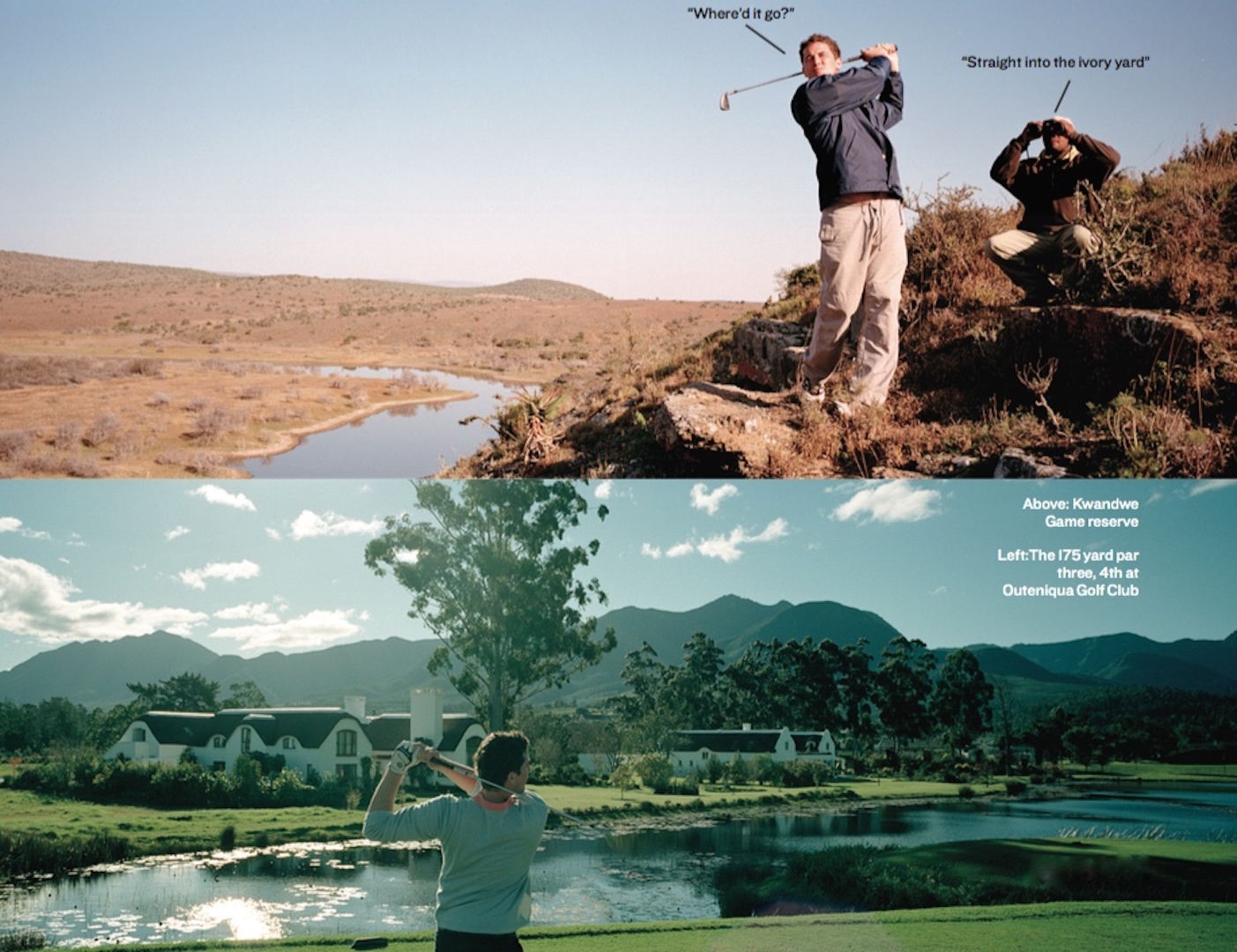 Even after an 11-hour flight, Cape Town is breath taking. From the burgers to the bunkers, everything is bigger and better, just like your chances of sharing the 19th hole with a celeb. After a first round of truly forgettable golf at Steenberg Country Club, which included Hef's first tee-shot failing to make it past the ladies tee-box (even the suave can occasionally stumble at the altar of golf), we found ourselves shooting the breeze with Springbok rugby legend Francois Piennar. 
He was chuffed to hear that his beloved track was getting a GP going-over. "Just make sure you say Steenberg is the best," he said. He had me in a headlock at the time so I could only nod but, if you're reading this Mr Piennar, the course was very nice.
Just not quite as nice as Pearl Valley. Set in the mountains of Paarl, this new course was designed by Jack Nicklaus. And they don't let you forget it. From the second you drive in the gates, you're bombarded with Jack's beaming face on every billboard, banner and booklet. It was like 1980 meets the Third Reich and Jack was our golfing Fuhrer.

But it all makes for a great course. As the brochure puts it: "Pearl Valley is a jewel so rare all who behold it are inspired by its beauty and sheer opulence." And the blurb doesn't lie (not least because it's probably punishable by death under Jack's regime).The usual equation applied; great course = shite golf. But this time we had hecklers (at least it made a change from Hef's groupies). By the 6th hole the builders watching us had downed tools in order to laugh more comfortably at our hopeless foozling.
After a long round, drunken oblivion was the only way forward and in Cape Town, there are at least a million ways of getting there. We started out in Joburg Bar, the pub equivalent of Jordan: trashy, predictable but a bit of a goer. After a couple of Castles (Piennar's lager of choice), my 15 minutes of whining paid off and we went for food.

If you're going anywhere in Cape Town for burgers, make sure it's Royale's Gourmet Burger Bar, for it is truly a fast food Mecca. The menu spans two pages of patties, from my personal favourite 'The Fat Bastard' to the refined 'Miss Piggy' (one for the ladies). On the subject of ladies, there's a lot more talent here on a Wednesday night than at your local KFC.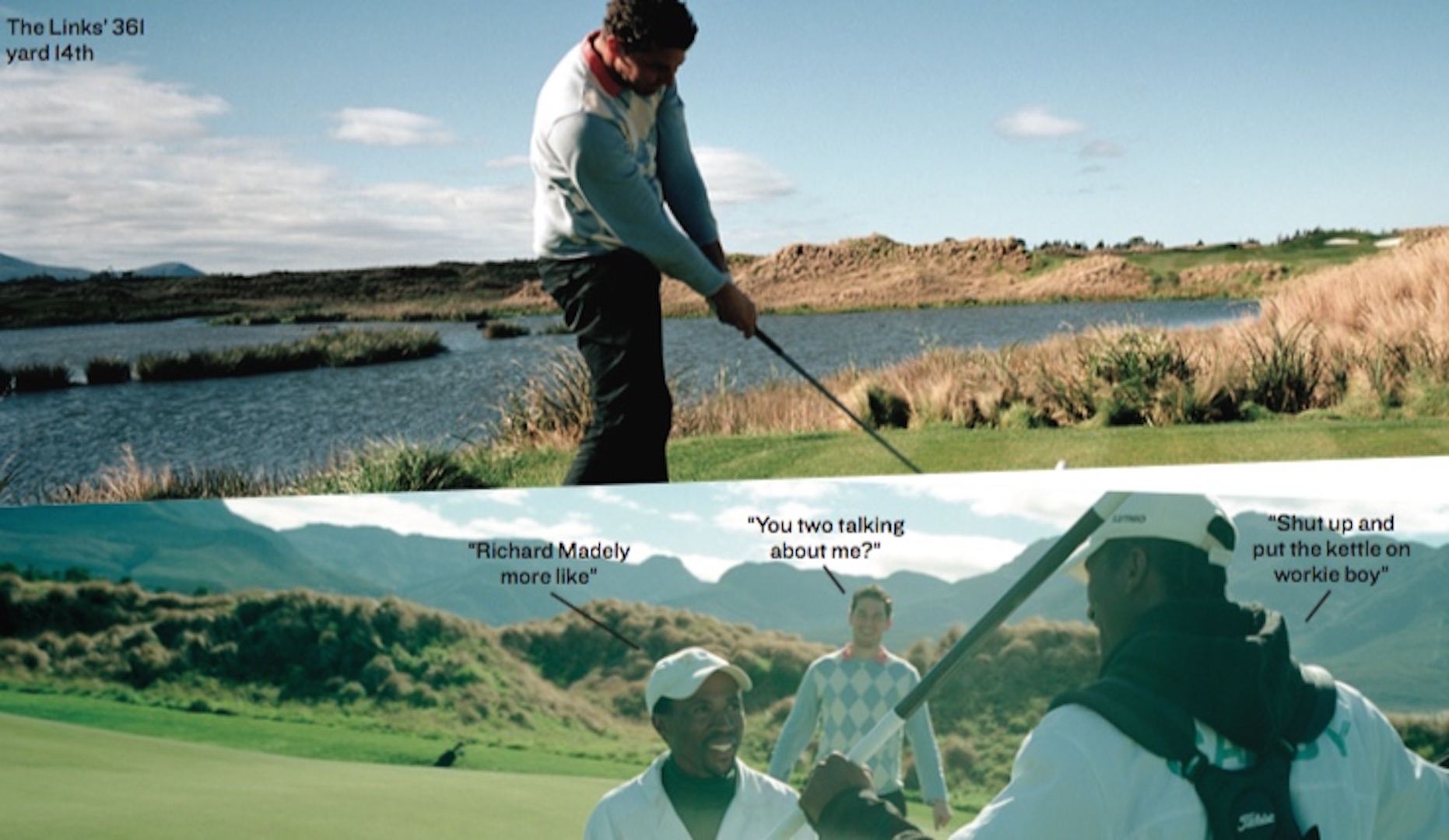 Consequently, being creatures of habit, I troughed and Hef prowled. Within minutes there was a gaggle of girls round our table. I thought I was doing my bit to secure a straggler by smiling encouragingly, until Hef muttered strategically that I had pickle on my tooth. This reminded me of my place in the pulling order (ie, I didn't have one) so I returned to my friend the Castle.
Four hours later and that same friend was threatening to make a reappearance on the drive to Spier Golf Club. We were heading for an early-morning match against some local lads. I was bleary-eyed and retching and Spier, in the pitch African black, was not proving easy to find. We were misdirected three times by a security guard on the Spier Wine Estate who assured
us sincerely each time that it was just round the corner. Guard number two then arrived and pointed out that it was actually five miles down the road.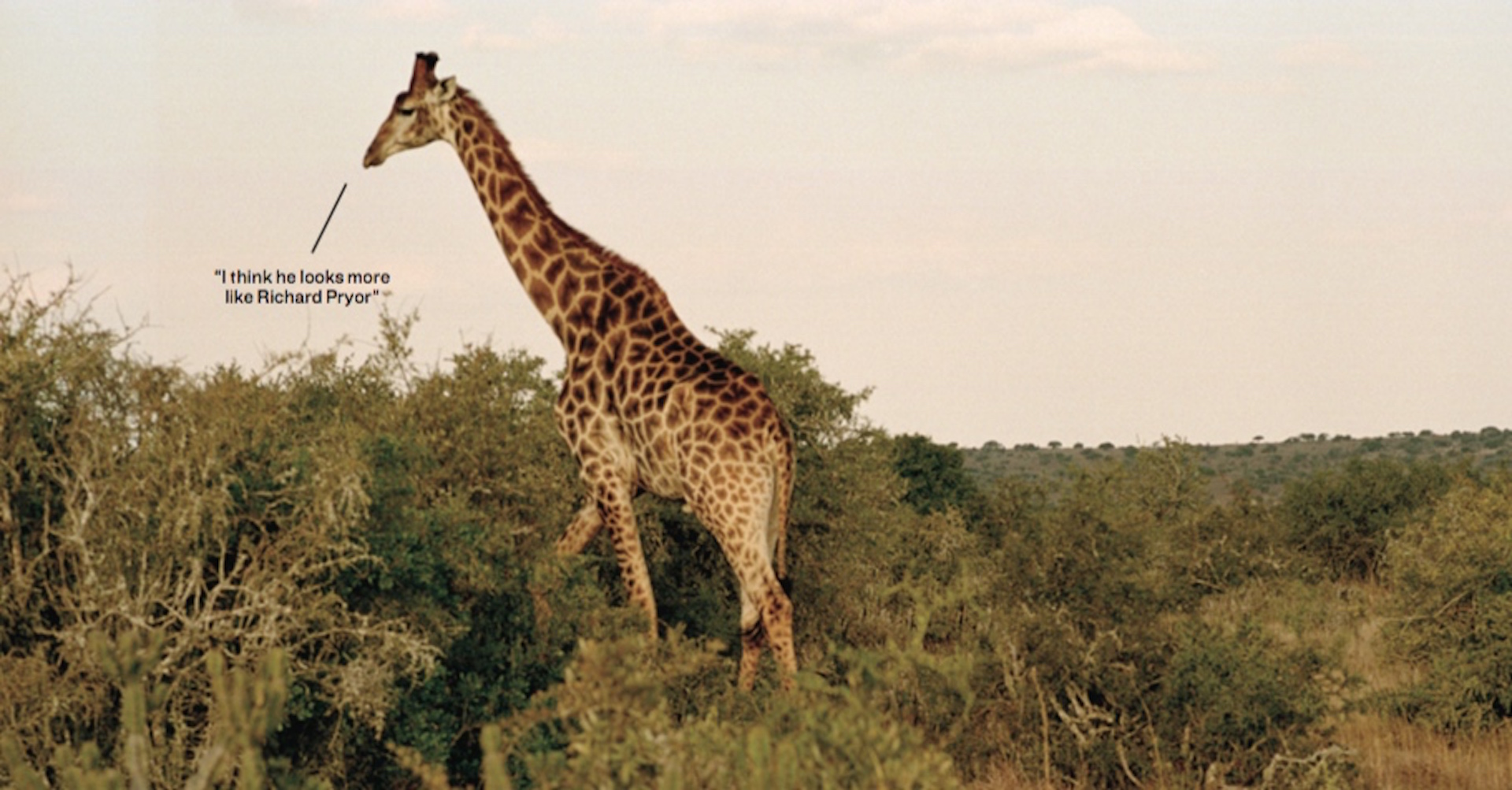 After several strong coffees my hangover had been reduced to light groaning and Hef passed me fit to play. At any rate, our opponents Damon and Mikey were big lads and I wasn't going to offend anyone. It must have been a sharp livener that invigorated Hef, because from a fairly innocuous start, he rose to become the Mandela of the fairways. For three holes at least.
Our joint efforts were enough to briefly restore colonial rule to the greens, and we annexed a 2&1 win. Winning isn't usually part of my vocabulary so I tried a victory jig to celebrate. But owing to nausea I settled for a power salute instead (Jack would have been proud) from my prostrate position on the backseat of the car as Hef chauffeured us out of the car park and on to Hermanus.
Hermanus is famous for its whales. The Marine Hotel where we stayed is situated right on the bay, and the whales swim less than fifty metres away from the terrace. They're near enough for you to share a croissant with but Hef and I already had a date with Arabella. The main thing that coloured our round with Arabella was the rain. It was chucking it down. And this wasn't soft British drizzle, it was like being on the set of A Perfect Storm. The club pro told us we were mental but genially lent us some brollies which survived until the 2nd tee before being flipped inside out. By the third hole Hef was, ,as he put it: "Wetter than Jenna Jameson in an orgy scene", and his golf was in tatters. But when you're playing Ernie's favourite stretch of holes in the country you've just got to be staunch and Arabella is a taste of the real South Africa.
The rain may have drenched the course but it had done nothing to dampen Hef's libido. It had taken us three hours to drive to Fancourt's five-star resort and we were set for a night on the town. We started the evening in a lush African restaurant on the complex. The food was fantastic and unbelievably cheap at about £10 a head. We abstained from our usual diet of steak to try the Kudu, especially as it came firmly recommended. Red meat and Hef proved a lethal combo and by the time we turned up at Carousel, a nightclub in George, I'd barely got the drinks in before he scarpered with a pert blond. Me, I got her porky Germanic mate. Thankfully, the rest of the night was a blur.
Plump, Teutonic ladies aside, Fancourt was easily the highlight of the trip. The Links truly is the most epic course I have ever played; the golf porn equivalent of a Friday night in Amsterdam. Our caddies, Jackson and Theo, issued odds on every ball struck towards the rough. My first tee-shot opened the book at 50-50, but after that it was blanket "100 per cent gone". Despite its toughness, Fancourt was a fitting end to an amazing golf trip. But you can't do South Africa without doing safari, so 36 holes later we were heading to Kwandwe Game Lodge.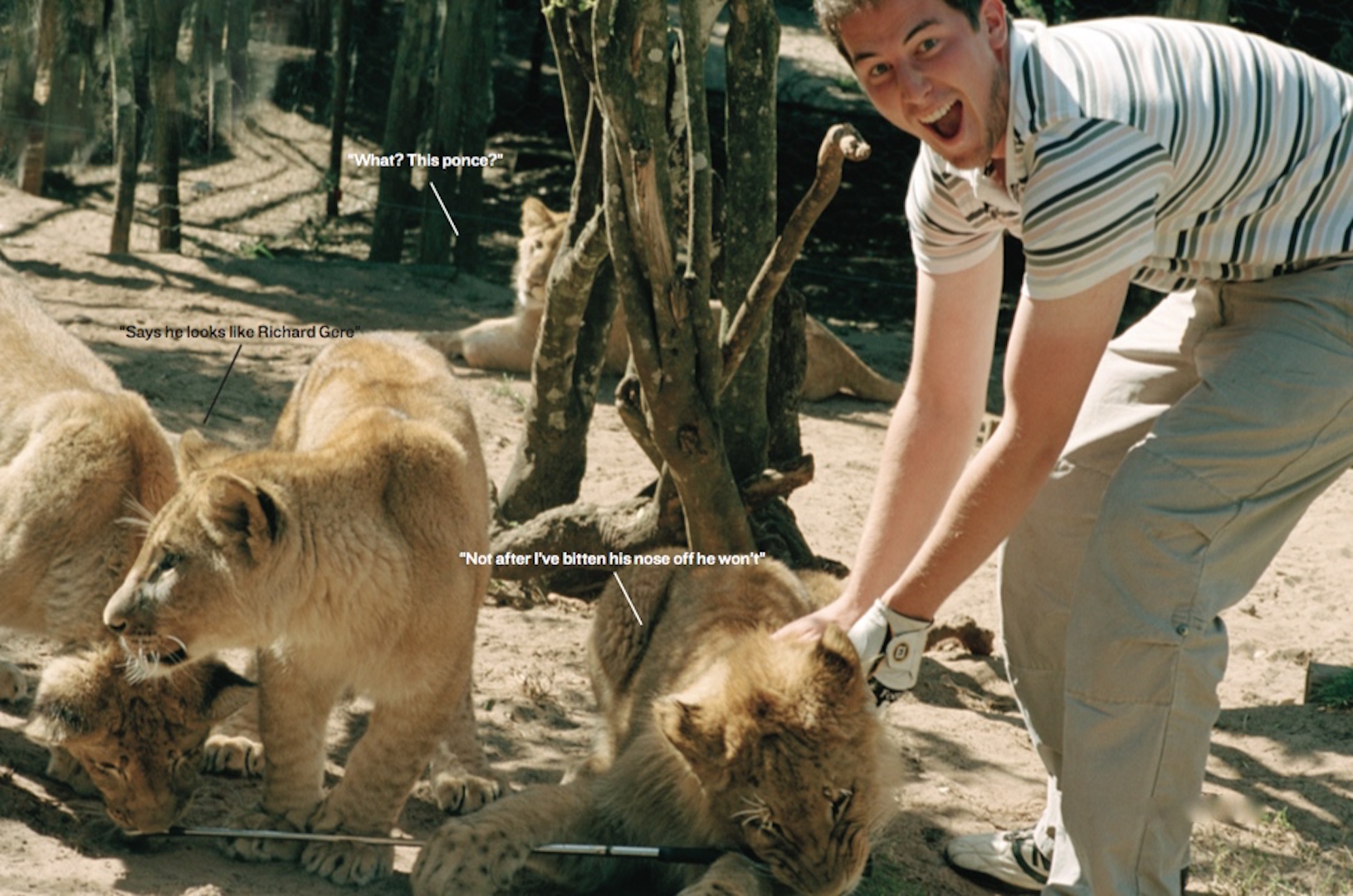 Situated in the Eastern Cape, Kwandwe is one of Africa's newest reserves. We were surrounded by a whopping 21,000 hectares of untamed bush and I was trusting my life to a flimsy 4x4 and a guide named Di Di. Our sumptuous home for two days was Ecca Lodge, complete with lap-pool, cocktail bar and views that would make a grown man weep (not that I'm confessing to anything).
A couple of forays into the bush later and I was convinced that Di Di was on something. She casually parked us in a face-off between three rhinos and a raging elephant (it felt like a Saturday night in Newport) and then blundered up a hill to gatecrash a lion having his beauty sleep.
"Where's the escape route if we upset him?" I hissed.
"Oh it's fine, we'll just do a three-point turn and drive back down," Di Di said cheerfully.
A three-point bloody turn?! I could have been lunch in less time than it takes to Monty to lose his temper and here was Di Di advocating good driving technique.
In our two days at Kwandwe we ate like royalty, drank sundowners on the river and even managed to play some bush-golf (golf translates to any landscape). It took us 10 days to do South Africa. We played in wind, rain and sun; hit a handful of good shots and lots of terrible ones.
In the words of Hef: "Golf is a bit like making love. One minute you're up, the next you're down, but you'd always come back for more."
Nice. 
SPIER GOLF CLUB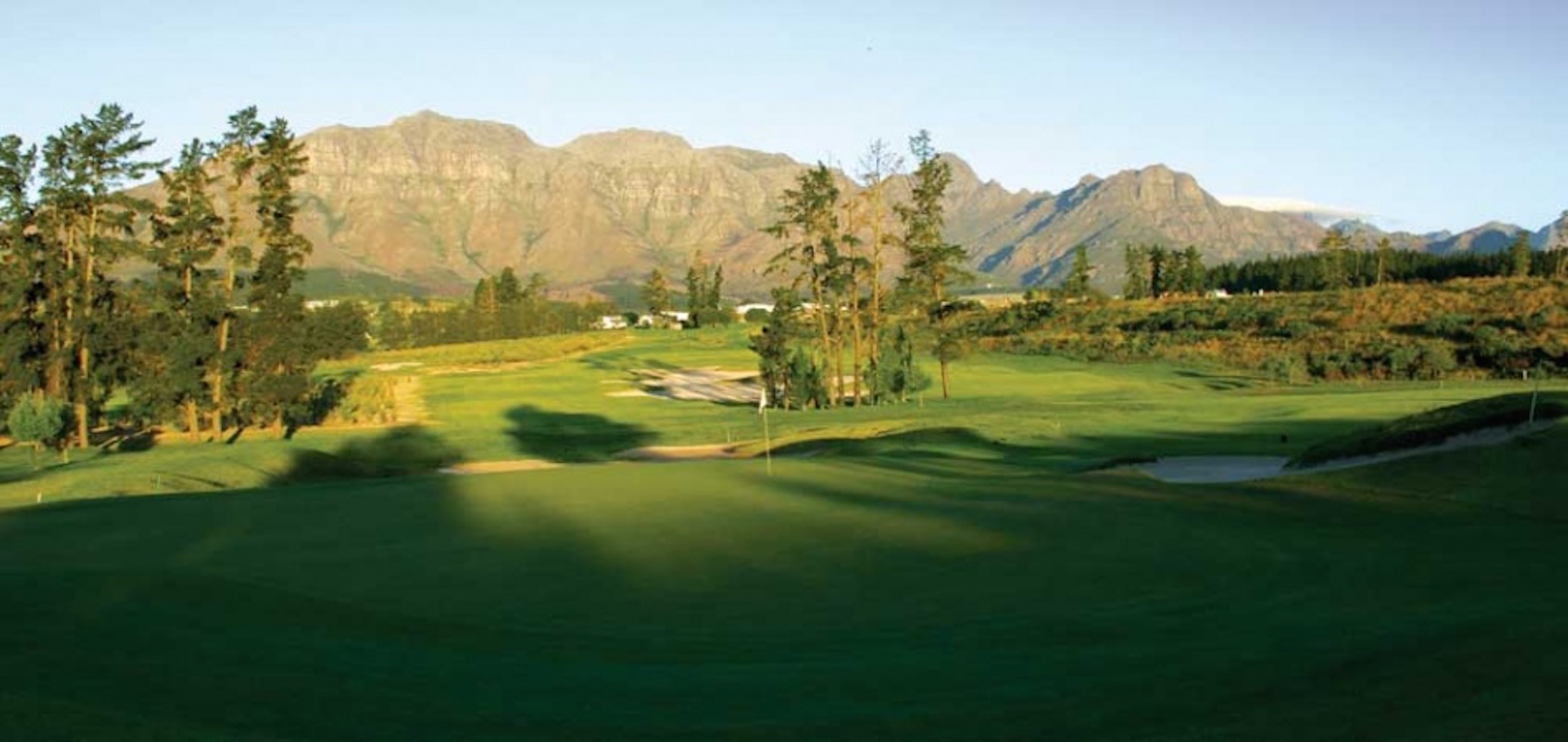 ADDRESS: Next to the Route 44. P.O.Box 12706, Die Boord 7613
CONTACT: +27 21 880 7300 / www.golfersinformation.co.za
DETAILS: 18 holes, par 73, 6983 yards
COST: Unaffiliated: £20, affiliated: £15
HISTORY: After opening in November 2000 on the Spier Wine Estate, a clubhouse was added in 2003. Hosts the Eisenhower Trophy in 2005.
REVIEW: Great setting but the course is a bit ordinary, until the back nine gets going. It's a strange mixture of charming features, unfinished construction, staked trees and drop zones. The greens are firm and pacey, with nice subtleties and undulations but the overall condition is patchy. All the best holes are on the second nine and they seem to keep improving, leaving you wanting more at the end.
KILLER HOLE: The 520 yard par five 17th. A classic risk-reward hole requires you to negotiate some mounds off the tee then decide whether to try to carry the water in front of the green in two.
19TH HOLE: Great food and drink to be had in the clubhouse or on the outside deck overlooking the 18th. 
PEARL VALLEY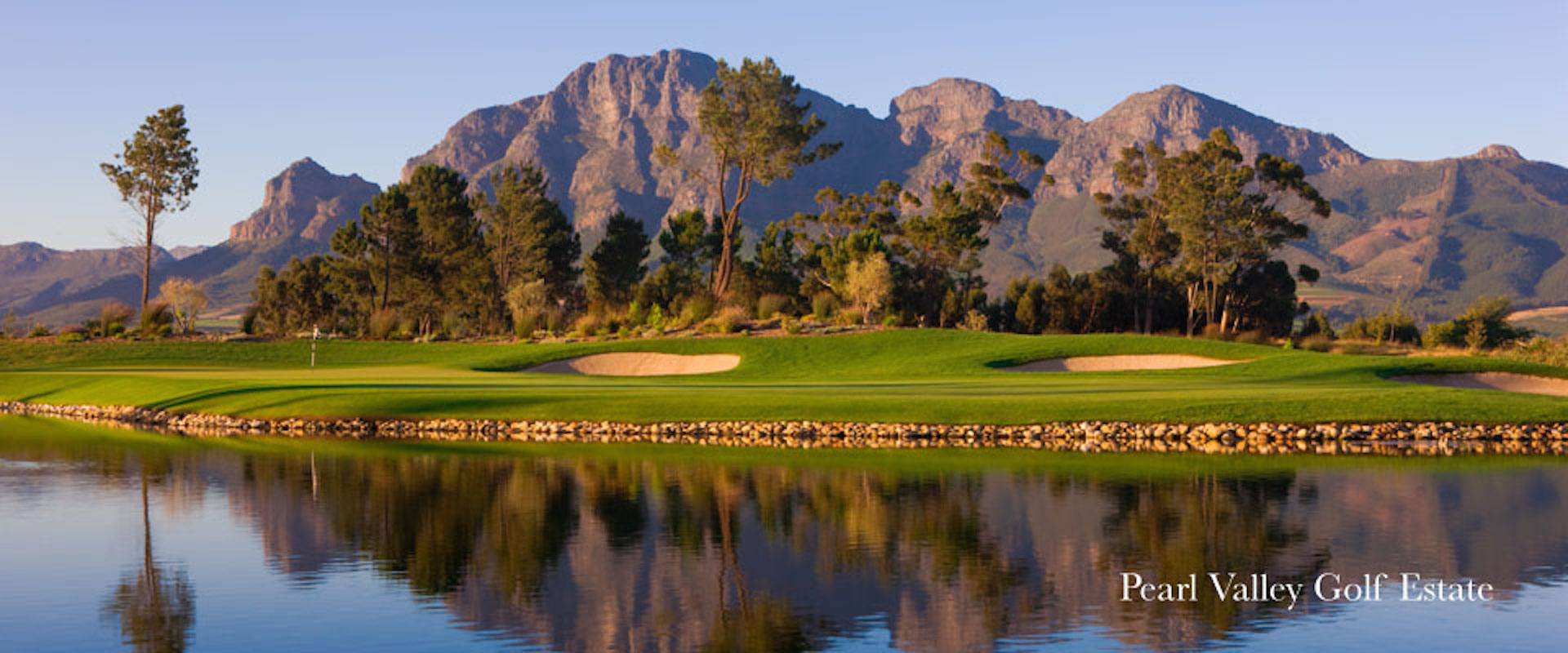 ADDRESS: Pearl Valley, Franschoek 7690, P.O.Box 600
CONTACT: +27 21 867 0769 / www.pearlvalley.co.za DETAILS: 18 Holes, par 72, 7165 yards
COST: £45
HISTORY: This Nicklaus course is already generating quite a stir, and there are plans to add another 18, an equestrian centre, water sports and a health spa. It opened in late 2003 but feels like it's been around for ages.
REVIEW: Huge skies, stunning vistas, amazing water features – the superlatives go on and on. In five years this will be one of South Africa's top courses, and it's nearly there already. Shimmering fairways are dotted with pearl-white bunkers and each hole stretches out like it is the only one for miles. The greens are its only weakness. They are too firm and sandy, but this is forgivable in a course so young. KILLER HOLE: The 446 yard par four 18th. Ignore the views and concentrate on making your approach shot over a huge lake for a good finish. Pure golf porn.
19TH HOLE: Refined and peaceful with a spacious outdoor dining patio to catch some rays.
STEENBERG COUNTRY CLUB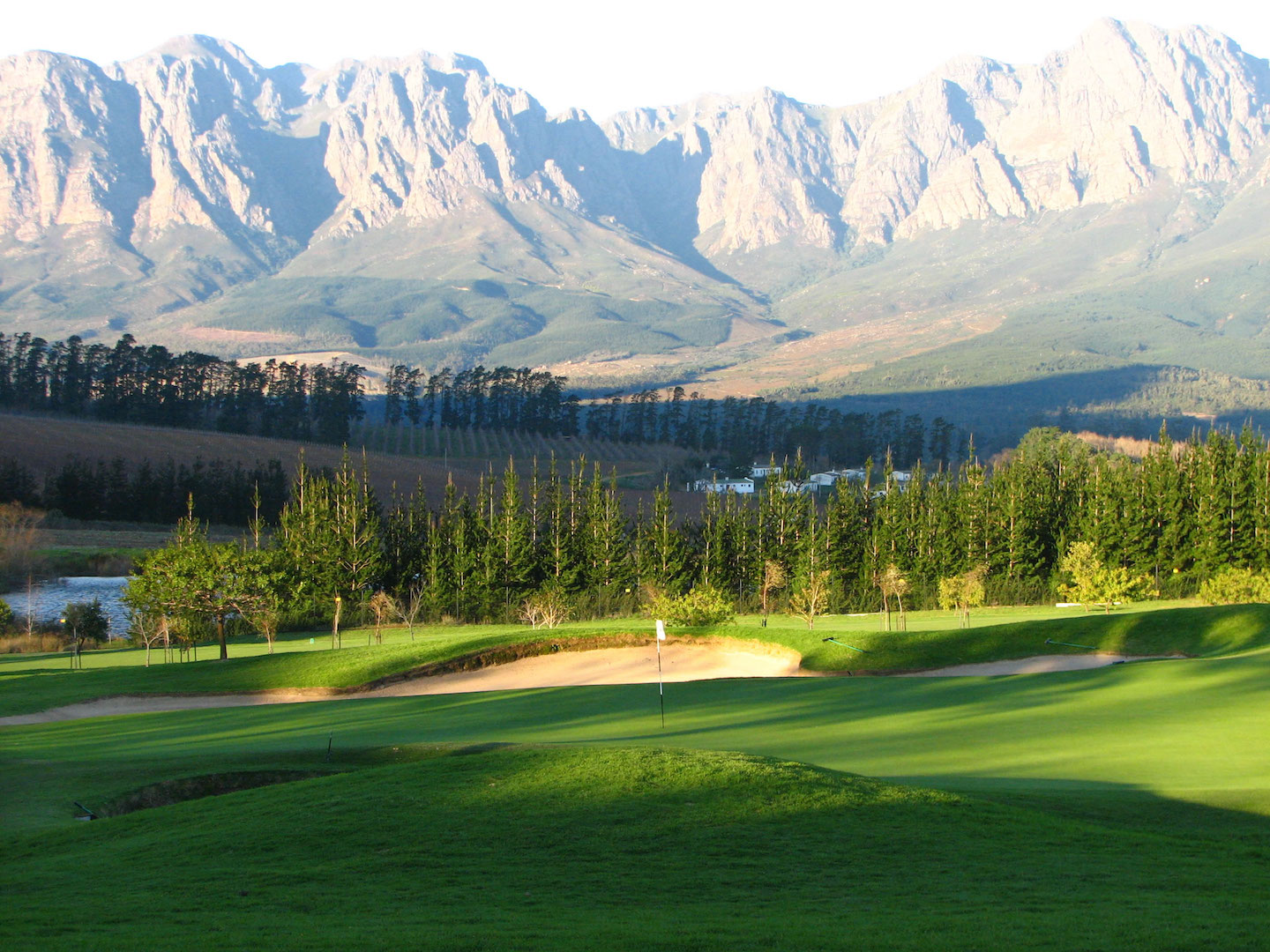 ADDRESS: Steenberg Estate 7945, Cape Town, P.O.Box 10805
CONTACT: +27 21 713 2233
DETAILS: 18 Holes, par 72, 6885 yards
COST: £45
HISTORY: Steenberg is the oldest wine farm in the Cape, but the course is very young. Designed by architect Peter Matkovich, great potential.
REVIEW: Like many South African golf estates, SCC winds its way through a maze of plush houses. Set under the shadow of the Cape Mountains and overlooked by Tokai Forest it's in a special location, but the condition of the course lets it down slightly. Numerous geese translate to a lot of crap on your ball, and the fairways are very spongy. Still, some great holes, good greens and a very warm ambience. KILLER HOLE: The 13th. This 405-yard par four is hugged tightly by houses on each side. Pressure! 19TH HOLE: The clubhouse is a perfect place to enjoy a Castle Lager and maybe bump into Francois Piennar and his rugby cronies.
 
ARABELLA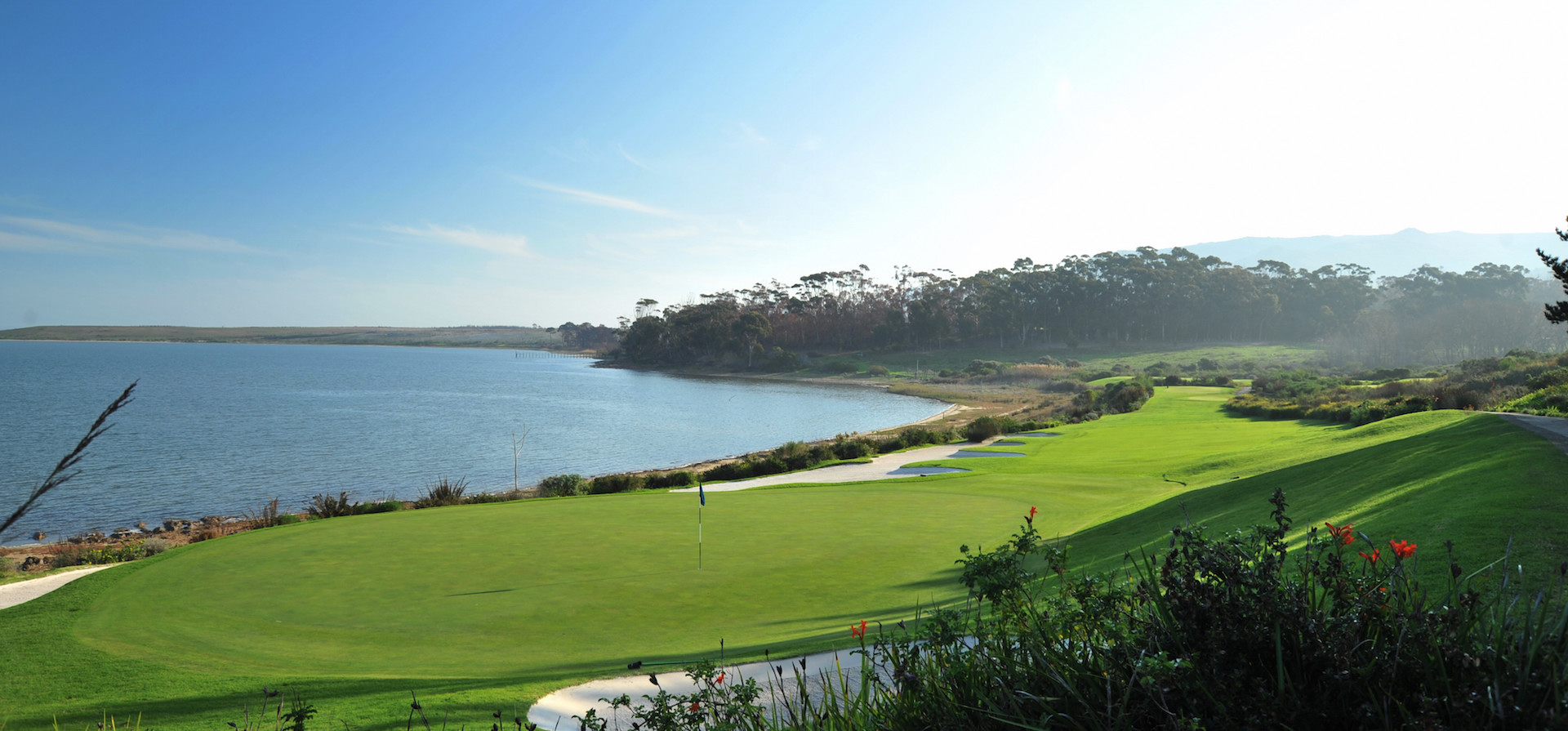 ADDRESS: Kleinmond 7195, P.O.Box 593
CONTACT: +27 284-9383 / www.arabella.co.za DETAILS: 18 holes, par 72, 6980 yards
COST: £45, 30 per cent discount for hotel guests HISTORY: Arabella's Sheraton Hotel was the first six- star complex in South Africa. A more mature course than most of the others, it is rated the country's sixth best, and has been as high as third.
REVIEW: The beautiful resort overlooks a lagoon just outside the town of Hermanus. Unlike many other S.A courses, this place is construction free, and majestic to boot. Tee off and wind your way uphill on a course that gets progressively more interesting and by the fourth you'll be drooling. We were pelted with rain and lashed with wind but came out smiling – who wouldn't after playing Ernie's favourite stretch of holes in the country? A truly special round of golf. KILLER HOLE: The 555 yard par five 8th. Ernie's favourite par five, which says it all really. Downhill, narrow, reed-lined fun.
19TH HOLE: The Sheraton Hotel. Six stars. Multiple bars and restaurants. Nuff said.
 
FANCOURT – THE OUTENIQUA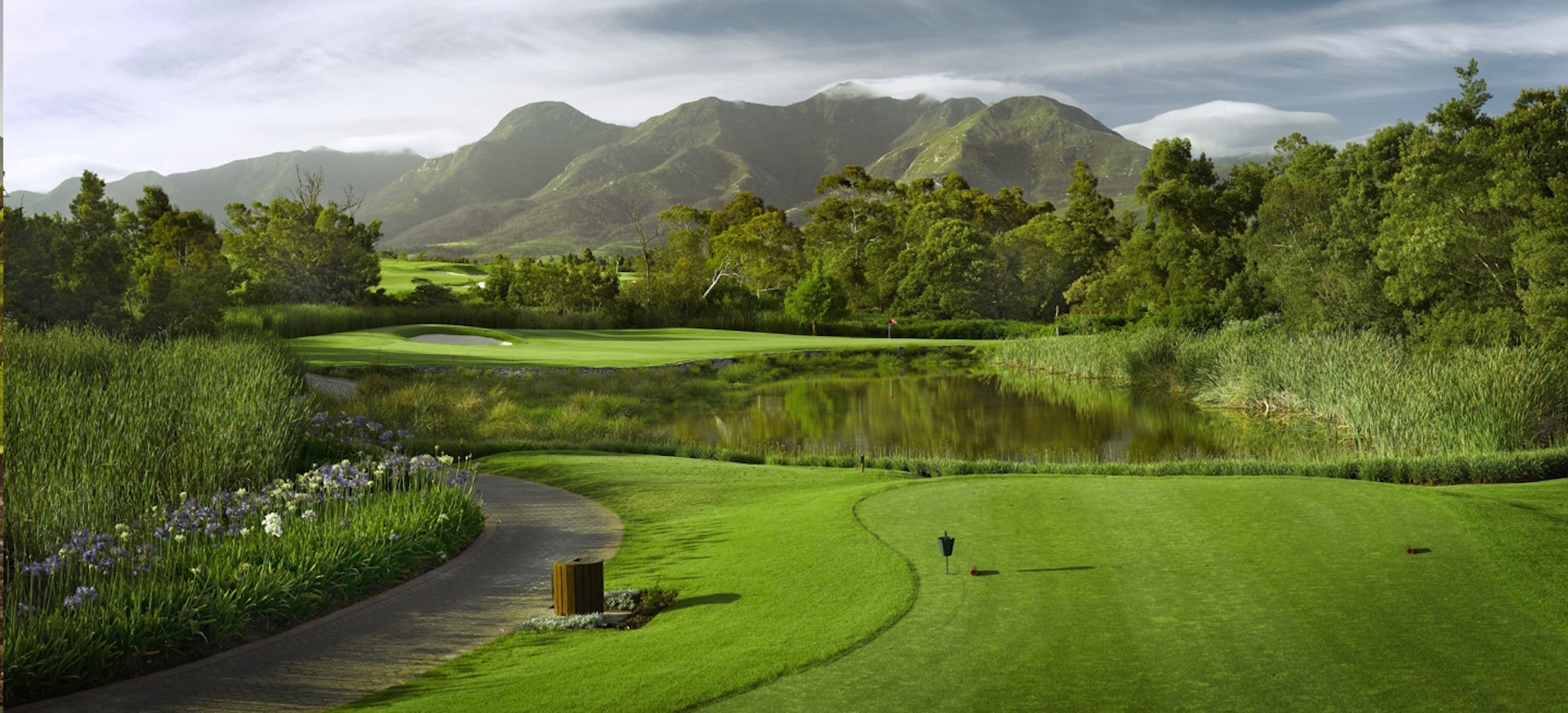 ADDRESS: Fancourt Hotel and Country Club Estate, George 6530, P.O.Box 2266
CONTACT: +27 44 804 0185 / www.fancourt.com DETAILS: 18 holes, par 72, 6910 yards
COST: Winter: £25, Summer: £50. Hotel guests only. HISTORY: With both The Links and Bramble Hill recently established and The Montagu closed for re- building, the Outeniqua is next in line for a revamp. The closest course to the resort itself, it is a more gentle accompaniment to a tough round on The Links.
REVIEW: If The Links is a hacker's worst nightmare then The Outeniqua is their wet dream (just ask Hef). It's in great shape: open, forgiving and fairly short – but the bent-grass greens are still frighteningly pacey! There is not so much wow-factor here, but plenty of neat holes to throw up some surprises. Blind tee-shots, watery par threes, and driveable par fours: it's not short on variety and appeals to golfers of all standards.
KILLER HOLE: The 510 yard par five 8th. This baby has out of bounds all down the left and slopes steeply up to a well-protected green. You have no view of the putting surface if you don't get close in two.
19TH HOLE: Look no further than the Fancourt complex itself. Choose between a traditional African restaurant, seafood or Italian, or just relax in the bar. 
FANCOURT – THE LINKS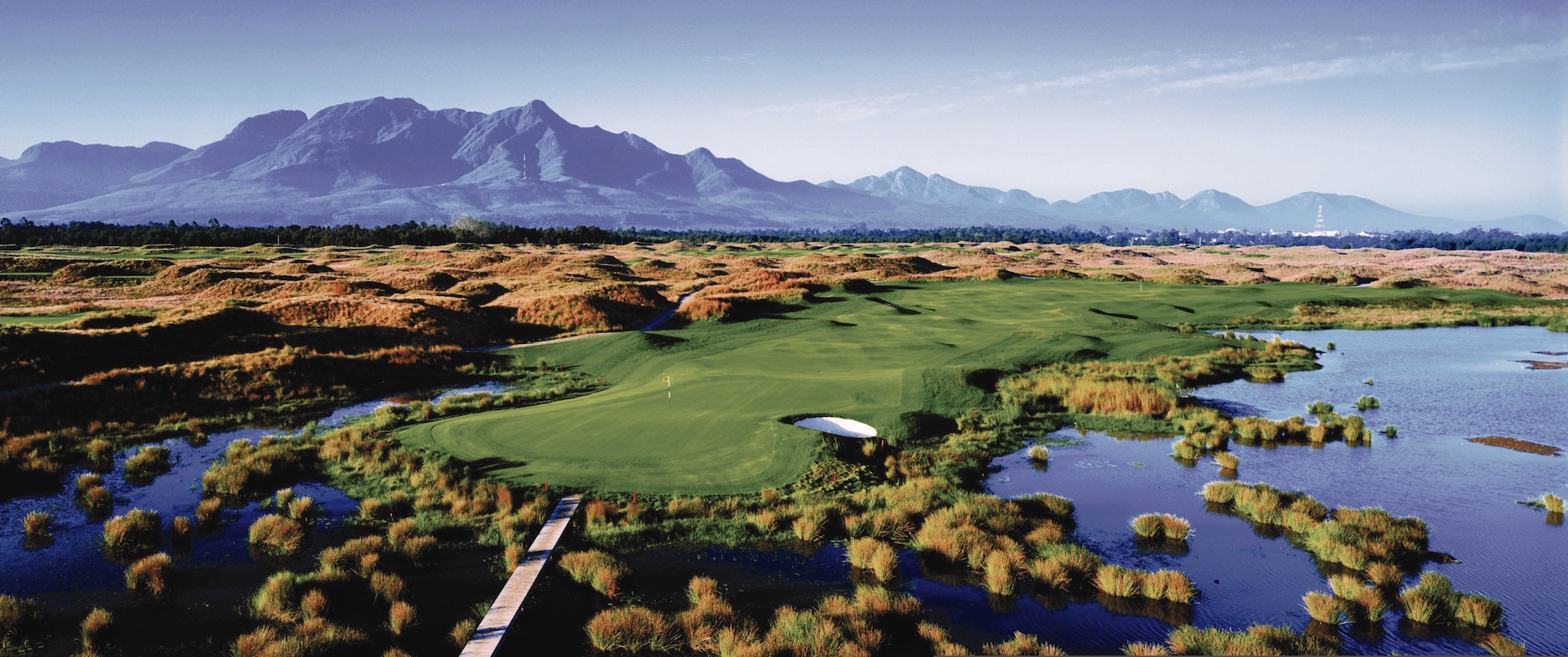 ADDRESS: Fancourt Hotel and Country Club Estate, George 6530, P.O.Box 2266
CONTACT: +27 44 804 0185 / www.fancourt.com DETAILS: 18 holes, par 73, 7500 yards
COST: Visitors: £85, Hotel guests: £60 (discounts for juniors and big groups)
HISTORY: Fancourt boasts four courses and The Links is the jewel in its crown. Amazingly the course was once an airstrip. Host of the President's Cup in 2003, it currently occupies third spot in the rankings, but is tipped for number one.
REVIEW: This is a links of epic proportions and from the first tee you know you're in for a treat. Ahead lies a sea of reddish hay, parted by an immaculate rolling fairway. The rest of the course is nowhere in sight. There's no breather here. The second is a downhill par three of 220 yards which if you miss to the left you have literally no shot. It goes on. If the holes aren't monstrously long, the greens are tiny and dome-shaped. Bogey golf feels like par golf here but who cares when every step is such a pleasure. As with any links, the wind is a big factor, but the greens have a thicker fringe than standard Scottish fare. The caddies are priceless, great banter and should save you a lot of golf balls. Surely one of the world's best.
KILLER HOLE: The outrageous 460 yard par four 15th. Probably the most photographed hole in South Africa. Golden rough, liquid greens, mountains, water – heaven.
19TH HOLE: The Links has its own restaurant and clubhouse, separate from the estate.
 
TAGS: Golf In South Africa, Fancourt Golf Club, Steenberg Country Club, Pearl Valley Golf Club, Spier Golf Club, Arabella Golf Club, Travel, 2015, Tour, Fancourt, Lifestyle, Planet Golf