Travel
Nov 22nd, 2017
Incredible golf in the Caribbean
The ultimate golf caper...
Words: Tim Southwell Photography: Kevin Murray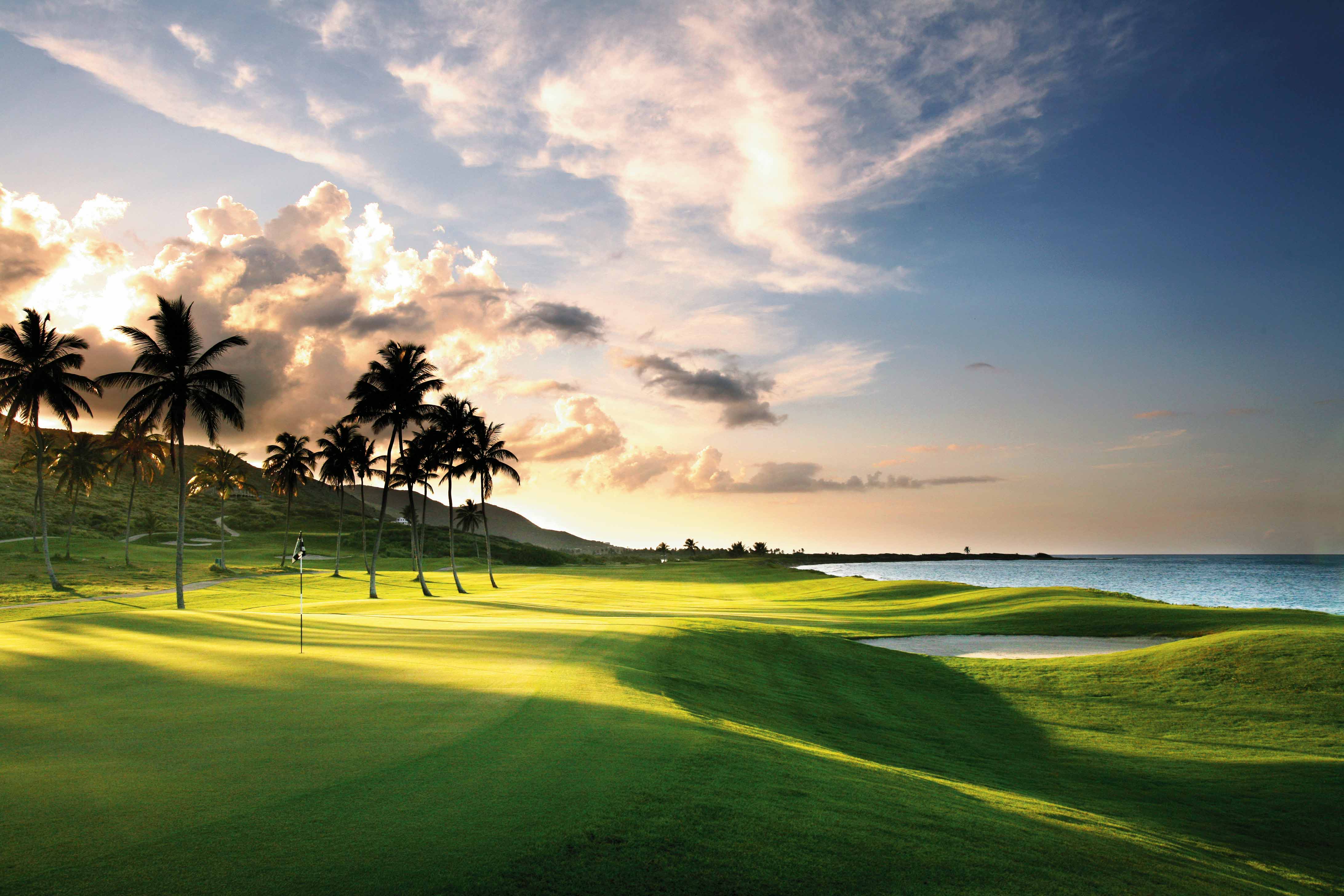 Caribbean Crush
The big fella in the sky is clearly a GolfPunk. Otherwise, why would he have created the world's most glorious islands and then send out a memo to the Three Wise Property Developers advising them to build golf courses left, right and centre? For gold, frankincense, and myrrh – read lush fairways, superb greens and swanky clubhouse bars that look out across the ocean and make you 
think: "Well, whatdyaknow?… maybe I'm a millionaire after all."
All the talk on the plane was about The Green Monkey golf course, part of the world famous Sandy Lane resort where successful people go on holiday in order to be surrounded by other successful people.
Sandy Lane is owned by horse racing overlord JP McManus, and Celtic FC's major shareholder, Dermot Desmond. They have three golf courses – The Old Nine, The Country Club, and The Green Monkey. The Country Club has played host to the highly prestigious World Cup over the years. And yet we barely talk about it the whole week. We are preoccupied with one recurring central theme of our Caribbean mission...
Actually, it's become more of an obsession now: How are we going to weasel our way on to The Green Monkey? There is one brief tee-time slot every day – between 8.30am and 9am. And you can only play if you're residing at Sandy Lane. Or, if you're a guest of a Sandy Lane resident. And then you have to quite literally pray & pay. Firstly you pray that there is an available space during the half hour slot, and then you pay. And boy, do you pay. $1,000 US to be precise. 
No wonder The Green Monkey is one of the most talked about, least played golf courses in the world.
And that's exactly how JP & Dermot like it. It's virtually their own private golf course.
Designed by Tom Fazio and always in mint condition, The Green Monkey is carved out of a vast quarry and designed to take full advantage of its disparate elevations. One minute you're on top of the world, the next you're staring up out across a vast lake and high up into the huge quarry walls. Or so we are told.
Our mission was to sample as much Caribbean golf as our seven days would allow, but get on the Green Monkey whatever you do..
For now, The Green Monkey would have to wait. We fell out of the plane at Bridgetown and into a taxi heading for our palacial house at Royal Westmoreland.
We saunter into the sumptuous bar and get chatting to a couple of Americans who are very keen to buy us drinks and make sure we are under no doubt whatsoever that "out there... (pointing out across the sundrenched golf course)... is a golf junkie's paradise."
I'll drink to that. Well, I'll drink to pretty much anything if truth be told, but I'll definitely drink to that. Barbados, we've come to say hello. 
The Royal Westmoreland resort was built in the 1990s, and is luxury villa central. What's more, its 6,870 yard, par 72 golf course is an absolute belter. Ian Woosnam, no less, says that this course has some of the finest par threes in world golf.
Furthermore, Woosie says that the course demands you use every club in the bag. Well, I think we'll be the judge of that, thank you very much Mr Ryder Cup hero.
We're greeted at Royal Westmoreland by head pro Ian Cox. Ian is a wiry ex-pat with an infatiguable can-do approach to life that has seen him bag one of the best jobs in the world of golf.
"Welcome GolfPunks one and all," chimes Ian a like some kind of golf pro Willy Wonka.. "Right, wanna play some golf or what?"
Before we know it, we're teeing it up and aiming straight down the first. The Caribbean Ocean glistens in the distance, little monkeys dance across the fairway (which is usually the safest place when we're playing) and three very happy individuals stride off into stage one of our adventure.
St Kitts. The glorious 16th.
Getting the speedboat from St Kitts to Nevis. Just wow...
The 16th at St Kitts. So good they photographed it twice.
Caddy at Royal Westmoreland
Dr Robert serves up a mean rum punch at Sandy Lane... hic
Royal Westmoreland's sensational second hole. GolfPorn Central.
The Green Monkey. Free to those who can afford it...
They're monkeys and they're a bit green.
1st hole at the Four Seasons, Nevis.
Somewhere on The Green Monkey...
Royal Westmoreland is no place to come if you're struggling with your game. It may look stunningly beautiful but it's got teeth sharper than a crocodile at a tooth-filing convention. There seems to be an obscene quota of 80ft drop-offs which, should you enter one, makes any search party futile. You're much better off conceding the hole and getting on with the rest of your life.
RWM is the type of place you'd have expected to run into David Niven or Errol Flynn in bygone days. Nowadays, it's home from home for the likes of Dave Whelan and Michael Vaughan and you'd be well within your rights to expect to see either of them pacing fairways or running down monkeys in their golf buggies.
The bar at RWM is one of the world's truly great experiences. Set out in a large, semi-circle, you're surrounded by the great and the good as you sip on ice-cool beers, or commission Bob the barman to invent a cocktail based on your name. Soon enough, when the cocktails have begun their giddy journey, you're all: "That 20 footer at the 12th!" and 'Pity the poor blighters back in, errmmm, Blighty."
Not only do we get to play golf at the place, but we've also been assigned one of the resort's luxury villas with its own pool. In Monty's own words, fantastic, superb!
After a couple of days our routine was down pat. Get up, sunbathe for a bit, dip in the pool, have something to eat, sunbathe a bit more, another dip in the pool, play 18 at Royal Westmoreland, drink in the bar, head off to the bright lights of St Lawrence Gap, eat like kings, have a bit more to drink, taxi home, quick nightcap, collapse into bed. If you could choose a Groundhog Day, this'd be the one. Royal Westmoreland, we salute you.
But GP are no one's lollygaggers. We've got exploring to do and, now that we've found our island feet, we change tack. It's time to set sail to Sandy Lane. And by set sail, I mean, take a five-minute cab journey down Sugar Hill. We've all heard the talk but for many this place is out of reach. It's not every day you come home from your hols able to boast that "Phil Neville was staying there, too."
Each night there is a cocktail party at the bar. This is essentially a networking opportunity next to a swimming pool. Which is great for people watching. I mean, where else can you see Gordon Strachan debating the merits of abolishing the back-pass rule with Martine McCutcheon?
You can see why Sandy Lane's Country Club has hosted so many posh tournaments. At 7,060 yards and winding its way round the hills of Barbados with scintillating views of the ocean, azaleas left right and centre, it's a golfing mecca. It's not playing as tough as Royal Westmoreland. The fairways are wider for a start and it's a par 74. But the greens are as hard to read and it's just as well we've got caddies to show us the way.
It's always a bit embarrassing having a caddy. They're really just for the pros aren't they? It's especially disconcerting when you manage a shank on the first with your driver. You just can't get off the tee quick enough. Later in the round you realize just how important these guys are. If it wasn't for a large amount of inside knowledge I'd have six-putted every green.
Thankfully, The Country Club course is one of those rare and generous courses that "lets you back in". It nurtures you and, like Royal Westmoreland, presents you with so much golf porn, you can't stay upset with yourself for long. It's a golfer's paradise, I tells ya!
If it's not broken, don't fix it. That's what I've always been told. There was nothing broken or needed fixing about Barbados. We had so much golfing luxury it was silly. Yet, here I am sitting in a twin-propeller plane that seems to be uncertain as to which altitude it should be flying at. For a few moments it seems content to bump along at 25,000ft. But then it gets bored of that and drops to 20,000ft. And then it reconsiders that action and decides it was better off where it had been previously. So it lurches back up to 25,000ft and has an immediate argument with itself and drops back to 20,000ft.
When we decided to go 'island hopping' I had pictured myself swanning up to a charming wooden by-plane, tied to a jetty on the beach, boarding alongside guests like Audrey Hepburn, Clark Gable, Greta Garbo and Cary Grant. We'd get acquainted and have a spot of bubbly and some cake or something, while the plane effortlessly glides 50ft above the water line as the sun sets over the enchanting island destination. Done and dusted in roughly 30 minutes. 
Not so. There's nothing wrong with island hopping in the Caribbean. It's a positively marvellous thing to do. But you need to prepare yourself. Brace yourself. It's two hours from Bridgetown to Antigua and by the time you get there you are in immediate need of libation in the airport bar. Your hair is standing on end and your pupils have dilated to the size of 10p coins. You'll not get me up in one of those things again, you swear. But you've no choice. It's the only way to St Kitts. By this time you've over-braced yourself rigid and it's all you can do to shuffle your way out on to the runway towards the plane, which I'm sure just winked at me.
"Air hostess, another rum punch, sharpish, if you please." 
I cried as the plane started body-popping at 20,000ft.
"But, sir," came the reply.
"It's medicinal," I pleaded, "have a heart..."
"But we're descending, sir."
"Well, if that's your altitude."
On landing in St Kitts, it took me a good three minutes to prise my fingers out of the seat rests, but next thing we know we're teeing it up at Royal St Kitts golf club. This is a hell of a challenge – 6,900 yards, par 71 with water hazards on ten holes.
Everything seems interesting enough over the first few holes. And then you get near the turn and the ocean rises up to say hello. So you say hello back. And it says hello again and you soon realize that, as oceans go, it's quite big and if you wanted to say hello to all of it you'd be there all night. So we tried not to get too involved with it after that.
This is our first taste of links golf Caribbean-style – I challenge anyone to find me a more stunning range of holes than is found on the back nine here. You're hitting drives out over the water and watching with unparalleled satisfaction as your ball comes back over dry land and nestles on another perfect, lush fairway.
A delightful dinner is followed by a 'let's just have one' moment at The Shiggidy Shack bar on the beach. Which is basically karaoke Caribbean style. It's mid-May and the place is packed with travellers shaking their flip-flops and yelping with glee while some Austrians murder the life out of Boston's More Than A Feeling. It's 4am before you know it and we are reminded of the fact that in four hours we are due at Turtle Beach to catch the morning boat to Nevis. There's a song there somewhere.
Nevis looks like Jurassic Park without the dinosaurs. As you glide along the waves by the beach, all you can see is a vast expanse of forest, which is only occasionally punctuated by the odd wooden house bedded into the hillside on stilts. There's a Four Seasons Hotel in there somewhere, but it's only when you sail right up to the beach that you can really see it. As far as architecture and morality go, this is about as empathetic as you'll get. I feel like a proper golfing pioneer and if thousands of other people hadn't already played here, I'd have a point.
And lo, I see a triangular red flag fluttering. It can mean but one thing. Golf. Designed by Robert Trent Jones II, The Four Seasons Nevis Golf Course, is a stunning 6,682 yards (par 70) of golf adventure, hugging the side of Nevis Peak, a towering mountain which dominates the area. 
Soon enough, we're the golfing equivalent of mountain goats. Except that you don't see many mountain goats driving buggies. It's just not their thing. But given the blood/alcohol ratio we're suffering, it's the only humane way to play this spell-binding collection of hills and valleys.
Hangover golf can go either way. You're either so loose and dizzy that you don't think about it and just twat the blazes out of the ball and it goes everywhere you aim it. Or you're so loose and dizzy that you can barely focus on the horizon, let alone your ball. Thankfully, today is one of the good days to be hungover, and some fairly respectable numbers go on the card - mostly fives and sixes but hey, we're hungover here! At the 18th, we are greeted by frozen towels and margaritas. Nice.
Fourteen hours later and we're standing on the first tee. And not just any first tee. This is the first tee at The Green Monkey. Yes!
As boxer Lloyd Honeyghan used to say: "We're not here for the season, we're here for the reason." Whatever that means.
After six holes snapper Kevin Murray asks me a simple question. "Notice anything about this course yet?"
What, the super-slick, immaculate greens that bend your putts halfway to Crazy Town? The super-smooth fairways that gather your Sunday best drive and leave you with your favourite distance to the green? The brown monkeys? The nice lady with the iced-beer wagon?
"No, what I mean is, have you noticed the fact that on each hole we've played so far, you can't see any other hole at all?"
He's right. Each of these opening holes, whether a par three, four or five, is completely secluded in its own little universe. There could be a riot going on in the monkey asylum on the next fairway, but you can't see or hear anything other than the hole you're playing.
And then, just as you're absorbing the beginnings of this golfing masterpiece, you stroll up over a hillock and, suddenly, the ground just disappears and an almighty chasm opens up beneath your feet. To the right, seemingly stretching halfway to the end of the world, is a vast quarry wall. Beneath it, an equally big lake glistens up at you. And to the left, hugging the lake, a green monkey carved out of grass in the middle of the greenside bunker on the signature hole 7th, a 142-yard par three.
We stand there, and we gasp. And feel invigorated. And blessed. And bloody bloody bloody!!! Where's my five-iron? Who's got it, have you got it, where is it then, oh right there it is, what's it doing in your bag? Oh, it's my bag. Well, anyway, just watch it … Let's blast this green-ward.
And there it goes, the ball soaring high into thin air and then beginning its almighty descent down and down and down and… straight into the green monkey bunker. Why, you little!
Beg, steal, pretend to be Bill Clinton, do whatever you have to, just make sure you play the Green Monkey before your eyes start going. Your legs will follow.
There's only one way to follow that. Dinner at The Lone Star with the waves gently lapping just feet away and the finest bottle of Sancerre I've ever tasted. Images of the five sensational courses we've played merge into one big golfing Lollapalooza in my mind. Shots I played – all straight and true – come flooding into the mix. That 30ft putt on the 16th at St Kitts; unleashing the Cleveland Stauncher on Nevis; the 7-iron to 12ft on the third at Westmoreland … and The Green Monkey.
Memo to The Three Wise Property Developers: Like what you guys have done in the Caribbean. Like it a lot. Now, have you thought about the Isle Of Wight? It's a lot more convenient for us, don't you know.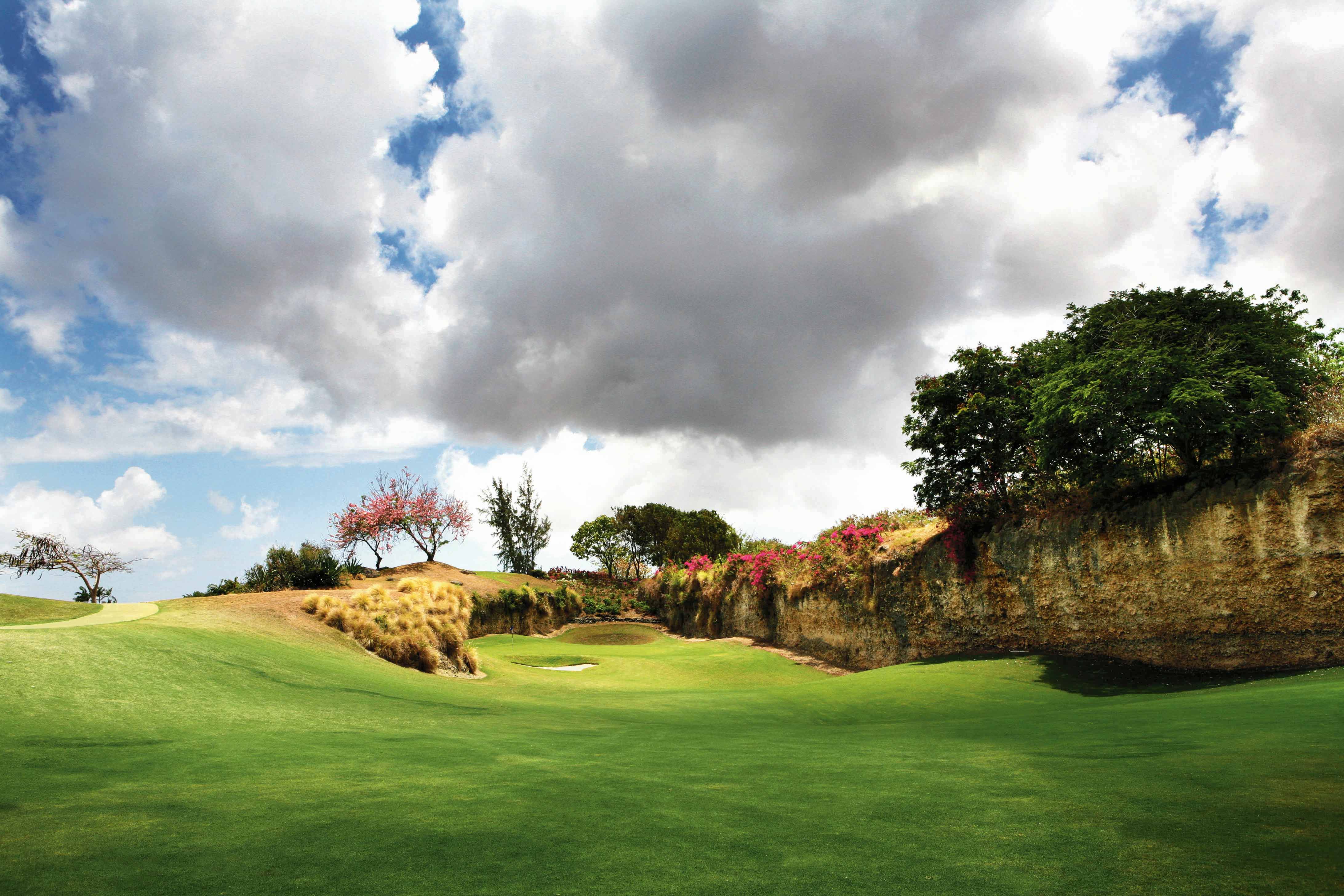 Related:
We're Not Worthy!! GolfPunk's Old Head Of Kinsale adventure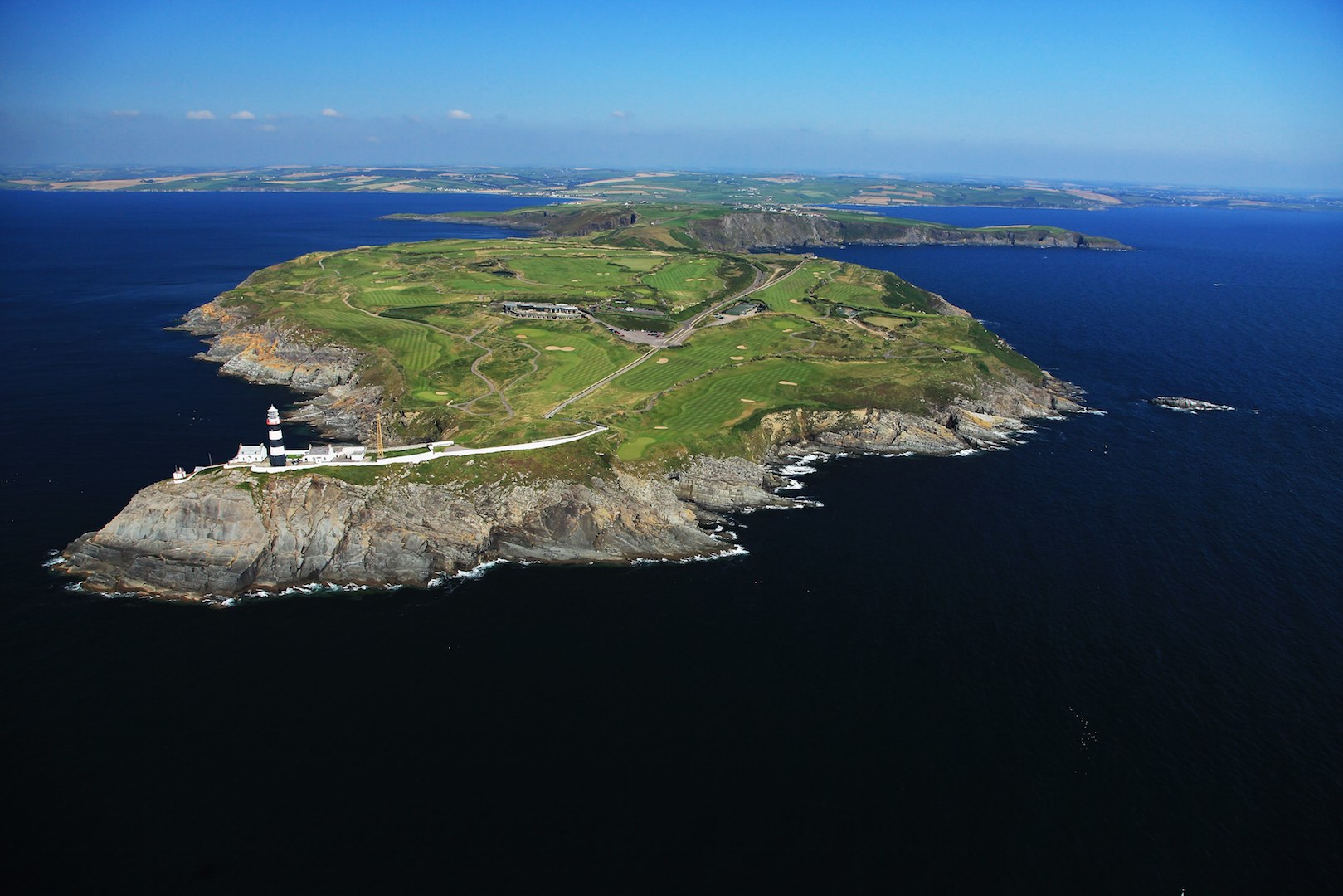 TAGS: Caribbean Golf, Green Monkey Golf, Royal Westmoreland, Sandy Lane, St Kitts Golf, Nevis Golf, Four Seasons Nevis, Green Monkey Green Fees, Caribbean, Barbados, Travel, 2017, Golf Holiday, Lifestyle, Planet Golf